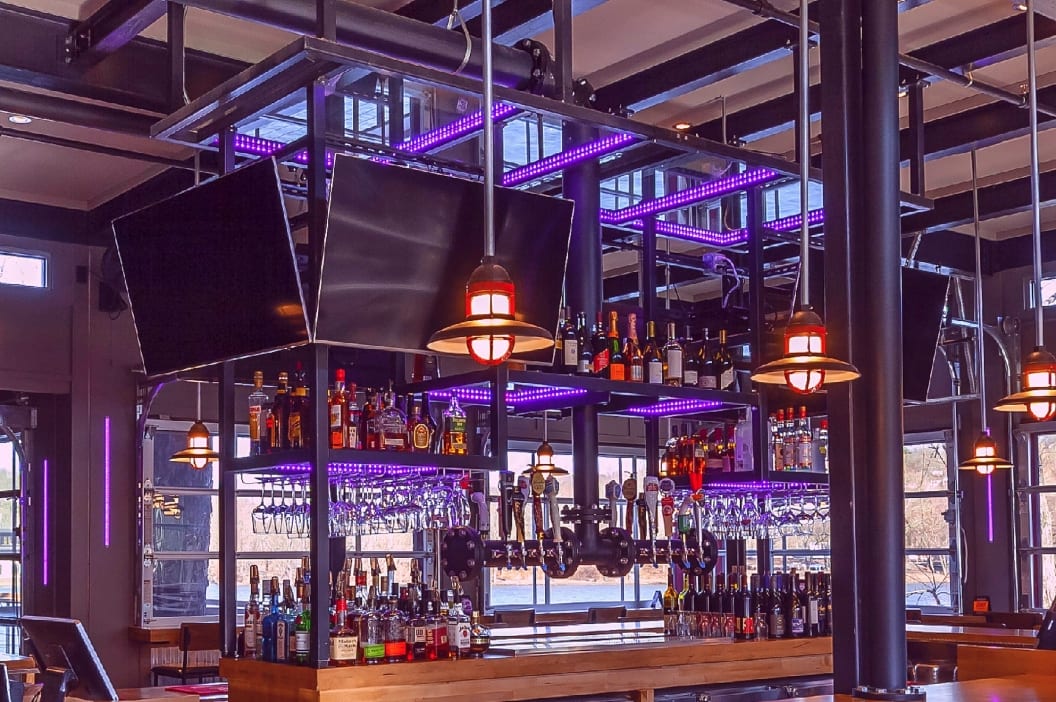 What are the top lighting ideas and tips for bar and nightclub design? This article answers the most popular questions about architectural and LED lighting.
Although not every club has theatrical lighting, it's easy to see why those that do have lighting budgets in excess of $500,000. This discussion will focus on accent lighting. To me, accent lighting (also known as 'architectural lighting') is 'the cherry on the sundae' when accompanied by well-designed theatrical lighting. Lighting and furniture are the two most important design elements in the finished appearance of any nightclub. Architectural lighting is analogous to what a fashionable tie is to a designer suit. Although you can invest $2,500 in a fine Italian suit, it's the tie that everyone notices. And just as with fashionable ties, there's an art form to selecting appealing architectural lighting. There are many considerations and much to know. We design lighting solutions for nightclub and bar clients every day and I'd like to share some ideas and tips that could save you lots of money.
WHAT ARE THE MOST COMMON TYPES OF ARCHITECTURAL LIGHTING IN NIGHTCLUB DESIGN?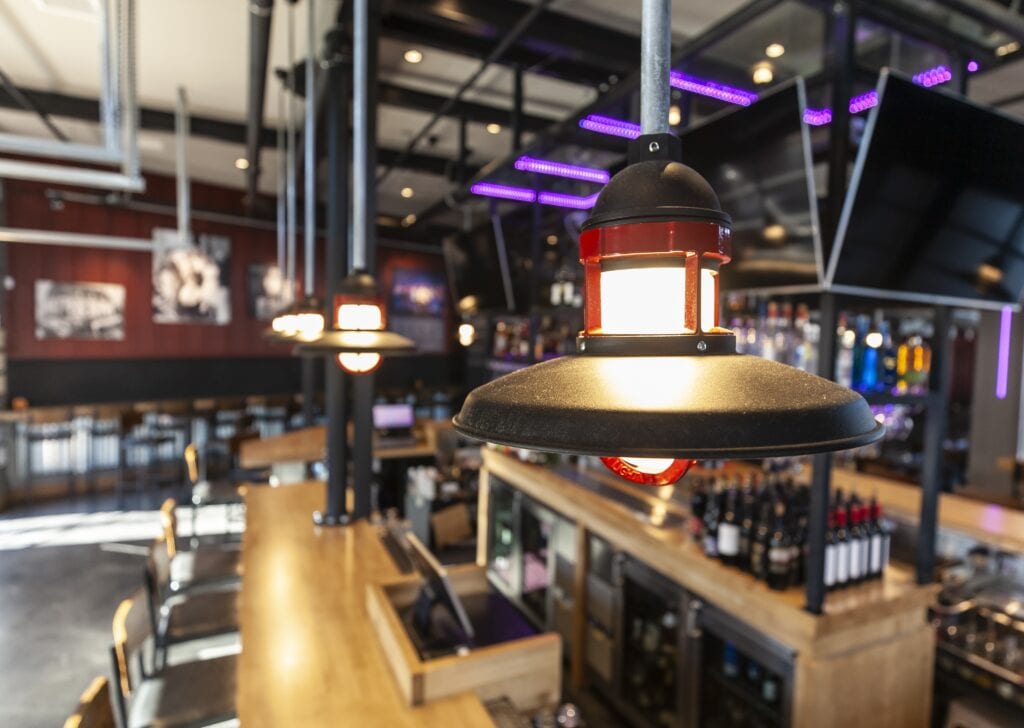 Here's a list of the most common types of lighting used in nightclub design:
Recessed lighting: which includes lighting that is functional (such as house lighting) and architectural, with decorative trims.

Indirect lighting: such as lightboxes, cove lighting and backlit signage.

Surface-mounted lighting: including wall sconces, ceiling lighting and pendant lighting.

Track lighting: designed for flexible lighting placement with a multitude of fixtures.

Accent lighting: including step lighting, underbar lighting and LED strip lighting.

Flat light technology: a light source in the form of tape (such as 'Lite Tape'), which is thinner than a credit card and can be directly applied in a variety of interior and exterior applications.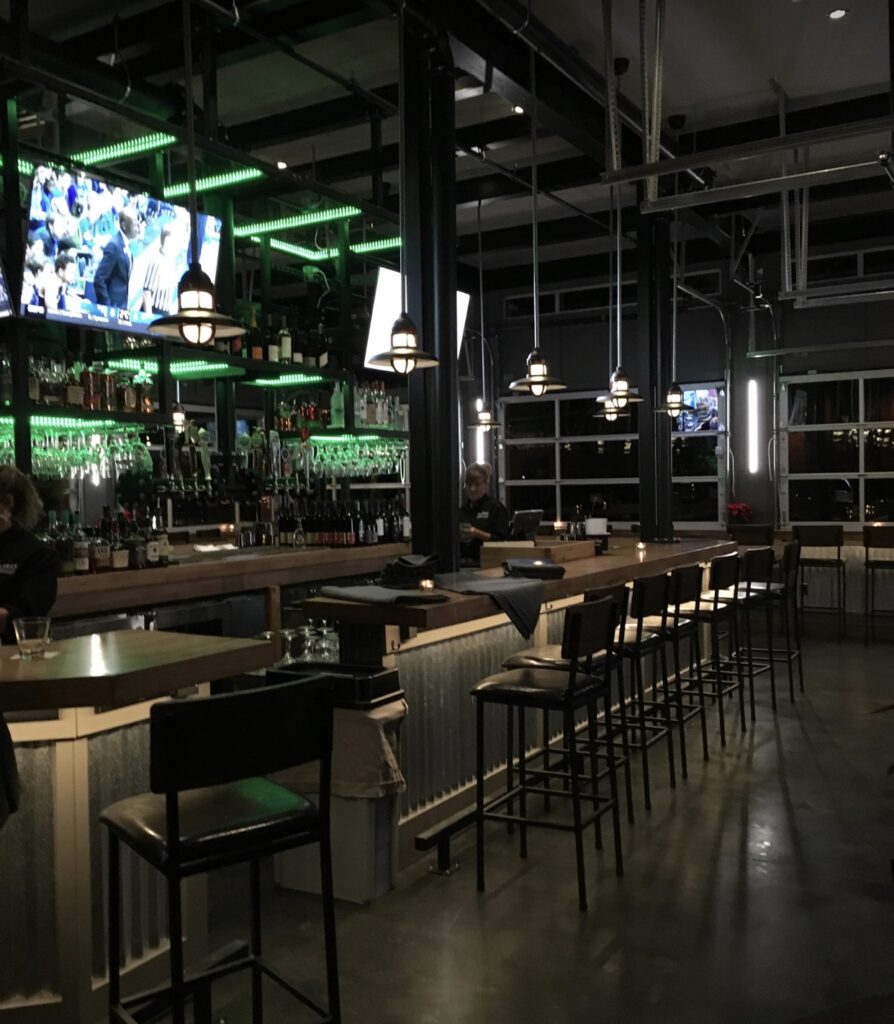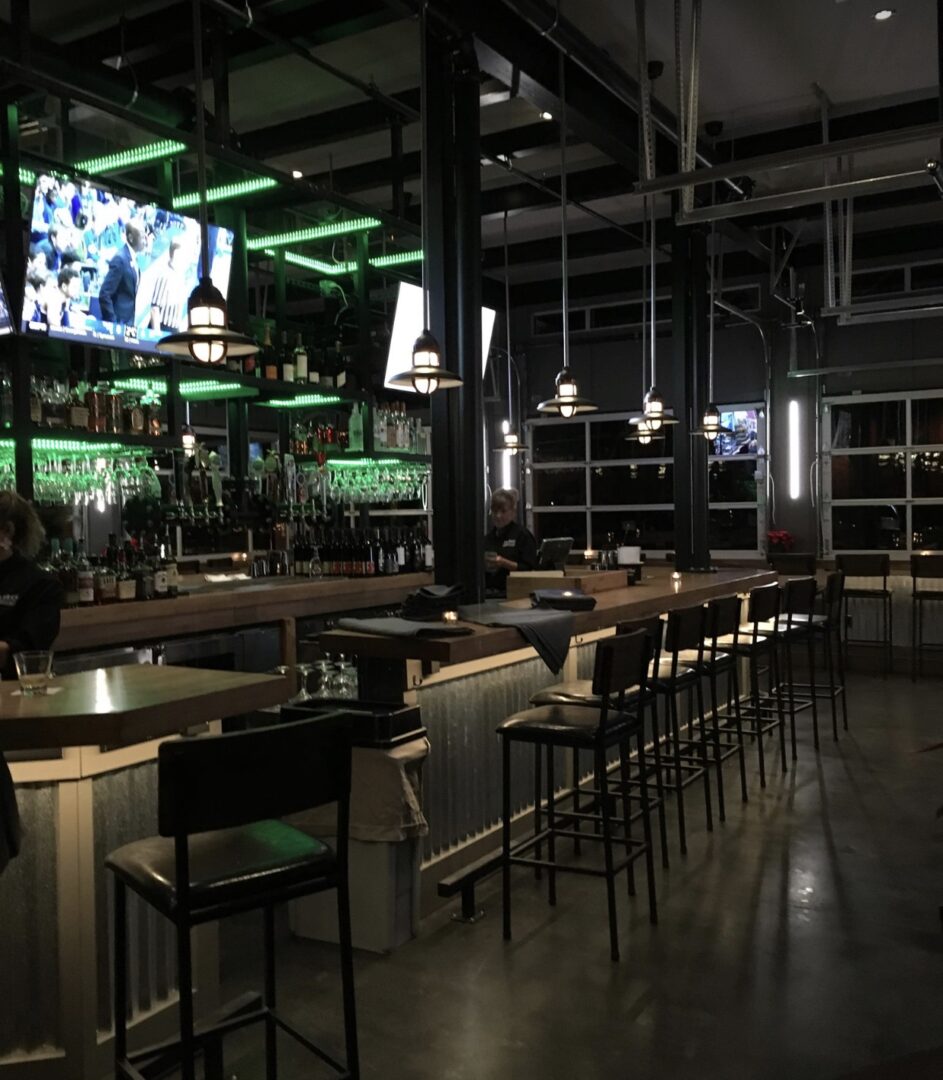 A WIDE VARIETY OF LAMPS FROM WHICH TO CHOOSE
Most of the above are available in a variety of lamps, including low voltage, line voltage, incandescent, metal halide, fluorescent and LED. LED is emerging as the front-runner for the foreseeable future because of its extremely long lamp life and low operational cost. With pricing being reduced on virtually a daily basis, LED lighting has found its way into all corners of nearly every type of lighting in night club and bar design and will soon impact your establishment if you don't own it already.
WHY NIGHTCLUB AND BAR OWNERS NEED TO KNOW ABOUT THE ENERGY CODE
According to Ron Lindquist of Midwest Lighting Sales, in 2007 the United States building codes relating to energy mandated all states to either have their own energy code or to adopt one of the two accepted energy codes[1] which impose new design standards for anyone pulling a building permit. Existing buildings under 5,000 sq.ft. must be in compliance with a lighting level which is rated at Watts/sq.ft. Buildings larger than 5,000 sq.ft. are not only required to meet the same lighting level compliance standard, but, additionally, must implement programmable lighting controllers. As with all building codes, existing buildings are grandfathered, i.e., they are not immediately required to be in compliance. However, energy code compliance is enforced when a building permit is pulled for any improvements.
There is one loophole which may ultimately may be of benefit – although it could be tricky: nightclubs and theaters are exempted from the new energy code provided that they have portable equipment. At the moment I am researching how this could be implemented.
THE TOP REASON WHY NIGHTCLUBS AND BARS NEED LED LIGHTING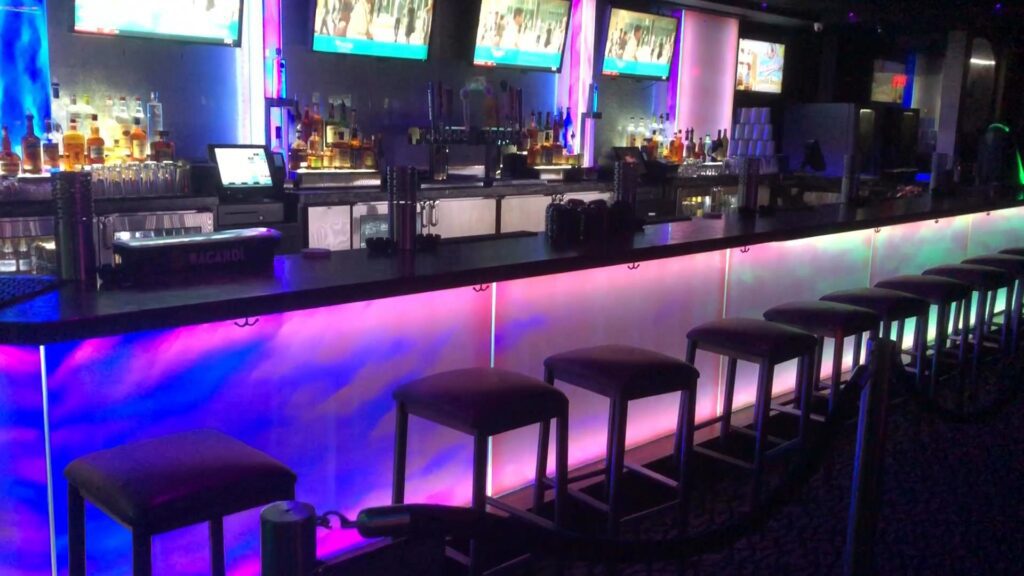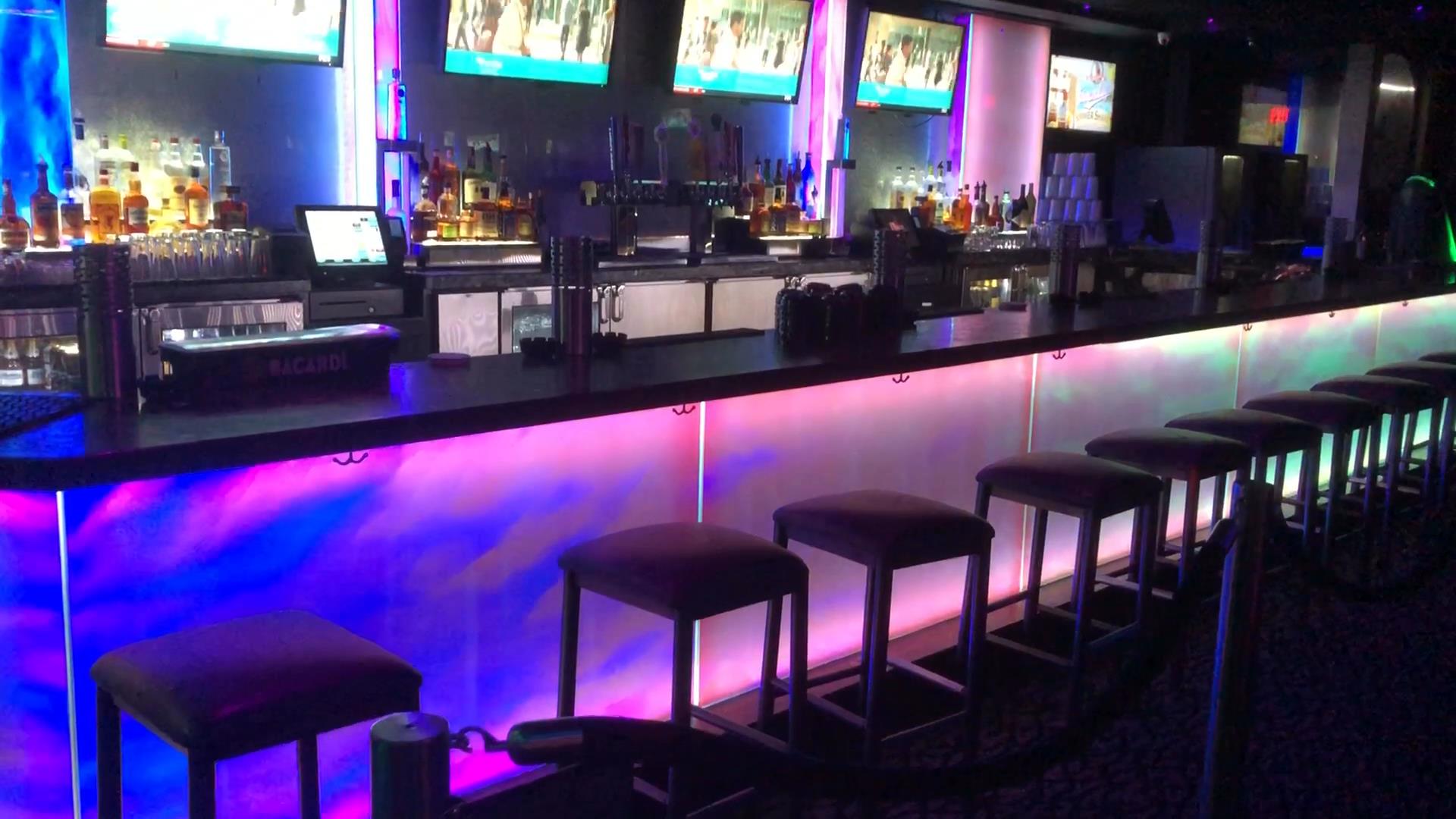 In a word: EFFICIENCY. LED lighting is twice as efficient as incandescent lighting. Because of the new energy mandate, implementation of LED lighting is the easiest way you will be able to maintain compliance. Not only does it cost half as much to operate, you will probably never have to replace a single lamp! The lowest rating of an LED lamp is 50,000 hours – this equates to 8.6 years of continuous operation at 16 hours a day x 365 days every year.
The photo of our LED Bar (shown at right) is extremely popular with some nightclub patrons! Several of our clients own more than two.
WHAT IS THE BEST ARCHITECTURAL LIGHTING FOR NIGHTCLUBS AND BARS?
Unequivocally, LED lighting is the king of architectural lighting for nightclubs and bars. LED lighting is directional, so glare can be an issue. For this reason it is especially effective with chandeliers, up-lighting and recessed can lighting (which disperses it). The best application for LED is with track lighting and edge lighting. Here are some design criteria you might want to know when purchasing LED lighting:

In night club design, architectural lighting is designed for mood.

There are many lamps available when purchasing lighting; the ideal lamp for your application should deliver about 20 footcandles at the table top / bar top, etc.

Select a midrange color for your lamp ~ 4,000K.

LED lamp rating is based without dimming; for instance a rating of 100,000 hours of operation could ultimately result in 300,000 hours with a dimmer; dimming will enable you to adjust for proper mood.

IMPORTANT TIP: THE ONLY WAY YOU CAN RECEIVE A GOVERNMENT REBATE FOR PURCHASING LED LIGHTING IS IF IT CARRIES A 'DLC-APPROVAL' RATING!
THE BEST LIGHTING TIP NIGHTCLUB AND BAR OWNERS NEED TO KNOW
If you have stairways and/or step-up platforms in your nightclub or bar, then you need to make sure that you have continuous edge lighting across the leading edge of all steps. As many club and bar owners will attest, they are the commonly sued for 'slip-and fall' accidents (among other things). If you're a bar or nightclub owner, you need to invest a few bucks in the best product I know of for edge lighting stairs: the LEDTread by Tube Lighting Products in the attached LEDTread Brochure, below. Folks, I'm here to tell you that I know a nightclub owner who was sued for more than $1 million over a simple slip-and-fall incident simply because he was cheap and used "hockey puck" lighting instead of continuous tread lighting (hockey puck lighting is that cheap LED lighting many cheap club owners use). Worse yet, his insurance company did not cover his loss. Talk about mental anguish!

Here's my million-dollar tip of the day: be responsible to yourself, your business, your family and employees and invest in LEDTread lighting today!
Downloadable:

Related Blog Posts:
Top 5 LED Lighting Ideas for Nightclub & Bar Design
LED Lighting Tips for Nightclubs & Bars




Call Us For Your Next Design Project
Our standard bar design service includes all construction plans and equipment layouts. We would be happy to assist any bar owner who would like to incorporate time-proven design ideas into your venue. Please feel free to contact us.

Seven Questions Commonly Asked About Bar Design 101:
1. What Professional Bar Design Services Do You Provide and How Much Do They Cost?
2. How Can My Bar Be Designed for Maximum Efficiency and Profits?
3. What Does Bar Equipment Cost?
4. Designing and Building a Commercial Bar
5. Best Lighting Products for Bars
6. Top 5 Best Commercial Bar Tops
7. The Best Furniture for Bars
To learn more about Bar Design 101 click here
Most Popular Articles
Ergonomic Bar Design For Maximum Profits
What's The Best Draft Beer System: Direct-Draw vs Remote-Draw
What Is "Pour Cost" and Why Is It So Important?
Which Liquor Inventory System is the Best: AccuBar vs BevInco
Top 5 Design Tips and Advice for Bar and Nightclub Owners
---
1. International Energy Conservation Code (IECC) or ASHRAE 90.1