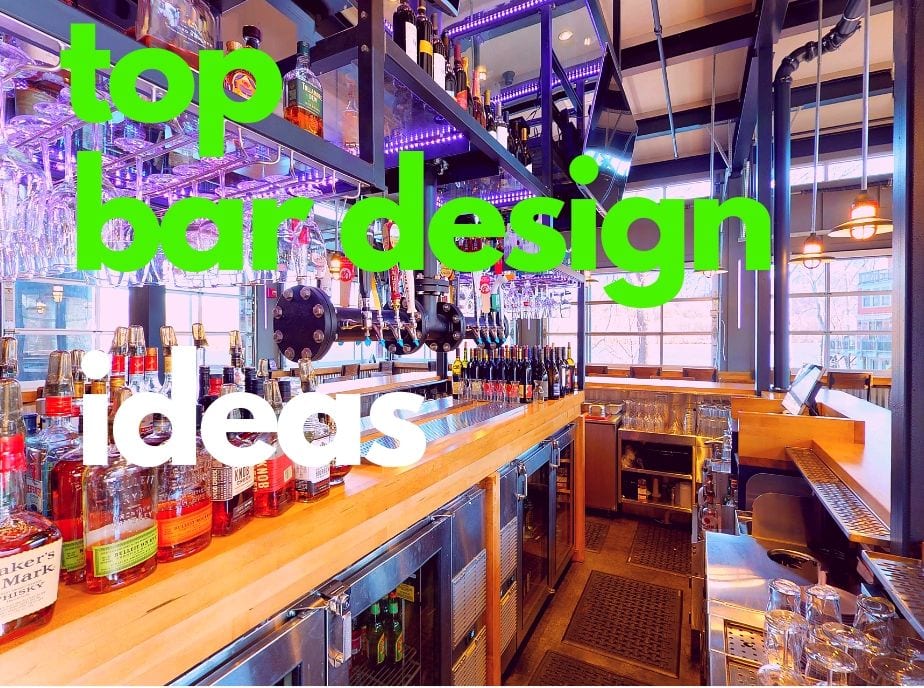 How do you design and build a commercial bar? We'll discuss basic bar construction, such as footrest design, bar tops and supports, dimensions and other tips.
SOME TIPS ON COMMERCIAL BAR DESIGN
When designing and building commercial bars, the bar base is the most critical element to the overall design and construction of the bar, as it is the foundation. Just as with any structure, if the foundation is weak the overall integrity of the building will be compromised. My standard bar design is centered around light weight steel construction, using metal studs. I prefer 2" x 6" (50mm x 150mm) uprights spaced on 16" (400mm) centers. Wood studs of the same size are not objectionable, as long as they are fire treated. The base plate should be anchored securely to the floor. If you are using a wood treated plate and a concrete slab, use ½" x 4" expansion anchors on 24" centers. Fire treated wood sheathing should be applied inside and outside, from top to bottom, using ½" (13mm) CDX plywood. Alternatively, you can use ½" Durock with an FRP skin on the inside. Apply any type of exterior cladding you wish.
WHAT IS THE MOST EFFECTIVE DESIGN OF A COMMERCIAL BAR TOP SUPPORT?
If you are looking for the best approach to secure your bar top, this is for you. Although there are many ways of accomplishing a goal, I've developed and stuck to this method for securing bar tops. You are going to need two layers of ¾" (19mm) CDX plywood. Cut the plywood so it is 7" (178mm) narrower than the overall depth of your bar top. For instance, if your bar top is 30" (762mm), then the underlayment will need to be 23" (584mm); this is especially good, since you will be able to achieve 96% consumption of your material. Next, install the two sheets so they are cross-grained with respect to each other. This will maximize the overall strength. Next, use 3 ½" (90mm) coarse-threaded deck screws to fasten the underlayment to the wood framing below. Lastly, install 3" x 3" x 12 ga. (75mm x 75mm x 3mm) heavy-gauge corner angle, continuously, on each side of the bar. This angle, manufactured by Clark Dietrich Building Systems, is used typically in metal framing. The angle can be affixed to the wood framing with #10-16 self-tapping wood screws every 12" (300mm). These angles are as critical to bar top support as the double-layer of underlayment, as together they will secure any bar top regardless of composition, i.e., granite, etc.
Downloadable:
Standard Universal Bar Clearances
WHAT YOU NEED TO KNOW ABOUT COMMERCIAL BAR TOPS
First and foremost, the finished height of bar tops should be as close to 42" (1,067mm) as possible. The reason for this is because the standard height of bar stool seating (top of cushion) is 30" (762mm), and you want a 12" (305mm) separation between the two. I am a proponent of durable surfaces, so it is no secret that I prefer granite for bartops. I discuss this in detail in an earlier post (refer below). Bartop depth can vary anywhere from 24" – 30" (610mm – 762mm), depending on personal preference. If you desire to incorporate a Chill-Rite 32 (@chillrite32) frost rail, as discussed in our post (refer below), you will need to account the back 8" (203mm) of bartop space for the equipment. Drink rails, which provide an area for the bartender to make drinks with built-in drainage, are a matter of personal preference – these are not required by health departments. Glastender offers a 4″ (102mm) stainless steel add-on drink rail. When planning your bar top, be sure to deduct 4″ from the overall depth. The Glastender unit, which fastens to the bottom of the bar top, may require further modifications; the cut sheet can be downloaded below.

Downloadable:
Glastender Model DR Drink Rails

Related Posts:

HOW MUCH IS MY BAR DESIGN REALLY GOING TO COST?
Top 5 Design Ideas About Purchasing Countertops for Bars
Chill-Rite 32 Beer Systems: Ice-Cold Beer For Nightclubs & Bars

BAR FOOTREST DESIGN CONSIDERATIONS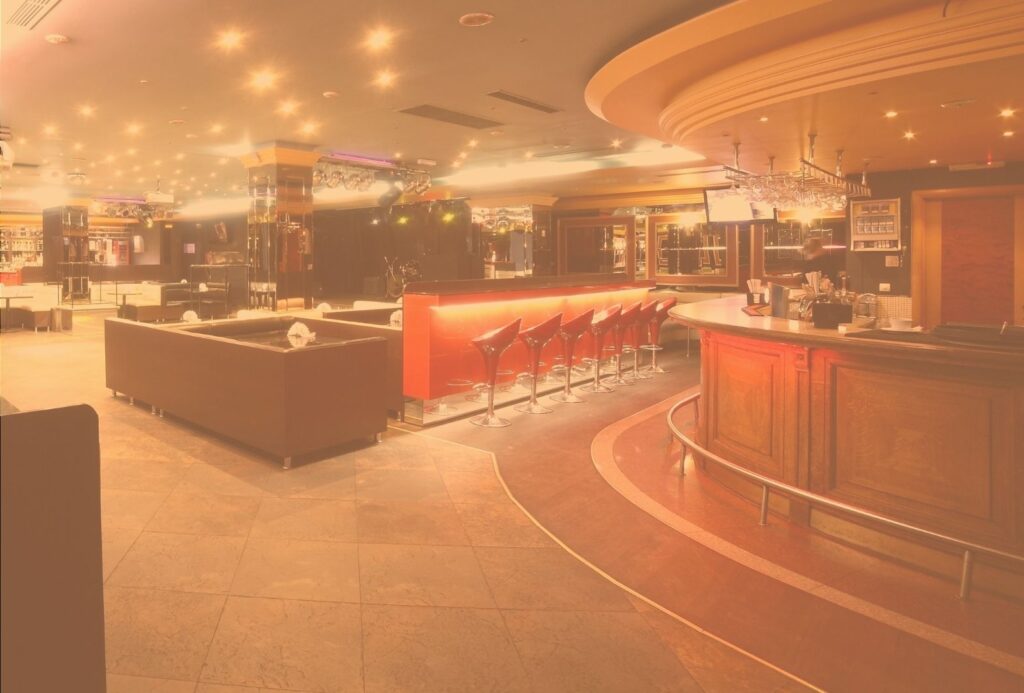 When designing and building commercial bars, effective design begins with the footrest. Any bar that doesn't include a footrest is like flushing your money down the toilet! I recall visiting a popular, upscale restaurant in Chicago a few years ago. Everybody was raving about the beautiful bar and I could hardly wait to see it. The minute I entered the bar area I couldn't help but notice two things: the beautiful granite cladding on the bar face – and the MISSING footrest! As I (uncomfortably) sat there enjoying a glass of wine, my feet were dangling. How uncomfortable! I sat there and wondered what the owner of this beautiful place was thinking when she decided against including a footrest. When I asked her, her reply was "It makes cleaning the floor easier." Really?! I thought the experience was all about the customer, but in her case, it's all about her!! No wonder the bar wasn't full. Actually, if her footrest had included the same granite as the cladding, it wouldn't take much effort to clean that.
Don't fall into the trap of not including a footrest, or your customers will not be staying long. Actually there are two solutions to this problem. The most basic footrest is the old-fashioned brass kit you can find all over the internet. Personally, I hate this approach, but at least it's better than not having a footrest. The first problem with the brass hardware is it just doesn't hold-up very long; the first thing to go is the finish – and that doesn't take long in a busy bar, especially in a cold-winter climate such as Chicago. The other problem is it tends to fall apart. In short, brass footrests are a waste of money and don't help your nightclub or bar uphold a positive image, but at least they keep your customers comfortable and that is your first job. The most effective footrest is the stationary type, built out of wood and clad with granite or ceramic tile, as shown in the photo above, right. This type of footrest should be 6" (152mm) tall and 9" – 11" (228mm – 279mm) in depth. If this type of footrest is your preference (as it is mine), you will want to cover the wood framing with 3/8" (10mm) Durock underlayment.


ADDITIONAL TIPS ABOUT BAR DESIGN
Here are a few other considerations when designing and building commercial bars:
If you want to add a great-looking, traditional wood bar edge, you'll want to consider calling my good friend, Larry Wolfe, at Lawrence Corp. in Amherst, NY.
Overhead hinged bar gates are basically useless. I can hardly think of a bigger waste of money than overhead bar gates. The problem is they are a maintenance nightmare because of all the banging they endure. Alternatively, I've seen some club owners leave them propped open because the bartenders and barbacks get sick of dealing with them. Do yourself a huge favor and forget about these. If you want an effective means of creating an opening that really works, consider a removable gate. These can be fabricated from architectural metal that is clad over 3/4″ MDF. My good friends at Rigidized Metals can help you with numerous stylish architectural metal solutions. To learn more about Rigidized Metals, please see my blog post (refer below).
If you wish to add a drink rail (for staging empty glasses), it should be 4" (102mm) deep. Ideally, drink rails should be about 1" (25mm) below the bartop. The simplest approach (using a granite bartop) is to polish the inside edge and then install the granite drink rail on top of the lower section of underlayment (described above), which will require you to extend the depth of that layer.
Related Posts:
Ergonomic Bar Design For Maximum Profits
Designing With Durable Materials: Architectural Metal

We Work International Customers
If your bar or nightclub application is outside the U.S., we'd be delighted to work with you! We're familiar with the metric system and can furnish you with the appropriate plans and specifications for construction. With our web-conferencing and Basecamp 24 x 7 project management system, we're fully capable of servicing your needs. Please click here to learn more about our methods.



Call Us For Your Next Design Project

Our standard bar design service includes all construction plans and equipment layouts. We would be happy to assist any gentlemen's club, night club, or bar owner who would like to incorporate time-proven design ideas into your venue. Please feel free to contact us.

Most Popular Articles
Pour My Beer: Self-Serve Beer Systems for Bars & Nightclubs
Cost Guide to Professional Bar Design Services
What Is "Pour Cost" and Why Is It So Important?
The Best Liquor Inventory Management System : AccuBar vs BevInco
Top 5 Design Ideas about Purchasing Nightclub and Bar Furniture