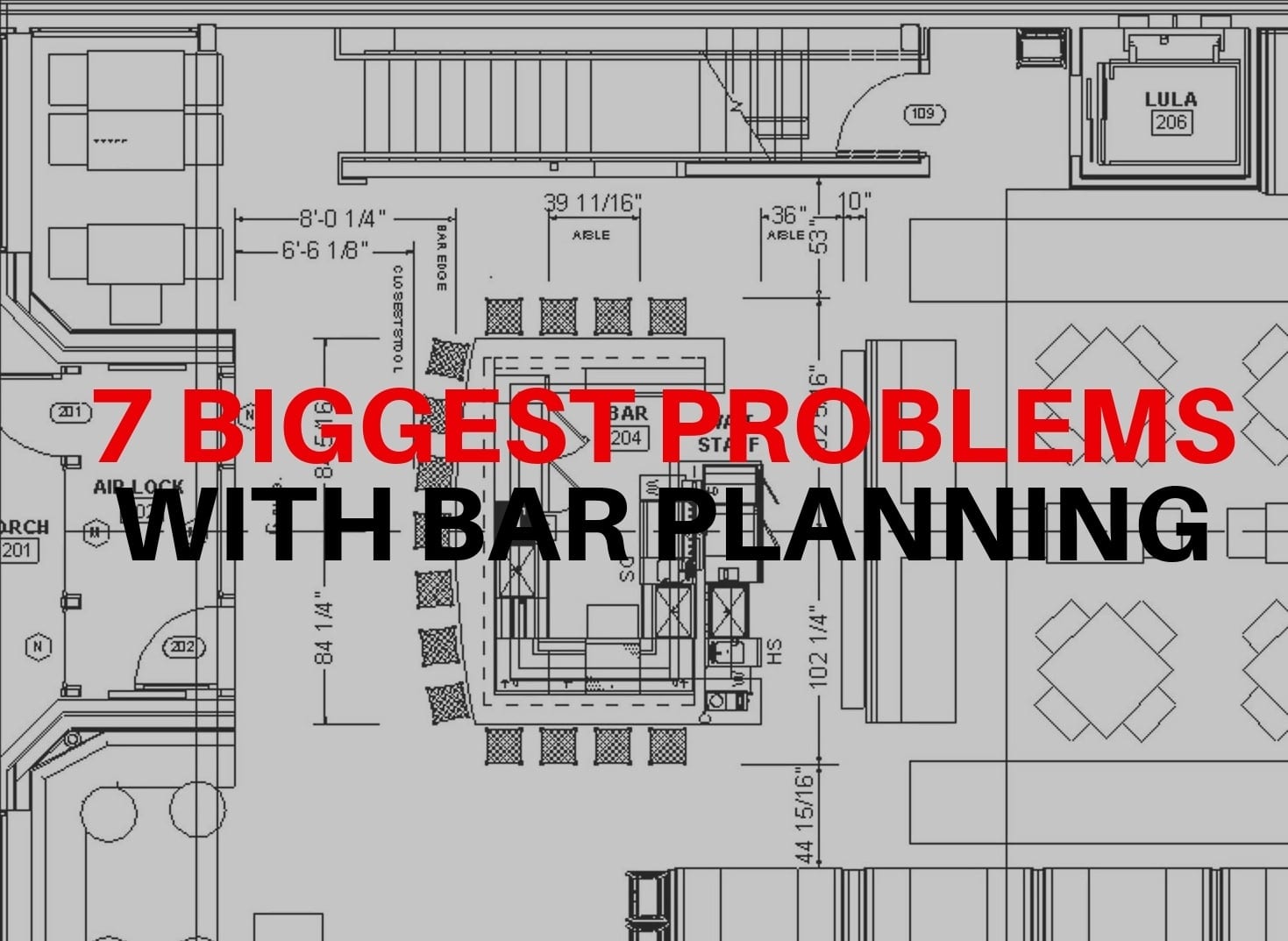 What are the 7 biggest problems with designing a bar? For many, bar design is a very frustrating experience.
Today we'll address the 7 biggest problems with planning commercial bar plans and layouts, dimensions, equipment, finishes and costs.

DESIGNING A BAR – 7 BIGGEST PROBLEMS
Let's face it, planning a commercial bar is frustrating and time-consuming. To make things easier, let's talk about the most fundamental planning issues of bar design.
#1: Planning for Area and Capacity
What's the best shape for a bar and how many patrons are you intending to serve?
Here are a few examples: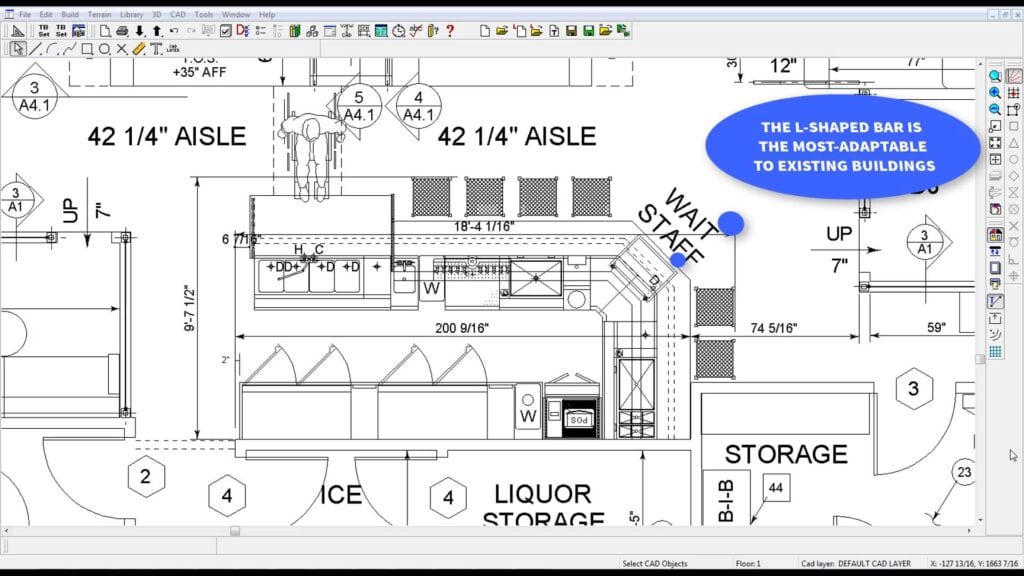 1). 2-station shotgun bar
This bar design is becoming less popular. The bar shown in this example seats eight is nearly twenty four foot long and requires 260 square foot of floor space.
2). 2-station L-shaped bar
This bar is more compact and therefore more flexible to buildings with limited space this bar seat six is about 18 feet long and requires 180 square feet of floor space;
3). 3 – 4 station island bar
This is the most popular bar design, as it enables patrons to interact with people on all sides. This bar is approximately 485 sq.ft. and will accommodate 28 seats.
In terms of seating efficiency, the shotgun bar and L-shaped bar require the largest
area of at least 30 square feet per patron, while the island bar is the most efficient at only 17 square feet per patron.
Space allocation numbers for facilities planning here's a chart that summarizes all the above.
#2: How to Fit a Bar to a Given Space
It can be challenging to fit a bar within the physical space with all proper clearances. Remember that empty space often appears larger than it really is and careful planning is required.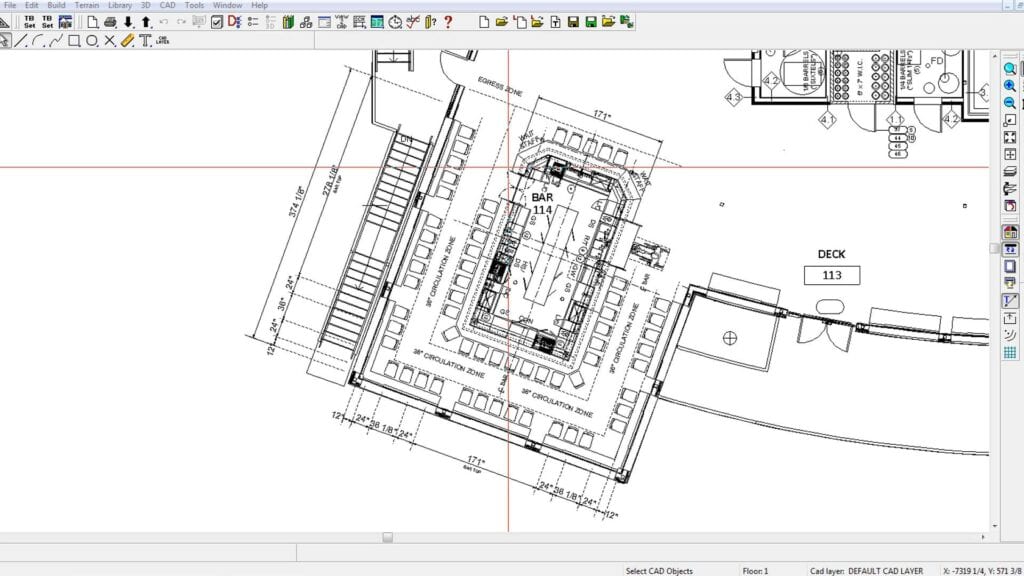 #3 How to Plan for Seating and Tables
This is a further refinement of the previous point, which addresses all seating, including tables. Architectural standards need to be applied that take into account human dimension and interior spaces, including server aisles, ADA, customer activity zones, circulation zones and clear access zones between tables. Using these standards were generally put you in good shape with the occupant loads as stipulated by IBC for Assembly Group A-2.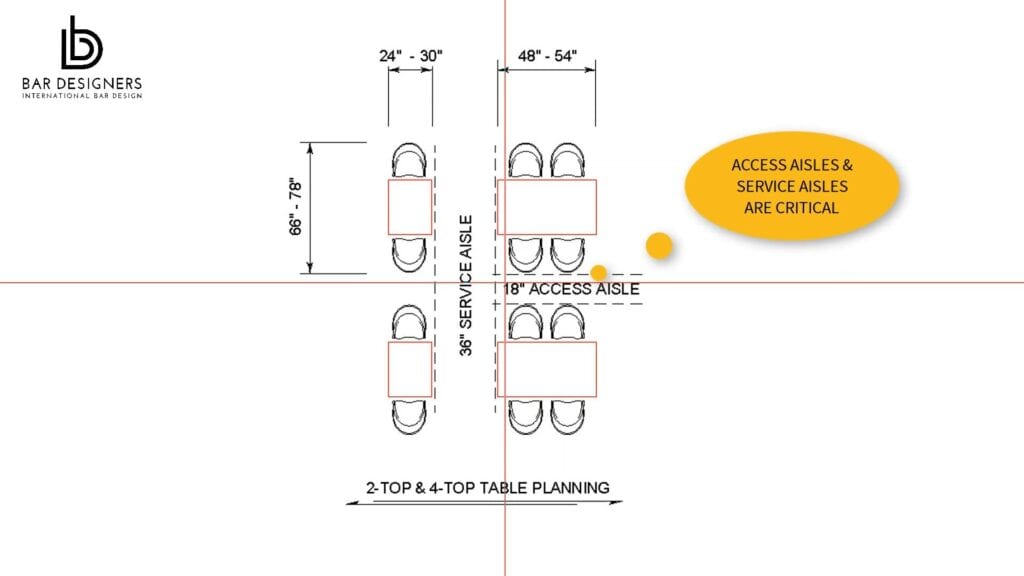 #4 How to Design Bar Equipment for Ergonomic Efficiency
Bars are factories which make drinks, so what are the necessary provisions for maximizing ergonomic efficiency and owner profits, while reducing work comp claims?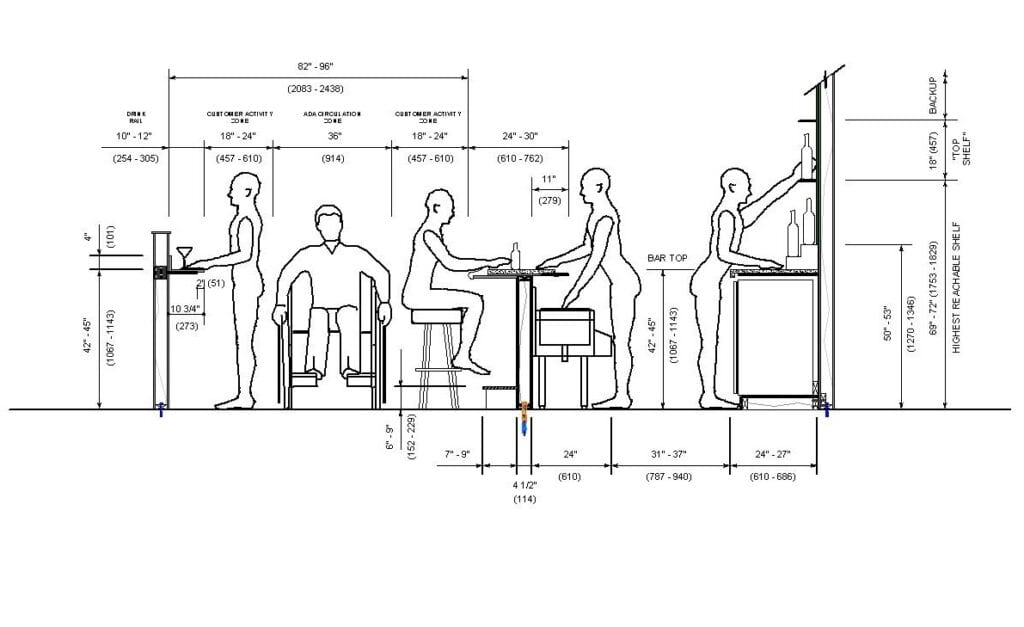 #5 How to Design Bar Finishes
Once the bar layout has been determined, there are a myriad of options for creating the finish. The following is a top 7 list of commercial bar finishing options:
1). Soffits
2). Ceiling treatments
3). Wall coverings
4). Architectural lighting
5). Bar Tops
6). Bar cladding
7). Foot rests.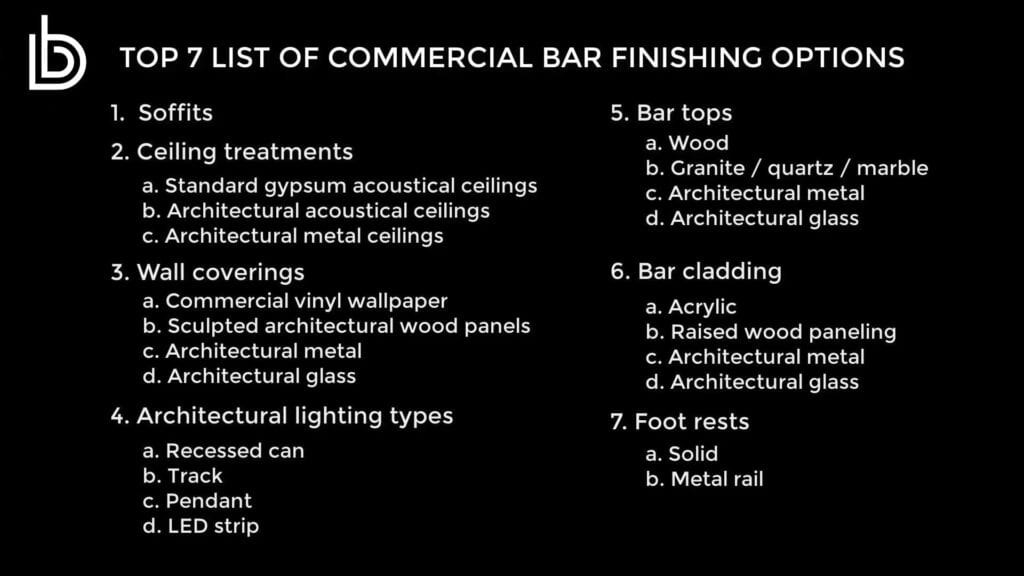 Here's an expanded version of that list, with all the finishing options. Now here's a bar design with a combination of finishes, shapes, colors and textures. Bar owners need to invest in design in order to retain their customers.
# 6 How to Design a Draft Beer System
Nearly every commercial bar client we have wants to get in on selling craft beer, but the choices for equipment are numerous and this requires careful planning.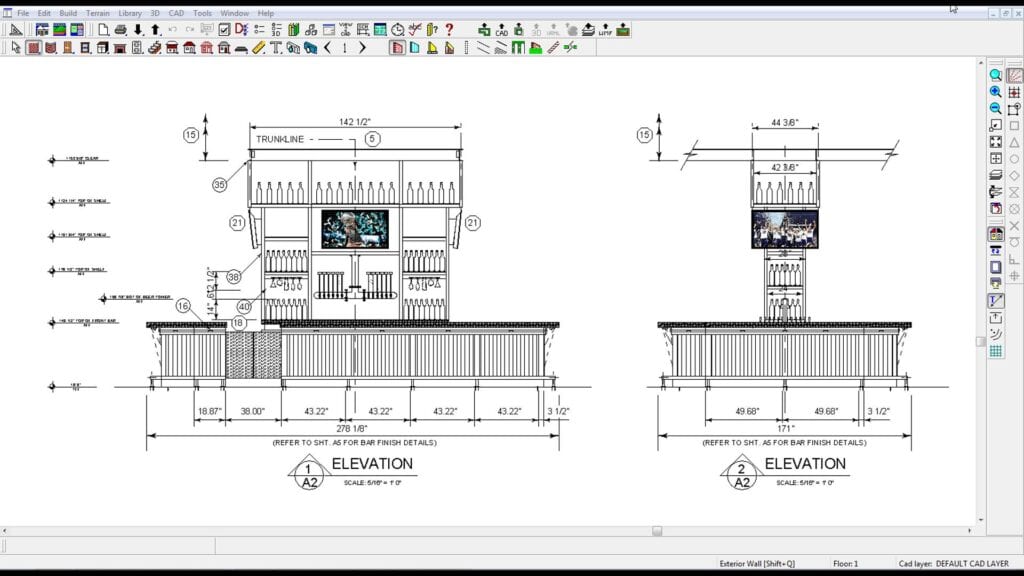 #7 How Much Do Bars Cost?
Every bar needs a myriad of equipment, such as dump sinks, hand sinks, 3-bin sinks, glass washers, drainboards, soda gun holders, ice bins, combination ice bins, speedrails, blender stations, POS stations, coolers, waste baskets, ice machines….the list goes on and on. Some companies, such 'Easy Ice' and 'Ecolab', help you alleviate the cost of capital outlay, by offering subscriptions.
Here's a copy of our 'Bar Equipment Price List' for your reference.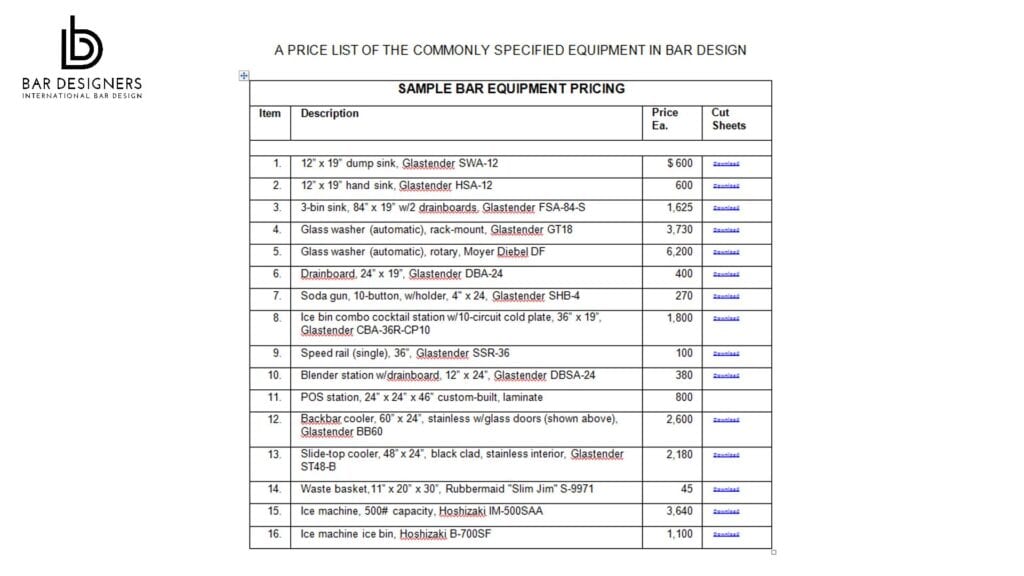 My favorite reference book for architectural standards:
https://amzn.to/38q3piJ

Free Consultation
Contact Us Today to Schedule Your Free Consultation!
———————————————————————————————————–
RELATED POSTS:

WHAT IS MY BAR DESIGN REALLY GOING TO COST?
FITTING A BAR TO A GIVEN SPACE
PLANNING BARS & RESTAURANTS FOR SEATING AND TABLES
DESIGNING BAR EQUIPMENT FOR ERGONOMIC EFFICIENCY
HOW DO YOU DESIGN BAR FINISHES?
HOW MUCH DOES IT COST TO BUILD A BAR?
———————————————————————————————————–
MOST POPULAR POSTS:

WHAT ARE THE STANDARD BAR LAYOUT DIMENSIONS FOR DIY?
HOW DO YOU DESIGN COMMERCIAL BARS FOR ADA COMPLIANCE?
———————————————————————————————————–
DOWNLOADS FOR THIS POST:
BAR DESIGNERS' LIST OF BAR FINISHES

—————————————————————————–
POPULAR DOWNLOADS:
ADA GUIDE FOR SMALL BUSINESSES
BAR AND RESTAURANT SEATING GUIDELINES
—————————————————————————–
QUESTION — Have a question about Bar Design, Bar Equipment or Anything Else? Post in comments section of this video!

•••••••• Camera and Gear Used To Shoot This Video ••••••••
1. Canon SL2 with Kit Lens on Amazon
https://amzn.to/2TkTnt5
** Extra Canon EOS Battery
https://amzn.to/2DsppO8
2. SLIK Sprint 150 Aluminum Tripod
https://amzn.to/2PYY4Kj
3. Fovitec Studio Pro 600 LED Panel Bundle
https://amzn.to/2DJ2sXY
4. Camtasia Video Editing Software
https://amzn.to/2KaZWKr
Cabaret Design Group on Social Media:
https://twitter.com/DesignABar
https://www.instagram.com/bardesigners
https://www.pinterest.com/bardesigner
https://www.facebook.com/bardesigners
———————————————————————————————————–
DISCLAIMER: The above video and description contains affiliate links, which means that if you click on one of the product links, I'll receive a small commission. This helps support the channel and allows us to continue to make videos like this. Thank you for the support!