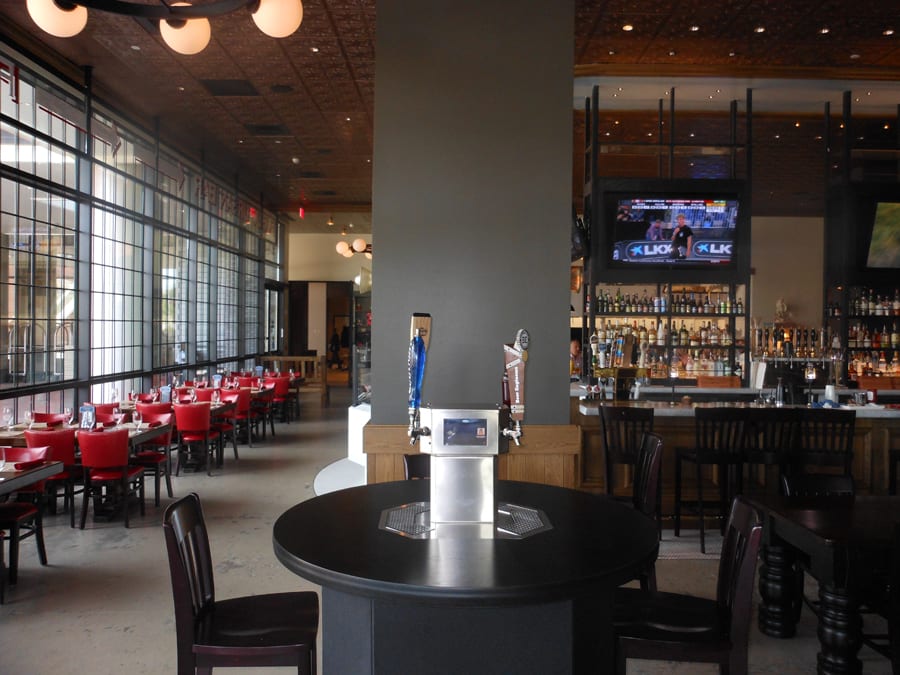 How does "Pour My Beer" self-serve draft beer systems work? Today we'll discuss how they operate, their reliability and how they can make your bar or nightclub more profitable.
Welcome to Design Buzz! Today I'll discuss the latest in draft beer – a self-serve system that can help bars and nightclubs get the edge over their competition. Listen to my exclusive interview below with Josh Goodman, founder & CEO of Innovative Tap Solutions, the parent company of Pour My Beer
POUR MY BEER: SELF-SERVE BEER SYSTEMS FOR BARS AND NIGHTCLUBS
Have you ever wondered how you can improve the way you serve draft beer? Do you own or manage a very popular bar or nightclub and experience difficulty keeping up with customer demand on busy nights? One thing is for certain – you don't want to make people wait excessively for their drinks or they may leave. Worse yet, they may not return! You may not have to worry about this again if you owned a Pour My Beer self-serve beer system! Pour My Beer is the brainchild of Josh Goodman, conceived on a night in late 2007 after he had to wait more than 10 minutes for a beer, with no end in sight. As a young, aspiring entrepreneur, Goodman thought to himself, "How can this process be improved?" This was the spark that then progressed to sketches, a slideshow and finally, a business plan. Today, with hundreds of licenses in the U.S. and Canada, Goodman's company is helping customers pour their own beer and wine after the approval of the self-serve concept by 46 State Liquor Boards.
HOW THE POUR MY BEER CONCEPT EVOLVED
With his concept and a full head of steam, Goodman began knocking on doors. While potential owners were excited about his concept of self-serve beer, the thing Goodman quickly learned is that his core product, the Built-In Beer Wall, isn't practical for people who don't already have a remote-draw draft beer system. As written in a recent edition of Design Buzz (reference below), the cost to retrofit such a system can exceed $30,000. Goodman's answer – at a fraction of the price – was the Mobile Beer Wall, which incorporates a direct-draw beer system.
TECHNOLOGY HELPED COMPLETE THE POUR MY BEER CONCEPT
But what exactly is Pour My Beer, you ask? Pour My Beer (PMB) combines conventional draft beer equipment with proprietary PMB software to enable customers to pour their own beer or wine. Customers simply present their I.D. to the waitress, bartender, etc., and then purchase a radio frequency I.D. card (RFID) worth $10, $20, $50, etc. and then scan the RFID at the beer tap and dispense. Customers are only charged for the amount dispensed. This is particularly useful in brew pubs, for instance, where numerous craft beer offerings are available. For example, the customer can purchase 5 oz. of one beer and because he / she doesn't have to wait for a server, they have the freedom to move to the next, at their leisure. This provides the ultimate consumer experience, in terms of service and value.
Pour My Beer has developed four products and are listed here along with current pricing:
Mobile beer wall – $18,000 for the first wall and $15,000 for each additional.

Built-in beer wall – $1,300 per tap + $3,000 for the check-in station.

Mobile beer table – $3,000 – $4,000 for the first table and $2,500 for each additional.

Built-in beer table – $9,000 for the first table and $7,900 for each additional (see photo above).
The built-in products are for bars and nightclubs that have a remote-draw draft beer system on-premise. The mobile beer wall and table, as mentioned in the above audio interview, utilitze Pour My Beer's direct-draw draft beer system, a self-contained system which enables prospective bars and nightclubs to implement virtually instantly and without enormous capital. In fact, I particularly like the mobile tables and walls for outdoor patio bars or simply within the club on busy nights.
Related Blog Posts:
What Is The Best Draft Beer System?

WHAT OTHER BENEFITS DOES 'POUR MY BEER' OFFER?
In addition to quick set-up and customer satisfaction, every ounce of beer or wine dispensed by PMB is accounted. Are you aware that over 80% of nightclubs and bars are losing more than 20% of their alcohol? I've written about this in several previous editions of Design Buzz. As difficult as this is to believe, these statistics have been verified by my good friend and industry expert, Chuck Deibel, CPA, in his 2014 State of Ohio Sales Tax Audit Brief (which can be downloaded below), which covered the results of over 300 bars. With beer dispensing systems by PMB, you will enjoy the following benefits:
Maximum profits – every ounce sold is accounted and there is no shrinkage due to over-pouring or theft.

Full-customized system reports provided by the proprietary PMB software (see downloadable below):
Ø Sales by brand
Ø Inventory on-hand
Ø Sales by demographic, i.e., male, female, age group, distance from location, etc.
The equipment used in PMB systems is manufactured through a joint venture with Glastender. As you may be aware from previous editions of Design Buzz, I believe Glastender to be the finest bar equipment in the industry. This, by itself, tells you something about the quality of Pour My Beer!
If you're looking to set yourself apart from your competition and maximize your draft beer profits, Pour My Beer is worth looking into!

Downloadables:

Pour My Beer Sample Reports

Shrinkage Report Study of 300 State of Ohio Bars

Related Blog Posts:
HOW MUCH IS MY BAR DESIGN REALLY GOING TO COST?
GLYCOL COOLED vs KEGERATORS – WHICH DRAFT BEER SYSTEM TO BUY?
WHAT ARE THE STANDARD BAR DESIGN DIMENSIONS?

Call Us for Your Next Design Project
Our standard bar design service includes all construction plans and equipment layouts. We would be happy to assist any bar owner who would like to incorporate time-proven design ideas into your venue. Please feel free to contact us.

Most Popular Articles

Ergonomic Bar Design For Maximum Profits
What Is "Pour Cost" and Why Is It So Important?
Which Liquor Inventory System is the Best: AccuBar vs BevInco
Design Ideas about Purchasing Nightclub and Bar Furniture
Top 5 Design Tips and Advice for Bar and Nightclub Owners