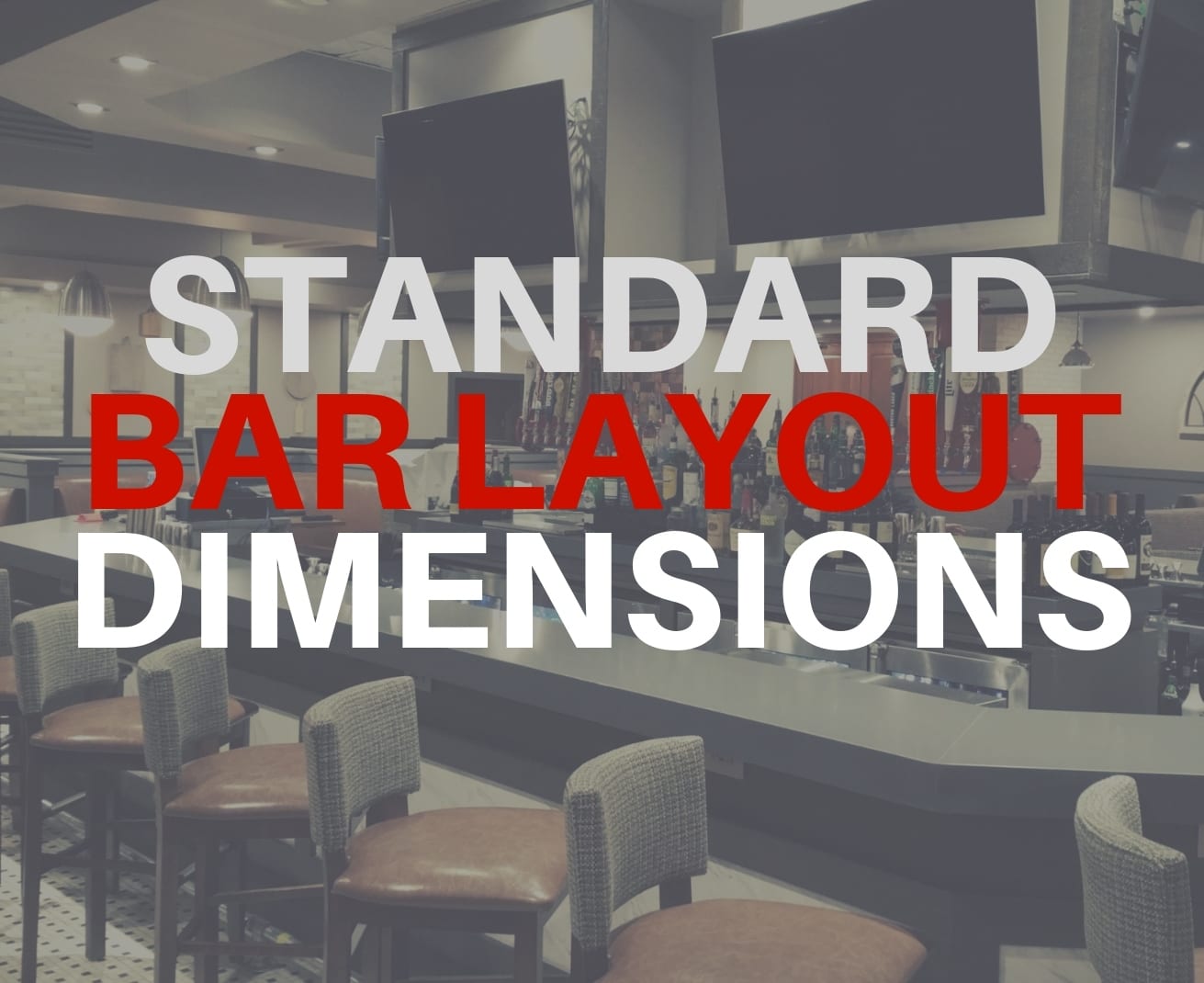 What are the standard bar layout dimensions?
BAR EQUIPMENT IS MANUFACTURED IN MULTIPLE SIZING SYSTEMS
Attempting to layout the equipment for a commercial bar can be a bit intimidating. Every piece of under bar stainless equipment is available in numerous widths and two standard depths. This leads to a great deal of confusion to many bar designers. As an example, consider the drainboards shown in Figure 1. As you'll notice, not all bar equipment manufacturers use the same sizing platform. Given all the above, how does one proceed to designing a bar? What standard dimensions should DIY bar designers use?
WHAT ARE THE STANDARD BAR LAYOUT DIMENSONS?
For starters, let's review a simple sketch shown in Figure 2 (below), "Universal Bar Layout Dimensions with ADA", (downloadable below). This provides the basic design criteria for any bar layout (metric dimensions in parentheses).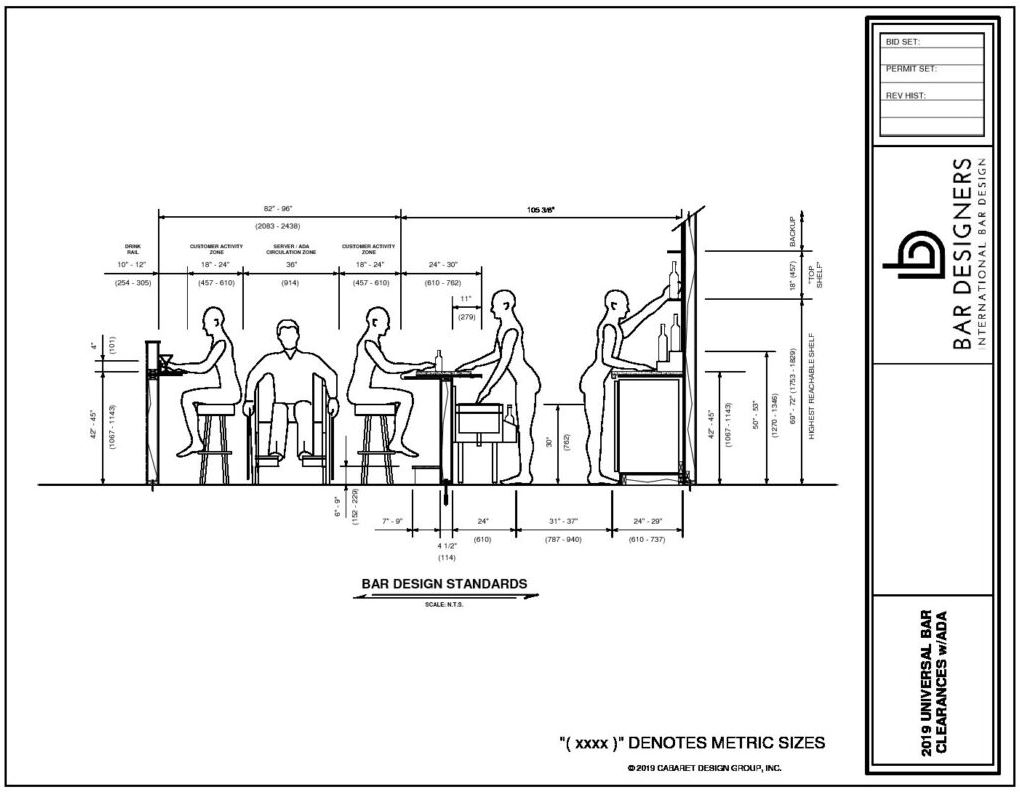 WHAT ARE THE BEST DIY BAR LAYOUT DIMENSIONS?
Most bar equipment manufacturers use the 19″ and 24″ sizing platform. The standard dimensions DIY bar designers need to get started are as follows:
The bar base ("bar die") is nominally 4″ or 6″ deep.
Standard depth of 24" for bar equipment.
Stainless under bar equipment is commonly available from 12″ – 48″ wide, in 6″ increments.
The bartender's aisle should be 31" – 37".
Bar tops range from 24″ to 30″ in depth, including a standard 4″ drink rail.
The bar top should overhang the inside face of the bar die by 11″.
Standard back bar depth should be 24" – 29".
Under bar stainless bar equipment is normally 30" high, which is the working surface height for the bartender.
BAR DESIGN TIP:
The most critical bar design dimension is the inside bar top overhang, which is 11″. This will ensure easy bartender access to the ice bins and will also reduce bartender back strain.
WHAT YOU NEED TO KNOW ABOUT SPEED RAILS
To accomplish a better bar design, you need to know about the significance of speed rails:
The speed rail is the most essential equipment to achieve successful bar layouts.
Single speed rails are 5″ and are intended for 19" equipment. We only use speed rails with 19" drainboards, ice bins and 3-bin sinks.
BAR DESIGN TIP:
Use 24″ bar equipment in order to maintain consistent aisle widths.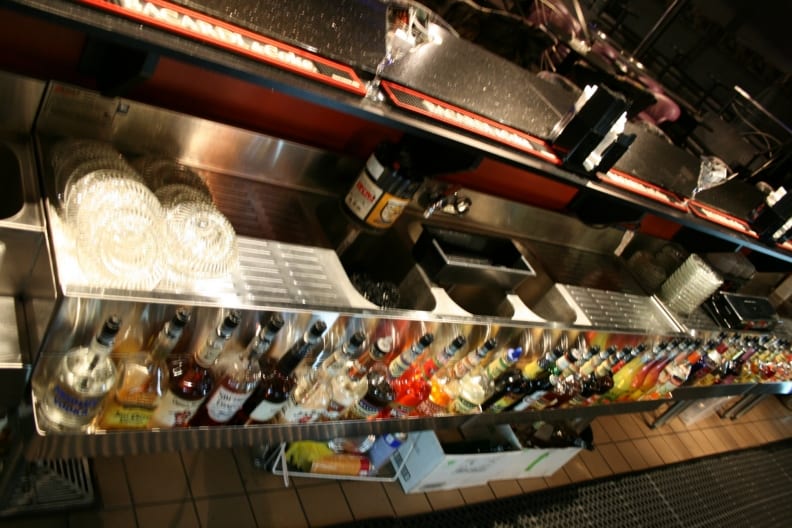 RELATED POST:
WHY SPEED RAILS ARE CRITICAL TO BAR PROFITS
AVOID THE USE OF DOUBLE SPEED RAILS
Never use double speed rails. Adding a second speed rail adds 5″ to the bartender's reach, which leads to bartender back strain; see Figure 3 (below).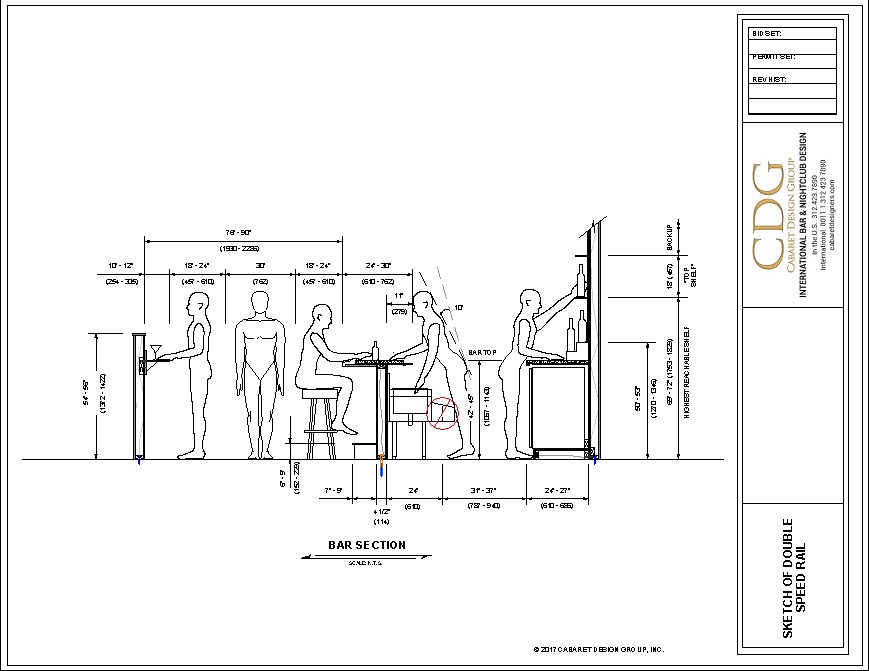 BACK BAR LAYOUT DIMENSIONS AND EQUIPMENT
The majority of back bar coolers are available in 24" and 29" depths. Traditional kegerators are 29″ deep; 24" back bar coolers are only available from these manufacturers:
Beverage Air
Glastender
Krowne Metal
Perlick

BAR DESIGN TIP:
Not every back bar cooler offered is 24" deep. I only specify 24″ back bar coolers.
HOW TO COMMENCE PLANNING A COMMERCIAL BAR DESIGN
Given the above, how does one commence to plan their own commercial bar? First, limit the equipment selections from one manufacturer. Next, visit the websites of the equipment manufacturers (listed below) to ensure they can provide the desired equipment. Many companies manufacture bar equipment, however, only a few have comprehensive product lines:
Glastender
Krowne Metal
Perlick


BAR DESIGN TIP:
Plan your DIY commercial bar layout dimensions as follows:
Allocate 24" for underbar equipment depth
31" – 37" for aisles
25" for back bars.
Do this and you'll be well on your way to a successful bar design!
RELATED POSTS:
ERGONOMIC BAR DESIGN FOR MAXIMUM BARTENDER EFFICIENCY AND PROFITS
PLANNING A RESTAURANT BAR – HOW MUCH SPACE DO YOU NEED?
DOWNLOAD FOR THIS ARTICLE:

UNIVERSAL_BAR DIMENSIONS_WITH_ADA.pdf
My favorite reference book for architectural standards:
https://amzn.to/38q3piJ

Free Consultation
Having trouble with your bar plan? Contact Us Today!
———————————————————————————————————–
MOST POPULAR POSTS:
HOW MUCH DOES BAR DESIGN COST?
INTEGRATED BAR DESIGN IS ARCHITECTURAL BAR DESIGN
CHECKLIST FOR COMPLETING A COMMERCIAL BAR DESIGN

DESIGNING COMMERCIAL BARS FOR ADA
WHAT'S THE STANDARD COUNTER OVERHANG FOR BAR TOPS?
BAR DESIGN CALCULATE OCCUPANCY FOR MAXIMUM LOAD
———————————————————————————————————–
POPULAR DOWNLOADS:

CUSTOM_DRINK_RAIL_DESIGN.pdf
BAR_AND_RESTAURANT_SEATING_GUIDELINES.pdf
——————————————————————————————————————–
DISCLAIMER: The above video and description contains affiliate links. This means that I'll receive a small commission if you click on one of the product links. This helps support the channel and allows us to continue to make videos like this. Thank you for the support!