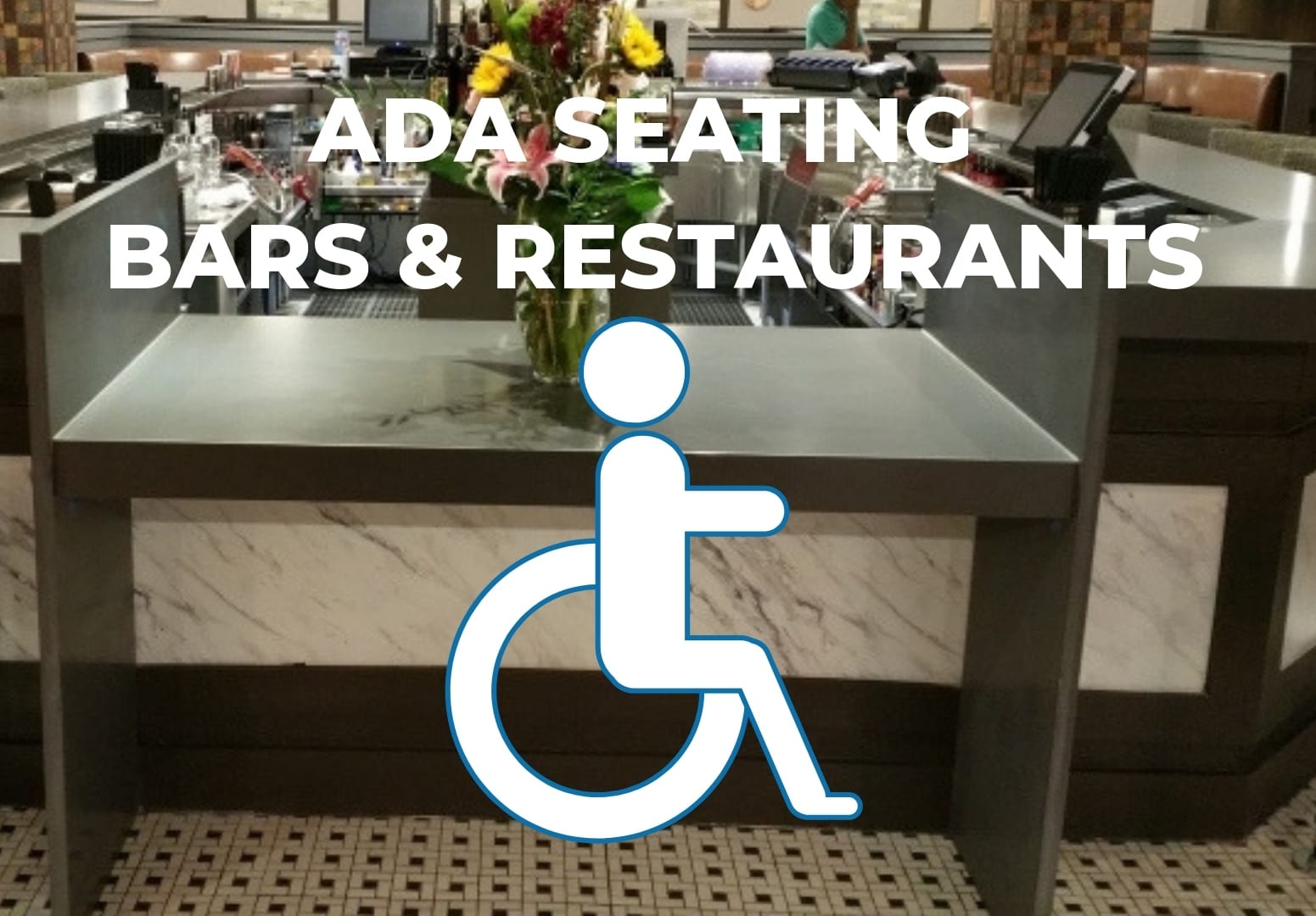 How do you plan bar and restaurant seating for ADA compliance?
Learn the real facts about ADA compliance for bar and restaurant seating, how to calculate IBC occupancy load and ADA seating.
HOW TO PLAN ADA SEATING FOR BARS AND RESTAURANTS
Do the photos below look familiar? If the one at the right looks less-familiar, this is how we accommodate wheelchairs at bars nowadays and it's something that every bar should have and I'm going to explain why. From your parking lot to your bathrooms and all parts in between, all portions of your commercial building are governed by the Americans with Disabilities Act, also known as ADA.
We're all familiar with ADA parking spaces and restroom signage, but what about ADA seating for commercial bars?
ADA SEATING FOR BARS: THERE IS NO SUCH THING AS "GRANDFATHERING"
When it comes to planning for ADA seating, we have to be aware of what the code says and that it's very specific about the percentage of seating and tables and so forth, that we must dedicate to those who are handicapped. Bar owners have told me that their architect says that their bar is "grandfathered," which means that it's exempt from this code requirement because the building and/or business was built/founded before 1990. I doubt that any architect would be that irresponsible to make such a grossly inaccurate comment.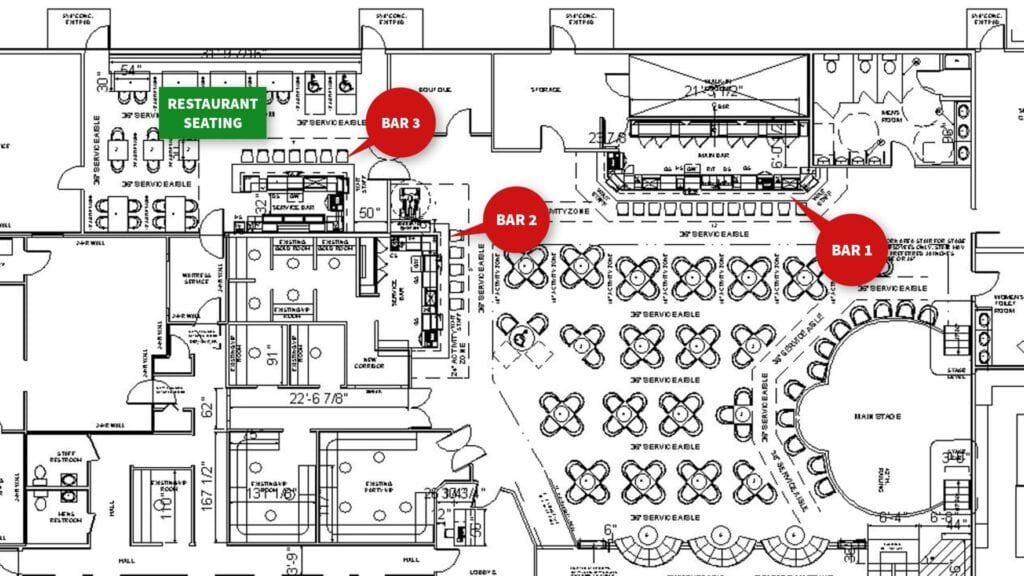 THE BUILDING CODES AREN'T CLEAR ABOUT ADA SEATING FOR BARS
In the plan shown at right, you'll notice a total of three bars, a restaurant and nightclub. This will serve as the reference document for this conversation. In the world of design we have a "boatload" of information from which many of us reference, such as IBD, ANSI and all local codes. Many of these documents have conflicting information when it comes to ADA and many of the issues aren't easily resolved. However, according to my good friend and industry expert, Hank Falstad of Access Technologies Services, the two documents that serve as the backbone code for ADA are:
Americans with Disabilities Act of 1990
ADA Amendments Act of 2008
These are federal statutes and therefore supersede IBC, ANSI and all local codes. Hank is an architect with many years experience and is a principle of Access, which is a compliance litigation management firm, as it relates to federal statutes with ADA. He also provides plan check services, consulting, auditing, reporting and expert witness testimony, among other things. Hank is really the "Go-To Guy" in this space.
---
BAR DESIGN TIP:
According to Hank Falstad, AIA, the Access Board's 2004 Guidelines is the governing document for ADA as this agency is responsible for writing the "safe-harbor" for design and construction to be in compliance for the Americans with Disabilities Act.
---
IS ADA SEATING REQUIRED FOR BARS?
In order to understand how to plan ADA seating for bars, we need to understand that we have to have accommodations for the handicapped in all areas of this club, including the restaurant and the bar – this is not optional, and let's understand one thing for sure: there is no such thing as "grandfathering" when it comes to being compliant with federal statutes.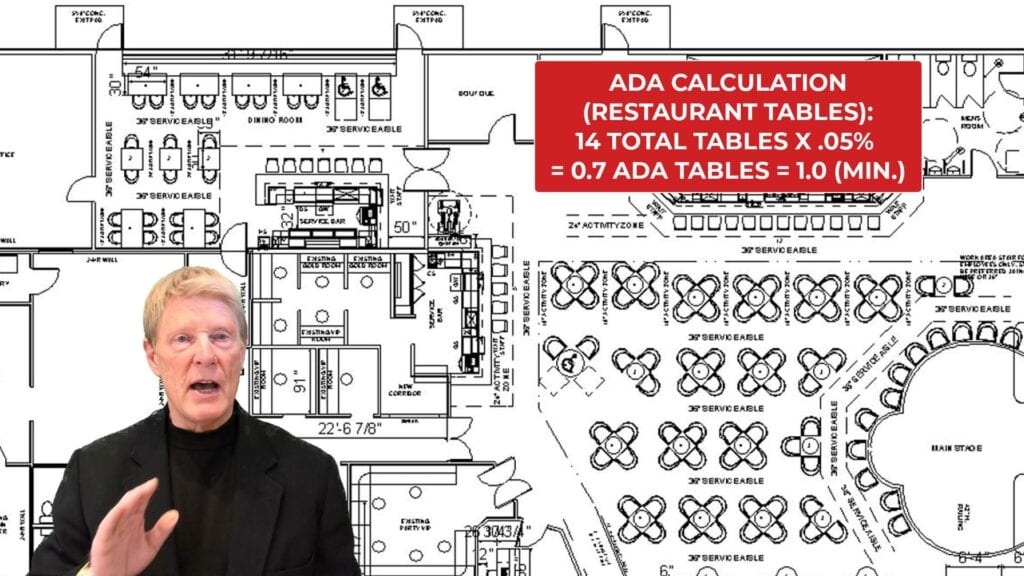 ADA CODE IS VERY SPECIFIC ABOUT SEATING ACCOMMODATIONS
When it comes to ADA code, code requires the following:
DESIGN TIP:
A minimum of one accommodation, but not less than 5% of the surfaces are to be dedicated to ADA seating.
The restaurant has 14 tables. 5% of 14 is still less than one, but we have to have a minimum of one table accommodation. In this instance, we've exceeded the code by providing two accommodations at the designated tables, and we have an area for the wheelchair and a companion seat, along the bench seat.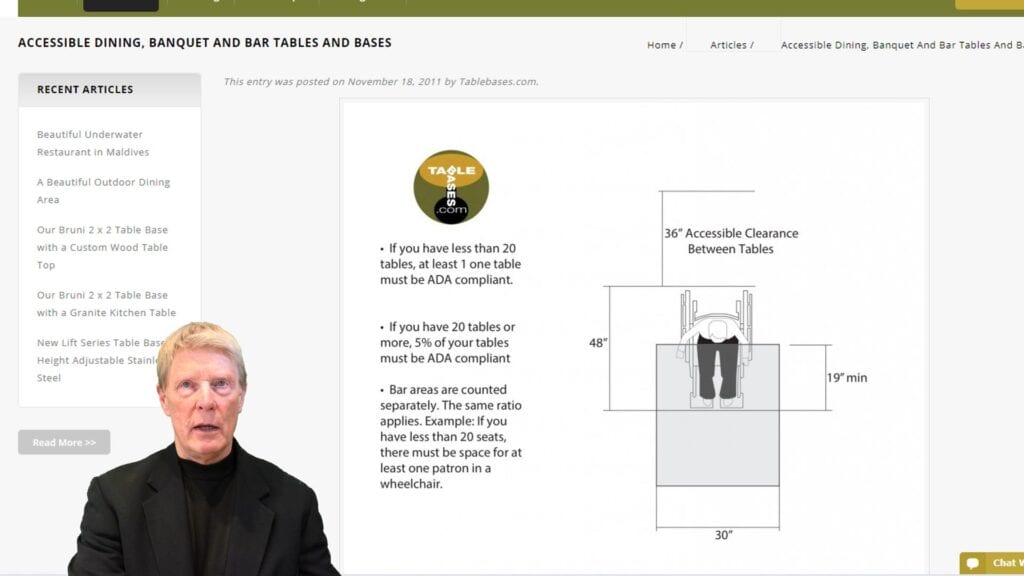 ADA SEATING ACCOMMODATIONS
Here you'll see a screenshot of the website called 'Tablebases.com,' which has a very thoughtful presentation on ADA seating, as it applies to tables. You'll notice that the ADA patron has a 48-inch deep space and 19 inches of the leg space is underneath the table. By statute, a 36″ cross-aisle needs to be provided behind the 48″ ADA provision. Referring to the sketch at right, the ADA patron sits at the table, with his/her legs underneath it and the 36″ aisle is behind them.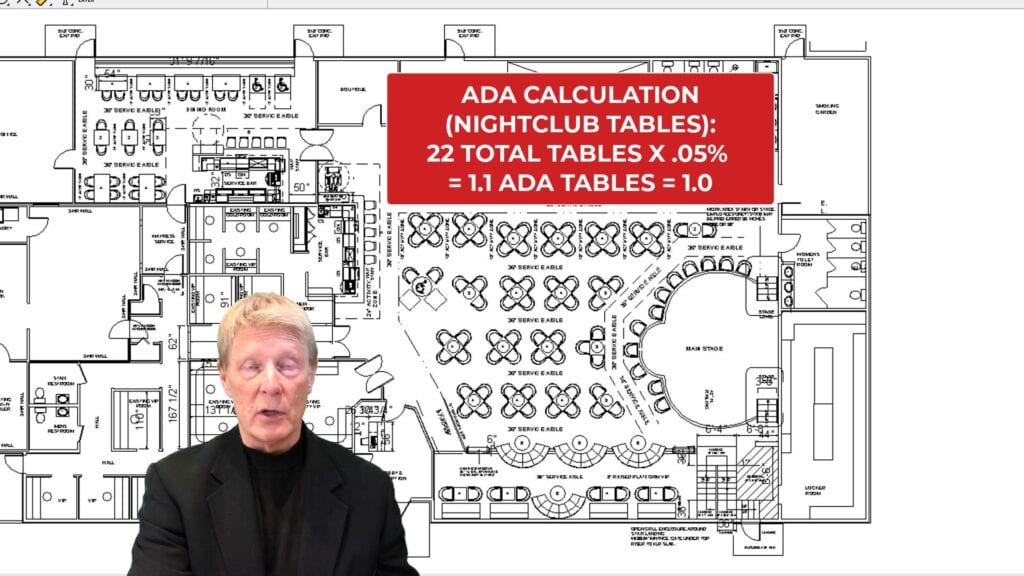 HOW TO CALCULATE NIGHTCLUB SEATING REQUIREMENTS FOR ADA
Similar to the above requirements, nightclub seating is calculated the same way. In this example, with a total of 22 tables, we only need to have one ADA accommodation – which is five percent of the surfaces. As shown in the plan at right, we actually have two – we have a 4-top table, where two people could sit in wheelchairs, along with two companion seats.
HOW TO PLAN ADA ACCOMMODATIONS FOR BARS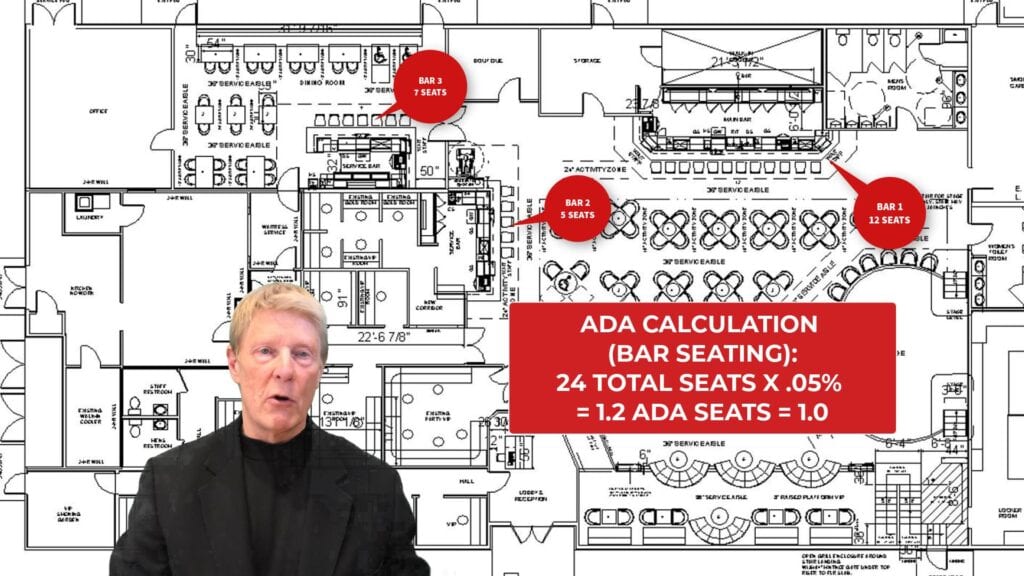 How do you plan ADA seating for bars?
DESIGN TIP:
When it comes to seating at bars, ADA is very specific that bar seating is to be calculated separately from table seating. 
Even though we have proper accommodations at tables, bars are yet a different type of surface. The ADA code feels that we can't discriminate against those who are handicapped by isolating them at a table, when we have people who are enjoying the experience of sitting at the bar itself.
DESIGN TIP:
The ADA Code requires that bar surfaces are calculated similar to the table surfaces, in that we have a minimum of one accommodation and a maximum of five percent.
As we see in the subject layout, there is a total of three bars: one has 12 seats, one has five seats and the other has seven – that's a total of 24 seats. According to the calculation, that still only equates to one ADA accommodation.
WHEN IN DOUBT, BE GENEROUS
When I laid-out the seating for the subject bar (club), I have one ADA seat designated for the L-shaped bar. Now you say, 'what if two people come in in a wheelchair – now what do you do?' A thoughtful bar owner would have one extra provision, even though one is only required. In today's litigious society someone's going to say: 'why didn't you have two? Look at the size of this place – you have three bars.'
WHAT YOU REALLY NEED TO KNOW ABOUT ADA DISCRIMINATION LAWSUITS
A thoughtful and considerate bar owner would have two accommodations for ADA. What you really need to know about ADA discrimination lawsuits is the following: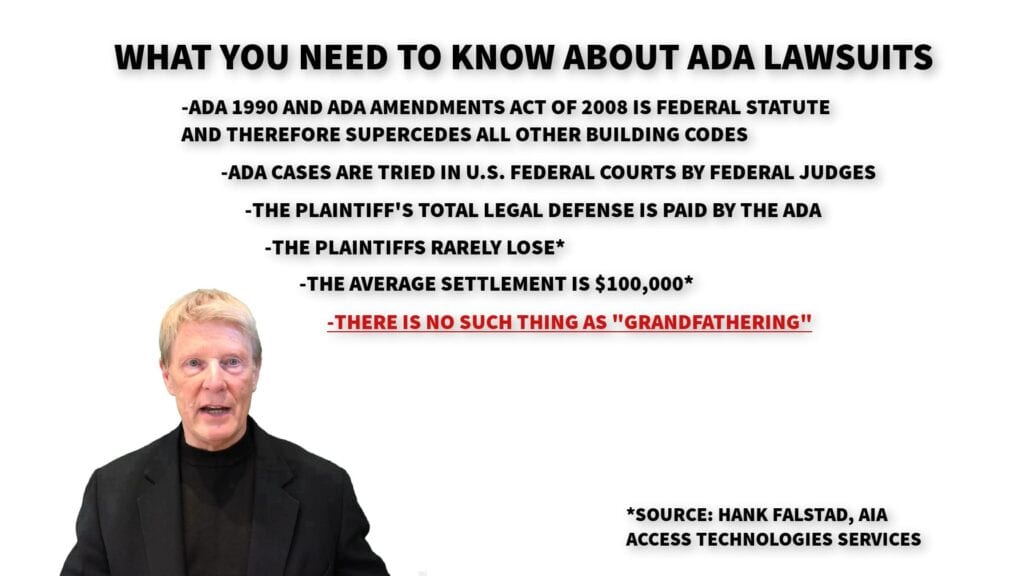 ADA is a federal statute – as I mentioned before – and these cases are tried in Federal Courts by federal judges;

Plaintiff's legal fees and professional fees are paid for by ADA;

Most juries are sympathetic to ADA discrimination lawsuits;

Due to the above, bar owners and their architects have no chance of winning these cases.
My favorite reference book for architectural standards:
https://amzn.to/38q3piJ

Free Consultation
Contact Us Today to Schedule Your Free Consultation!
RELATED POSTS:
CALCULATING MAXIMUM OCCUPANCY FOR BARS
HOW TO PLAN A COMMERCIAL BAR DESIGN – EQUIPMENT, LAYOUTS AND SYSTEMS
PLANNING BAR AREA FOR PATRON CAPACITY
MOST POPULAR POSTS:
WHAT ARE THE STANDARD BAR LAYOUT DIMENSIONS FOR DIY?
COMMERCIAL BAR DESIGN – A TOP 7 LIST OF BAR FINISHING IDEAS
WHAT DOES IT REALLY COST TO BUILD A BAR?
HOW TO DESIGN COMMERCIAL BARS FOR ADA
———————————————————————————————————–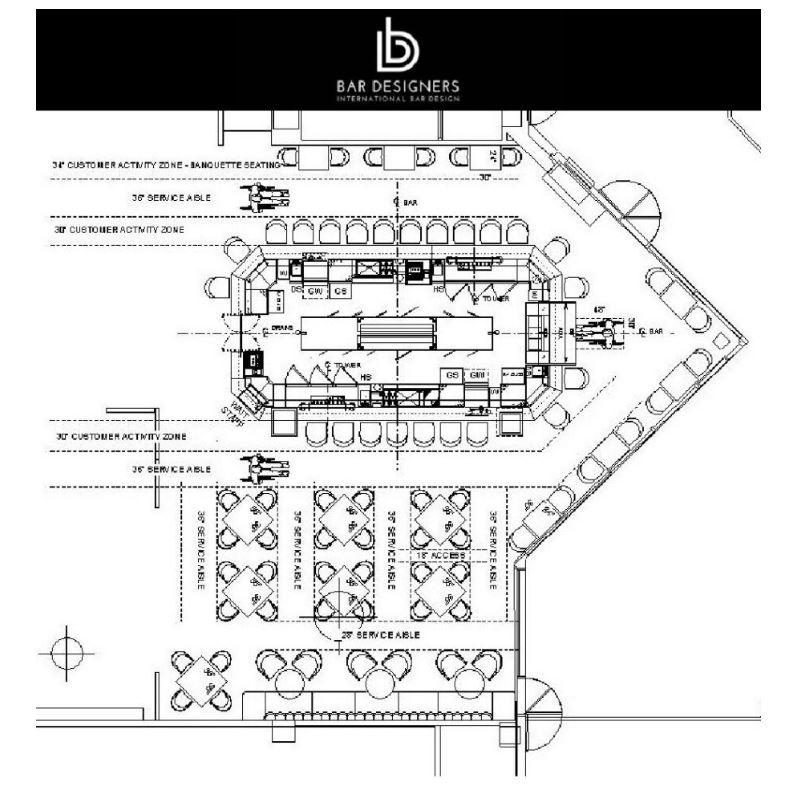 POPULAR DOWNLOADS:
ADA GUIDE FOR SMALL BUSINESSES
BAR AND RESTAURANT SEATING GUIDELINES
———————————————————————————————————–
DISCLAIMER: The above video and description contains affiliate links, which means that if you click on one of the product links, I'll receive a small commission. This helps support the channel and allows us to continue to make videos like this. Thank you for the support!
———————————————————————————————————————