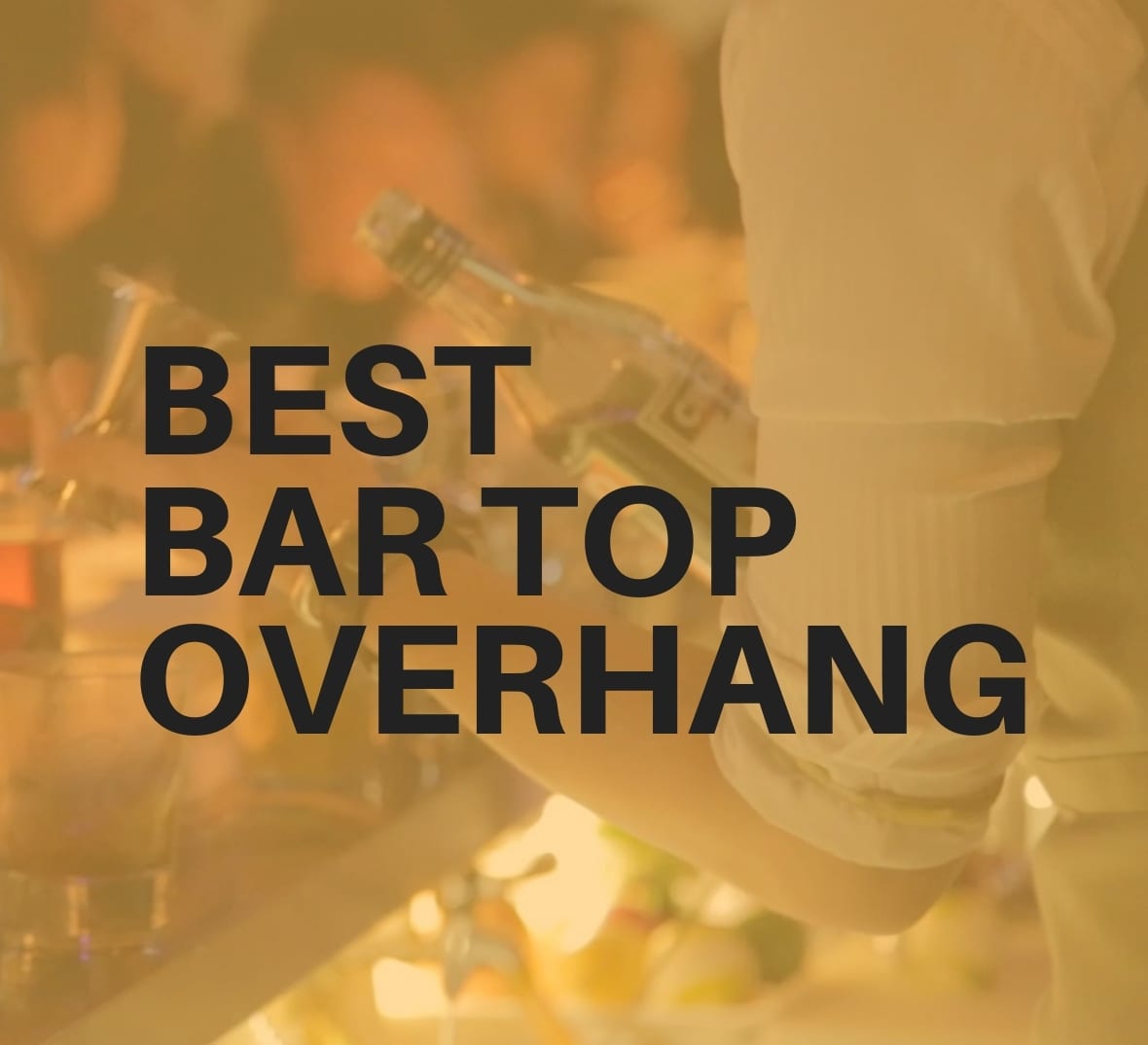 What's the standard counter overhang?
Discover the standard commercial bar dimensions for proper countertop overhang for seating and ergonomics.
BAR DIMENSIONS – STANDARD COUNTER OVERHANG WITH ERGONOMICS
When it comes to bar tops, many people have a misconception of what's the standard counter overhang. Designing a bar for a basement is one thing, but in commercial bar design, we're dealing with customers and bartenders. One thing's for certain: we want to maximize the experience of those sitting at the bar as well as those working behind the bar. There's greater leeway on the customer's side of the bar, since the range for comfort is actually pretty wide. For the bartenders, however, we need to design for ergonomics so we can reduce back fatigue. In fact, our commercial bar designs are expressly geared for maximum bartender comfort and efficiency – which translates into maximum profits for the bar owners.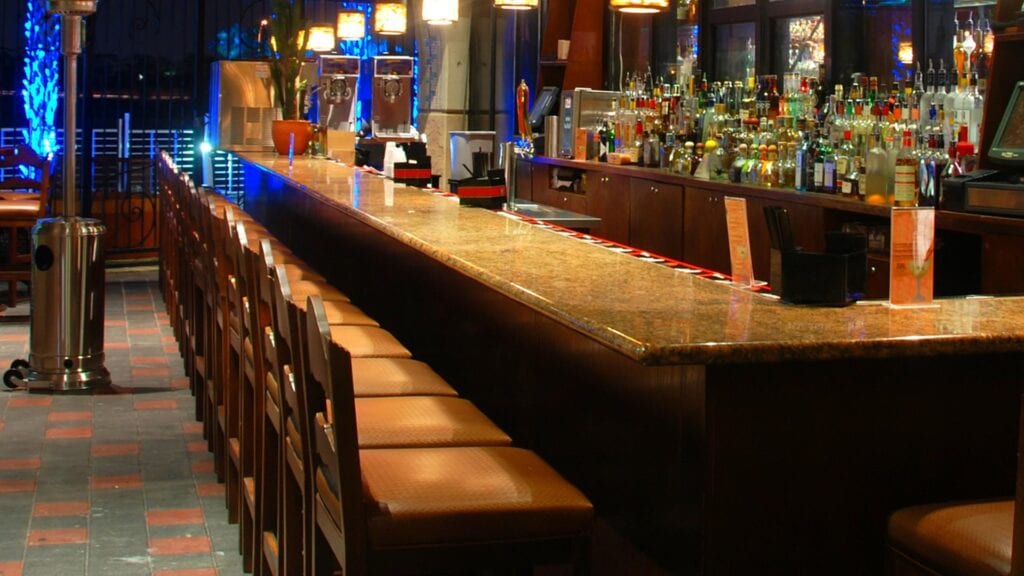 For the customer-side of the bar, the ideal bar top overhang is between 6" – 9" from the face of the finished bar to the outer edge of the bar top. For the bartender's side of the bar, we recommend 11" from the face of the finished bar to the inside edge of the drink rail. The depth of the finished bar base (referred to as the "bar die") is a function of its construction. Some prefer using 2" x 4"'s or 2" x 6"'s, while others prefer using modular bar die. Both are adequate. Depending on the details of the exterior bar finish (the side customers see), the depth of the finished bar die can vary quite a lot. The following examples demonstrate various finishes, bar bases and bar top depths of some recent design projects of ours: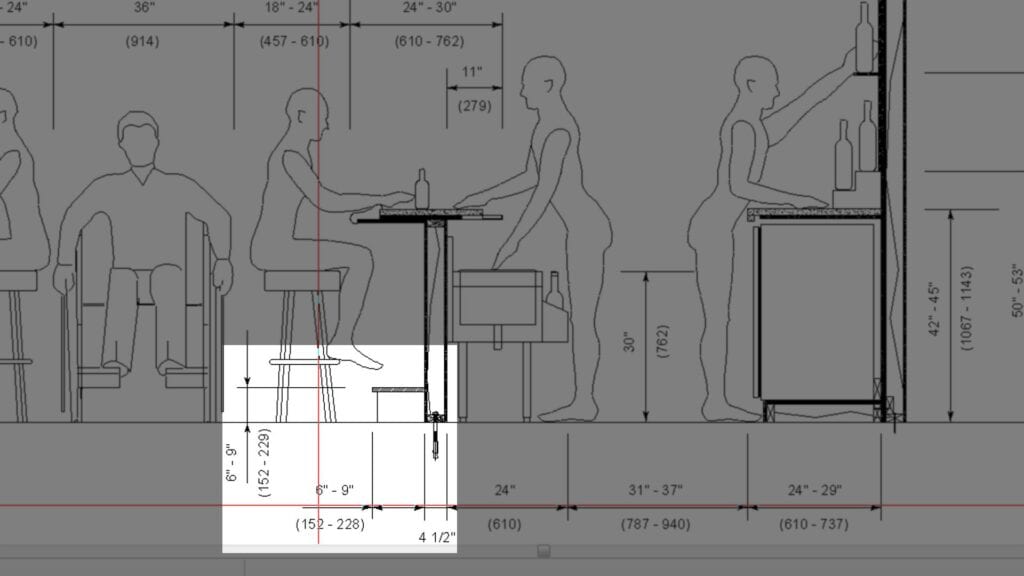 24" stainless steel bar top ($85.00 per sq.ft.) – a 2" x 4" carpenter-built base with a simple acrylic clad façade and an overhang of 8 ¼"
24" hammered copper bar top ($200.00 per sq.ft.) – a 2" x 4" carpenter-built base with wood stiles and rails and an overhang of 7 ¾"
28" wood top ($70.00 per sq.ft.) – a modular bar die base with corrugated siding and an overhang of nearly 9 ½"
The bar top in this last example was intentionally wider because the Owner had a strong belief that the overhang should be extra-generous. This is te deepest bar top we specified in recent memory.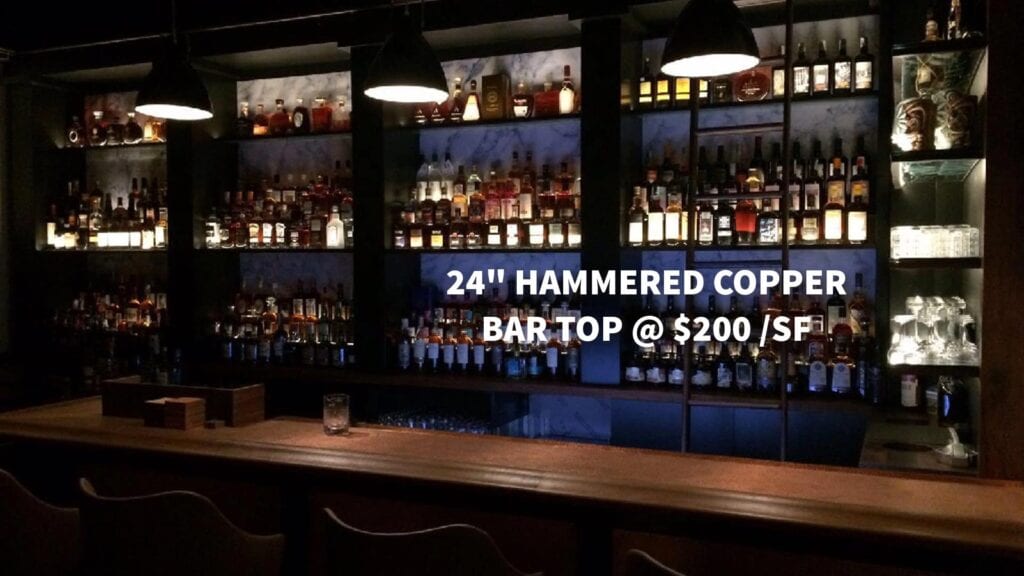 The most common size of bar tops we specify is 24".
RELATED YouTube PLAYLISTS:

Bar Dimensions for Bar Layouts and Commercial Bar Design

Commercial Bar Design Ideas for Opening a Restaurant or Bar
My favorite reference book for architectural standards:
https://amzn.to/38q3piJ

Free Consultation
Contact Us Today to Schedule Your Free Consultation!
———————————————————————————————————–
RELATED POSTS:
HOW MUCH IS MY BAR DESIGN REALLY GOING TO COST?
STANDARD BAR LAYOUT DIMENSIONS
HOW TO DESIGN & BUILD CURVED BAR TOPS
SENSITILE TERRAZZO FOR UNIQUE COMMERCIAL BAR TOPS
———————————————————————————————————————
MOST POPULAR POSTS:
COMMERCIAL BAR DESIGN – A TOP 7 LIST OF BAR FINISHING IDEAS
HOW MUCH DOES IT REALLY COST TO BUILD A BAR?
HOW TO DESIGN COMMERCIAL BARS FOR ADA
———————————————————————————————————–
POPULAR DOWNLOADS:
UNIVERSAL_BAR_CLEARANCES_WITH_ADA.pdf
BAR_AND_RESTAURANT_SEATING_GUIDELINES.pdf
———————————————————————————————————–
Need Help Completing Your Bar Plan? Call Us Today!
•••••••• Camera and Gear Used To Shoot This Video ••••••••
1. Canon SL2 with Kit Lens on Amazon
https://amzn.to/2TkTnt5
** Extra Canon EOS Battery
https://amzn.to/2DsppO8
2. SLIK Sprint 150 Aluminum Tripod
https://amzn.to/2PYY4Kj
3. Fovitec Studio Pro 600 LED Panel Bundle
https://amzn.to/2DJ2sXY
4. Camtasia Video Editing Software
https://amzn.to/2KaZWKr

QUESTION — Have a question about Bar Design, Bar Equipment or Anything Else? Post in comments section of the above video!
Cabaret Design Group on Social Media:
https://twitter.com/DesignABar
https://www.instagram.com/bardesigners
https://www.pinterest.com/bardesigner
https://www.facebook.com/bardesigners
———————————————————————————————————————
DISCLAIMER: This video and description contains affiliate links, which means that if you click on one of the product links, I'll receive a small commission. This helps support the channel and allows us to continue to make videos like this. Thank you for the support!