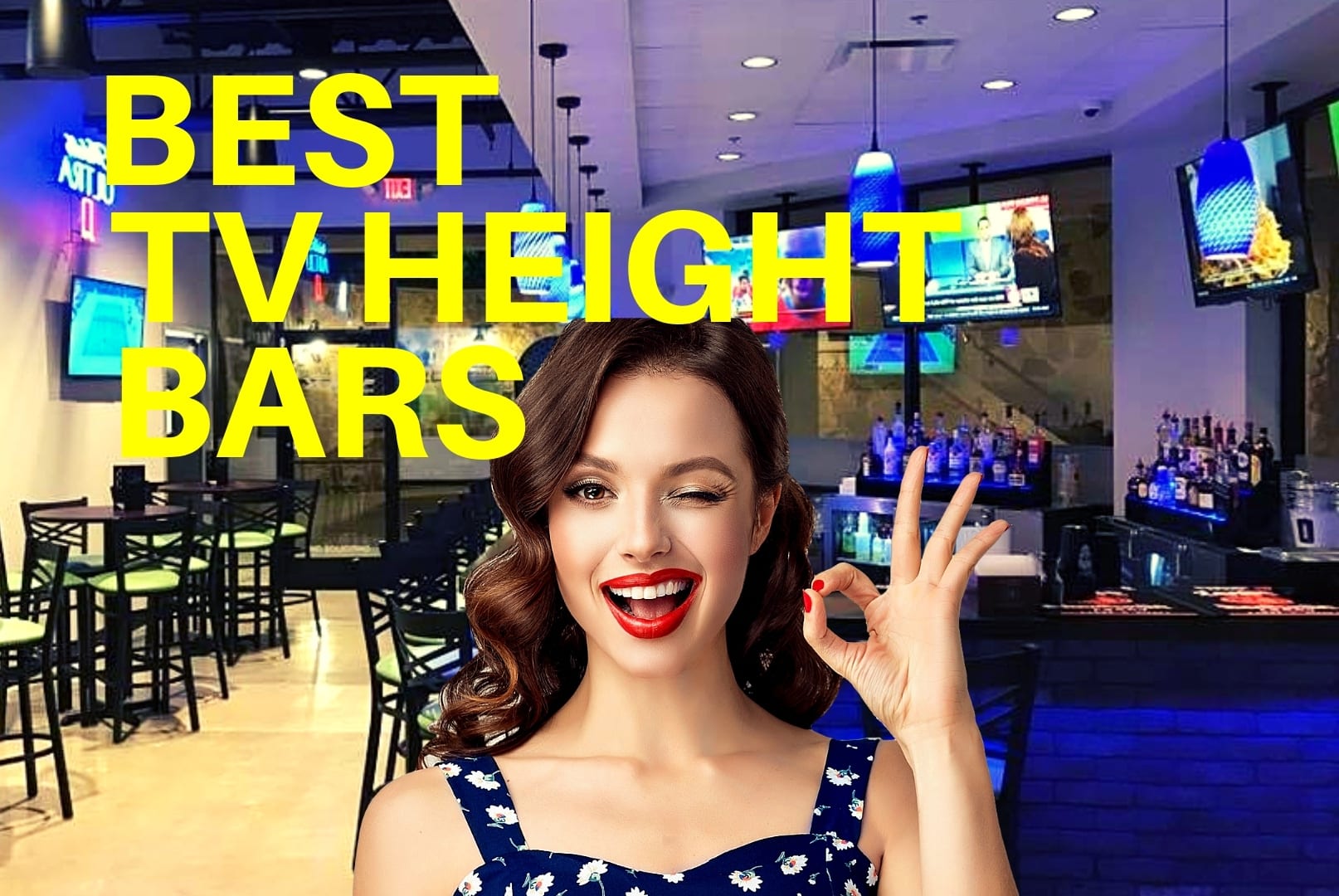 What is the right TV height for bars? What's the best size?
WHAT IS THE RIGHT TV HEIGHT FOR BARS, SPORTS BARS AND RESTAURANTS?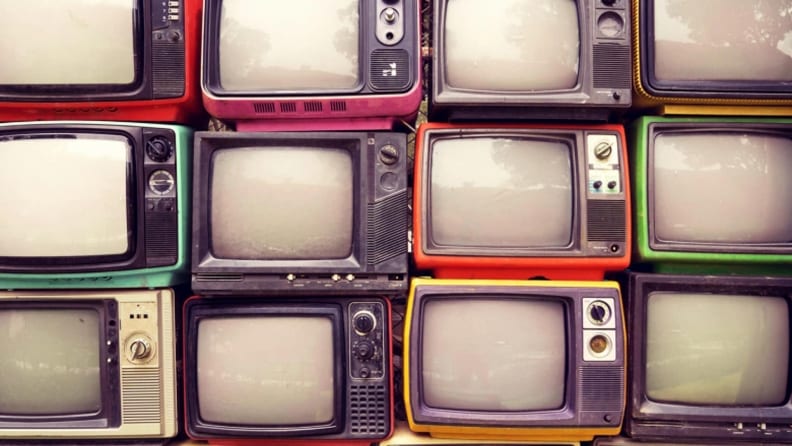 Just purchased a bunch of new LED TV's for your bar and now you don't know how high to mount them? People are always asking what's the best size TV for bars? As I always say, when it comes to TV's for bars, sports bars and restaurants, the bigger the better, but since most owners purchase multiple TV's, the sweet spot for retailers and owners is between $500-$600. The new hot spot for TV's that match this price point is 55". However, 50" TV's can still be the proper choice when attempting to fit them on a soffit, as seen in this example.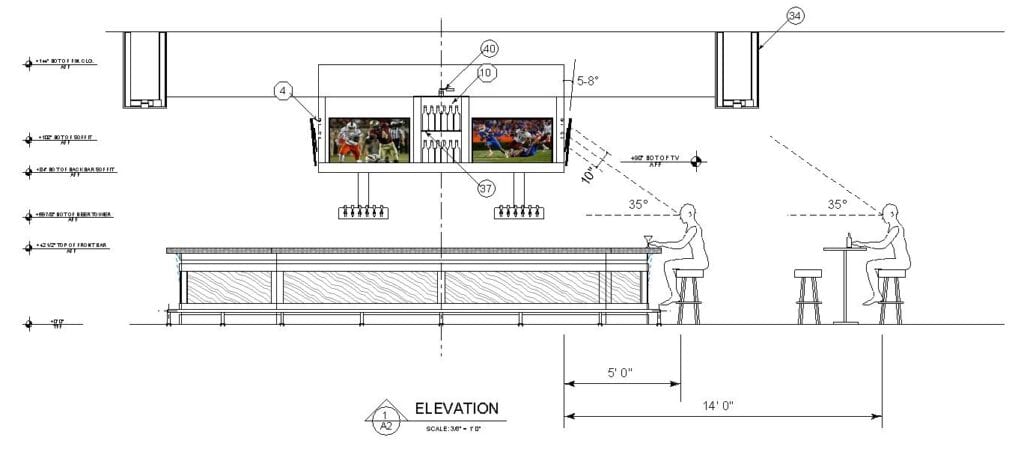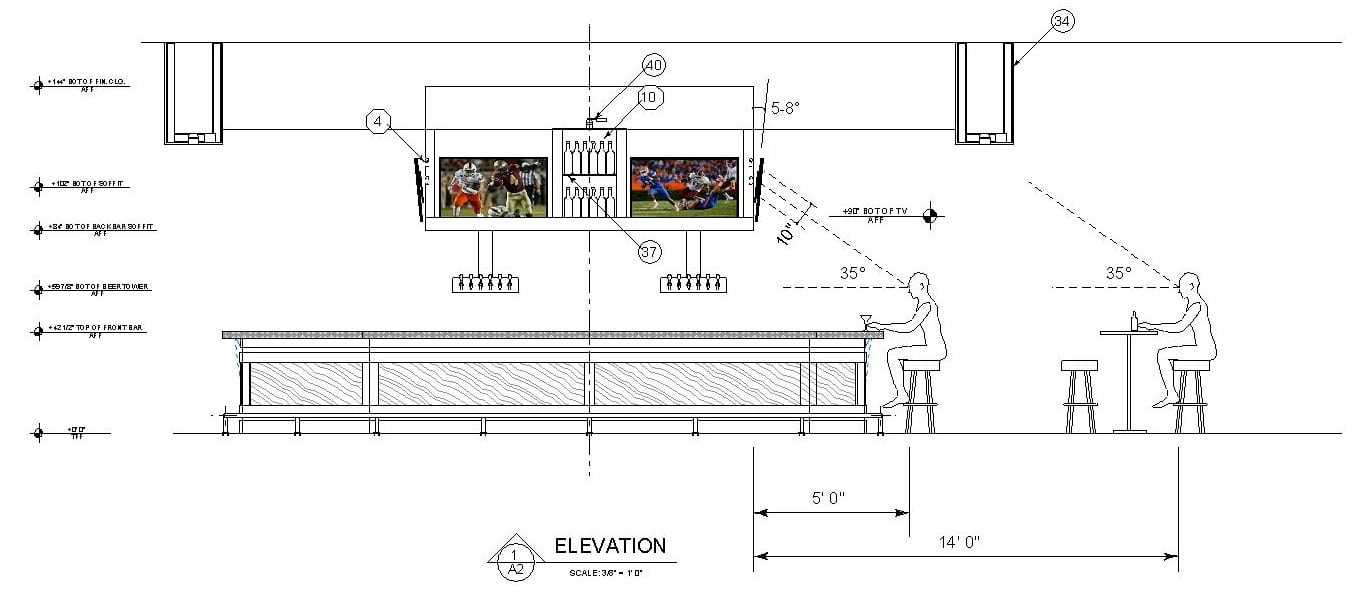 WHAT IS THE CORRECT TV HEIGHT FOR BARS?
As for the correct installation height, there's obviously a difference between optimizing a TV for a bar and one for your living room. In the case of the bar, you'll have people of differing heights and distances, and although this would seem to add to the difficulty of planning, it actually makes it easier, as patrons will move to the spot they find most comfortable. According to architectural standards, the goal is to set the height of the TV so the people closest will see the middle 10". By the same standards, the forward viewing angle of the patron is 30-35°.
THE RELATIONSHIP BETWEEN TV VIEWING ANGLE, DISTANCE AND TV HEIGHT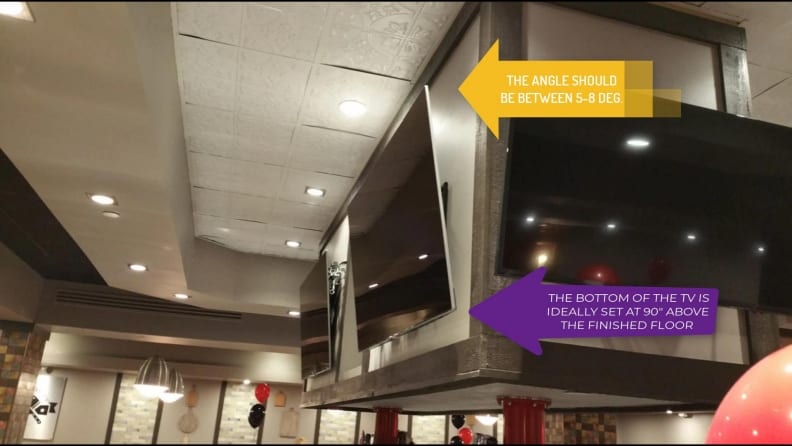 From the above information, the ideal height is more critical for the people closest to the TV, because their viewing angle is the shortest. As illustrated in the above drawing, the patrons standing 14' from the bar can see the middle of the TV screen much easier than the patrons seated at the bar (about 5' from the screen). When installing the TV, it should also be tilted forward slightly to optimize the viewing angle; for many TV's this angle is between 5-8°. The best gauge for most bars and sports bars is to set the bottom of the TV at 90" above the finished floor and tilt it between 5 – 8° (forward). Most TV's will work optimally at an angle within this range. In addition to the above, the quality of the images of flat screen TV's drops as the lateral viewing angle increases to about 35°. Therefore, because a single line of TV's isn't capable of servicing the needs of a large crowd, the way to adequately service a large crowd is by installing TV's on multiple walls, as shown in this photo.

A TIP ABOUT INSTALLING TV's IN BARS AND RESTAURANTS
When mounting TV's to soffits and walls, I always specify one layer of 3/4″ fire-treated CDX plywood over the entire surface – before the installation of drywall. This will provide you with an infinite number of options in which to mount your TV's.
My favorite reference book for architectural standards:
https://amzn.to/38q3piJ

See you next time!
Free Consultation
Contact Us Today to Schedule Your Free Consultation!
———————————————————————————————————-
RELATED POSTS:

HOW MUCH IS MY BAR DESIGN REALLY GOING TO COST?
GLYCOL COOLED vs KEGERATORS – WHICH DRAFT BEER SYSTEM TO BUY?

BAR DESIGN IDEAS: HOW DO YOU DESIGN AND BUILD A BETTER BAR?
COMMERCIAL BAR DESIGN – A TOP 7 LIST OF BAR FINISHING IDEAS
ERGONOMIC BAR DESIGN FOR MAXIMUM BARTENDER EFFICIENCY AND PROFITS

HOW MUCH DOES IT REALLY COST TO BUILD A BAR?
DRAFT BEER SYSTEMS FOR BARS – DIRECT-DRAW vs LONG-DRAW DRAFT BEER SYSTEM COST
———————————————————————————————————-
Need Help Completing Your Bar Plan? https://cabaretdesigners.com/89-need-help-completing-your-bar-plan/
QUESTION — Have a question about Bar Design, Bar Equipment or Anything Else? Post in comments section of this video!

———————————————————————————————————————
•••••••• Camera and Gear Used To Shoot This Video ••••••••
1. Canon SL2 with Kit Lens on Amazon
https://amzn.to/2TkTnt5
** Extra Canon EOS Battery
https://amzn.to/2DsppO8
2. SLIK Sprint 150 Aluminum Tripod
https://amzn.to/2PYY4Kj
3. Fovitec Studio Pro 600 LED Panel Bundle
https://amzn.to/2DJ2sXY
4. Camtasia Video Editing Software
https://amzn.to/2KaZWKr
Cabaret Design Group on Social Media:
https://twitter.com/DesignABar
https://www.instagram.com/bardesigners
https://www.pinterest.com/bardesigner
https://www.facebook.com/bardesigners
———————————————————————————————————————
DISCLAIMER: The above video and description contains affiliate links, which means that if you click on one of the product links, I'll receive a small commission. This helps support the channel and allows us to continue to make videos like this. Thank you for the support!