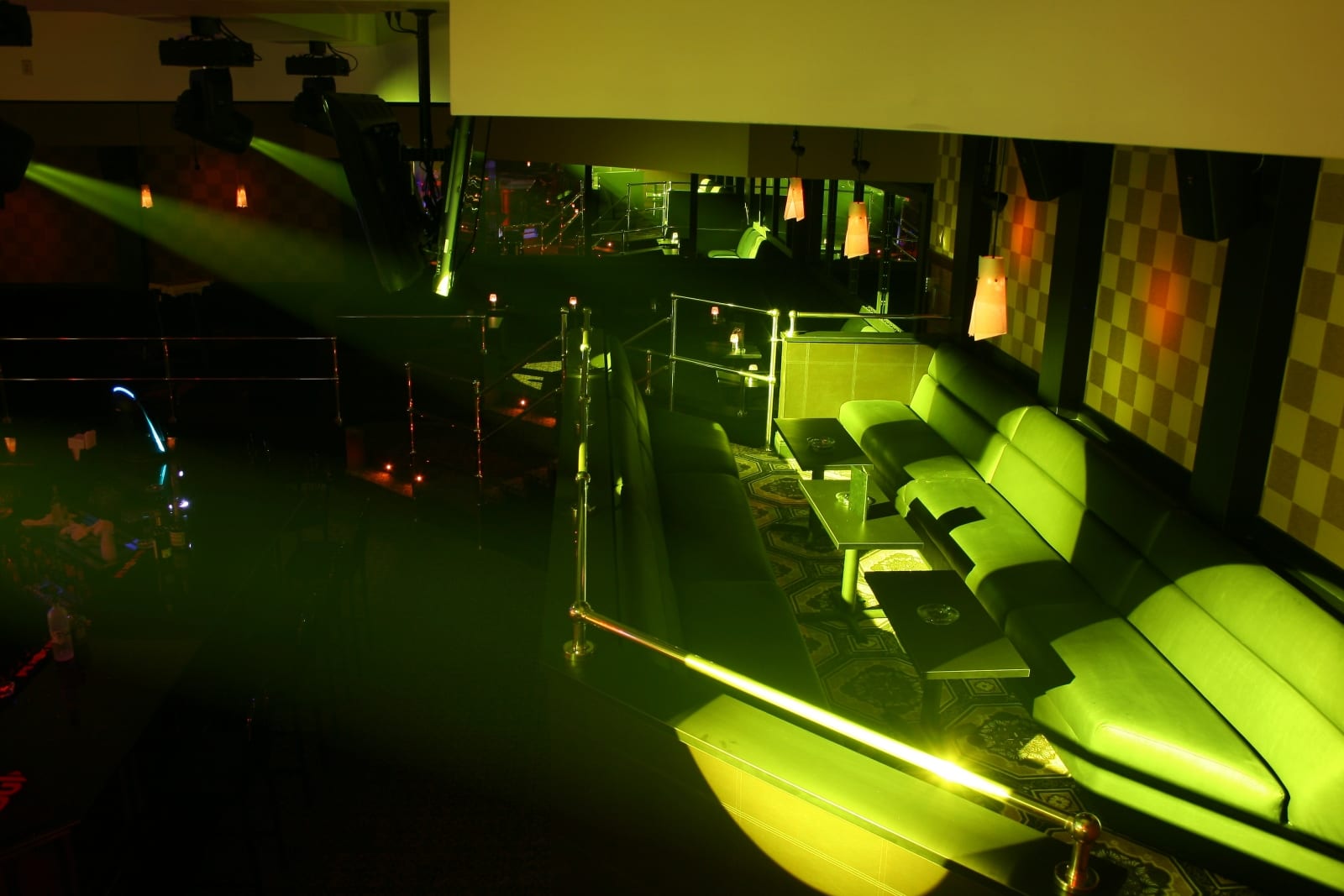 What are the top ideas and tips for purchasing bar and nightclub furniture? This article answers the most popular questions about furniture pricing and advice.

WHAT IS THE BEST FURNITURE FOR NIGHTCLUBS: MODULAR OR CUSTOM-BUILT?
There is no correct choice here, folks – it's what is best for you and your budget. Each is a good selection for various reasons. Let's consider the pros and cons of each:
MODULAR FURNTURE IS A POPULAR CHOICE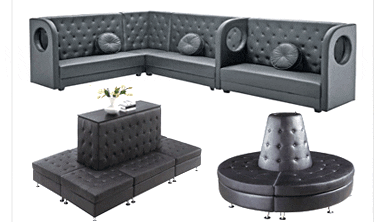 Modular furniture is primarily manufactured offshore and imported by distributors in large quantities so it can be sold quickly; however, it is available in limited sizes, shapes and colors and works best in open spaces.

Because of the significant pricing and availability mentioned above, a club or bar with a limited budget can be set-up quickly and inexpensively.

The overall appearance is clean.

There is very little opportunity to customize – the color selection is reasonable but the fabric selection is generally bonded leather (not genuine leather). While some may find these factors too limiting, others are entirely accepting.
CUSTOM-BUILT FURNITURE FOR THE DISCERNING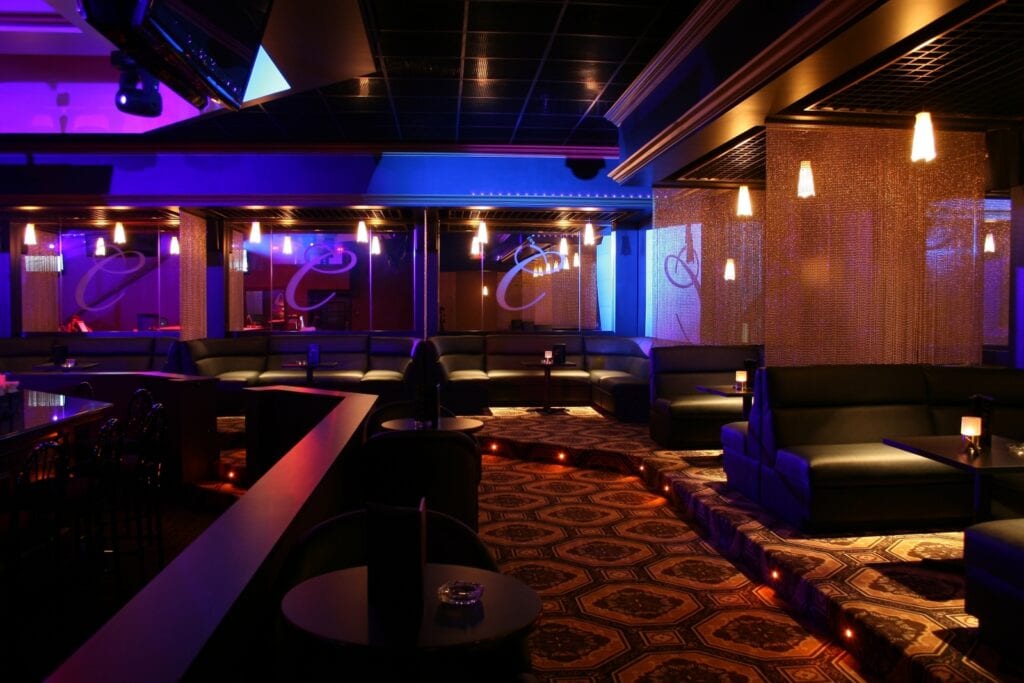 Because it is manufactured to suit your specific needs, custom-built furniture offers you the ability to fit it to the room in exactly the size, shape, detail and fabric that you desire.

I feel that the durability is generally superior; according to Ken Bowman, owner of Houston-based KG Furniture, he has many clients whose furniture has lasted 10 years.

Reupholstering is generally more successful because the fabric can usually be matched to that of the original order.

To get it the way you want it you pay a premium and lead times are longer. Most furniture orders from KG Furniture are built in about four weeks.
A word of note: whenever ordering club furnishings, always request the flame certification document – this is required to be on-file by your local fire marshal during inspections. All fabrics must be in compliance with the standards set forth by the National Fire Protection Agency (NFPA) or similar governing authority. Some municipalities require the certification to be in a specific format, so be aware of the specific certification required by your local fire marshal.

HOW MUCH DOES NIGHTCLUB AND BAR FURNITURE COST?
According to Bowman, the current starting cost for plain sofas is $84 per-lineal-foot, which is for "high-end, commercially-viable fabrics and velvets." The majority of his sofas exceed $140 per-lineal foot. On the other hand, Modern Line Furniture, a popular quick-ship reseller of offshore club furniture, the starting price for sofas (button-tufted bonded leather) is $120 per-lineal-foot.

WHAT ARE THE MOST POPULAR FABRICS USED IN NIGHTCLUB AND BAR FURNITURE?
Bowman says that vinyl's are becoming the most popular choice in nightclub furniture. Over the years the development of vinyl for commercial furniture has become much more sophisticated. The durability and texture of some vinyl products is outstanding. Woven fabrics are warmer but don't clean as easily as vinyl. For the best long-term investment, genuine leather is king. The latest and greatest vinyl product KG offers is Canadian vinyl-producer Morbern (@Morbern_Inc) (the photo at the top features this product). According to Bowman, is favorite collection Morbern offers is "Mellohides", which has a double-kint backing. If you're looking for a really nice, high-quality fabric, my personal favorite is the 'Bromley Microsuede' series by Microfibres.

Related Blog Posts:
What Fabric is Better: Leather vs. Vinyl

SHOULD I REUPHOLSTER MY NIGHTCLUB FURNITURE OR BUY NEW?
This is a good question. On the surface, reupholstering sounds like the logical choice. However, the reality is that when you send your nightclub furniture out for reupholstering, there is only one guy who really knows about the exact work that is performed. Let me explain. We all want to save a buck, but sometimes we shoot ourselves in the foot in the process. I've seen club owners time and again send their furniture out to their favorite local upholstery guy, which somehow always ends-up being some guy who hangs-out at the club – imagine that! Let's face it, folks, whether you trust this guy or not, he's going to take the easy way out, which is to add a thin layer of foam on top of the existing upolstered cushion and then re-wrap it with the new fabric. This is what's referred to as a "wrap-around." This is gar-ba¢ge. folks! The old foam, which is the part of your furniture that breaks-down, is left inside the cushion. The effort required to truly reupholster furniture (using new foam) exceeds the value of the furniture. Unless you are making a simple repair, do yourself a major favor and avoid reupholstering – purchase new furniture!
HOW TO INCREASE SEATING CAPACITY IN YOUR NIGHTCLUB OR BAR: BACKLESS CHAIRS AND ARMLESS CHAIRS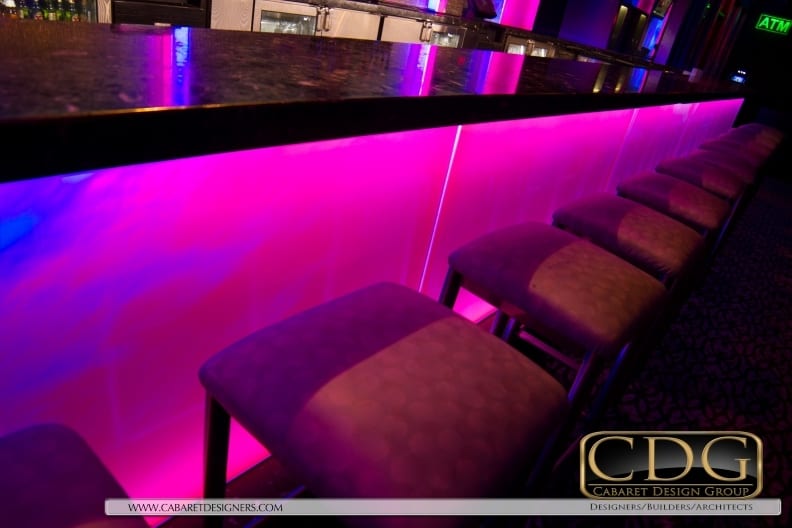 If you're looking to maximize your seating efficiency, you should consider using backless chairs for your bar (as shown in the photo at right) and hi-top table seating and armless club chairs for your club tables. Backless chairs can save up to one foot of floor space, while armless club chairs are about 35% narrower than chairs with arms; both are popular choices.
Shopping for bar stools can be a frustrating experience – that is, if you are looking for something that is high-quality and unique. The best selection of unique, high-quality bar stools that I've seen is at MTS Seating (@MTSeating). Many companies offer bar stools, but nothing that really moves me. Here are my favorite bar stools –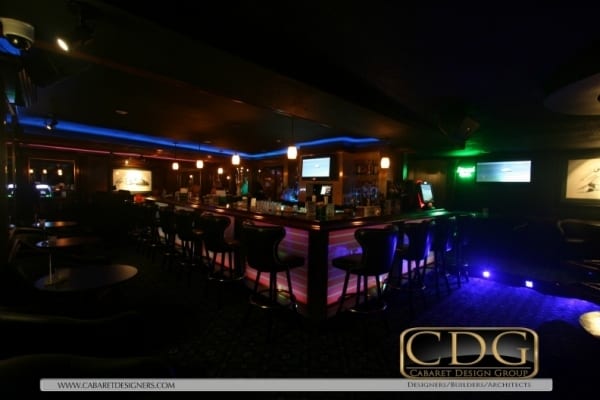 Model 709-30, GR6 Labella, by MTS. This is a plain, backless stool, as shown in the photo above, right, for a club we designed for Night Trips in Tulsa, OK. What I really like about this stool is that it is heavy-duty, has clean lines – and you can specify the fabric and finish, to give you a customized-look. You can download the cut sheet below.

Model 901-30-K, by MTS (shown at right). This is a high-end stool with a wrap-around back. This stool in leather is very nice. You can download the cut sheet below.

Barstools.com has a number of products at various price points.
For true value and style, MTS Seating is the leader!
Downloadables:
MTS Seating 709-30 GR6 Labella Bar Stool Cut Sheet
MTS 901-30-K Bar Stool Cut Sheet

Related Blog Posts:
Top 5 Bar Design Ideas and Tips
Top 5 Bar Remodeling Projects, Design Ideas & Tips
Our standard bar design service includes all construction plans and equipment layouts. We would be happy to assist any night club or bar owner who would like to incorporate time-proven design ideas into your venue. Please feel free to contact us.

Seven Questions Commonly Asked About Bar Design 101:
1. What Professional Bar Design Services Do You Provide and How Much Do They Cost?
2. How Can My Bar Be Designed for Maximum Efficiency and Profits?
3.      What Does Bar Equipment Cost?
4.      Tips for Designing and Building a Commercial Bar
5.      The Best Lighting Products for Bars
6.      Best In-Class Commercial Bar Tops
7.      GLYCOL COOLED vs KEGERATORS – WHICH DRAFT BEER SYSTEM TO BUY?
To learn more about Bar Design 101 click here
Most Popular Articles