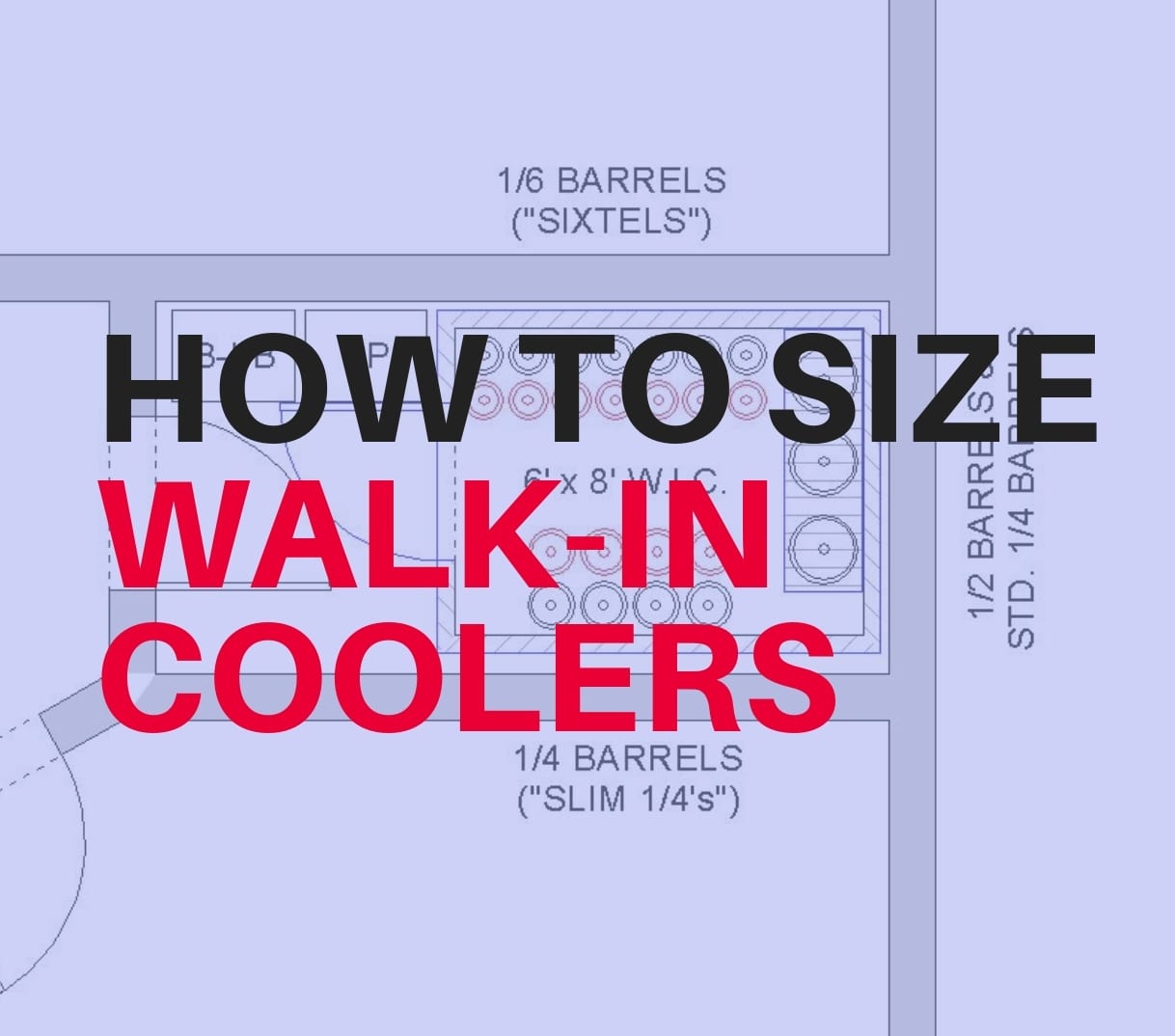 How do you size a walk-in cooler for a draft beer system?
Learn the bar design criteria to select the right walk in cooler for your new draft beer system.

BAR DESIGN – HOW TO SIZE A WALK-IN COOLER FOR A DRAFT BEER SYSTEM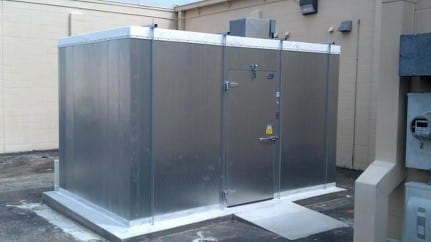 First, a little background information is necessary in making any purchasing decision. There are two types of walk-in coolers: prefabricated and built-to-order. This story is about the prefabricated variety. This type of walk-in cooler consists of urethane panels and is economical, easy to expand and relocate. The elements that compose the walk-in cooler are the walls, floor, door and refrigeration system. The walls, which range from 3 ½" – 5" in thickness, consist of insulation sandwiched between thin sheets of galvanized steel or aluminum.
WALK-IN COOLERS FOR DRAFT BEER SYSTEMS
As I mentioned in an earlier post (ref. below), walk-in coolers used for beer walls require special design and engineering. Many owners will utilize a rack system to make more efficient use of the cube and in such applications a floor system isn't practical. Refrigeration systems can be mounted overhead or on a side panel, if the room has a low ceiling. The door should have a self-closing mechanism in order to conserve energy. Walk-in coolers can be installed indoors and outdoors and offered by numerous companies in a wide variety of quick-ship sizes. Up next, be careful how you use your walk-in cooler.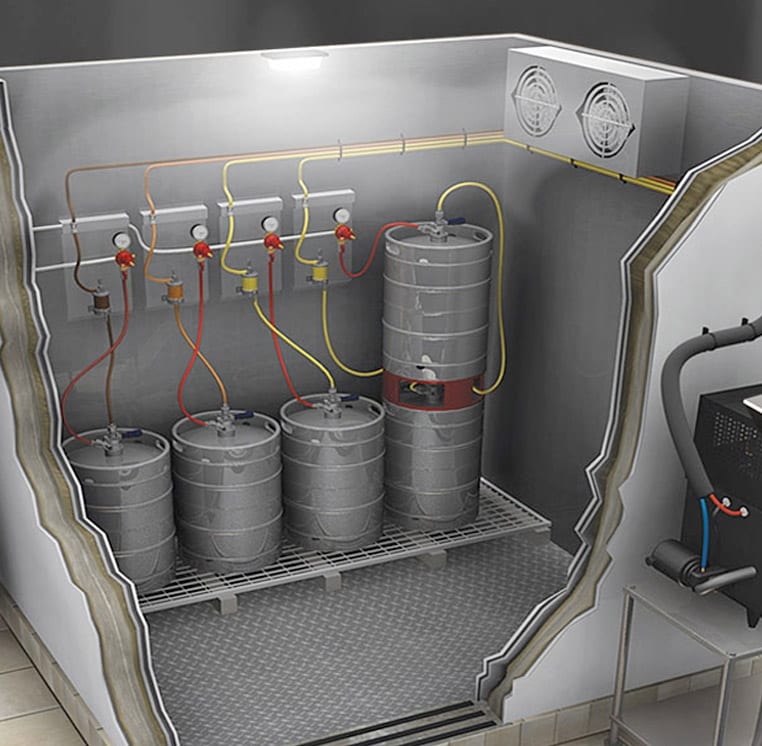 THE CRITICAL RELATIONSHIP BETWEEN WALK-IN COOLER TEMPERATURE AND DRAFT BEER
Draft beer requires the temperature to be carefully maintained at 38°F and this is impossible to maintain when the door is being constantly open and shut. Rising temperatures in walk-in coolers – even one or two degrees – will result in excessive beer foaming – and lost profits! Therefore, case beer should never be stored in the same walk-in cooler as draft beer.
The size of the walk-in cooler is driven by the amount of beer you sell and the number of brands. A small walk-in cooler can be selected if a bar sells a moderate amount of draft beer. The bar shown here is a system featuring 10 brands of draft beer. As with most bars, it's important to carry at least three of the largest U.S. domestic beers, such as Bud Light, Miller Lite and Coors.
THE SIZE OF DRAFT BEER BARRELS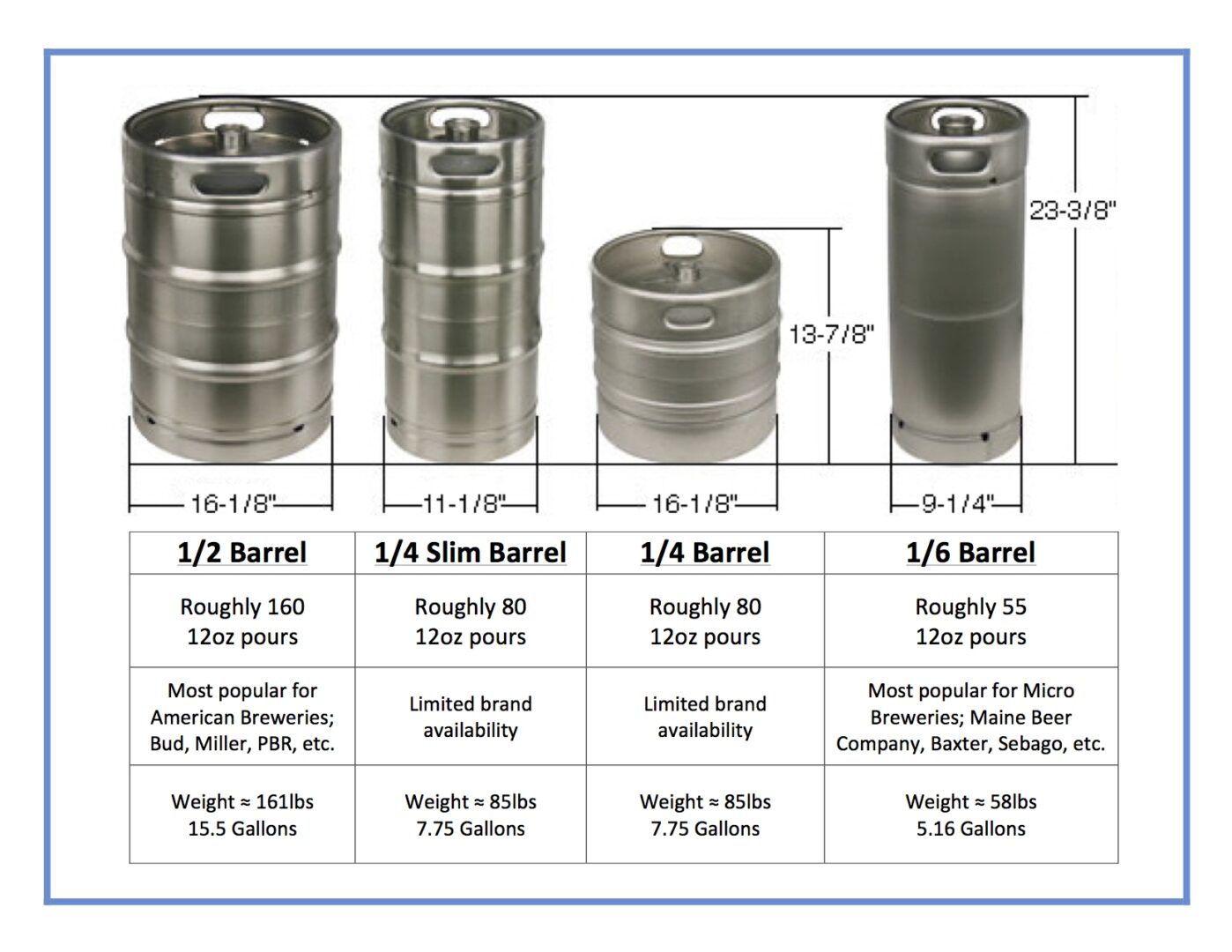 Therefore, in this example that means we have to accommodate space for seven craft beers. The U.S. domestic beers are commonly sold in ½ barrels (15.5 gallons) and craft beers are most commonly sold in sixtels (1/6 barrels, which are 5.16 barrels) and less commonly in slim ¼ barrels (7.75 gallons), as shown in the chart at right.
HOW TO MAXIMIZE THE VOLUME OF A WALK-IN COOLER FOR DRAFT BEER BARRELS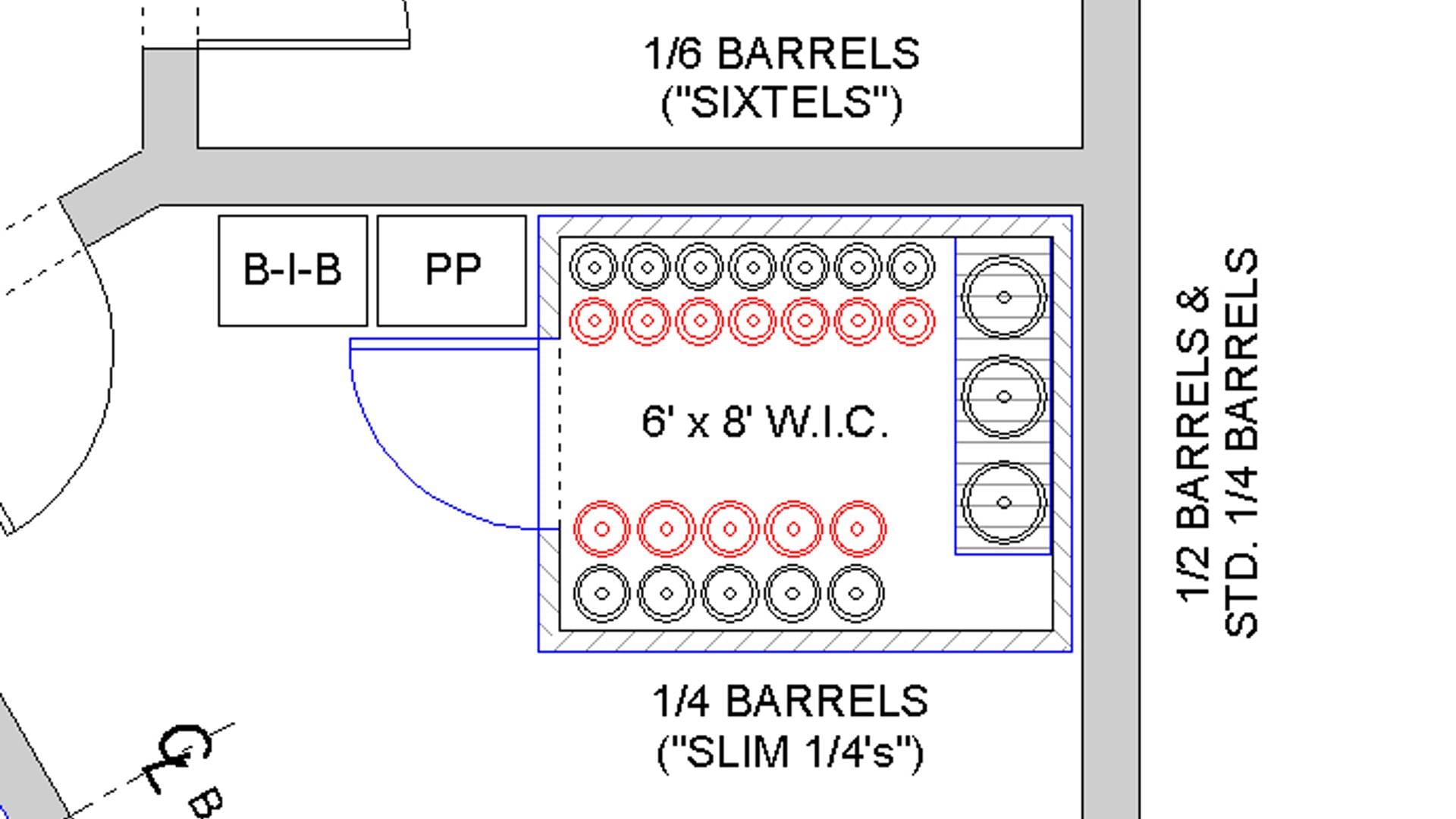 Barrels need to be stacked inside the walk-in cooler, as shown in the photo at right: ½ barrels are normally stacked in racks and the craft beers are commonly stacked with a device known as a "slim keg stacker," such as this one manufactured by DeVault and featured by many web retailers. The advantage of the slim keg stacker is that it allows two kegs of the same product to be connected to the glycol system. Getting back to our example, I've designed seven sixtels to be double-stacked on one long wall, four slim ¼ barrels to be double-stacked on the opposite wall and three ½ barrels to be double-stacked on the short wall. Additionally, a row of backups is placed in front of each brand, designated in red in this layout, which can be downloaded at the end of this article. The capacity of this 6' x 8' walk-in cooler design is 21 sixtels, 12 slim ¼ barrels and six ½ barrels. This means that a total of 14 brands could be stored in this walk-in cooler. Of course, depending on the popularity of certain products, the configuration can easily be changed.
Free Consultation
Contact Us Today to Schedule Your Free Consultation!
———————————————————————————————————-
RELATED POSTS:

GLYCOL COOLED vs KEGERATORS – WHICH DRAFT BEER SYSTEM TO BUY?

DRAFT BEER SYSTEMS FOR BARS: DIRECT-DRAW vs LONG-DRAW SYSTEM COST
HOW DO GLYCOL BEER SYSTEMS WORK?
COMMERCIAL BAR DESIGN – A TOP 7 LIST OF BAR FINISHING IDEAS
ERGONOMIC BAR DESIGN FOR MAXIMUM BARTENDER EFFICIENCY AND PROFITS
WHAT DOES IT REALLY COST TO BUILD A BAR?
———————————————————————————————————-
RELATED DOWNLOADS:
ARCHITECTURAL_DRAWING_OF_WALK-IN_COOLER_FOR_DRAFT_BEER.jpg
ADVANCE_TABCO_8-KEG_STORAGE_RACK_CUT_SHEET.pdf
DEVAULT_SLIM_KEG_STACKER_CUT_SHEET.pdf
———————————————————————————————————-
QUESTIONS — Have a question about Bar Design, Bar Equipment or Anything Else? Post in comments section of this video!

———————————————————————————————————-
•••••••• Camera and Gear Used To Shoot This Video ••••••••
1. Canon SL2 with Kit Lens on Amazon
https://amzn.to/2TkTnt5
** Extra Canon EOS Battery
https://amzn.to/2DsppO8
2. SLIK Sprint 150 Aluminum Tripod
https://amzn.to/2PYY4Kj
3. Fovitec Studio Pro 600 LED Panel Bundle
https://amzn.to/2DJ2sXY
4. Camtasia Video Editing Software
https://amzn.to/2KaZWKr
Cabaret Design Group on Social Media:
https://twitter.com/DesignABar
https://www.instagram.com/bardesigners
https://www.pinterest.com/bardesigner
https://www.facebook.com/bardesigners
———————————————————————————————————————
DISCLAIMER: The above video and description contains affiliate links, which means that if you click on one of the product links, I'll receive a small commission. This helps support the channel and allows us to continue to make videos like this. Thank you for the support!