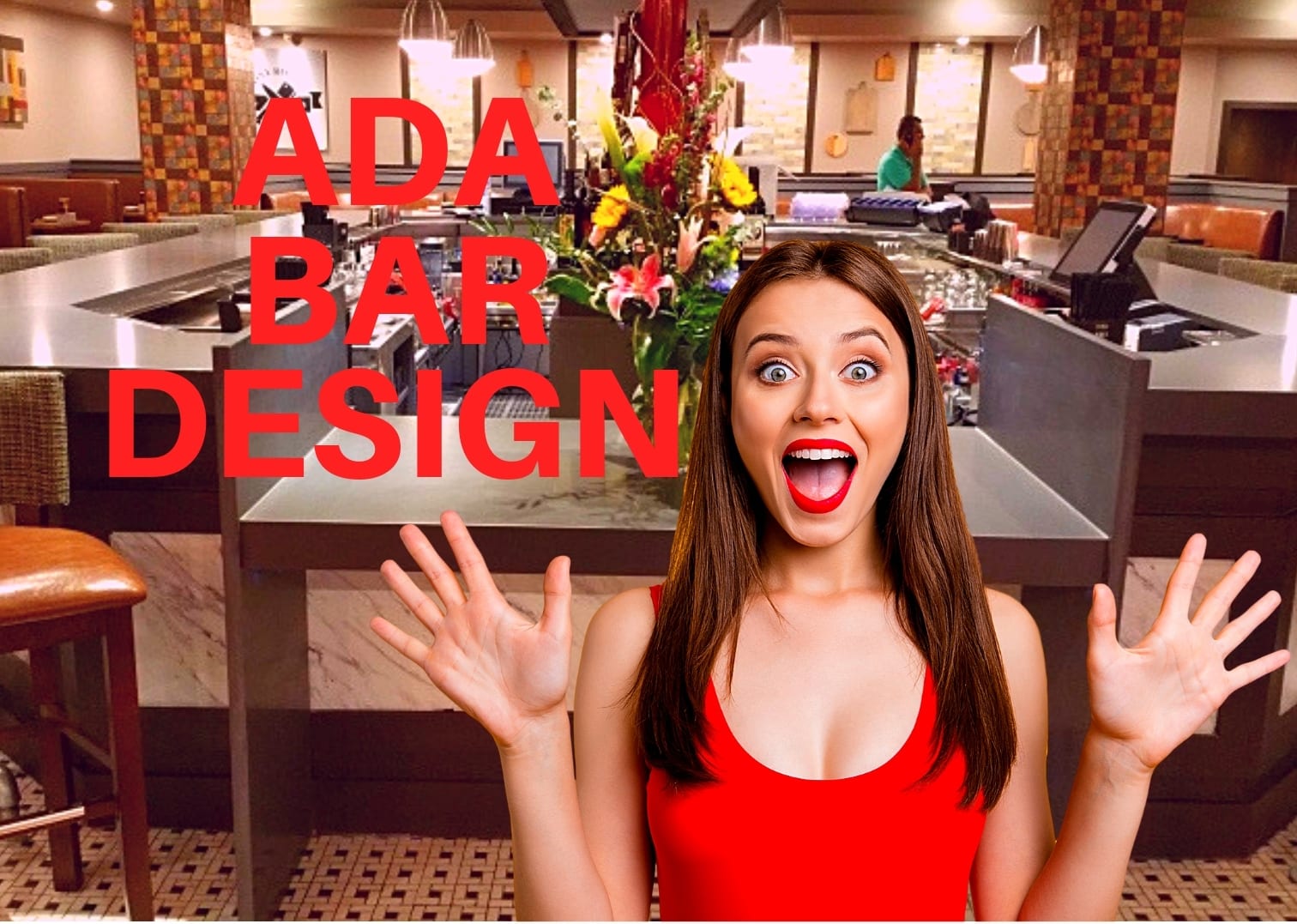 Confused about the ADA requirements for accessible bar design?
In 5 minutes I'll teach you the latest bar dimension standards for ADA compliance.

BAR DESIGN STANDARDS AND BAR DIMENSIONS FOR ADA COMPLIANCE
Why am I such a big proponent of designing commercial bars for ADA accommodations? For those who are unaware, the Americans With Disabilities Act (simply referred to as "ADA") is a civil rights law that prohibits discrimination based on disability and was passed in 1990. Simply stated, ADA is a federal law! In fact, all of our bar remodeling clients are encouraged to comply with the most-current, strictest ADA design specifications. With all the information on the internet, it's still challenging for most people to understand the current design guidelines set-up for the bar and nightclub industry. Today I'm going to share these guidelines and some of my actual bar designs to help illustrate these ADA design ideas and solutions.
The general dimensional criteria we use when designing ADA-compliant design for seating at commercial bars is as follows:
60" of width
Not greater than 34" in height
At least 19" of leg clearance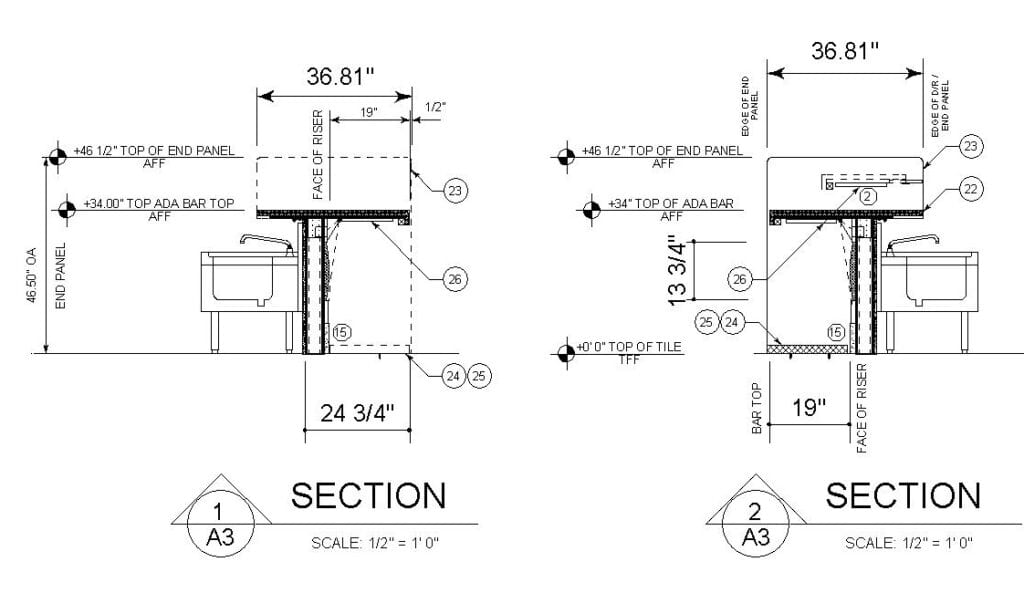 THE DESIGN DETAILS FOR BUILT-IN ADA BAR SEATING
I can best illustrate the above-mentioned ADA dimensional clearances by showing you the following example, which can be downloaded below. Here you'll notice that we provide one ADA space (we refer to this as a "station") – the same as every bar design. The space shown in this plan is 60" wide and if we look at the details of this in elevation and section views, you'll notice that the height of the ADA countertop is set at 34" and that the outside edge of the ADA bar top is cantilevered 19" from the closest finish on the bar face. What I just described is the easy part of the design!
THE TRICK TO INCORPORATING BUILT-IN ADA BAR SEATING IS THE BAR EQUIPMENT
What I just outlined is the easy part! The hard part of designing commercial bars for ADA is adapting standard bar equipment to function within this height constraint. In commercial bar design we utilize every square inch of space, so we must develop a solution for modifying the equipment. In most instances we specify a 3 CM bar top and ¾" of plywood underlayment, which leaves us with just slightly greater than 32" of vertical clearance for the respective underbar equipment. Most commercial underbar equipment is 37" tall, but these are metal fabrications that can normally be modified. No doubt the cost will increase for one or two pieces, but making efficient use of the entire underbar space justifies this cost. Most commercial bar sinks, drainboards and ice bins can be modified. We normally specify that the backsplash and legs be reduced by 3" each, so as to minimize back strain for the bartenders. In order to beautify the ADA station, we'll normally specify tall side panels from the same material we're specifying for the bar. To create a totally customized appearance, we specify that the end panels be 4" taller than the adjacent bar tops, which creates a way of trimming the upper bar, while also creating a backsplash.
THE IMPORTANCE OF PROVIDING BUILT-IN ADA SEATING FOR COMMERCIAL BARS
Whether you're remodeling your bar or embarking on a new construction project, you need to strongly consider adhering to the current ADA standards. It will be well-worth your effort to meet the most restrictive design standards for ADA bar design.
My favorite reference book for architectural standards:
https://amzn.to/38q3piJ

Free Consultation
Contact Us Today to Schedule Your Free Consultation!
———————————————————————————————————-
RELATED POSTS:

HOW MUCH IS MY BAR DESIGN REALLY GOING TO COST?
PLANNING ADA SEATING FOR BARS AND RESTAURANTS

DRIVE-BY ADA LAWSUITS AGAINST NIGHTCLUBS AND BARS

MOST POPULAR POSTS:

GLYCOL COOLED vs KEGERATORS – WHICH DRAFT BEER SYSTEM TO BUY?

COMMERCIAL BAR DESIGN – A TOP 7 LIST OF BAR FINISHING IDEAS
ERGONOMIC BAR DESIGN FOR MAXIMUM BARTENDER EFFICIENCY AND PROFITS

WHAT DOES IT REALLY COST TO BUILD A BAR?
———————————————————————————————————-
RELATED DOWNLOADS
ADA GUIDE FOR SMALL BUSINESSES
ELEVATION_OF_COMMERCIAL_BAR_WITH_ADA_SEATING.jpg
CLOSE-UP_ELEVATIONS_OF_ADA_BAR_SEATING.jpg
How_to_Avoid_Drive-By_ADA_Lawsuits.pdf
———————————————————————————————————-
Need Help Completing Your Bar Plan? Call Us Today!
QUESTION — Have a question about Bar Design, Bar Equipment or Anything Else? Post in comments section of this video!
———————————————————————————————————————
•••••••• Camera and Gear Used To Shoot This Video ••••••••
** Extra Canon EOS Battery
https://amzn.to/2DsppO8
1. Canon SL2 with Kit Lens on Amazon
https://amzn.to/2TkTnt5
2. SLIK Sprint 150 Aluminum Tripod
https://amzn.to/2PYY4Kj
3. Fovitec Studio Pro 600 LED Panel Bundle
https://amzn.to/2DJ2sXY
4. Camtasia Video Editing Software
https://amzn.to/2KaZWKr
Cabaret Design Group on Social Media:
https://twitter.com/DesignABar
https://www.instagram.com/bardesigners
https://www.pinterest.com/bardesigner
https://www.facebook.com/bardesigners
———————————————————————————————————————
DISCLAIMER: The above video and description contains affiliate links, which means that if you click on one of the product links, I'll receive a small commission. This helps support the channel and allows us to continue to make videos like this. Thank you for the support!