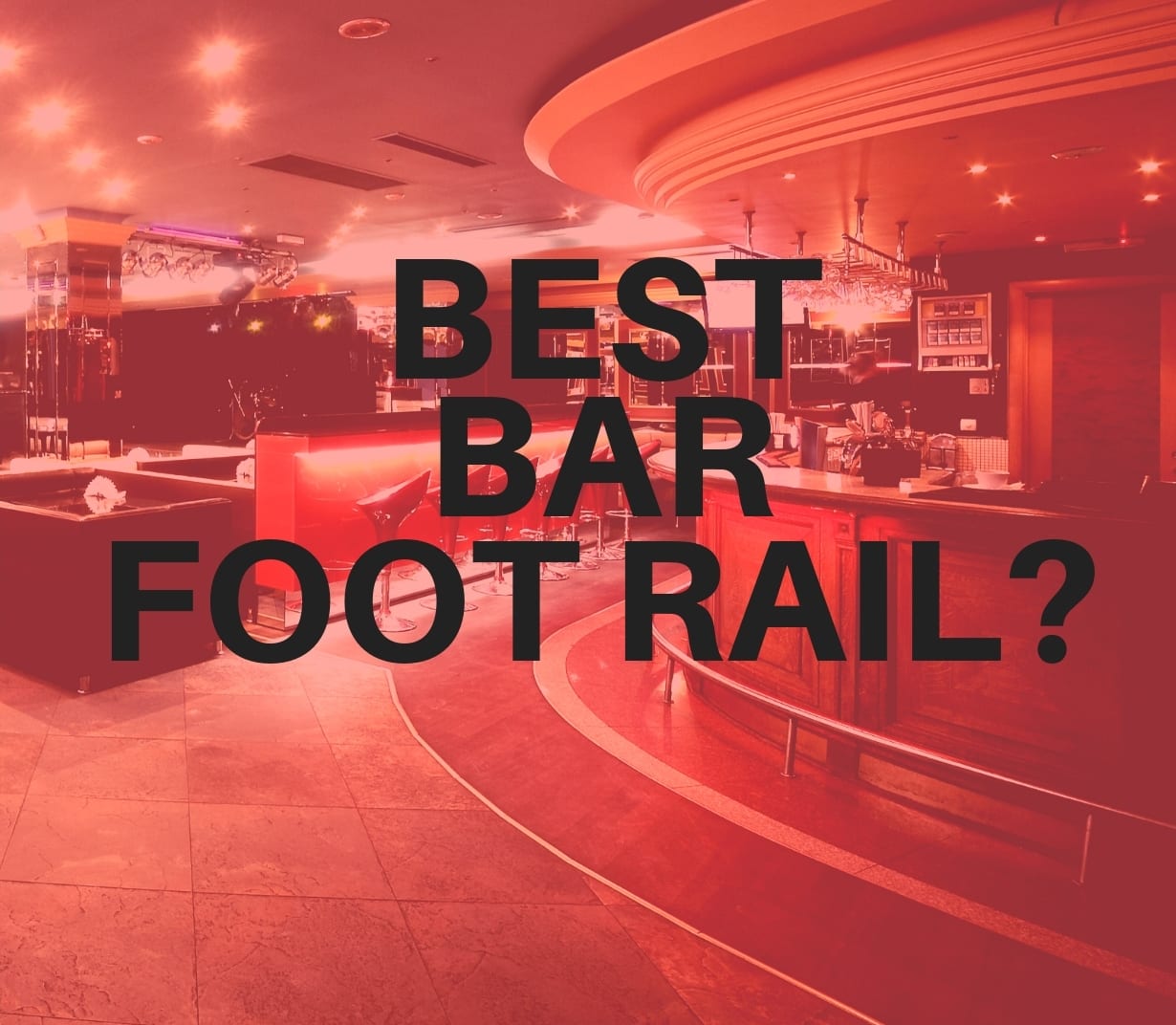 What is the best foot rail for a bar?
WHAT'S THE BEST FOOT RAIL FOR A BAR?
Discover why the black pipe foot rail is the best value for do-it-yourself home bars and commercial bar design.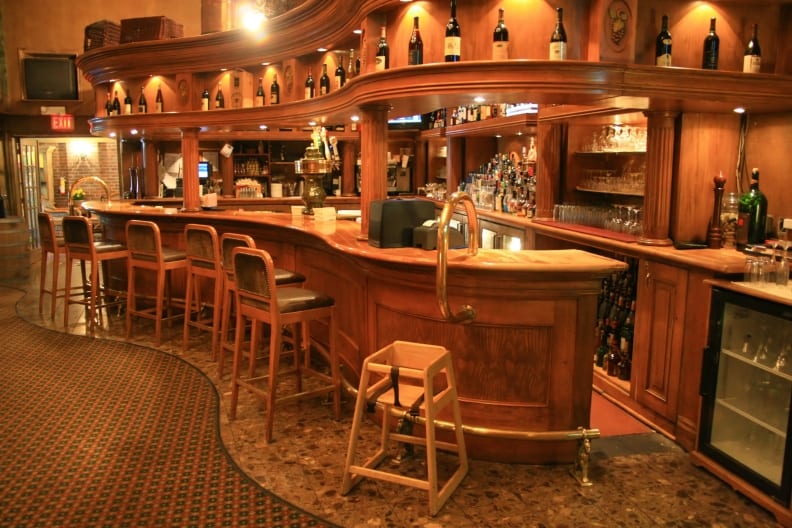 For those unaware, there are a multitude of choices when it comes to bar foot rests. While a solid foot rest remains my traditional favorite, this discussion will be limited to pipe-style foot rails. Many are familiar with the brass footrest, typified by ornamental rail brackets, elbows and end caps, as shown here. With the rise in do it yourself bar construction projects, many websites, such as KegWorks and ESP Metal Products, have expanded offerings which include other architectural finishes, such as matte black, oil rubbed bronze, gunmetal grey and others. This type of foot rail is normally offered in 1.5" and 2-inch outside diameter tubing and often sold as kits. These companies do a fine job. This category of tubing is what's referred to as lightweight (or thin wall) tubing. This is why it can also be formed (rolled) in circular shapes. While these products are attractive and very architectural in appearance, they have a major flaw: they aren't built to last. Even worse, they're expensive and they'll never look this good the day after one day of use! In my opinion, these products are best used for home bars, as they have a classy, aesthetic appeal and don't take the day-in and day-out abuse of the general public. While installing a foot rail from thin wall tubing, the first thing the installer will notice is the flimsy nature of the product and the weakness of the connections, as they're merely pinned together with tiny setscrews. The wall thickness of this tubing is .050", which is less than 1/16 of an inch – not nearly enough for mechanical threads.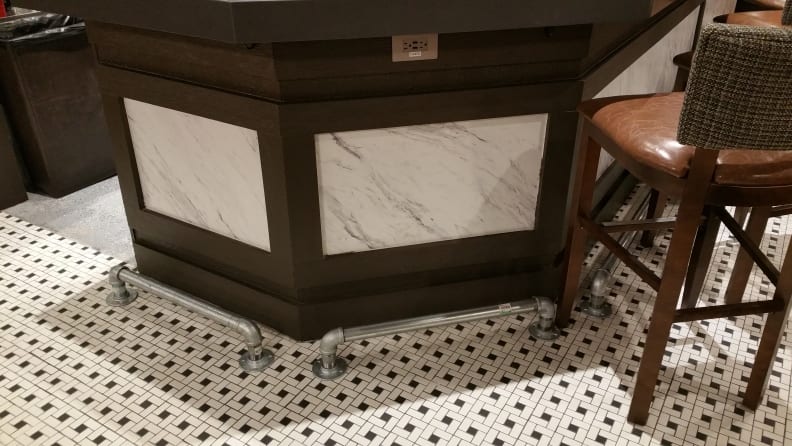 For commercial bars, the best foot rail is the type fabricated from schedule 40 commercial pipe. One approach is to use 1 ½" galvanized pipe, as shown in this photo. The only thing I dislike about galvanized pipe is it has a tinny-appearance. My personal favorite is fabricated from 2" black pipe, as shown in this photo. The black pipe carries an oil-rubbed appearance and will hold-up to daily use with very little visible wear. The reason why pipe makes for such a superior foot rail is because it's nearly five times stronger than the lightweight tubing mentioned earlier. Another advantage of commercial pipe are the threaded connections. Supports are normally installed every 48". The components for a typical installation can be purchased at Keg Works or any plumbing supply house, including the threaded pipe and all connecting hardware. This system can be floor-supported or supported off the face of the bar, as shown in these photos. From a cost perspective, a foot rest fabricated from 2" schedule 40 black pipe will average $25.00 per linear foot; the thin-wall tubing, described earlier, will cost upwards of $40.00 per linear foot, plus labor.
If you attempt to use a decorative metal foot rest for a commercial bar, it won't take long for you to reach the conclusion that you just wasted your money. Use the commercial pipe and pipe fittings and your investment will be protected for a long time.
Free Consultation
Contact Us Today to Schedule Your Free Consultation!
———————————————————————————————————–
MOST POPULAR POSTS:

GLYCOL COOLED vs KEGERATORS – WHAT DRAFT BEER SYSTEM TO BUY?

ERGONOMIC BAR DESIGN FOR MAXIMUM BARTENDER EFFICIENCY AND PROFITS
COMMERCIAL BAR DESIGN – A TOP 7 LIST OF BAR FINISHING IDEAS
HOW MUCH DOES IT REALLY COST TO BUILD A BAR?
HOW DO YOU DESIGN COMMERCIAL BARS FOR ADA COMPLIANCE?

RELATED POSTS:

HOW TO DESIGN AN AWARD-WINNING BAR WITH WILSONART PRODUCTS

HOW DO YOU INSTALL USB PHONE CHARGERS FOR COMMERCIAL BARS?
———————————————————————————————————–
POPULAR DOWNLOADS:

2018_UNIVERSAL_BAR_CLEARANCES_WITH_ADA.pdf
BAR_AND_RESTAURANT_SEATING_GUIDELINES.pdf
———————————————————————————————————–
Need Help Completing Your Bar Plan? https://cabaretdesigners.com/media-press/89-need-help-completing-your-bar-plan
QUESTION — Have a question about Bar Design, Bar Equipment or Anything Else? Post in comments section of this video!
•••••••• Camera and Gear Used To Shoot This Video ••••••••
1. Canon SL2 with Kit Lens on Amazon
https://amzn.to/2TkTnt5
** Extra Canon EOS Battery
https://amzn.to/2DsppO8
2. SLIK Sprint 150 Aluminum Tripod
https://amzn.to/2PYY4Kj
3. Fovitec Studio Pro 600 LED Panel Bundle
https://amzn.to/2DJ2sXY
4. Camtasia Video Editing Software
https://amzn.to/2KaZWKr
Cabaret Design Group on Social Media:
https://twitter.com/DesignABar
https://www.instagram.com/bardesigners
https://www.pinterest.com/bardesigner
https://www.facebook.com/bardesigners
———————————————————————————————————————
DISCLAIMER: The above video and description contains affiliate links, which means that if you click on one of the product links, I'll receive a small commission. This helps support the channel and allows us to continue to make videos like this. Thank you for the support!