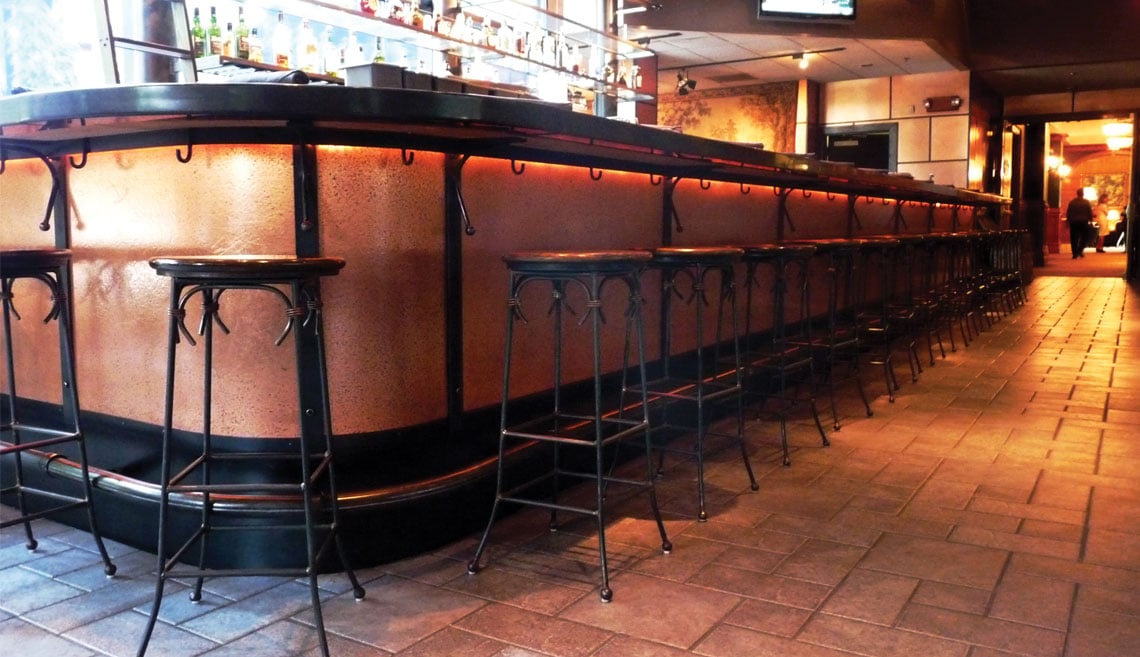 If your hotel, restaurant or bar design project is on a budget and in need of a creative solution, consider using laminate surfaces. With the emergence of vinyl digital printing, thermoplastics and architectural metal, nowadays we have access to an array of great, creative products and can meet nearly every budget. When many people think of laminates they think of high-pressure laminates, used for countertops and lobby desks. Today, we have additional high quality laminate options and I'll explain the applications for each.
WHAT IS A LAMINATE?
A laminate surface is an overlay, used as a finish. In the context of architectural design, laminate surfaces are standalone finished surfaces that require no further finishing. Laminates are any material (such as a high pressure laminate), when adhered or fastened to the top of an underlying surface (referred to as a "substrate"), create a finished appearance, as in the bar face in the photo below, right. Once applied, the design for the respective item is complete. Common examples of laminates are: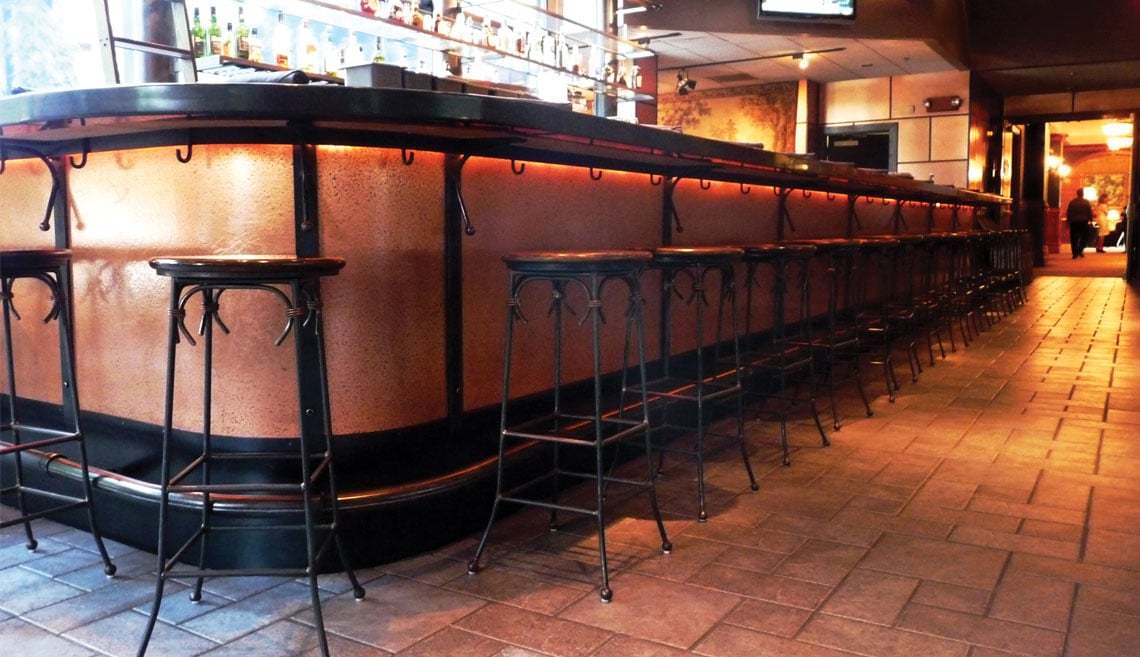 HPL's – high-pressure veneer

Drywall

Stone

Wood panels

Wood veneer

Thermoplastics

Acrylics, which includes polycarbonates

Architectural metal

Architectural glass
In this article, I'm going to discuss HPL's, thermoplastics, polycarbonates and architectural metal. Many of the above materials are laid over an underlayment, which is often drywall or plywood. In some instances, the laminate is adhered to MDF plywood during the manufacturing process.
WIDE VARIETY OF PATTERNS, TEXTURES & FINISHES
As decorative surfaces, laminates are available in a wide variety of textures, patterns and price points, so there's something for nearly everyone. We specify laminates in nearly every project, and in many cases, for reasons other than cost. Today, I'm covering what I consider to be the most relevant and common applications for laminates; this does not include bar tops because I simply do not think of this application to be a worthy investment for any hotel, restaurant or bar.
LAMINATE SURFACES FOR DECORATIVE WALLS
We began specifying carved wood panels for decorative walls several years ago. While this is a very nice option, carved panels can be pricey and besides, this article is about laminates. When I first saw the thermoplastic laminate products offered by ATI Decorative Laminates, it was an eye-opening experience! ATI has developed a comprehensive line of thermoplastic and high pressure laminate products that have a high-level finish that challenges many materials used in traditional commercial applications. Here's a couple ideas from ATI shown in the photos below (photos courtesy ATI):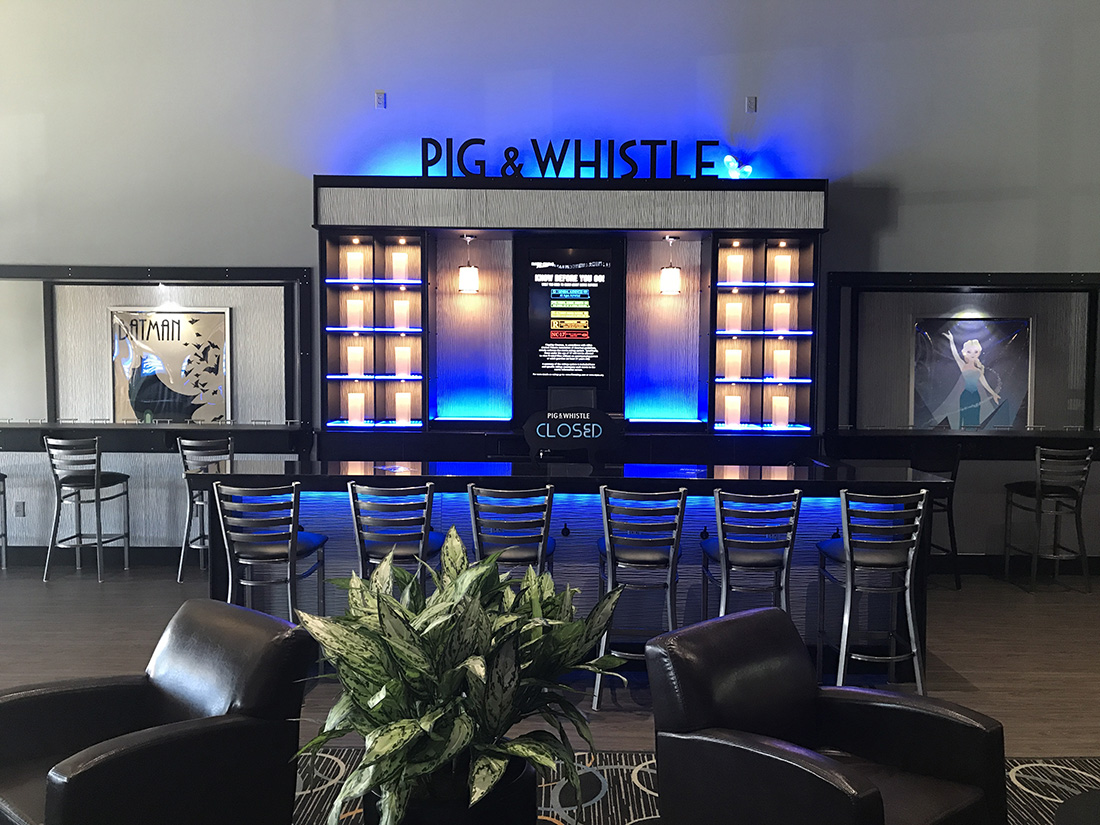 Pricing for the ATI products shown is as follows:
MirroFlex panels range from $3 – $7 per square foot

NuMetal panels range from $3 – $20 per square foot
These products must be applied to an approved underlayment (such as drywall or MDF plywood) using an adhesive. ATI also offers a line of Fusion panels which utilize digital graphics and the pricing for this ranges from $7 – $26 per square foot.
LAMINATES FOR BACKLIT & NON-BACKLIT APPLICATIONS
Lumigraf is a Canadian company that offers an array of laminate surfaces. Lumigraf's product offering is a series of digital vinyl artwork laminated to fire-rated Class "A" polycarbonate sheets. Their line of translucent panels are ideal for back-lit design and are a very reasonable alternative to architectural glass and ideal for:
Bars (ref. to the photo below, left)

Columns

Ceilings
Lumigraf offers an extensive line of stone, metallic and pearl finishes. To achieve the translucent effect, Lumigraf sandwiches a layer of light diffusive white vinyl, which serves to evenly disperse the light.
For non-backlit (opaque) applications, any of the above-mentioned Lumigraf panels can be directly-applied to walls (ref. to the photo below, right) and tables.
The Lumigraf products range in thicknesses from 1/8″ to 3/8″ and pricing ranges from $25 – $32 per square foot.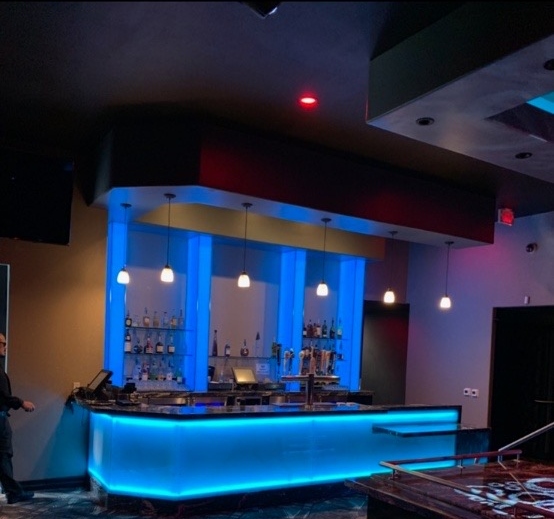 ARCHITECTURAL METAL
If your application calls for the ultimate in durability, architectural metal is at the top of the list. Buffalo, NY-based Rigidized Metals specializes in high-quality, deep-textured metal laminates. We've used these extensively for wall panels and column covers (shown in the photos below) and they're available with- and without MDF backing*, so these are true laminated surfaces that require support despite their rigid nature. Many of the textured patterns Rigidized offers are available with powder-coating highlights. Rigidized Metals is a true engineering company that heavily serves the architectural community and are meticulous. This product is really the top of the "food chain" of architectural finishes. In 2021 due to the volatile nature of supply-and-demand, the cost of Rigidized's products range from $20 – $40 per square foot.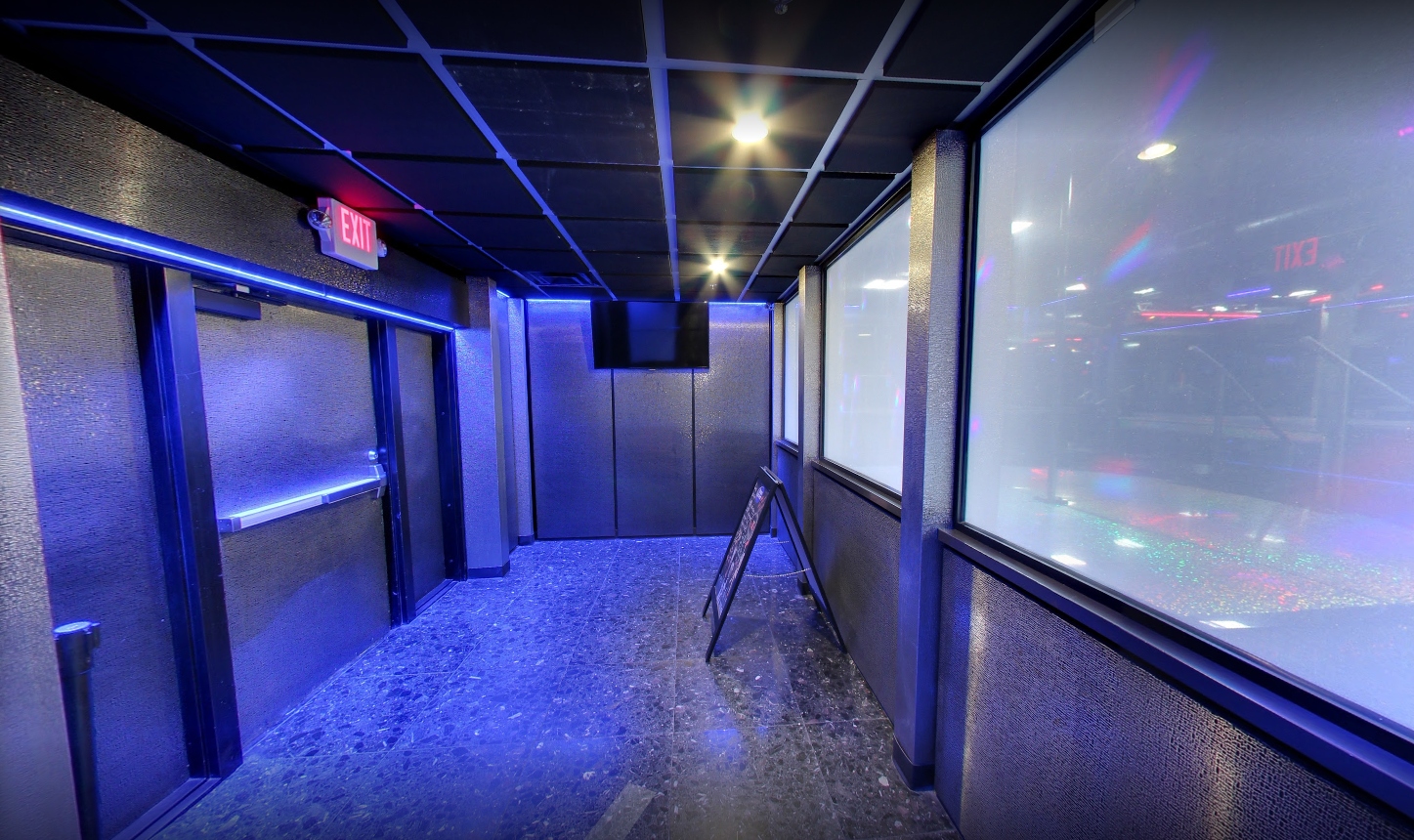 ADVANTAGES OF LAMINATES
Working with laminate surfaces in the field really isn't all that difficult – at least in the proper context. While casework, such as cabinets and reception desks, would be tedious and nearly impossible work in the field, there are distinct advantages in other laminate applications in that vein. Soffits finished with high-pressure laminates can be constructed on-premise and in very little time. Here are the advantages of field installation:
Very distinctive appearance – similar to countertops, and their clean lines and edges provide a unique visual.

Efficiency of installation – in comparison to drywall many finishing steps (which require sanding) are saved; laminates require significantly less clean-up than drywall and this in itself should be one of the top reasons for owners to consider.

Flexibility – can easily assume most curved shapes.
DESIGN TIPS USING LAMINATE SURFACES
The drink rail is a common application for laminate surfaces in many bars, as shown in the photo below, right. Incorporating laminate box columns, as shown here, serves to delineate large open spaces.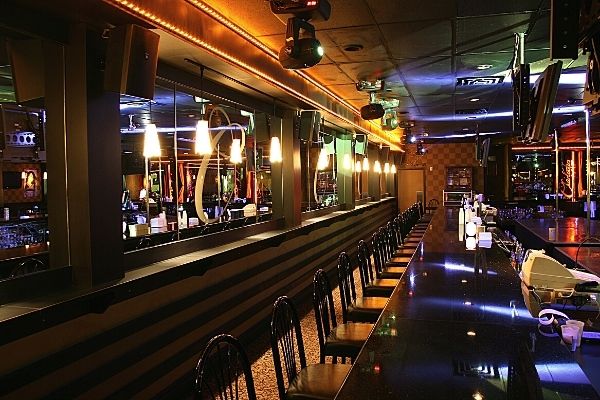 BAR DESIGN TIPS:
The basic black laminate is perfect. My laminate of choice is Wilsonart #1595-60** in black matte finish.

9" – 12" overall width.

4" backsplash.

The height of the drink surface should match the height of the bar top (typically 42" – 45″ above the finished floor).

Gusset brackets (constructed from the same laminate) installed every 24".

Related Post:

DESIGNING AN AWARD-WINNING BAR WITH WILSONART PRODUCTS



Call Us For Your Next Design Project
Our standard bar design service includes all construction plans and equipment layouts. We would be happy to assist any hotel, restaurant or bar owner who would like to incorporate time-proven design ideas into your venue. CONTACT US TODAY!

Most Popular Articles
BAR DESIGN IDEAS – HOW TO DESIGN COMMERCIAL BARS FOR ADA
WHAT DOES IT COST TO BUILD A COMMERCIAL BAR?
WHAT'S THE STANDARD COUNTER OVERHANG FOR BAR TOPS?
HOW DOES THE BAR DESIGN PROCESS WORK?
BAR DESIGN CALCULATE OCCUPANCY FOR MAXIMUM LOAD
PLANNING A RESTAURANT BAR – HOW MUCH SPACE DO YOU NEED?
PLANNING A BAR FOR BAR AREA AND PATRON CAPACITY
HOW TO DESIGN A LARGE ISLAND BAR AND BACK BAR
BAR DESIGN SEATING GUIDELINES FOR BARS & RESTAURANTS
---
* All underlayment in commercial applications should be flame retardant (FR)
** Product type 604 (FR)