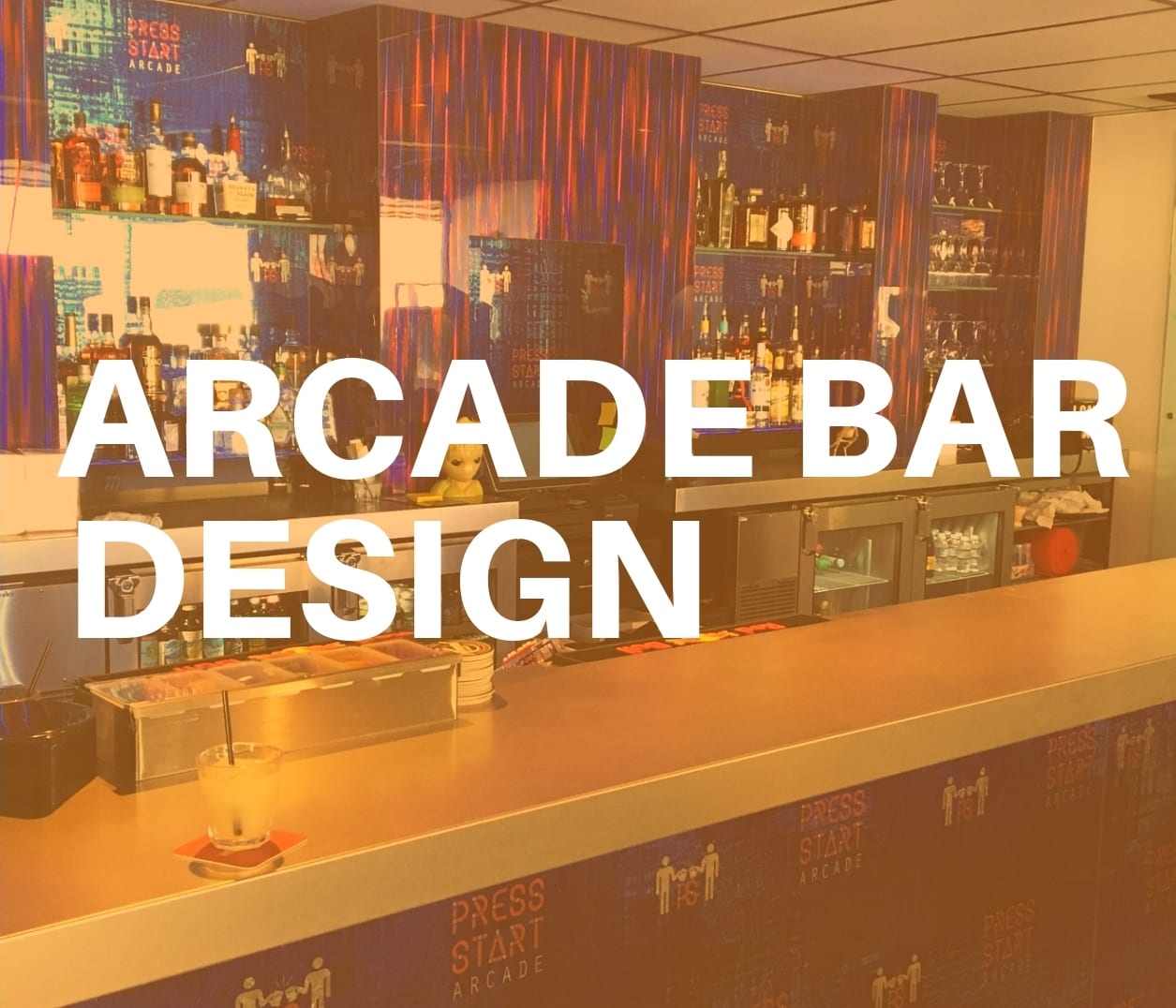 How do you design an arcade bar?
WHAT ARE THE BEST IDEAS AND TIPS FOR DESIGNING AN ARCADE BAR?
Discover how marketing and material selection form the design concepts that can separate your bar from the competition. People are always asking what are the best ideas and tips for designing a bar? Several months ago, another soon-to-be client asked the same question for an arcade bar he was planning in Reno, NV. Honestly, we had never designed such a bar, but the truth is, there's a universal approach that works with most bar design that we've seen: any successful bar design project is rooted in a strong marketing identity.

To me, all well-designed commercial bars have a common thread: they appear to be strongly-branded. The next time you're in a stylish commercial bar, make note of the décor. Every component within the bar appears with consistent branding. This includes the bar itself, the menus, signage, etc. A very good case study would be Buffalo Wild Wings, which also includes the company website, building exterior and interior as shown in these photos. In our example, our client made a sage choice when he decided to hire a professional marketing firm to set his corporate identity. In fact, at the time of our meeting, our client was actually in the process of evaluating the many options his marketing professionals had laid-out for him. To be honest, this process can be overwhelming, as good marketing people will commonly lay-out many great ideas. A few of the ideas he was weighing are shown in these photos. I was extended the privilege of being asked to assist with my recommendation. It was obvious to me that the ultimate branding selection should tie strongly with the materials we were intending to use for the bar finishes. Fortunately, we had a very good experience with a company whose offerings seemed like a natural fit for the project at hand. Lumi-Graf, a Canadian manufacturer of fine, decorative resin panels, has a wide selection of products that seemed appropriate. In fact, Lumi-Graf (whose link is provided below) offers so many patterns and colors that it can be challenging to select the right one. After reviewing dozens of ideas, I found what appeared to be the match for our project, as seen in these photos. I arranged to have our client's artwork sent to Lumi-Graf so we could evaluate real-life samples and here's what we got: a bulls-eye! Everyone was very excited – the client, the marketing people and myself. And the best news is Lumi-Graf did this free-of-charge – including shipping! The next goal was to layout the ideas onto the bar and the backbar designs, as seen in this plan. For the countertop and bar footrest design, we chose architectural metal – stainless steel by Rigidized Metals Corp. in Buffalo, NY. And here we are today, with photos of the finished bar. Everyone felt like we'd hit a home run and I agree. But it took teamwork – an owner with a strong commitment and a very good marketing firm. We all think Press Start will enjoy a great deal of success. A special thanks to our client, John Simpson, for including us in this project and a special shout-out to Matt McIver of Laxalt & McIver (whose link is provided below)!
Free Consultation
Contact Us Today to Schedule Your Free Consultation!
———————————————————————————————————-
RELATED POSTS:

HOW TO DESIGN AN AWARD-WINNING COMMERCIAL BAR WITH WILSONART PRODUCTS
BAR DESIGN IDEAS: HOW DO YOU DESIGN AND BUILD A BETTER COMMERCIAL BAR?
COMMERCIAL BAR DESIGN – A TOP 7 LIST OF BAR FINISHING IDEAS
ERGONOMIC BAR DESIGN FOR MAXIMUM BARTENDER EFFICIENCY AND PROFITS
HOW MUCH DOES IT REALLY COST TO BUILD A BAR?
DRAFT BEER SYSTEMS FOR BARS – DIRECT-DRAW vs LONG-DRAW DRAFT BEER SYSTEM COST
———————————————————————————————————-
Need Help Completing Your Bar Plan? https://cabaretdesigners.com/89-need-help-completing-your-bar-plan
QUESTION — Have a question about Bar Design, Bar Equipment or Anything Else? Post in comments section of this video!
————————————————————————————————————————————————————————–
•••••••• Camera and Gear Used To Shoot This Video ••••••••
1. Canon SL2 with Kit Lens on Amazon
https://amzn.to/2TkTnt5
** Extra Canon EOS Battery
https://amzn.to/2DsppO8
2. SLIK Sprint 150 Aluminum Tripod
https://amzn.to/2PYY4Kj
3. Fovitec Studio Pro 600 LED Panel Bundle
https://amzn.to/2DJ2sXY
4. Camtasia Video Editing Software
https://amzn.to/2KaZWKr
Cabaret Design Group on Social Media:
https://twitter.com/DesignABar
https://www.instagram.com/bardesigners
https://www.pinterest.com/bardesigner
https://www.facebook.com/bardesigners
————————————————————————————————————————————————————————–
DISCLAIMER: The above video and description contains affiliate links, which means that if you click on one of the product links, I'll receive a small commission. This helps support the channel and allows us to continue to make videos like this. Thank you for the support!