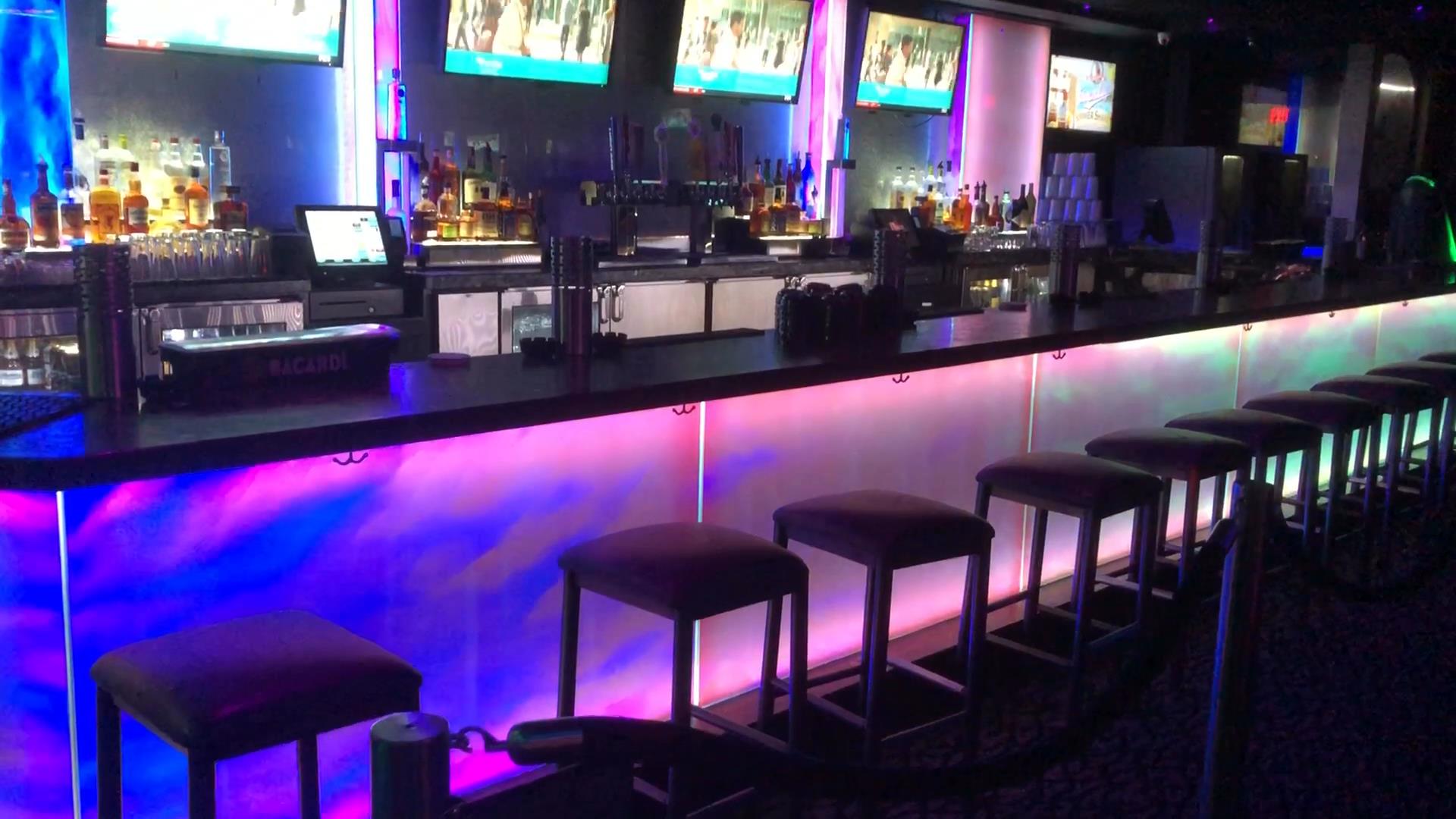 Architectural glass is always a material I enjoy using in design and clients are often inquiring about high-value solutions when redesigning their clubs.
As quickly as technology grows, the list of alternative materials grows as well. It's true that many of us are bottom-line driven, looking for the "value-solution". However, investing a bit more upfront will sometimes save you more money later when you consider durable materials which don't need to be replaced as frequently. Today I'll discuss the features to consider when purchasing architectural glass for your night club or bar, including features, applications and pricing. 
WHAT IS ARCHITECTURAL GLASS?
When it comes to material selection for durable surfaces, a popular choice of mine is architectural glass. While you may wonder exactly what this is, you see it every day in decorative shower doors and as part of commercial buildings, such as mirrored window assemblies. Architectural glass comes in many forms and is classified by secondary operations such as heat-treating (annealing, tempering, etc.) and laminating. The technical discussion of architectural glass becomes complicated very quickly, but for the sake of this discussion I'm going to focus on the type with which I frequently work in club design: laminated glass. Laminated glass is the process of joining two or more layers of glass together with one or more layers of PVB1 under heat and pressure. Typically, the individual panels of a laminated glass assembly are annealed or tempered, depending on the application.
WHAT ARE THE MOST COMMON APPLICATIONS FOR ARCHITECTURAL GLASS IN NIGHTCLUB AND BAR DESIGN?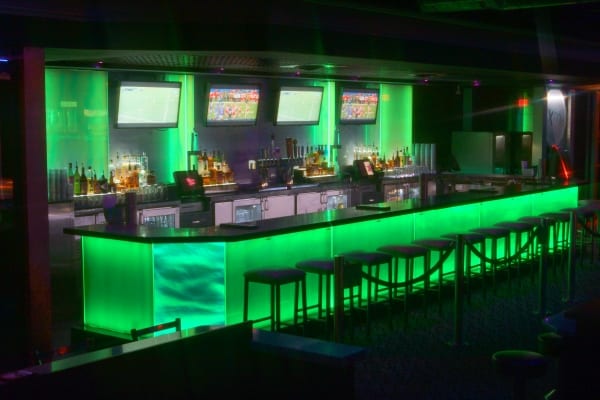 The world of laminated architectural glass is a world unto itself when we consider the myriad of combinations, which I will explain later. The applications are plentiful, limited only by the imagination. I commonly use architectural glass in the following applications:
Talk about "WOW-factor!" What I'm talking about are the illuminated bars you see in high-end nightclubs. Depending on the nature of the laminated assembly and position and nature of the light source, the possibilities are virtually endless. We use this in our LED bar, shown in the photo at right.
Often times I use laminated glass in the lobbies of nightclubs. This application, which utilizes an additional interlayer (such as a fine, sparkling wire mesh) provides an interesting visual effect to patrons both inside the club and inside the lobby as it randomly reflects light on one side while creating a hazy screen on the other.
Similar to the glass used in storefront applications, balustrade panels consisting of tempered laminated glass with an interlayer consisting of a digital print
WHAT CUSTOM OPTIONS ARE AVAILABLE?
The virtually-endless configurations of laminated glass panels is a designer's delight:
The glass itself is available in numerous colors and textures.
As mentioned above, the interlayer[3] can also include digital images, wood veneers, textiles, Japanese paper, aluminum meshes, natural stones and lenticular and holographic patterns.

Laminated glass pricing (material only) begins at about $40 per square foot, depending on quantity.
STEPS TO FOLLOW WHEN ORDERING ARCHITECTURAL GLASS
A word of caution is in order. As with all finishes, architectural glass should be ordered after all 'rough-in' work has been completed, i.e., at the same time you would commonly order other finish materials, after the rough inspection. The companies that fabricate architectural glass work through an approval process which includes shop drawings that must be signed-off at the time of placing the order. Suffice it to say that it is imperative to double-check your field dimensions before signing-off.
At an investment of at least $40/sq.ft., your budget may be challenged, but the investment isn't as significant as one may think when considering aesthetics and longevity.

Of course, everyone has a budget which sometimes necessitates making short-term tradeoffs. Be careful when weighing all the alternatives, as prudent night club design is really measured over the long-haul.


Related Posts:

Designing With Durable Materials: Leather vs Vinyl
Top 5 Wall Covering Ideas & Tips for Bar & Nightclub Design

 

Call Us For Your Next Design Project
Our standard bar design service includes all construction plans and equipment layouts. We would be happy to assist any bar owner who would like to incorporate time-proven design ideas into your venue. Please feel free to contact us.

Most Popular Articles
Pour My Beer: Self-Serve Beer Systems for Bars & Nightclubs
Bar Equipment Prices: How Much It Really Costs To Build a Bar
What Is "Pour Cost" and Why Is It So Important?
The Best Liquor Inventory Management System : AccuBar vs BevInco
Top 5 Design Ideas about Purchasing Nightclub and Bar Furniture
Designing and Building a Commercial Bar
---
1. PVB is polyvinyl butyral, a clear bonding agent called an interlayer, applied between adjacent layers of glass; when tempered laminated glass breaks the PVB interlayer prevents the bonded layers of glass from breaking apart and remaining largely intact.
2. It is always advisable to have a couple of spare replacement panels on-hand.
3. In addition to the PVB bonding agent.