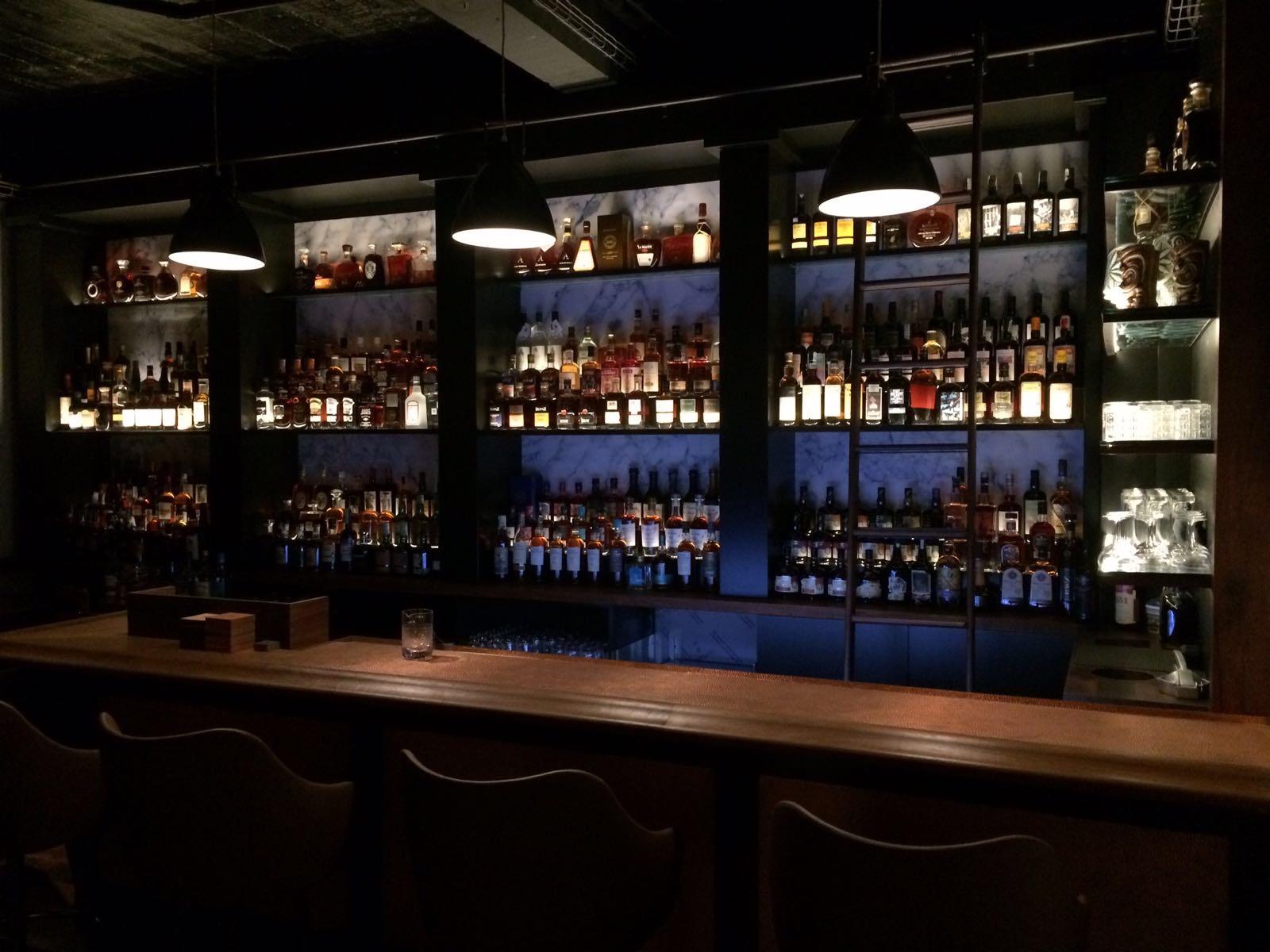 What are the top 5 design ideas about bar countertops? Today we'll discuss the most popular countertops in bar design, including purchasing tips, pricing and installation methods.
We live in an age where we have an abundance of choices for countertop materials; we can thank the custom home industry for this. It's great to have many choices, but the downside to this is information overload for the consumer – making the correct choice is more complicated than ever. Although this is not a complete list, this one constitutes the majority of the possibilities for countertop considerations of our clientele:
Granite

Quartz

Marble

Corian

Wood

Laminates
There are, indeed, many choices to consider when purchasing countertops for nightclubs and bars. Today I'm going to discuss the design information, including features and costs you need to consider when purchasing countertops for your nightclub or bar:
WHAT ARE THE MOST POPULAR COUNTERTOPS FOR BAR AND NIGHTCLUB DESIGN?
When talking about the top 5 design ideas about bar countertops, here's a rundown of the most popular choices:
Granite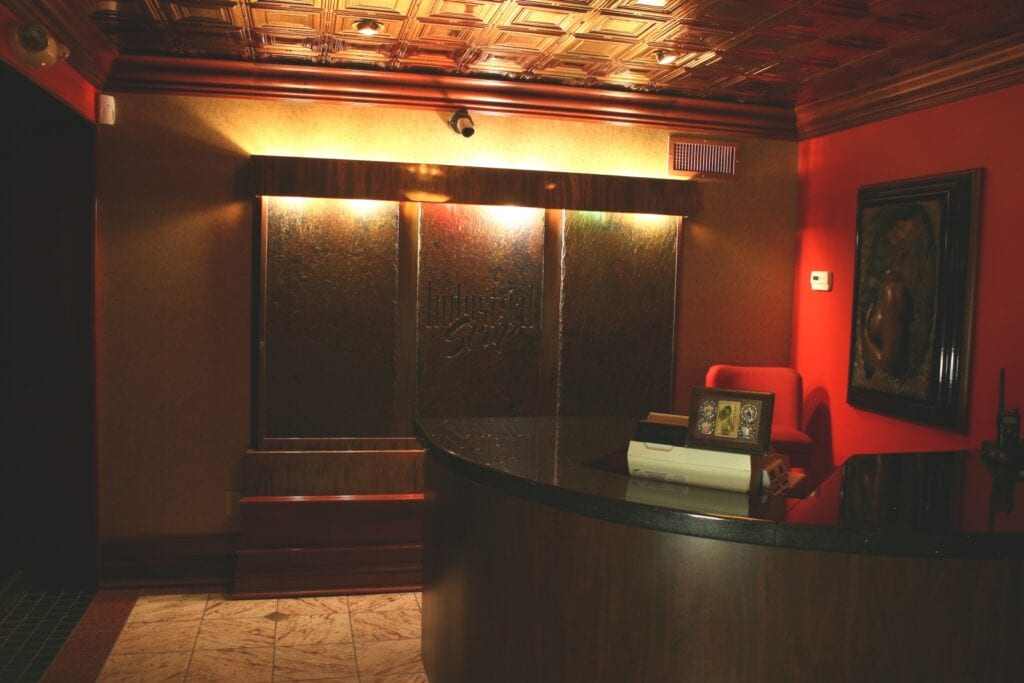 Advantages: for pure aesthetics, granite is difficult to beat; since it is a natural product, no two patterns are identical; some high-end patterns are quite spectacular; because of the random nature of most patterns, repair can often be un-noticeable; many patterns have coordinating floor tile.

Disadvantages: cost; porous surface makes it susceptible to staining; limitation to specific cleaning agents; must be periodically resealed.
Quartz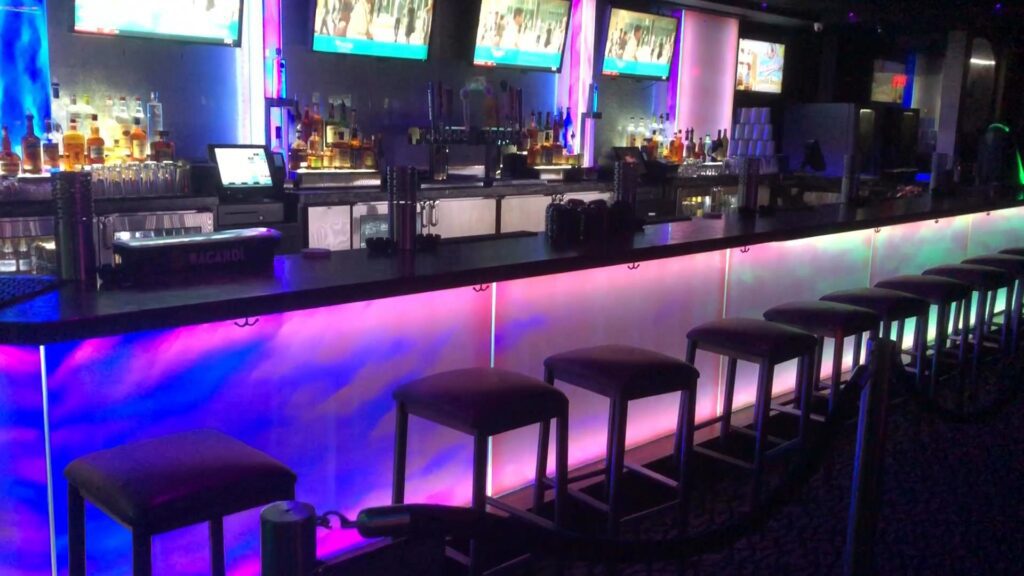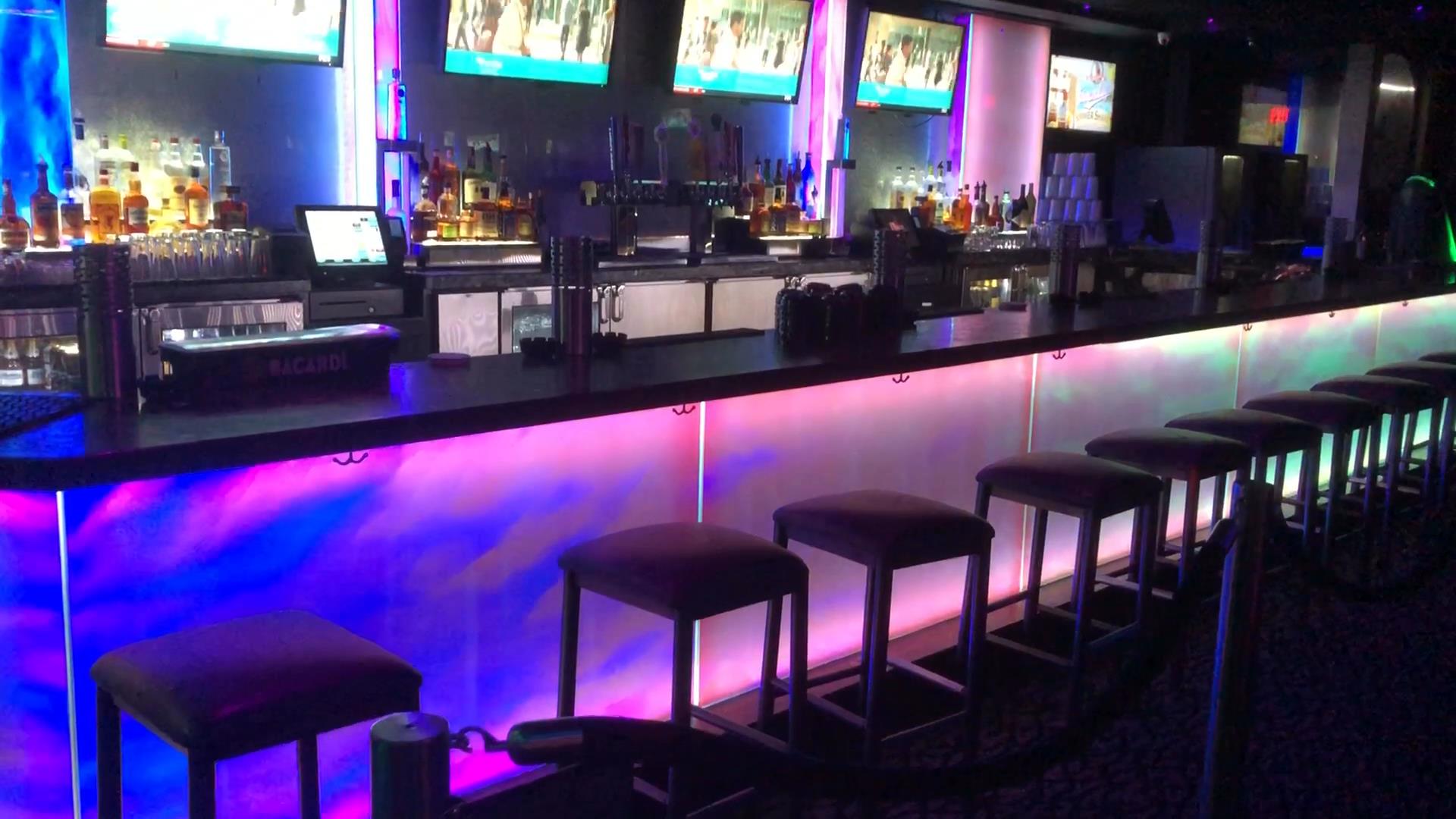 Advantages: non-porous and therefore excellent in a food environment; some patterns have a likeness to granite; certain patterns interact nicely with club lighting.

Disadvantages: costlier than granite; doesn't have the same sheen as granite; because it is a solid, manmade product, it can be difficult to make unnoticeable repairs; for stone purists, this is not a natural product; most commercial dealers do not sell coordinating floor tile.
Marble
Advantages: similar to those of granite; standard patterns are priced similar to granite.

Disadvantages: this material is soft and porous, which requires higher maintenance; like granite, higher-end patterns can be twice as costly as quartz.
Corian
Advantages: since this is categorized as "solid surface," its color is constant, making for simple repairs; seamless appearance; some patterns have movement similar to that of granite.

Disadvantages: scratches easily; looks less natural than stone.
Wood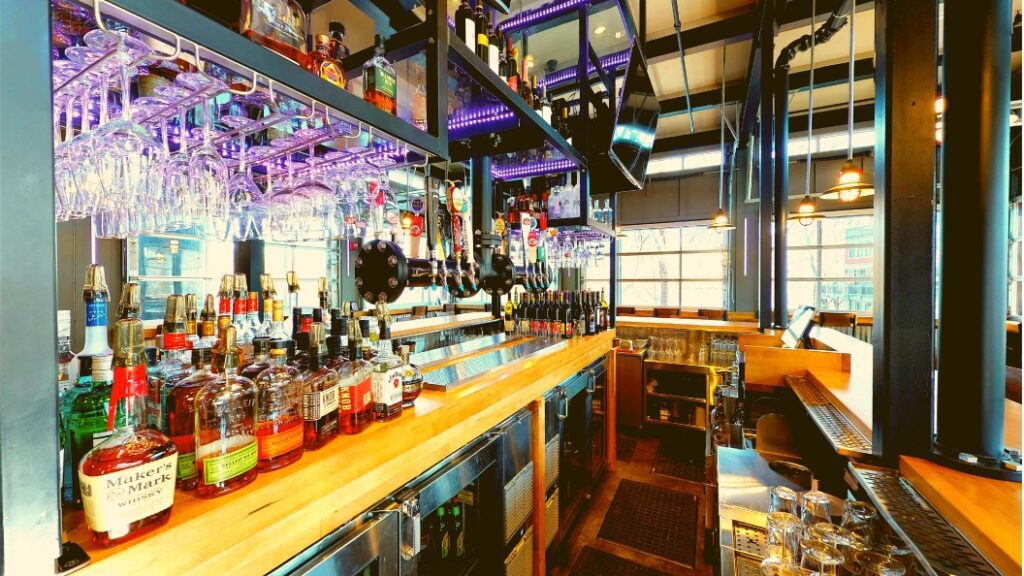 Advantages: available as green-certified; unique appearance – no two pieces are alike; high lustre.

Disadvantages: soft and porous and absorbs odors – liquids can cause staining; the periodic maintenance (sanding and refinishing) is costly, time-consuming and messy.



Laminates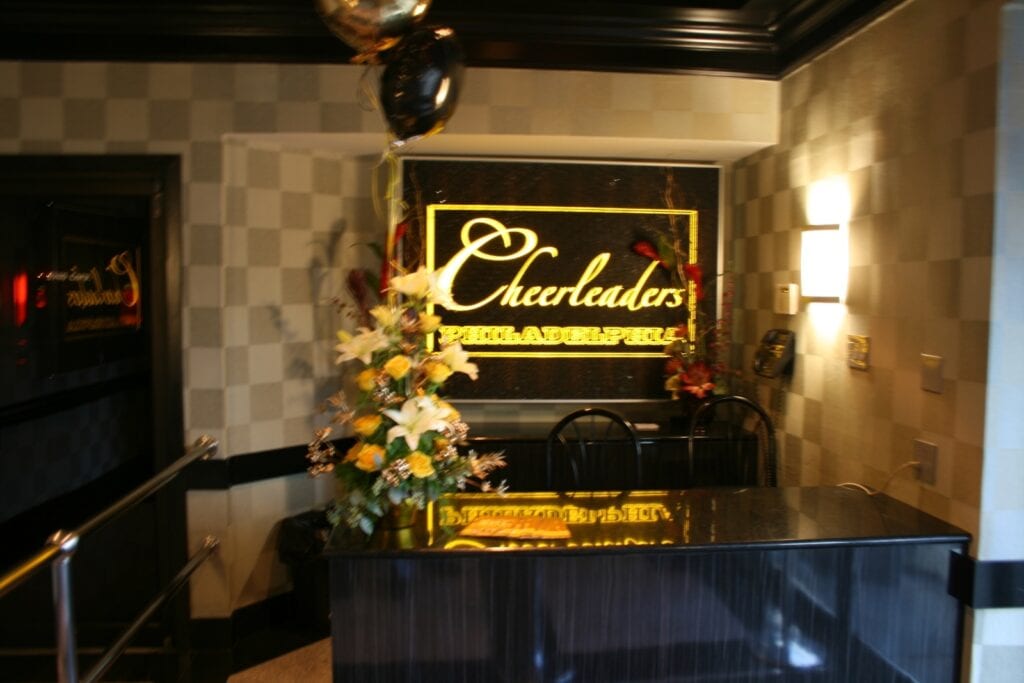 Disadvantages: scratches and chips are visible; durability; edge seams are visible; edge banding susceptible to constant maintenance.


WHAT IS THE BEST COUNTERTOP FOR NIGHTCLUBS AND BARS?
While each material has its own merits, the most popular choices are granite and quartz. My personal favorite is quartz. Say what you like, but to me, nothing is better for nightclub and bar design than granite. The combination of lustre and the unique beautiful patterns that Mother Nature gives us with stone, granite is the best. In fact, granite far outsells quartz. According to Monica MacKay of Buffalo Granite & Marble in Buffalo, NY, quartz represents only 30% of their business; it is specified most commonly by design professionals for businesses with multiple locations (such as auto dealerships). The reason? In order to maintain the consistent appearance that only a manufactured product like quartz provides.
WHAT ELSE DO I NEED TO KNOW ABOUT COUNTERTOPS?
A word of advice about quartz: if you are considering quartz for your nightclub, the only way to adequately understand the appeal of any sample is to take a large piece (at least 12" x 12") back to your club and evaluate it under club lighting. Because some quartz has somewhat of a translucent nature, judging these quartz samples under studio or office lighting will not yield a correct evaluation.
There are numerous edge treatments for countertops. One of lesser-known (and my personal favorite) is the laminated edge, wherein additional material is cut and adhered to the visible edges, such as the 3" edge shown in the above photo. This is a great, masculine look!
HOW MUCH DO COUNTERTOPS COST?
According to D'Andre Craig of Athenian Marble in Oklahoma City, OK, the current starting cost (including installation) for granite and marble is $50 per square foot, while that of quartz is $52 per square foot, while pricing for their Corian-like patterns begins at $40 per square foot. Remodelingexpense.com reports that wood countertops begin at $40 per square foot. Homewyse.com estimates that laminate countertops begin at $17 per square foot.
WHAT ARE THE BEST TIPS FOR SUCCESSFUL COUNTERTOP INSTALLATIONS?
The tenets of construction apply with countertop installation: preparation is the key success:

Ensure that all supporting structure is plumb, level and square and properly anchored.

Proper underlayment is the next most-important factor. For instance, for granite bar tops I always recommend one layer of ¾" marine grade plywood (for granite footrests I recommend ½" Durock® cement board, or equivalent).

Install the underlayment continuously and set-back not more than 3" from each edge of the countertop footprint, i.e., 18" of support for 24" deep countertops, 24" of support for 30" deep countertops, etc.

For those who prefer two layers of underlayment, each layer needs to be installed cross-grained with respect to the other (the second layer is installed perpendicular to the first layer), and the entire assembly is glued and fastened with countersunk screws.

Use a belt sander and bondo on joints that aren't level.

Oh yeah, a word to the wise: do yourself a big favor and leave the installation of the countertops to the experts.
Related Blog Posts:
Bar Equipment Prices: How Much Does It Cost To Build a Commercial Bar?
Top 5 Bar Remodeling Projects, Design Ideas & Tips
Wallpaper Picks & Tips for Bar & Nightclub Design

Free Consultation
Having trouble with your bar plan? Contact Us today!
Most Popular Articles
INTEGRATED BAR DESIGN IS ARCHITECTURAL BAR DESIGN
ERGONOMIC EFFICIENT BAR DESIGN INCREASES PROFITS
WHAT ARE THE STANDARD BAR LAYOUT DIMENSIONS FOR DIY?
HOW MUCH DO DRAFT BEER SYSTEMS COST?
WHAT DOES IT COST TO BUILD A COMMERCIAL BAR?
BAR EQUIPMENT COST TO BUILD A COMMERCIAL BAR
BAR DESIGN IDEAS – HOW TO DESIGN COMMERCIAL BARS FOR ADA
TOP LIST OF COMMERCIAL BAR DESIGN FINISHING IDEAS