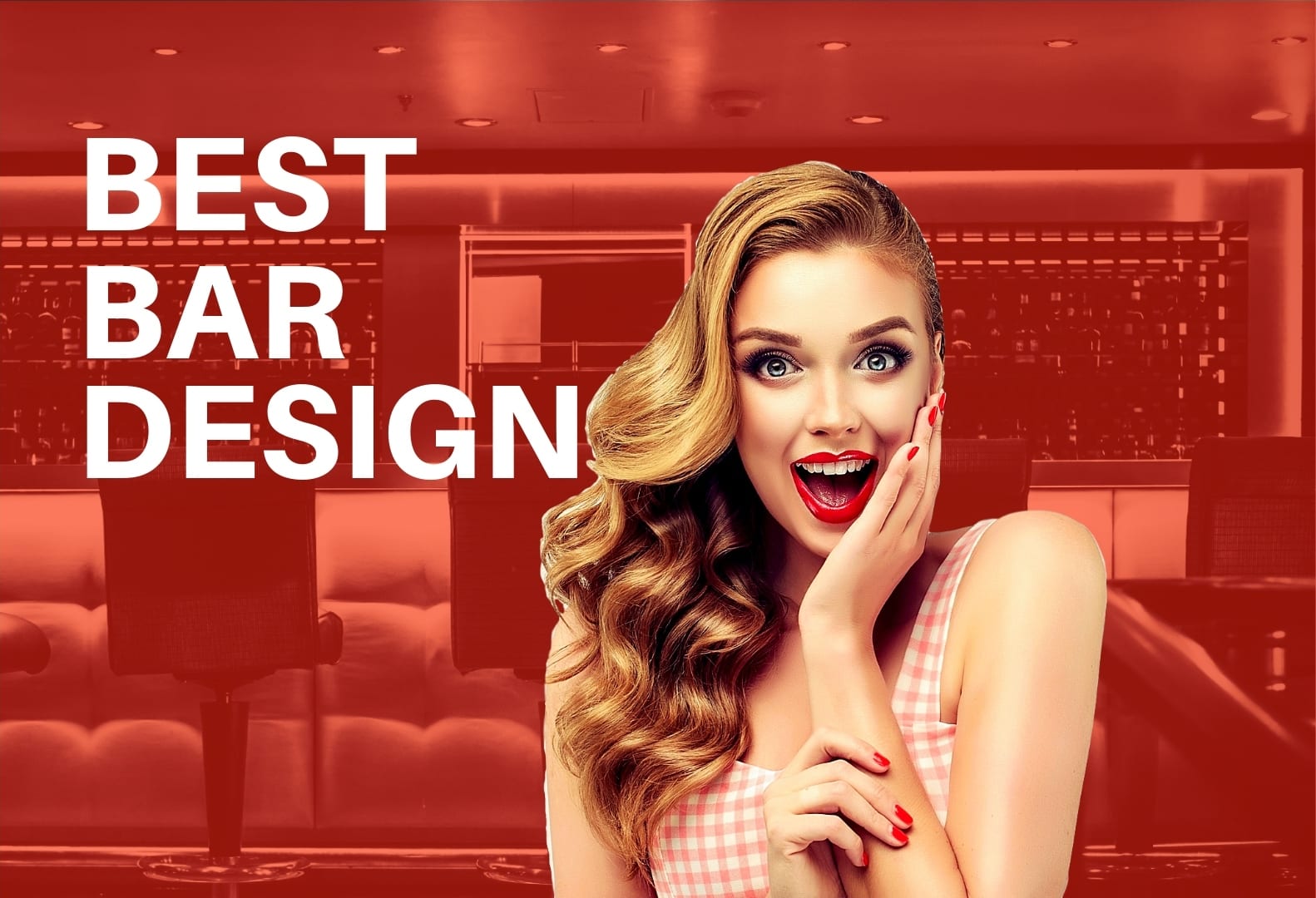 How do you design and build the best bar?
Learn the secrets to design and build the best bar, including commercial bar design, restaurant bar design, bar dimensions, bar design ideas, bar plans.

HOW TO DESIGN A BAR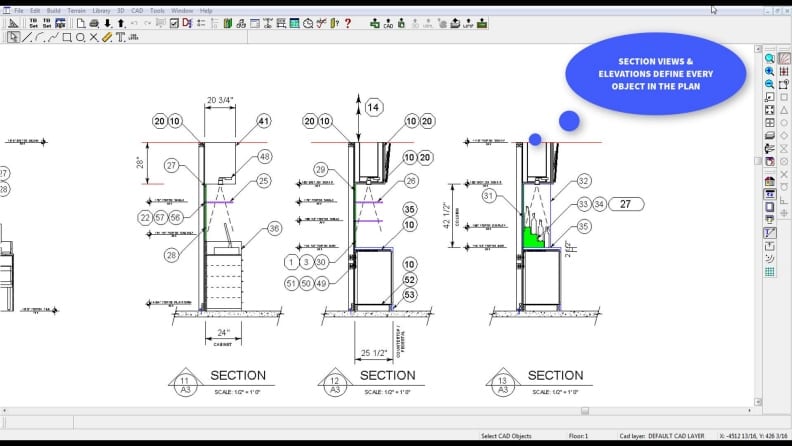 When designing the best bar, use the time-proven standardized methods of design professionals. Architects and engineers utilize a standardized approach to everything they design. At the core of every architectural design is a plan which is developed by the creation of building blocks known as elevation views, isometric views and section views ("sections"). These are the most fundamental objects, as they eventually identify the shape and size of every object. Without the section views we would be unable to create the elevations and plan views, because we would lack critical dimensions.

In bar design, architectural standards require the height of the finished bar to be between 42" – 45", as shown in this sketch, which can be downloaded below. My personal preference is for a finished height of 42 ½", which I personally use every day. Let's review the sketch I'm showing here (which is downloadable below):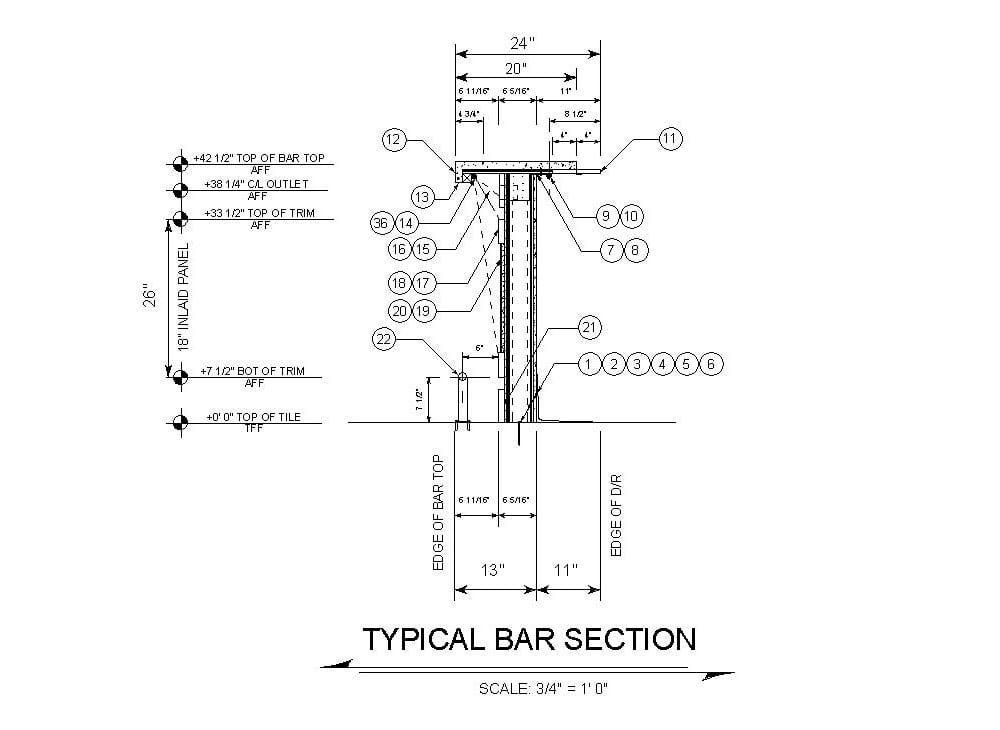 A standard bar base is composed of metal studs and track, shown as items 1 & 2, using either 4" or 6" framing members, 16" on-center; most residential contractors aren't comfortable with metal studs, so if wood is used, all lumber should be fire-treated.

A continuous 3" x 3" x 16 ga metal framing angle and clip should be attached to the tops of all studs, on both sides, shown as items 7 & 8 and shown separately in this sketch.

½" CDX plywood sheathing on each side, continuously, shown as item 3.

½" Durock underlayment with FRP on the inside face, shown as item 4.

The exterior-side of this design is finished with cement board siding components, such as that offered by James Hardie Corp. (refer to items 15, 17, 18 and 21).

A plastic laminate inlaid panel, shown as items 19 and 20.

A pipe footrest, shown as item 22.

A stainless steel drink rail, shown as item 11.
DESIGN CRITERIA FOR DESIGNING AND BUILDING THE BEST BAR
When attempting to design and build the best bar, there are couple of items especially worth noting:
The height of the bar die (which includes everything except the plywood underlayment and bar top) should be 41".

The inside edge of the finished bar top should overhang the inside face of the bar by 11"; this is good ergonomic design and will reduce bartender back strain.

Electrical convenience outlets with USB ports (shown as item 16), should be installed every four feet.

By virtue installing a continuous angle on both sides of the bar die, you will have superior bar top support, no matter the bar top material you select. 
THE ORDERLINESS OF THE BAR DESIGN PROCESS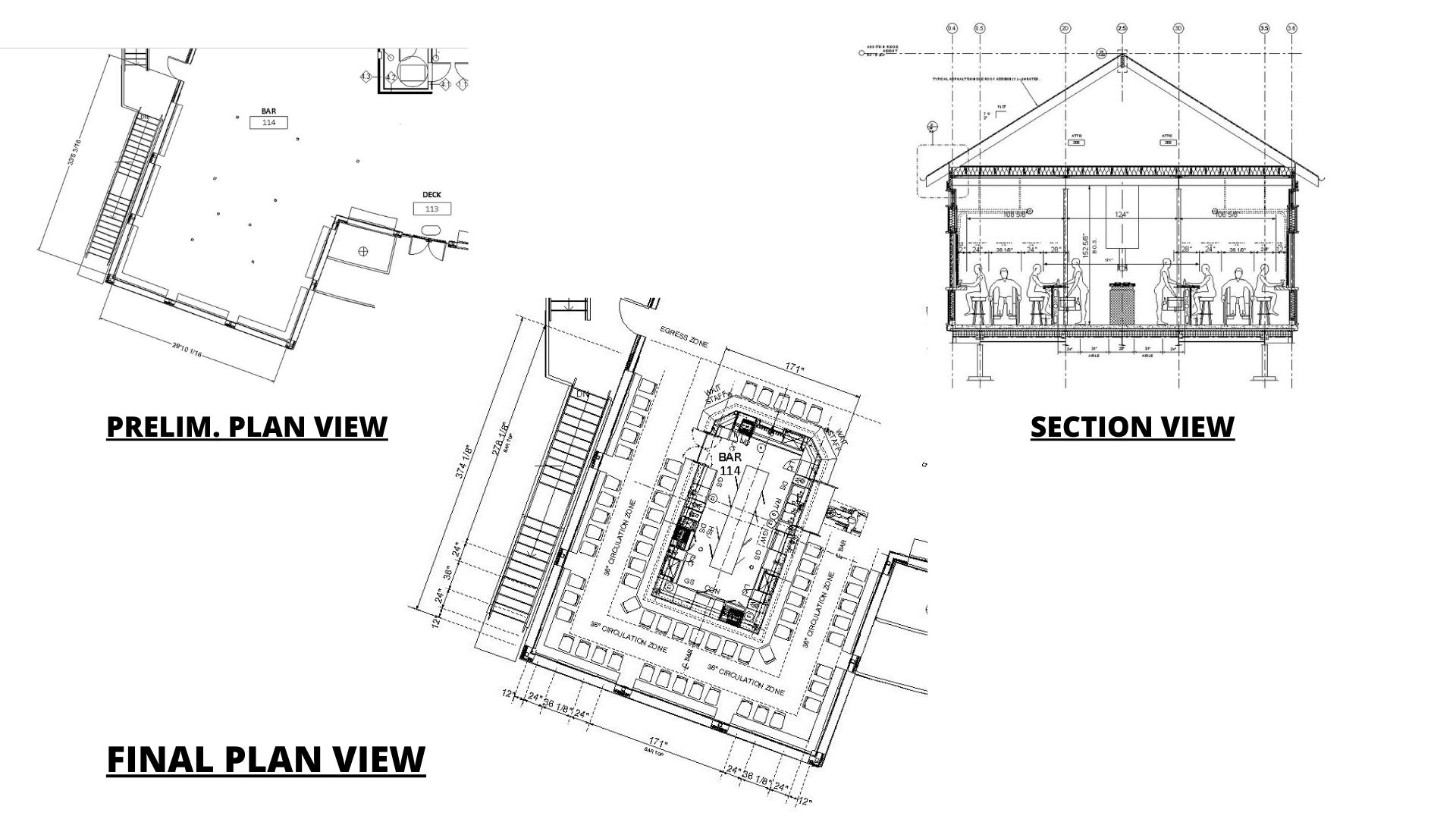 If you're attempting to design and build the best bar, it's paramount to know that bars are designed from the inside-out, which means that you need to draw a cross section view of the bar and back bar and check it against all interior dimensions before proceeding to order material and bar equipment.
Free Consultation
Contact Us Today to Schedule Your Free Consultation!
———————————————————————————————————–
RELATED POSTS:
WHAT IS MY BAR DESIGN REALLY GOING TO COST?
DESIGNING AN AWARD-WINNING BAR WITH WILSONART PRODUCTS
WHAT IS THE BEST BAR STOOL SPACING?
HOW TO DESIGN COMMERCIAL BARS FOR ADA
MOST POPULAR POSTS:

COMMERCIAL BAR DESIGN – A TOP 7 LIST OF BAR FINISHING IDEAS
ERGONOMIC BAR DESIGN FOR MAXIMUM BARTENDER EFFICIENCY AND PROFITS

WHAT DOES IT REALLY COST TO BUILD A BAR?
HOW TO DESIGN COMMERCIAL BARS FOR ADA
———————————————————————————————————–
DOWNLOADABLES FOR THIS POST:
UNIVERSAL BAR CLEARANCES WITH ADA DESIGN
STANDARD_COMMERCIAL_BAR_SECTION_WITH_DIMENSIONS
DIETRICH_EASY_CLIP_D_SERIES_SUPPORT_CLIPS

DIETRICH_HEAVY_GUAGE_ANGLE
POPULAR DOWNLOADS:

BAR_AND_RESTAURANT_SEATING_GUIDELINES
———————————————————————————————————–
Need Help Completing Your Bar Plan? Contact Us Today!


QUESTION — Have a question about Bar Design, Bar Equipment or Anything Else? Post in comments section of this video!
•••••••• Camera and Gear Used To Shoot This Video ••••••••
1. Canon SL2 with Kit Lens on Amazon
https://amzn.to/2TkTnt5
** Extra Canon EOS Battery
https://amzn.to/2DsppO8
2. SLIK Sprint 150 Aluminum Tripod
https://amzn.to/2PYY4Kj
3. Fovitec Studio Pro 600 LED Panel Bundle
https://amzn.to/2DJ2sXY
4. Camtasia Video Editing Software
https://amzn.to/2KaZWKr
———————————————————————————————————————
DISCLAIMER: The above video and description contains affiliate links, which means that if you click on one of the product links, I'll receive a small commission. This helps support the channel and allows us to continue to make videos like this. Thank you for the support!