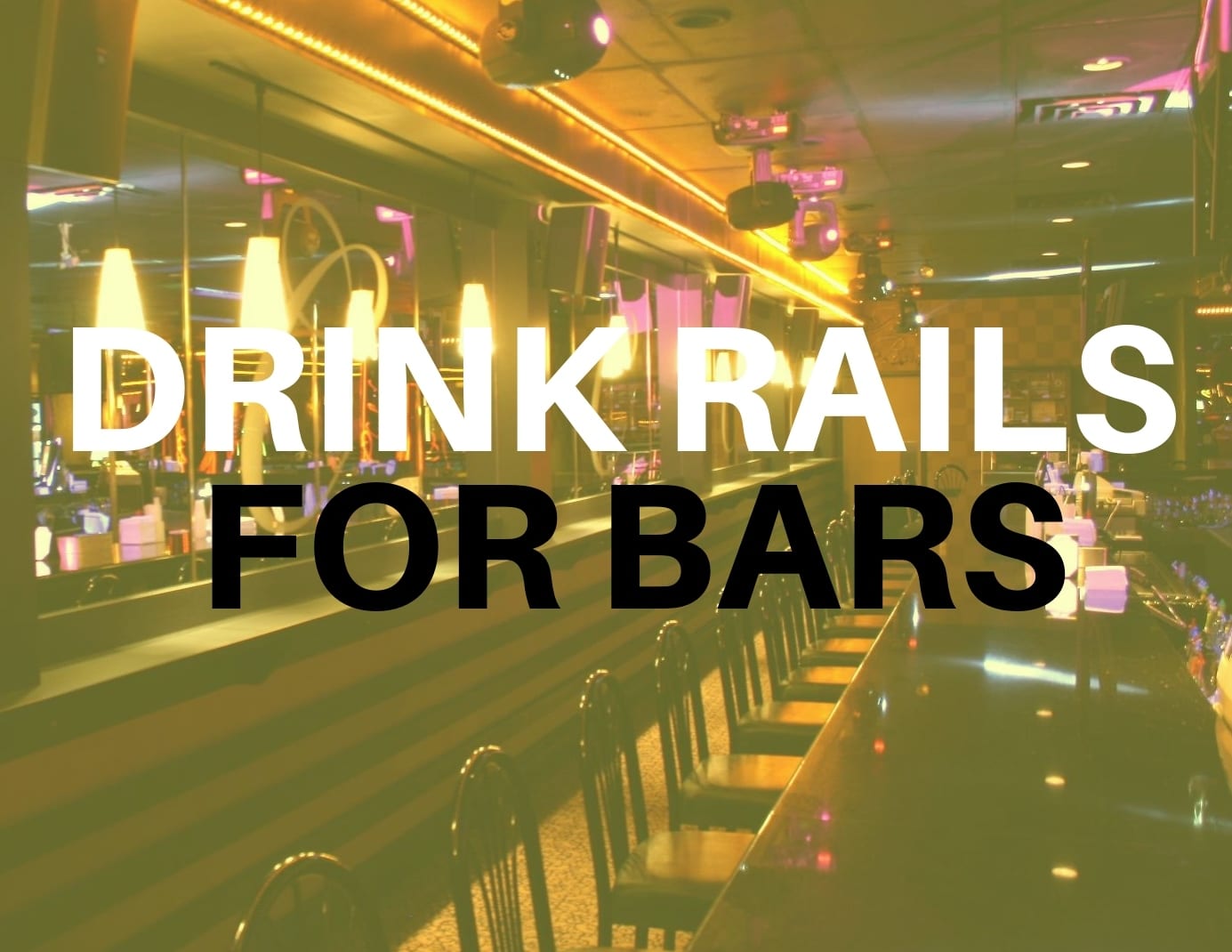 How do you design and build a drink rail for a bar?
Learn the guidelines for designing and building drink rails for restaurants, bars, hotels and man caves.
In this post I'll discuss the architectural standards for correct drink rail design for bars, restaurants, sports bars and man caves and later I'll review two special sketches I've prepared for you.
BAR DESIGN TIPS – HOW TO DESIGN AND BUILD A DRINK RAIL FOR A BAR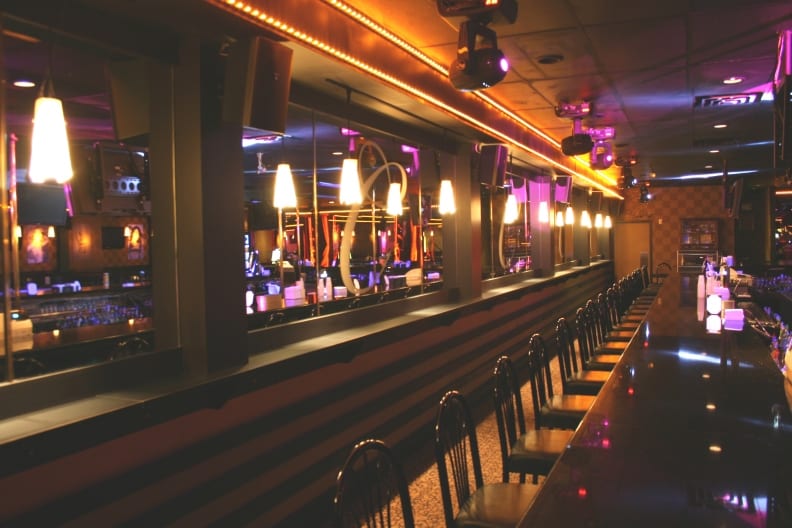 Drink rails are popular in many settings. A drink rail is a mini-version of a bar top and is typically featured along walls, which is the type of drink rail I'm going to discuss today. From a previous video of ours, you may recall the restaurant bar which featured two seating ideas along a wall, shown here: the first approach showed three two-top tables along the wall, which could yield dining for six or as a drink rail for 11. While drink rails can facilitate greater occupancy, they aren't conducive to dining. However, even where food is being featured, some owners prefer the profitability of selling more alcohol.
DESIGN TIP:
Drink rails work best when the distance from the edge of the bar top to the face of the opposing wall is between 82" – 96".
WHAT IS THE BEST DRINK RAIL DESIGN?
As I've said before, architectural standards are the key to planning bar and restaurant seating and drink rails fall into this category. When space-planning, we need to ensure proper circulation and interface clearances in front of the bar and drink rail; use the following bar dimensions for ergonomic bar design, referenced in this downloadable sketch:
The height of the drink rail should match the bar top height, which is 42" – 45".
The drink rail should be 10" – 12" deep and should have a 4" backsplash.
Plan 18" for the customer activity zone (24" if using bar stools).
Always include a 36" activity zone for ADA and wait staff.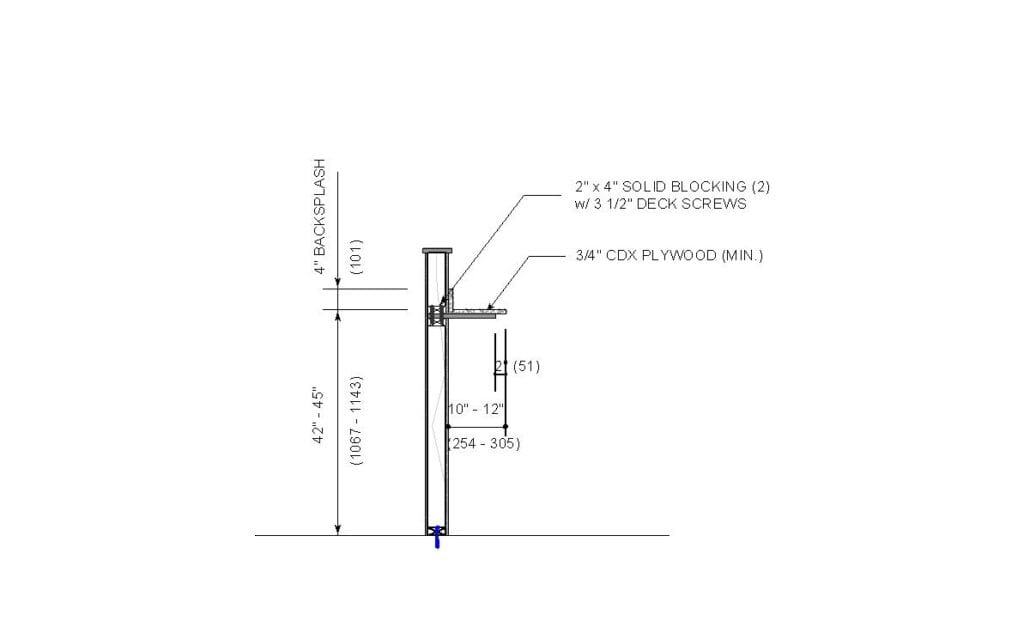 THE MOST POPULAR DRINK RAIL DESIGN
Our most popular DIY drink rail design is shown at right (reference the downloadable sketch). If you're unable to afford to use the same material for your drink rail as the bar top, at least use a high-pressure laminate with a ¾" particle board core, as shown in this photo. All drink rails should have a continuous plywood underlayment, set back not more than 2" from the outside edge of the drink rail. The key to this drink rail design is that it doesn't need support brackets, as it's wholly and continuously supported by the plywood underlayment, which is fully-constrained between two (2) layers of 2 x 4 plates, inside the wall. Use 3½" coarse-thread deck screws to fasten. The drink rail should be bonded to the underlayment with construction adhesive. For commercial applications, all materials should be fire-treated.
Free Consultation
Contact Us Today to Schedule Your Free Consultation!
———————————————————————————————————–
RELATED POSTS:

HOW MUCH IS MY BAR DESIGN REALLY GOING TO COST?
BAR DESIGN IDEAS – SEATING GUIDELINES FOR BARS AND RESTAURANTS
WHAT IS THE BEST BAR STOOL SPACING?
DESIGNING COMMERCIAL BARS FOR ADA

MOST POPULAR POSTS:
GLYCOL COOLED vs KEGERATORS – WHICH DRAFT BEER SYSTEM TO BUY?

COMMERCIAL BAR DESIGN – A TOP 7 LIST OF BAR FINISHING IDEAS
ERGONOMIC BAR DESIGN FOR MAXIMUM BARTENDER EFFICIENCY AND PROFITS
HOW MUCH DOES IT REALLY COST TO BUILD A BAR?
———————————————————————————————————–
DOWNLOADS FOR THIS POST:
UNIVERSAL BAR CLEARANCES WITH ADA
BAR_AND_RESTAURANT_SEATING_GUIDELINES.pdf
———————————————————————————————————–
Need Help Completing Your Bar Plan? Contact Us Today!

QUESTION — Have a question about Bar Design, Bar Equipment or Anything Else? Post in comments section of this video!
•••••••• Camera and Gear Used To Shoot This Video ••••••••
1. Canon SL2 with Kit Lens on Amazon
https://amzn.to/2TkTnt5
** Extra Canon EOS Battery
https://amzn.to/2DsppO8
2. SLIK Sprint 150 Aluminum Tripod
https://amzn.to/2PYY4Kj
3. Fovitec Studio Pro 600 LED Panel Bundle
https://amzn.to/2DJ2sXY
4. Camtasia Video Editing Software
https://amzn.to/2KaZWKr
Cabaret Design Group on Social Media:
https://twitter.com/DesignABar
https://www.instagram.com/bardesigners
https://www.pinterest.com/bardesigner
https://www.facebook.com/bardesigners
——————————————————————————————————————–
DISCLAIMER: The above video and description contains affiliate links, which means that if you click on one of the product links, I'll receive a small commission. This helps support the channel and allows us to continue to make videos like this. Thank you for the support!