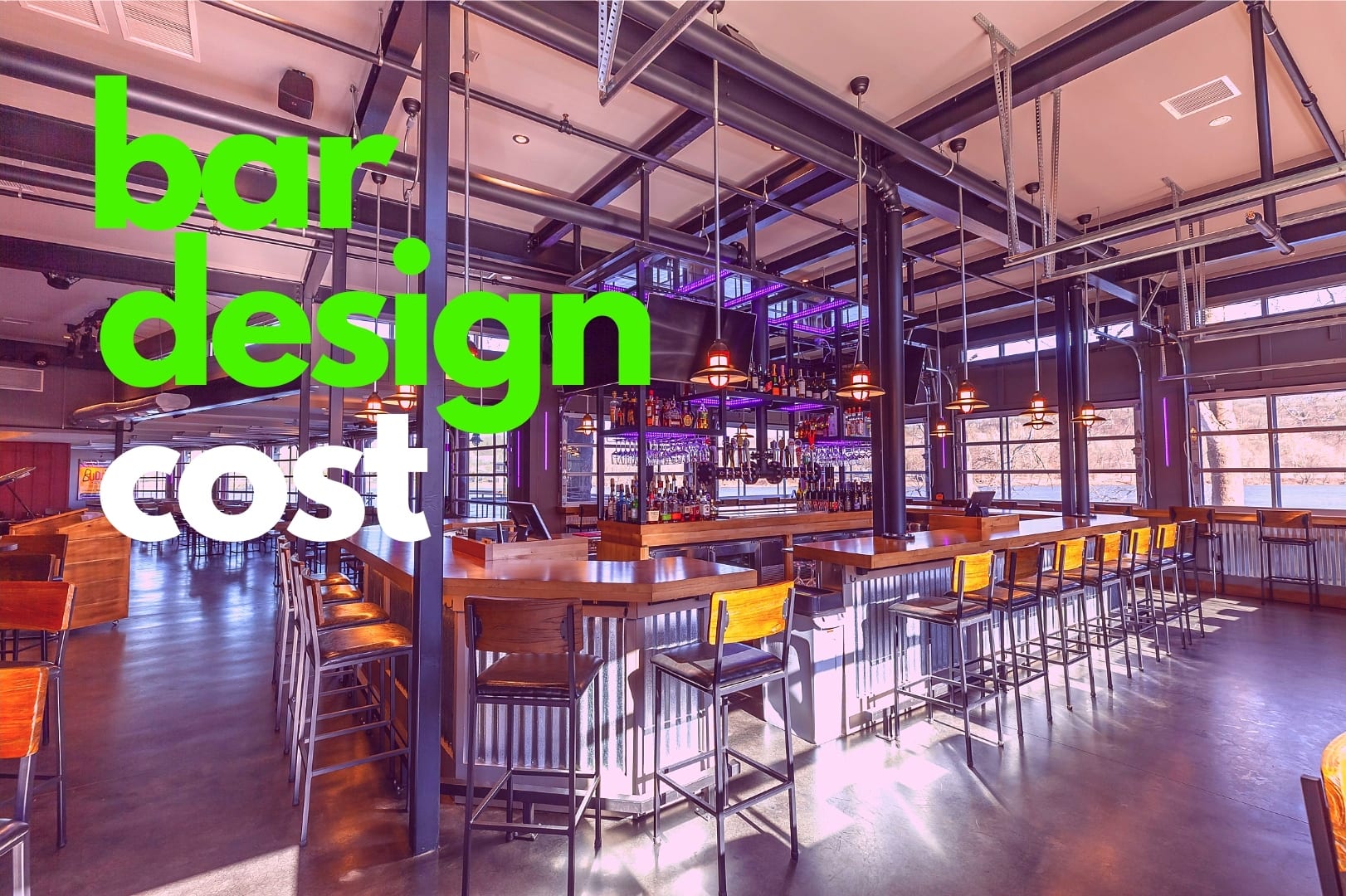 If you're a bar, hotel or restaurant owner, learn the insider secrets of how much bar design, consulting, bar equipment design and luxury bar design costs, then this bar design cost guide is for you!
HOW MUCH IS MY BAR DESIGN REALLY GOING TO COST?
Today we're going to answer the question: "How much is my bar design really going to cost?" There are many factors that differentiate the cost to design any given bar, which is why I created this bar design cost guide. My goal in this post is to explain our general pricing guidelines for professional bar design.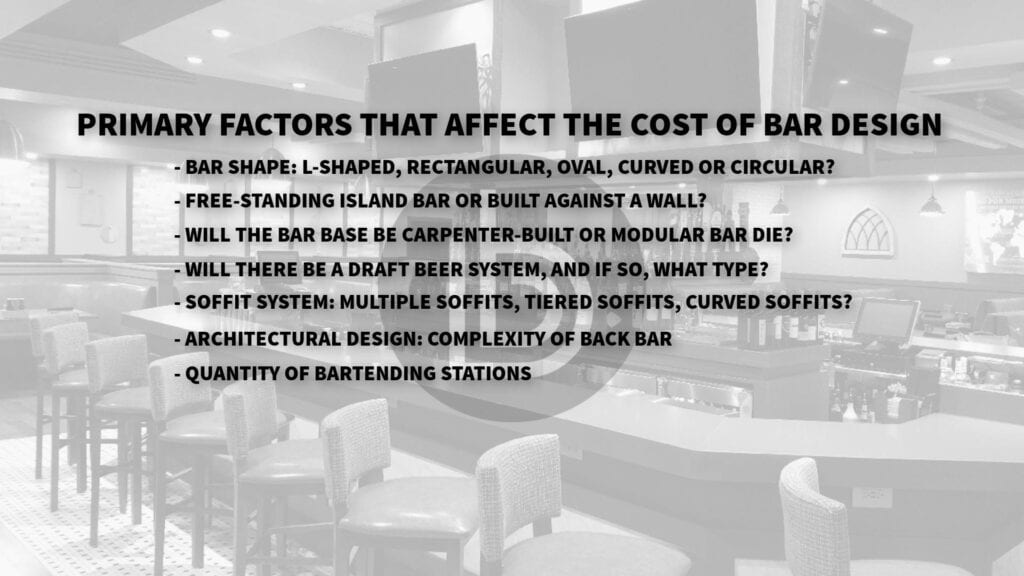 Commercial bar design can encompass many subtle and complex features that many may not notice or even understand. There are many factors that affect the cost of bar design, but here are the top three things we need to know to get started:
What will be the shape of your new bar – will the bar be L-shaped, rectangular, oval, curved or circular?

Will your new bar be a free-standing island bar or will it be installed against a wall?

Will the new bar have a draft beer system?
At this point, we're just beginning to scratch the surface. Actually, there are many features our clients request for their new bars and these all impact the price of our bar design service. Pricing and services subject to change without notice.
WHAT TYPES OF SERVICES DO YOU OFFER AND HOW MUCH DO THEY COST?
This bar design cost guide covers are four types of bar design services:
Bar consulting

Bar equipment design

Standard bar design

Luxury bar design
Bar Consulting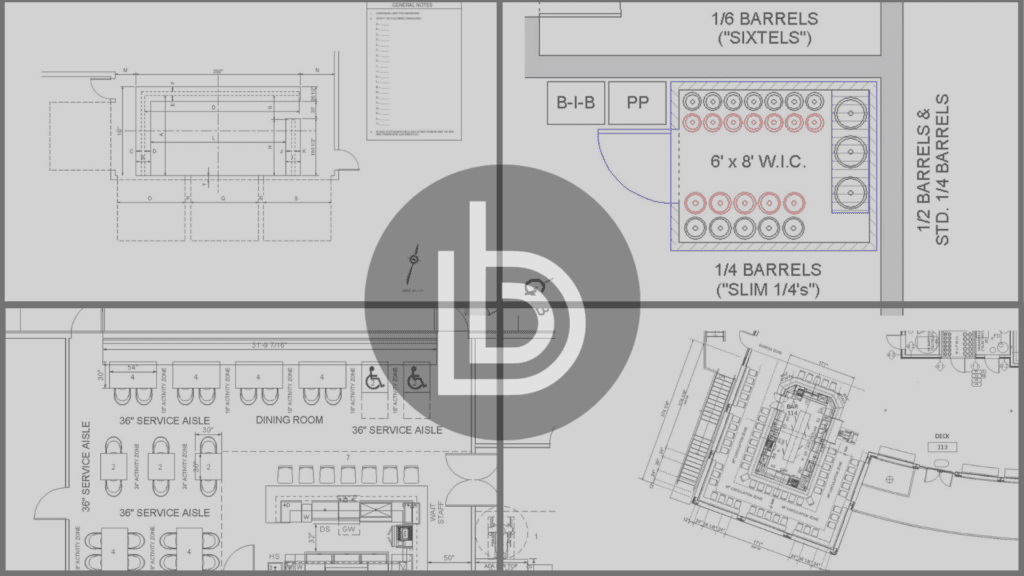 If you need assistance with planning a new bar, here are some of the consulting services we offer:
Basic bar layout.

Draft beer system planning.

Help you complete your unfinished bar plan.

Create a dining seating plan.

Create a budget for a new bar with basic food service.
Our bar consulting service is geared for the DIYer and those who are seeking preliminary information for purchasing or starting a bar or restaurant/bar.
Pricing for our Bar Consulting service ranges from $100 – $500.
Bar Equipment
This service is geared for the do-it-yourself crowd that wants to finish their bar but is in need of expertise to help them complete the 2D aspect of their bar layout, from the bar top-down.
For instance, if you're merely stuck on the bar equipment itself, we could simply provide you with a basic bar equipment plan and equipment schedule, delivered to you in a scaled architectural plan in PDF.
We can also provide you with the following optional services: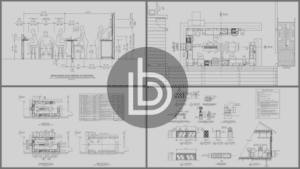 Fine-tune your bar layout with recommendations for POS equipment and draft beer tower locations.
Pricing ranges from $200 – $300

Create plans for construction of bar base and bar tops.
Pricing ranges from $500 – $750

Provide details for one (1) built-in ADA accommodation.
Pricing ranges from $200 – $300
PRICING
Base Price: $1,500 for a standard 2-station bar
NOTE: Pricing normally ranges up to $2,500, but could be greater, depending on selected options (SEE LUXURY BAR DESIGN FOR OPTIONS).
Standard Bar Layout
Our Standard Bar Layout service offers a fully-engineered bar plan and is geared for smaler venues looking for a value solution.

We'll create a concept for a 2-station bar and include the following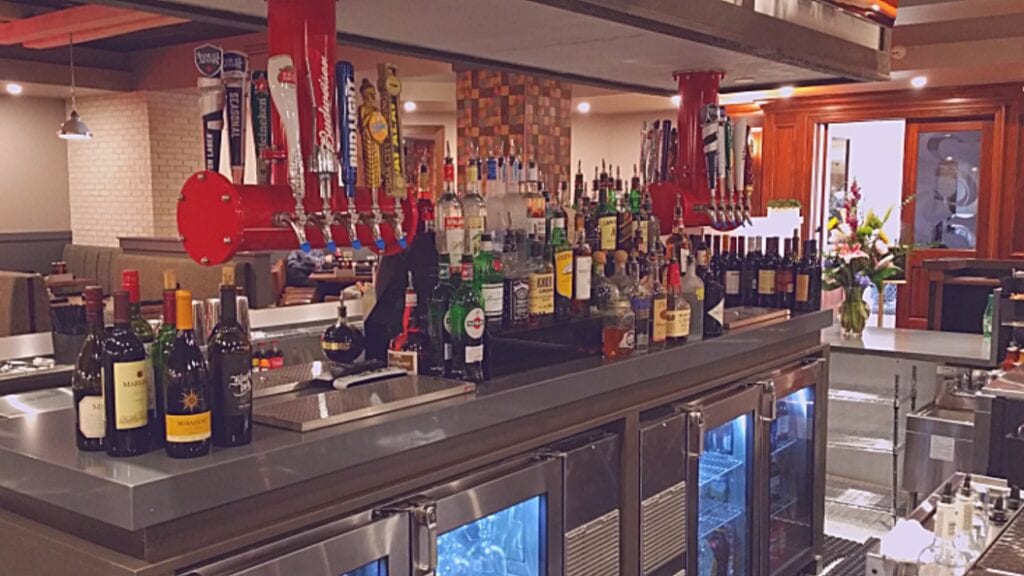 Include details for the construction of one (1) built-in ADA accommodation.

Develop bar façade.

Foot rail design.

Simple back bar plan with TV equipment recommendations and locations.

Bar top plan (see image, right).

Equipment plan.

POS station locations.

Equipment schedule and manufacturer's cut sheets.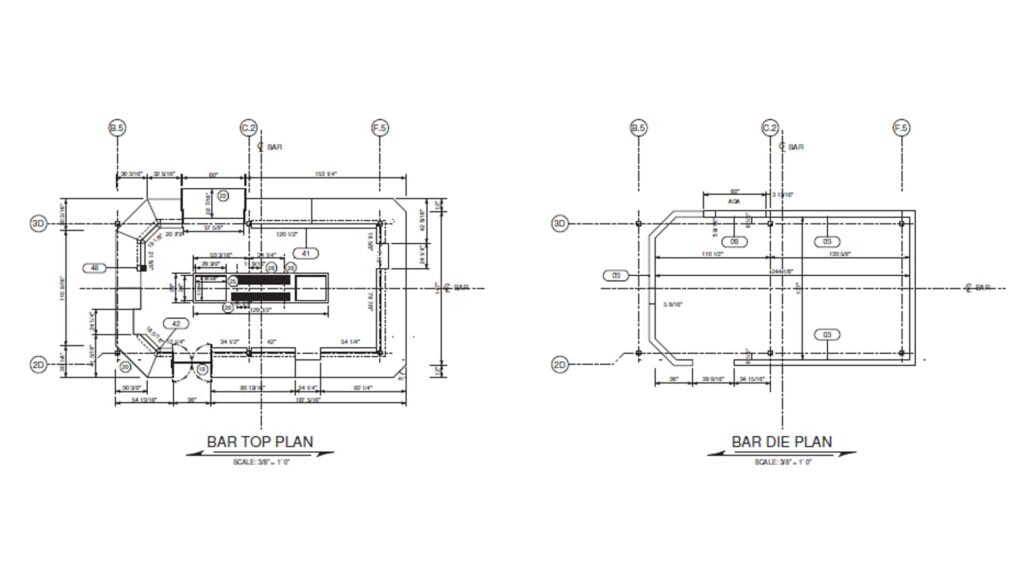 PRICING:
Base Price: $3,000
NOTE: most of our standard bar designs range from $3,500 – $5,500; island bars and other options are extra and are listed in the 'Luxury Bar Service' section.
Procurement Services

For those who don't want the headaches associated with managing complex purchasing, most of our clients find this service to be invaluable (NOTE: we don't get involved with sourcing used bar equipment).
With this service, we'll solicit many of our specified items for pricing.

We then review the quotes and submit to the clients. This is a complex task that includes comparing the quotes to our plans, review shop drawings and provide delivery information.

During the course of all this, we manage all communication with the selling entities, which also invariably includes clarifications and corrections.

The simple fact is many Owners don't understand all the various forms of equipment, much less know where to purchase, and all related knowledge required to interpret the complex information.

This includes bar equipment, specialty fabrications, draft beer systems (and related hardware), ice machines, walk-in coolers and various bar finishes.
How Much do Procurement Services Cost?
With our procurement service, our clients can focus their attention to that which they know best, which is managing their own businesses. The cost of our procurement services varies, but can be provided for a fixed price and generally averages between 3% – 4% of the related equipment cost. For smaller projects, this service begins at $1,000.
Luxury Bars
If you own a hotel or luxury restaurant and desire a luxurious, unique bar, we can certainly fulfill your needs. Our luxury bar designs are geared for larger, more exclusive venues.

We can offer a most unique design for those who desire an exceptional bar. As a general guideline, our luxury bar designs are differentiated primarily by size, detail and finish and will generally encompass many of the following options: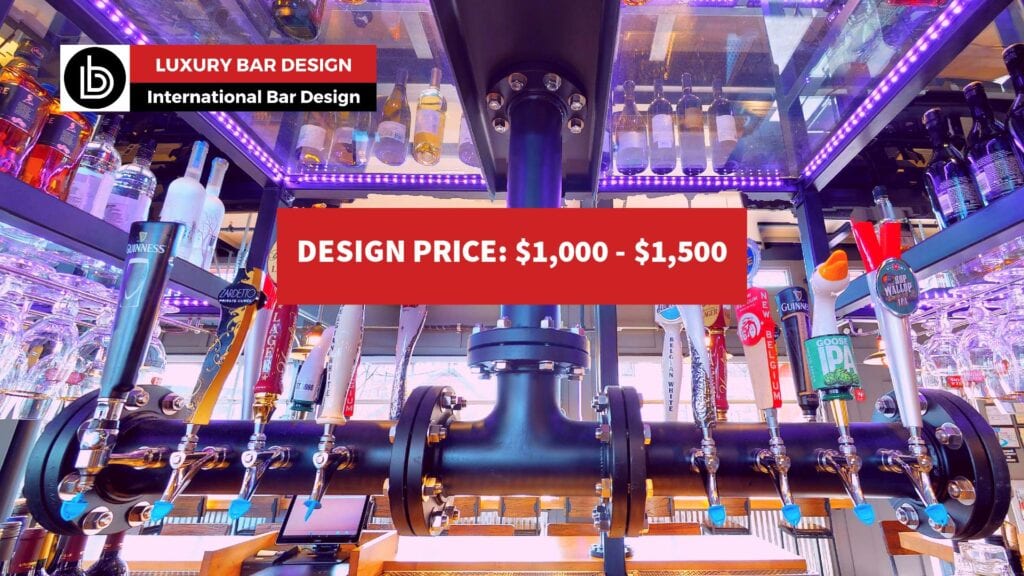 Island bar upgrade (for curved and radius design see below)
Pricing ranges from $1,000 – $3,500

Custom back bar design from iron, architectural metal or architectural glass (sew photo below right)
Pricing ranges from $1,000 – $7,500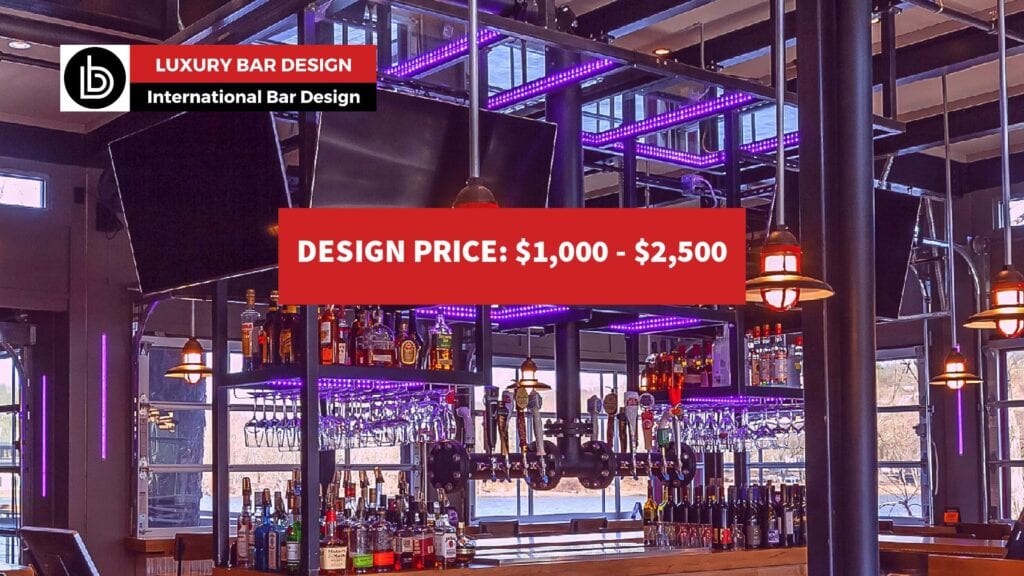 Custom soffits for built-in TV's (typical detail for Starwood Hotels per photo above, left)
Pricing ranges from $1,000 – $3,000

Modular bar die (in lieu of stick-built bar base) with removable panel schedule.
Pricing ranges from $800 – $1,500
 
Custom POS station cabinet design (see photo at right)
Pricing ranges from $300 – $600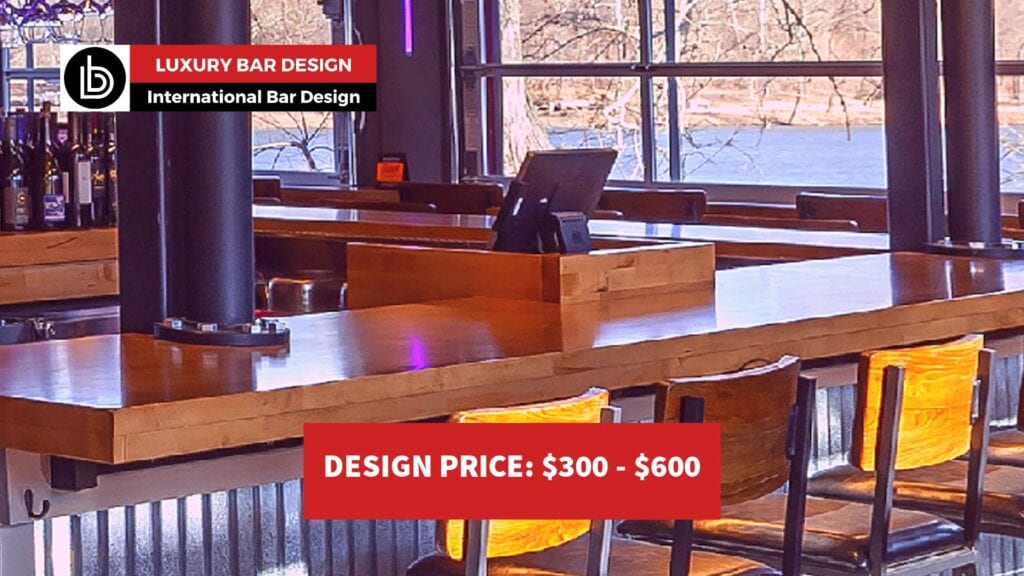 Backlit bar tops (see photo below right).
Pricing ranges from $500 – $1,000

Built-in USB phone chargers.
Pricing ranges from $300 – $600

Counterbalanced bar gate lift assist (see photo below right)
Pricing ranges from $300 – $600

Built-in soda systems.
Pricing ranges from $1,000 – $1,500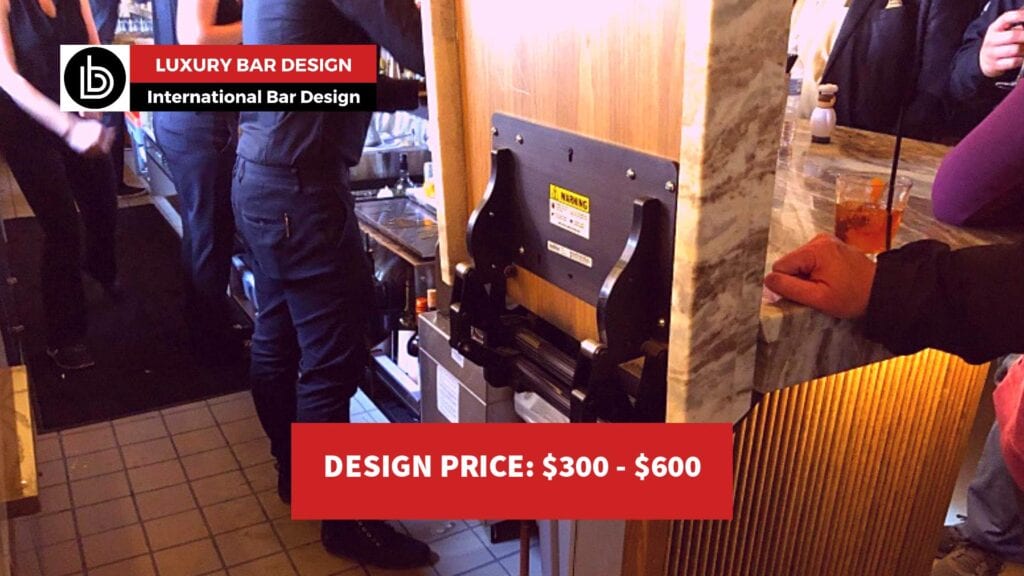 Draft beer walls.
Pricing ranges from $500 – $4,500
PRICING:
Base Price: $4,000
NOTE: pricing for our Luxury Bar Design service typically ranges from $5,500 – $14,000, but could be greater, depending on options and complexity. The price for curved / radius bar design can be 2X – 4X this cost, depending on complexity.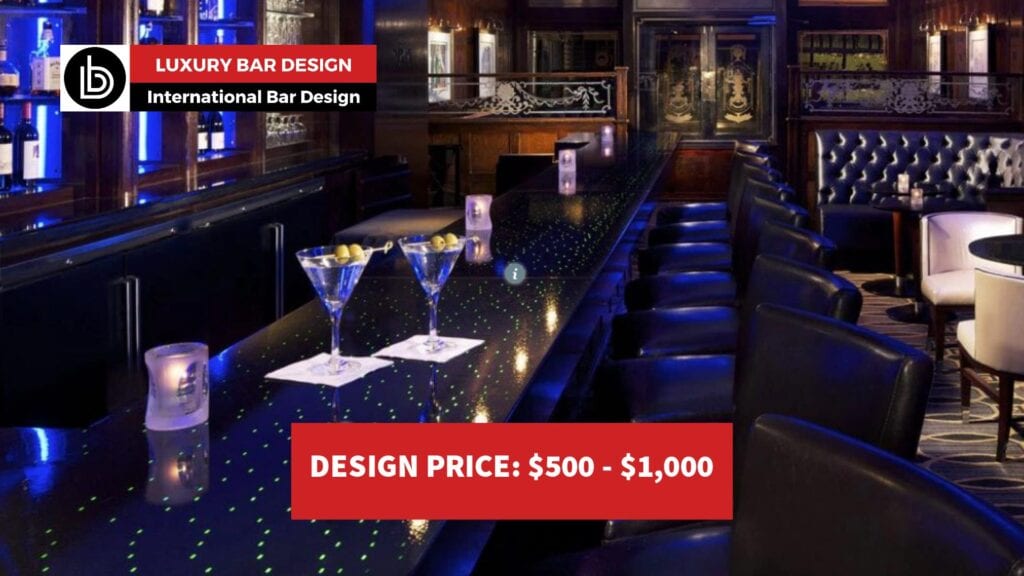 In addition to this bar design cost guide, I've written many other articles regarding the start-up costs for opening a bar or restaurant. Please check-out the articles below that cover bar equipment cost, bar construction costs, draft beer systems, etc.
Free Consultation
Contact Us Today to Schedule Your Free Consultation!
—————————————————————————————-
RELATED POSTS:
How Much Does Bar Equipment Cost to Build a Bar?
What Does it Cost to Build a Commercial Bar?
Commercial Bar Design – A Top 7 List of Bar Finishing Ideas
Designing an Award-Winning Bar with Wilsonart Products
Direct-Draw vs Long-Draw Draft Beer System Cost
POPULAR POSTS:
ERGONOMIC BAR DESIGN FOR MAXIMUM BARTENDER EFFICIENCY AND PROFITS
BEST VALUE LIGHTING PRODUCTS FOR BAR DESIGN
BAR DESIGN IDEAS – HOW TO DESIGN & BUILD A BETTER DIY BAR
STANDARD BAR LAYOUT DIMENSIONS
———————————————————————————————————–
POPULAR DOWNLOADS:
UNIVERSAL BAR CLEARANCES WITH ADA
STANDARD BAR SECTION WITH DIMENSIONS
BAR AND RESTAURANT SEATING GUIDELINES
———————————————————————————————————————
DISCLAIMER: The above video and description contains affiliate links, which means that if you click on one of the product links, I'll receive a small commission. This helps support the channel and allows us to continue to make videos like this. Thank you for the support!