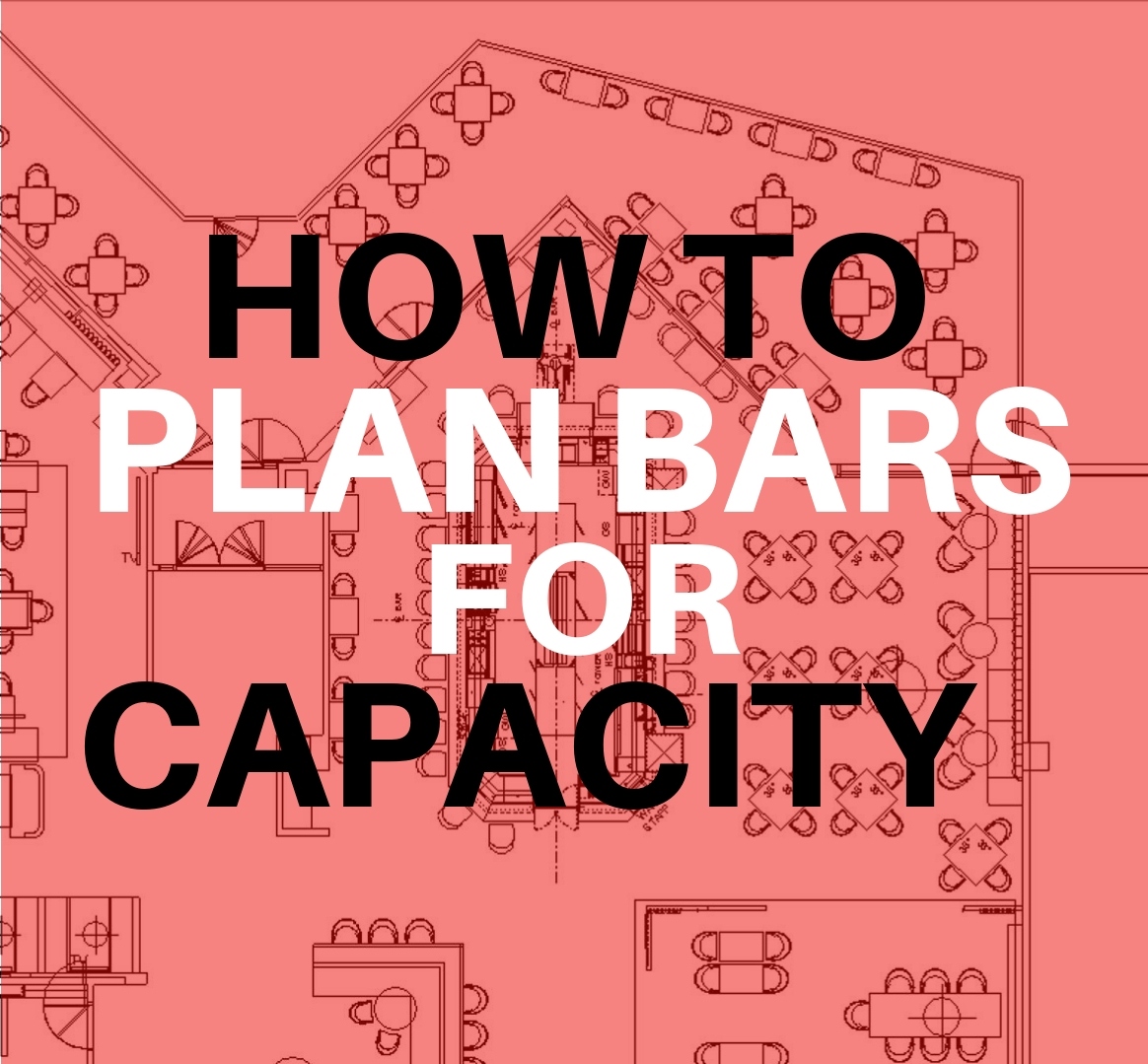 Are you planning a bar? Learn the relationship between bar area and IBC occupant load in commercial bar design.
Discover how bar size and occupancy load correlate and how to size a commercial bar.

PLANNING A BAR DESIGN – WHAT IS THE RELATIONSHIP BETWEEN BAR AREA AND PATRON CAPACITY?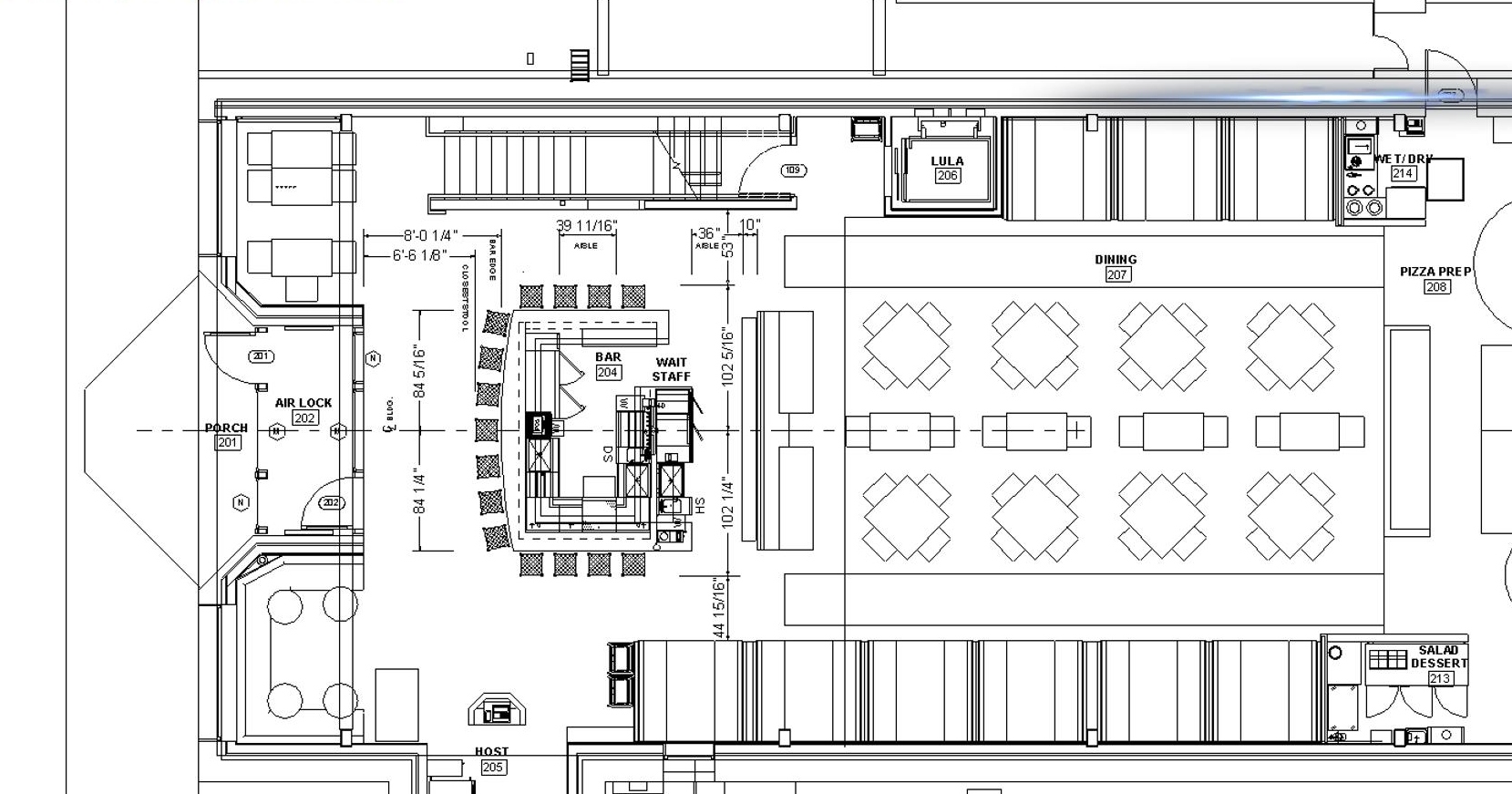 If you are about to embark on planning a bar, these are the question you need to answer:
How large should the bar be?

What is the right size for a given patron capacity?

To clarify, when designing commercial bars, always remember that patron occupancy guidelines are defined by building codes. This article specifically addresses the intended spatial relationship between bar size and patron capacity. Let's begin with this example: how large should a bar be for a restaurant/bar with an occupancy of 125 patrons (refer to the drawing at right)?

WHEN DESIGNING A BAR THINK IN TERMS OF BARTENDER STATIONS
When designing commercial bars, I think of bar size in terms of the number of bartender stations – not necessarily bar area.
There are many ways to make a bar fit within a given space. For a full bar, many venues staff their schedule for 75-100 covers per bartender, so for a bar with a total occupancy of 125 translates into a 2-station bar. The primary constraint for many buildings is the physical space allocated for the bar, so this is what dictates its shape. Efficient, well-designed bartender stations is the key to designing commercial bars.
THE TYPICAL BAR SHAPES TO CONSIDER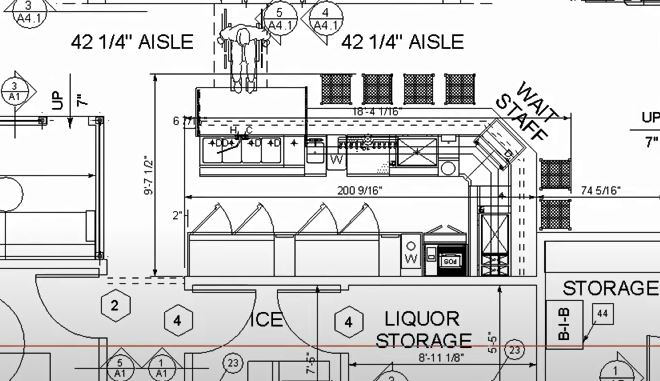 2-Station Shotgun Bar – this bar design is becoming less popular. One bartender is utilized during slow periods and an additional bartender works the other station on busy shifts. The bar shown in this example seats eight, is nearly 24' L and requires 260 sq.ft. of floor space. This bar could easily become a 3-station bar with a return leg on one end.

2-Station L-Shaped Bar – shown at right, this bar is a popular bar design because it's more engaging for patrons. This bar is more compact and therefore more flexible to buildings with limited space. This bar seats six, is about 18' L and requires 180 sq.ft. of floor space.

3-4 Station Island Bar – this is the most popular bar design, as it enables patrons to interact with people on all sides. This bar is approx. 27' x 18' (485 sq.ft.) and will accommodate 28 seats at the bar.
Bars with wait staff are generally serviced by an additional (dedicated) bartender during peak shifts.
For those who are looking for space allocation numbers for facilities planning, here's a chart that summarizes the above:
FACILITIES PLANNING CHART FOR BARS
| | | | |
| --- | --- | --- | --- |
| BAR TYPE | OCCUPANCY (patrons) | BAR FOOTPRINT (sq.ft.) | SQ.FT./PATRON |
| 2-STATION SHOTGUN | 100 | 260 | 2.60 |
| 2-STATION L-SHAPE | 100 | 180 | 1.80 |
| 3-STATION L-SHAPE | 150 | 260 | 1.73 |
| 3-STATION ISLAND | 150 | 485 | 3.23 |
| 4-STATION ISLAND | 200 | 485 | 2.43 |
BAR DESIGN TIP:
If a venue's occupancy is greater than 250, service bars and back-of-the-house bars are an excellent approach to handling peak crowds while minimizing fixturing costs. In terms of seating efficiency, the shotgun bar and L-shaped bar require the largest area of at least 30 sq.ft. per patron, while the island bar requires only 17.
WHAT IS THE BEST BAR DESIGN?


Given all the above, from an overall perspective, the island bar is the most space-efficient design, the most engaging, most popular and therefore, the best overall design.
My favorite reference book for architectural standards:
https://amzn.to/38q3piJ
Free Consultation
Contact Us Today to Schedule Your Free Consultation
———————————————————————————————————–
RELATED POSTS:

HOW TO PLAN A COMMERCIAL BAR DESIGN – EQUIPMENT, LAYOUTS AND SYSTEMS
ERGONOMIC BAR DESIGN FOR MAXIMUM BARTENDER EFFICIENCY AND PROFITS
MOST POPULAR POSTS:

STANDARD BAR LAYOUT DIMENSIONS FOR DIY
COMMERCIAL BAR DESIGN – A TOP 7 LIST OF BAR FINISHING IDEAS
WHAT DOES IT REALLY COST TO BUILD A BAR?
HOW TO DESIGN COMMERCIAL BARS FOR ADA COMPLIANCE
———————————————————————————————————–
DOWNLOADS FOR THIS POST:
ADVANCE_TABCO_ADV500_AMS_AMD_PORTABLE_BARS.pdf
POPULAR DOWNLOADS:

2018_UNIVERSAL_BAR_CLEARANCES_WITH_ADA.pdf
ADA GUIDE FOR SMALL BUSINESSES
BAR_AND_RESTAURANT_SEATING_GUIDELINES.pdf
———————————————————————————————————————
DISCLAIMER: The above video and description contains affiliate links, which means that if you click on one of the product links, I'll receive a small commission. This helps support the channel and allows us to continue to make videos like this. Thank you for the support!