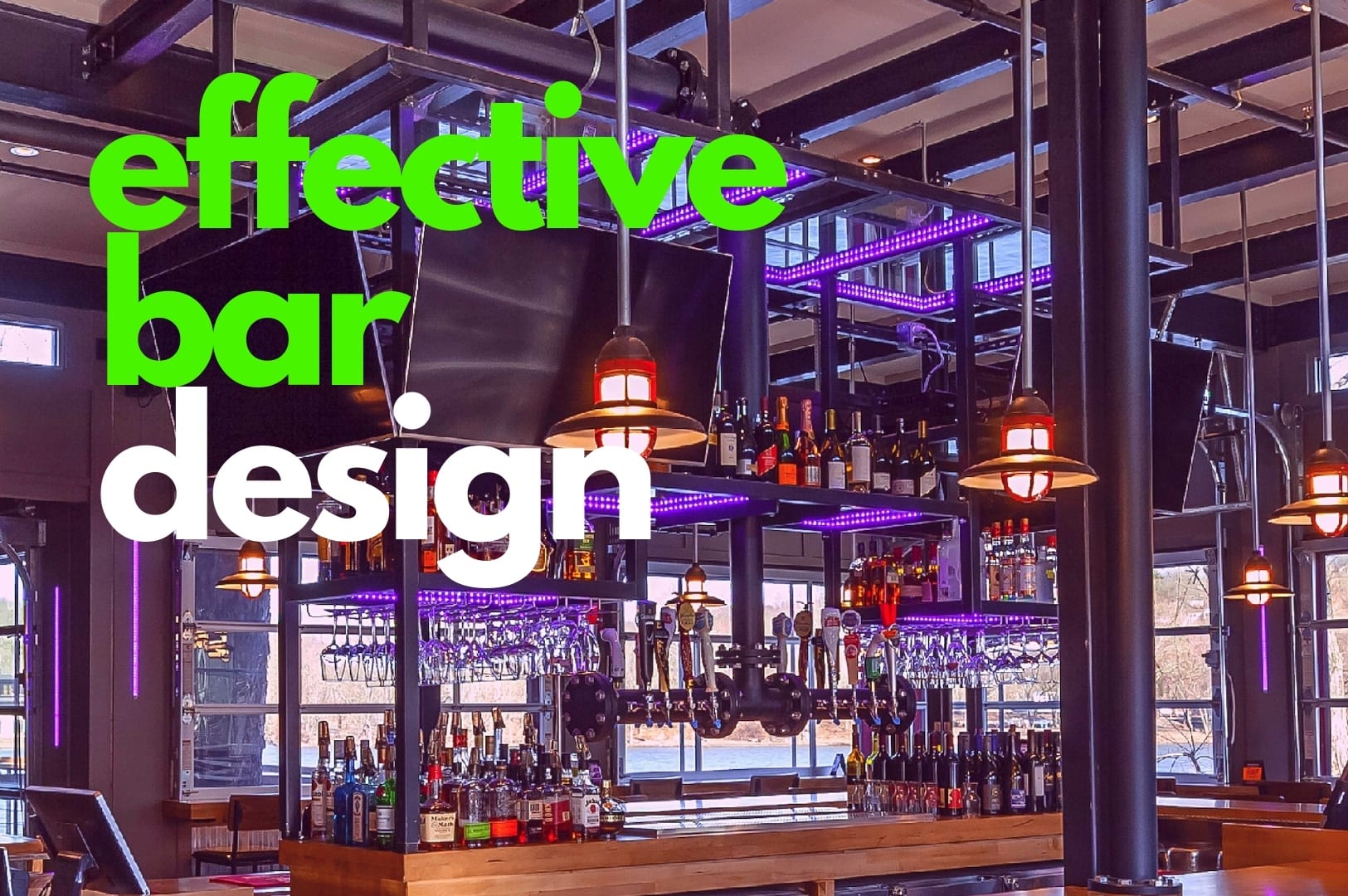 How do you design the most effective and popular bar? In this article we'll discuss how basic bar design concepts are critical and essential to effective and popular bars.
With some careful planning (and the proper amount of space), you can have the best bar you could ever imagine — an island bar. Some people contend that a "bar-is-a-bar," but this is the furthest thing from the truth, and in this discussion about bar design, you'll discover the elements that contribute to the ideal bar.
WHAT IS THE MOST IMPORTANT ASPECT TO EFFECTIVE AND SUCCESSFUL BAR DESIGN?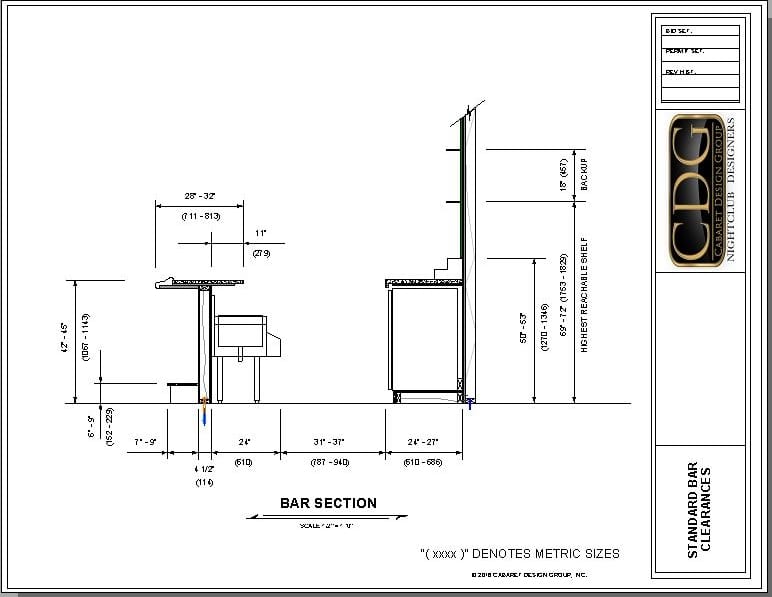 The most important aspect to successful bar design is its geometric shape and the island bar is the best, most effective shape for bar owner profits. To be clear, an island bar is one that sits in the middle of the room, in a closed loop; this is the most effective design. For island bars, a rectangular shape is the most desirable shape and circular is the least. The reason for this is because we want the patrons to be in close proximity to one another and this is most easily accomplished by a rectangular shaped bar. Rectangular bar shapes are also superior because they are inherently conducive to optimal equipment design. Although circular bars aren't as compatible with bar equipment, they can still be very effective. In the drink-making process, bartenders need to work from left-to-right, and curved bars are counter-productive to this effort. So, rectangular-shaped island bars are not only ideal for bar equipment, they're optimally efficient for patron interaction by virtue of proximity to one another and the overall festive nature that you're trying to create. After all, who wants to sit a bar and look at a wall?
Bar Design Tip
The success of implementing any island bar design is aisle space, which is discussed below. 
WHAT ARE BAR STATIONS AND HOW IS A BAR DESIGNED?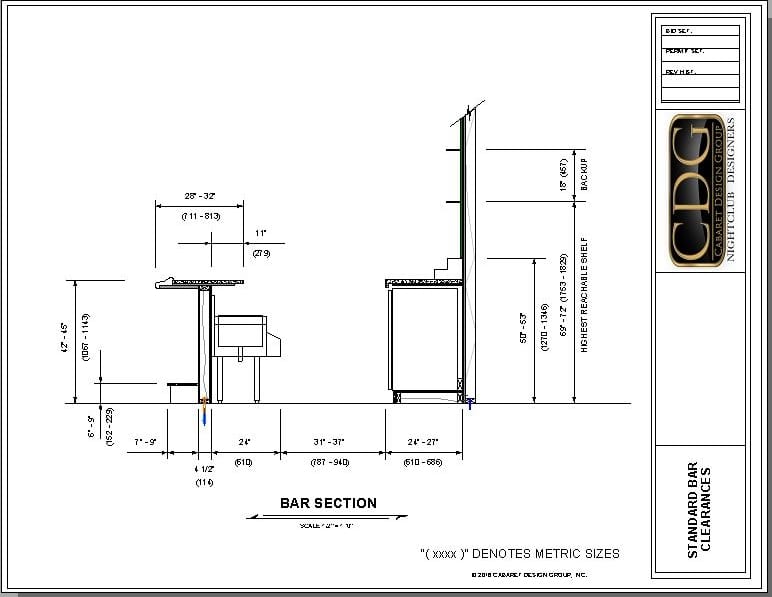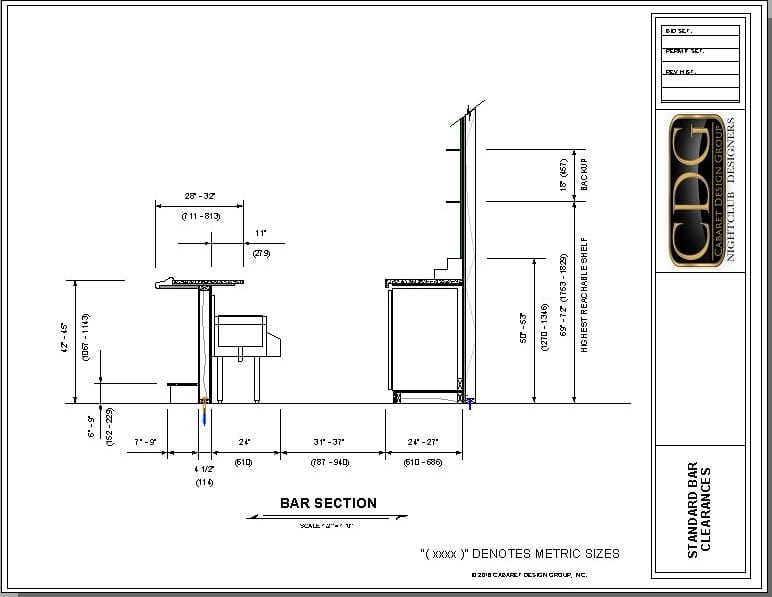 The most effective bar is designed from the inside-out. That is to say, we first must address the equipment and the operating space necessary to make the bar work. The process of bar design begins with determining how many bartenders will be needed and how waitress orders are processed. For many smaller establishments, one bartender will handle the bar and waitress orders during non-peak hours. The same bar may have a second bartender during peak hours. This is what's known as a 2-station bar. Each bartender works within his/her zone, and each zone is defined by the equipment in front of each bartender and the liquor (normally "Call" and "Premium" liquor) on the backbar directly behind each bartender. Each bartender has the same liquor as the other, thereby eliminating the need for the bartenders to cross paths. Therefore, the backbar has one identical zone at each end and an intermediate zone in the middle where the "Top-Shelf" liquor sits. This 2-station bar could be expanded to a 3-station bar when a third bartender is utilized to exclusively process waitress orders. To facilitate this, we must add the necessary equipment at one end of the bar. The key to all of this is equipment, which I'll discuss below. A small rectangular island bar will have a station on each long side. The waitress station can be implemented at the end favorable to the wait staff. Operationally, even a small island bar can be tricky to manage, because during slow periods the management will often cut overhead by using one bartender. If this is a 20-seat bar in a restaurant, the patrons will often become unhappy with the service level. Many such establishmnents will allow waitresses to make their own drinks, but even this scenario can be taxing for a good bartender.

HOW MUCH SPACE IS REQUIRED FOR THE MOST EFFECTIVE BAR DESIGN?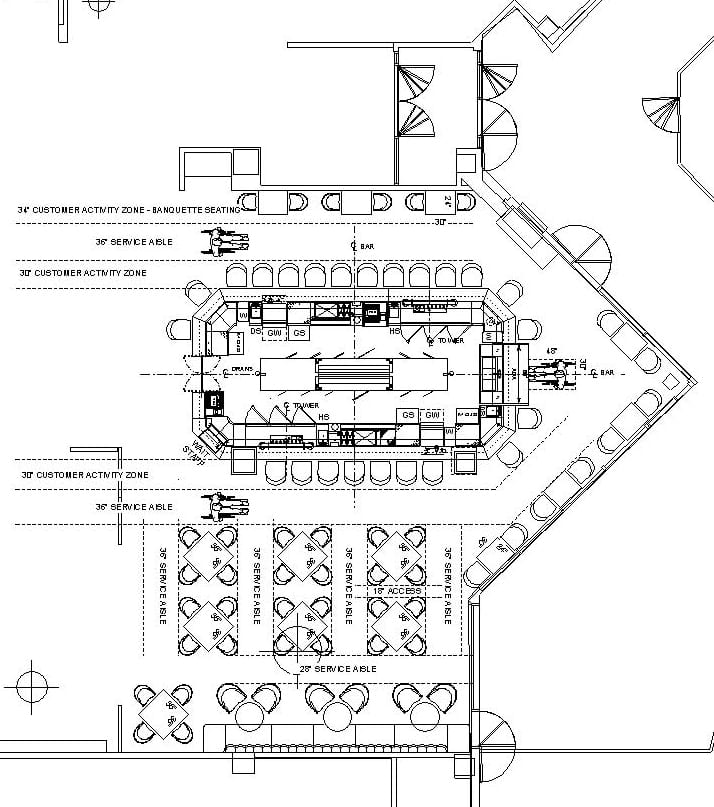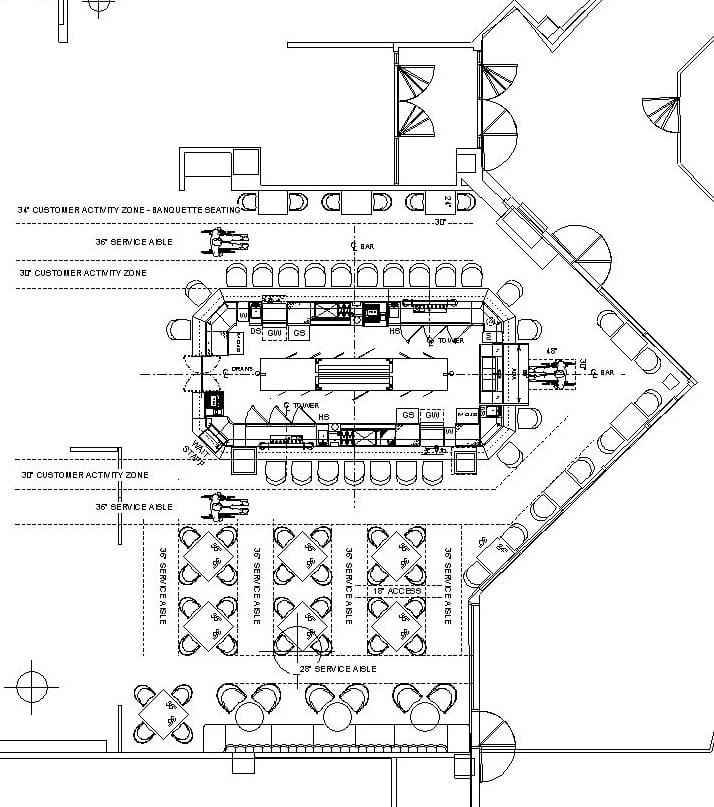 When we talk about space considerations in bar design, the struggle for aisle space — for bartenders and patrons — inextricably arises. As I mentioned earlier, bar design begins from the inside-out, and therefore, for an island bar the first thing we must address is the island back bar. The back bar is typically where beer coolers are usually housed. This can include direct-draw boxes and for that matter, remote-draw beer towers. Normally, for bars that make alcohol drinks, I prefer all beer taps to be on the ends of the island or even at one end of the bar. As a result, island back bar planning can be tricky if you're attempting to economize on space. At the minimum, the back bar island should be about 4′ (1,2 m) deep and at least 12′ (3,7 m) long. Operationally, the bartenders need a 3′ aisle (91 cm) — especially if your operation utilizes bar backs. Your aisle should be the same on all four sides. A typical bartender station will be anywhere from 12′ – 15′ (3,7 m – 4,6 m) and will typically incorporate a waste receptacle, dump sink, glass storage drainboard, ice bin, 3-bin sink (or better yet, an automatic glass washer) and POS station. All jurisdictions in the U.S. require at least one hand sink. As for planning your equipment space, yet another advantage to a rectangular island bar is its ability to utilize every side for equipment. This means that we can begin a station on a short side and complete it on the adjacent (long) side. To better facilitate this idea, while creating even more interactive seating, all effective bar design utilizes 45 degree corners. To complete the task of space planning, see the downloadable sketch below. You should allow for a 4′ (1,2 m) aisle from the back of the bar stools to adjacent table seating.
My favorite reference book for architectural standards:
https://amzn.to/38q3piJ

RELATED POSTS:
HOW MUCH IS MY BAR DESIGN REALLY GOING TO COST?
DIRECT-DRAW vs. LONG-DRAW DRAFT BEER SYSTEM COST
POPULAR POSTS:
ERGONOMIC BAR DESIGN FOR MAXIMUM BARTENDER EFFICIENCY AND PROFITS
WHAT DOES IT COST TO BUILD A COMMERCIAL BAR?
HOW TO DESIGN AN AWARD-WINNING BAR WITH WILSONART PRODUCTS
GLYCOL COOLED vs KEGERATORS – WHICH DRAFT BEER SYSTEM TO BUY?
BEST VALUE LIGHTING PRODUCTS FOR BAR DESIGN
COMMERCIAL BAR DESIGN – A TOP 7 LIST OF BAR FINISHING IDEAS
BAR DESIGN IDEAS – HOW TO DESIGN & BUILD A BETTER DIY BAR
DOWNLOADS:
HOW MUCH IS MY BAR DESIGN REALLY GOING TO COST?
By now you may be able to tell, bar design can be very complex and time-consuming. This should give you a solid idea on the basics needed for planning your own ideal bar.
Call Us for Your Next Design Project
Our standard bar design service includes all construction plans and equipment layouts. We would be happy to assist any bar or hotel owner who would like to incorporate time-proven design ideas into your venue. Please feel free to contact us.

Most Popular Articles
AccuBar vs. BevInco Inventory Management
What Is "Pour Cost" and Why Is It So Important?
How Can Bar Owners Be So Unaware of Losses?
Top 5 Design Ideas about Purchasing Nightclub and Bar Furniture