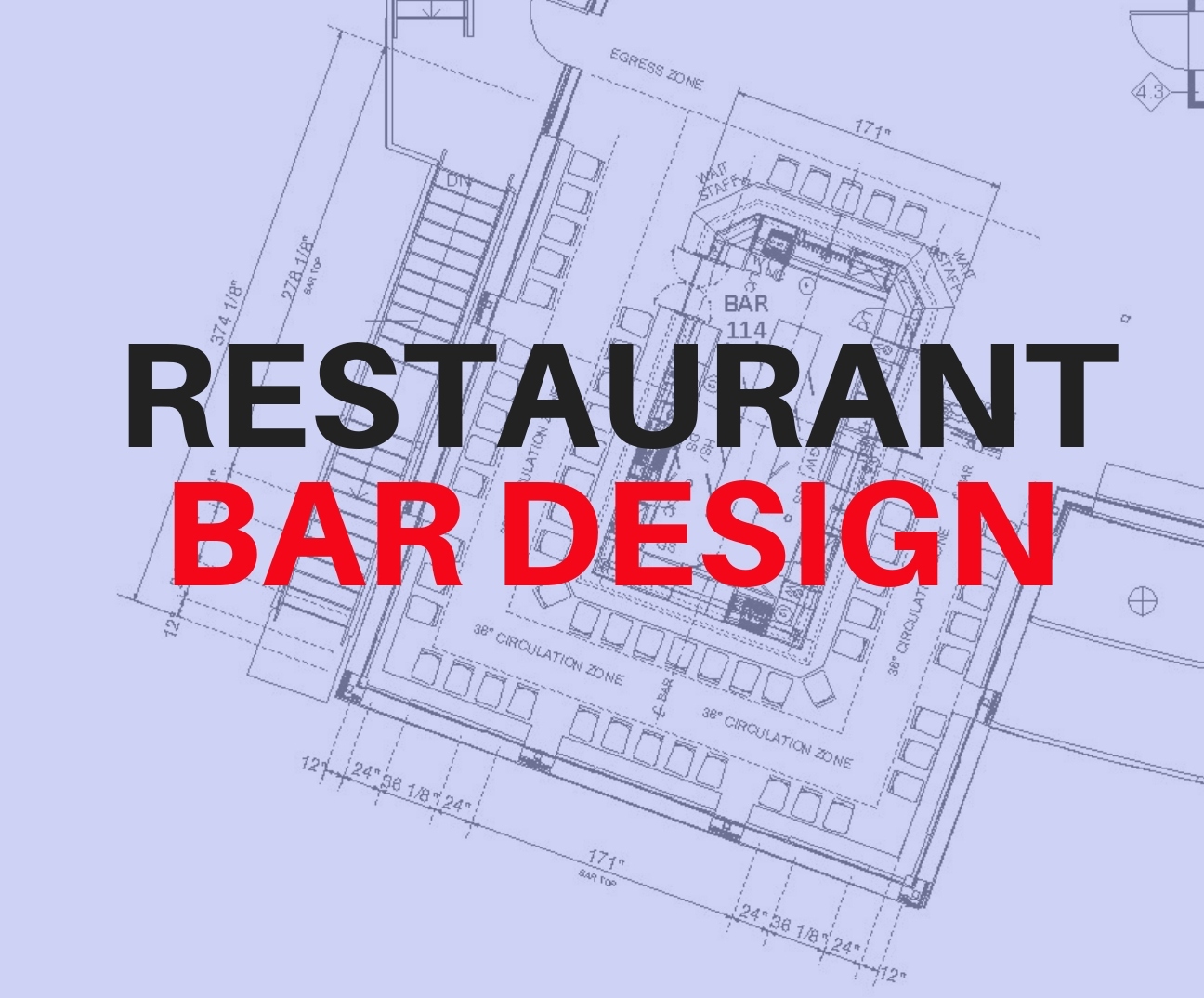 How do you design bars for restaurants and hotels?
Discover the bar equipment, layouts and systems checklists bar designers use when planning commercial bars.

THE NECESSARY COMPONENTS TO PLAN A COMMERCIAL BAR DESIGN
Some people are intrigued when they see bars such as the ones shown in these photos – bars like these are what sparked the fire that originally inspired my interest in commercial bar design. While these finished bars are distinctive, what really goes into their overall design? When planning a commercial bar design, there's a lot more to the story of the equipment, layouts and systems that truly define a complete bar design. Today we're going to review all these systems and components necessary to plan a commercial bar design.
INITIAL TARGETED AREAS OF A TYPICAL COMMERCIAL BAR DESIGN
ADA station – according to Federal law, wherever food and/or drink are served and the counter (or bar) is more than 34" above the floor, a lowered serving counter must be installed (see our earlier video, referenced below).

Section view – this should be the first task of every bar design. Whether you choose a modular bar die or 2" x 4" construction, it's important to have a preliminary idea of the finishing method so a plan view of the bar can begin to emerge.

Bar equipment plan – this is the core of every bar design. Bars are designed from the inside-out, so the underbar equipment is the next milestone we must cross.

Bar equipment schedule – valuable to everybody involved in any bar project, especially for anybody quoting the equipment.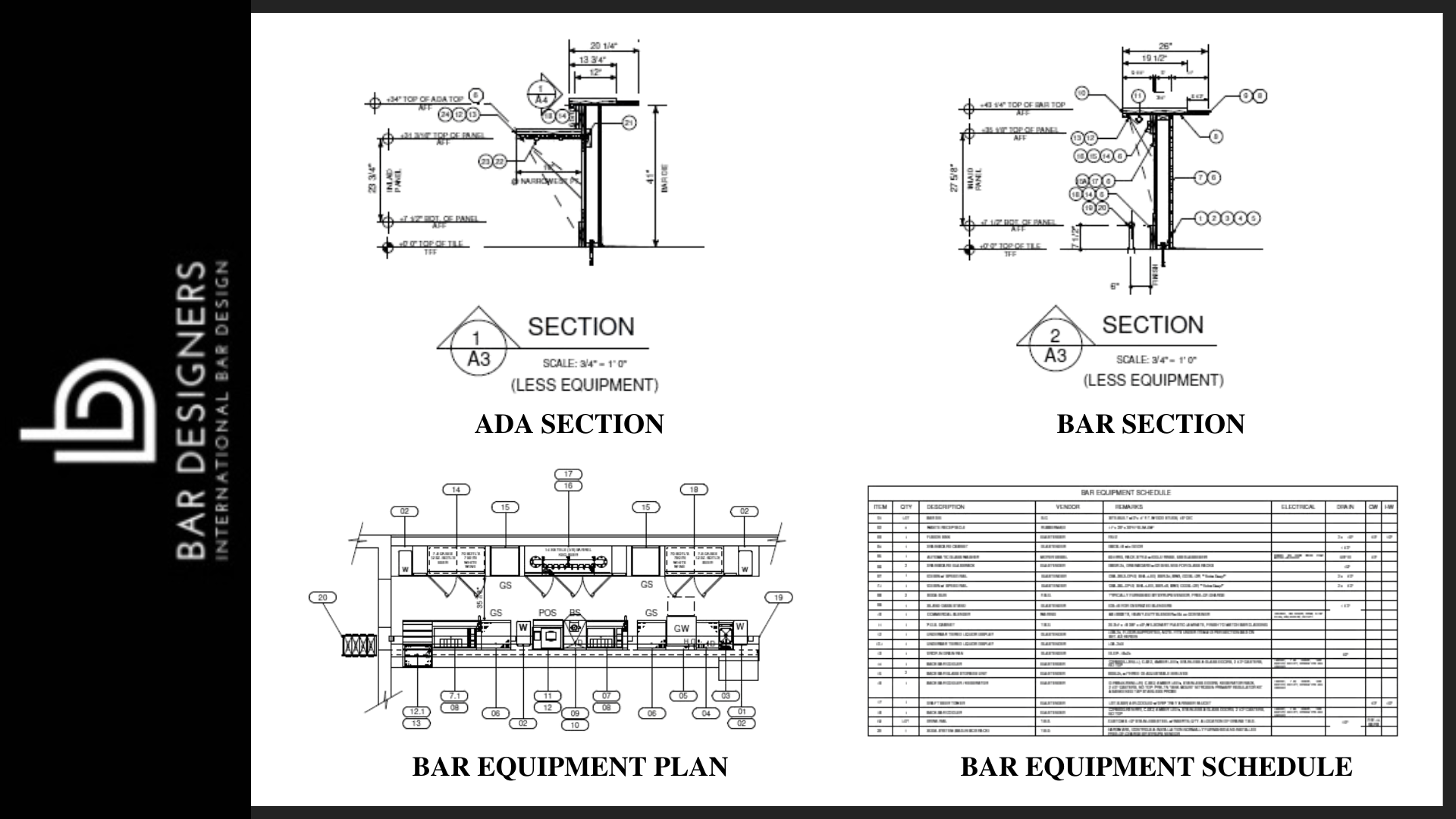 OTHER RELATED AREAS OF PLANNING A TYPICAL BAR DESIGN
Back bar design – the complexity and overall impact of a bar's finish design is often rooted in the backbar.

Bar top plan – a necessary plan for ordering bar tops and drink rails and helpful for checking clearances.

Bar base plan – essential for the construction of the bar and its overall placement.

Soffit and lighting plan – which add further character and intimacy to commercial bar design. As with the backbar, soffit design is limited only by one's imagination.

Draft beer towers – these play a pivotal role in the success of nearly every commercial bar. The type of draft tower selected and its location are critical, especially in multi-station bars.

Foot railings – solid or tubular?

Interior elevation views – necessary to develop plumbing locations for mechanical engineering.

Front elevation views – these define the details of the bar's exterior finish.

Soda system – referred to as "Bag-In-The-Box" or B-I-B, this system is ultimately responsible for dispensing soda for drink production. These systems operate on CO2 and can be located virtually anywhere in a facility; however, for those who are space-challenged – which even includes hotels and casinos, sometimes B-I-B systems need to be built into the bar area.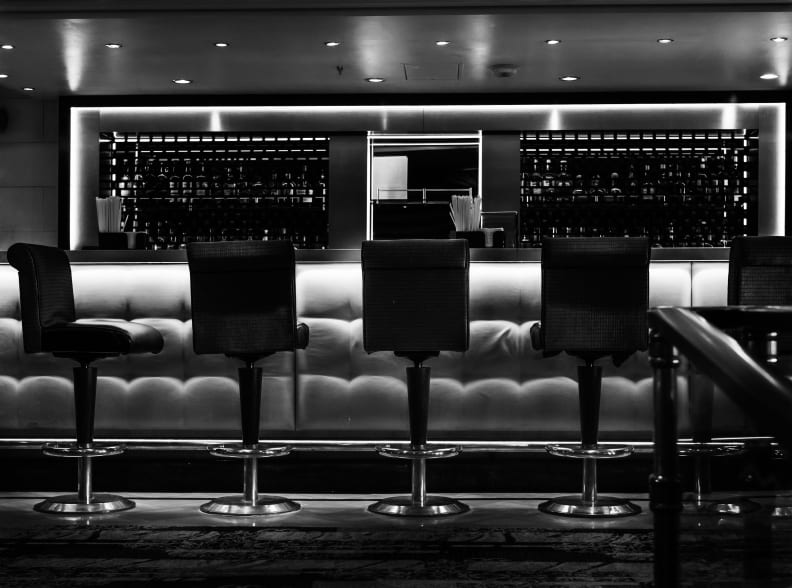 THE FIRST STEP IN PLANNING A COMMERCIAL BAR DESIGN

We've covered a lot in the above discussion, but the first step in all of my bar design projects is to draw the entire bar in sections. This includes each changing condition and all related adjacent walls. From the above, we can ensure proper clearances for all bar equipment, draft beer towers, patrons and staff.
My favorite reference book for architectural standards:
https://amzn.to/38q3piJ

Free Consultation
Contact Us Today to Schedule Your Free Consultation!
---
RELATED POSTS:

HOW MUCH IS MY BAR DESIGN REALLY GOING TO COST?
WHAT ARE THE STANDARD BAR LAYOUT DIMENSIONS FOR DIY?
---
MOST POPULAR POSTS:

COMMERCIAL BAR DESIGN – A TOP 7 LIST OF BAR FINISHING IDEAS
WHAT DOES IT REALLY COST TO BUILD A BAR?
DESIGNING COMMERCIAL BARS FOR ADA COMPLIANCE
---
POPULAR DOWNLOADS:

UNIVERSAL BAR CLEARANCES WITH ADA
ADA GUIDE FOR SMALL BUSINESSES
BAR_AND_RESTAURANT_SEATING_GUIDELINES
---
——————————————————————————————————————–
DISCLAIMER: The above video and description contains affiliate links, which means that if you click on one of the product links, I'll receive a small commission. This helps support the channel and allows us to continue to make videos like this. Thank you for the support!