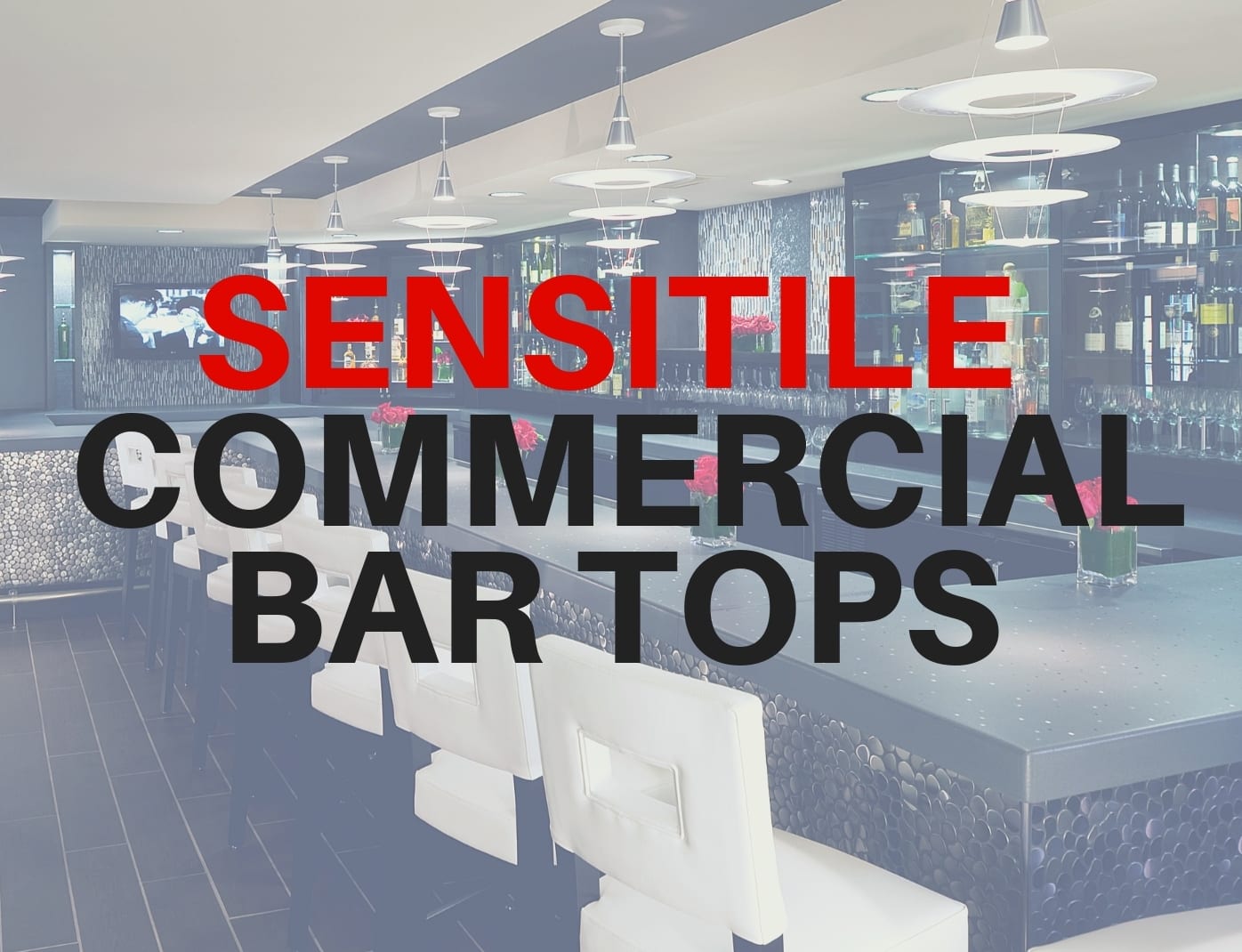 What are the best bar top ideas for unique commercial bar tops?
Discover the benefits of Sensitile Terrazzo – unique bar top materials for do-it-yourself bar design.
LOOKING FOR UPSCALE BAR TOP IDEAS? CONSIDER SENSITILE TERRAZZO
I've worked with many great products in commercial bar design, and some of the most unique bar top ideas are offered by Sensitile Systems. Headquartered in Ypsilanti, MI, the company offers a variety of upscale solutions for commercial bar design. Founded by Abhinand Lath, Sensitile Systems' offers a proprietary line of terrazzo fine concrete materials.
A VERY UNIQUE LIGHT-REACTIVE PRODUCT
The concept behind these materials is that they are light-reactive. Here's how Sensitile Terrazzo works:
The material senses changes in light directly above their surface and twinkle and shimmer in response to movement, light and shadow.

Little chips (or "points") at the surface, consist of optical resin, which is embedded into the terrazzo.

Below the surface is a fiber optic network that interconnects these.

The chips are paired-up with each other.

When you move your hand across one of them, the adjacent chips react as well.

As a result of the hand movement the chips twinkle above the product's surface.

Changing light colors also cause the chips to twinkle.
In other words, the product is not electronic in any way, and the surface particles are interactive with light.
SENSITILE TERRAZZO IS LOW-TECH
Sensitile Terrazzo is a great, upscale product, especially if you're looking for unique bar top ideas that require no maintenance. Think of Sensitile Terrazzo merely as a passive, light-reactive slab of concrete that requires no special wiring, sensors or anything else. Because of this, Sensitile Terrazzo is low-tech and because of its durability, it requires virtually no maintenance. Sensitile Terrazzo can also be customized to your exact specifications. The interactive surface particles can be arranged in various configurations and can be arranged in a variety of patterns. The size and shape of the chips can also be specified, as well.
UNIQUE BAR TOP IDEAS WITH OTHER SENSITILE PRODUCTS
If you're looking for some exceptional bar top ideas, consider Sensitile Lumina. Commercial bar designs often require LED lighting, and Sensitile Systems can make this a reality with another similar product known as "Terrazzo Lumina." Consider the following:
The light source is simply placed on the edge and travels through the panel. It can travel 4′-5′ from one end.

For commercial bar tops, which are 24"–30" wide, this is typically accommodated by specifying a turned-down edge. The LED lighting would be installed in the inside corner of this edge.

The photo at right depicts a Terrazzo Lumina bar top with a 3" turned-down edge.
SENSITILE CAN BE FABRICATED FOR RADIUS BAR DESIGN
Regarding special commercial bar top ideas, Sensitile's products can be manufactured to meet virtually any radius condition. Integrating the radius into the procuct is especially useful for bar tops utilizing the above-mentioned turned-down edge. Shapes and sizes are virtually only limited to the designer's imagination!
BAR DESIGN TIP:
Sensitile Terrazzo and Sensitile Lumina can also be used for bar fronts, as well.


HOW MUCH DOES SENSITILE TERRAZZO COST?
Now let's talk about pricing. In spite of its high-value, Sensitile Terrazzo cost ranges from US$90 – $150 per square foot, which is very reasonably-priced, when compared to other products in its category, such as stainless steel and hammered copper.
If you're in search of a high-quality, high-value solution for your commercial bar tops, consider the many unique benefits of using Sensitile Terrazzo and Sensitile Lumina.
IN NEED OF ASSISTANCE?
Need help with your bar design? Contact Us Today!
RELATED POSTS:
BEST BAR PRODUCTS – CIRRUS PRESS COCKTAIL ICE MACHINE REVIEW
RECOMMENDED LIGHTING PRODUCTS FOR BARS IN BAR DESIGN
———————————————————————————————————————
MOST POPULAR POSTS:
How Can My Bar Be Designed for Maximum Efficiency and Profits?
Planning Clearances for Commercial Bars
WHAT'S THE STANDARD COUNTER OVERHANG FOR BAR TOPS?
BAR DESIGN – HOW TO CALCULATE OCCUPANCY FOR MAXIMUM LOAD
SEATING GUIDELINES FOR BARS & RESTAURANTS
COMMERCIAL BAR DESIGN – A TOP 7 LIST OF BAR FINISHING IDEAS
HOW DO YOU DESIGN COMMERCIAL BARS FOR ADA COMPLIANCE?
———————————————————————————————————–
POPULAR DOWNLOADS:
UNIVERSAL_BAR_CLEARANCES_WITH_ADA.pdf
BAR_AND_RESTAURANT_SEATING_GUIDELINES.pdf
IN NEED OF BAR PRODUCTS?
If you're looking for some unique bar products, you can find many selections in one place at Bar Products
——————————————————————————————————————–
DISCLAIMER: The above video and description contains affiliate links, which means that if you click on one of the product links, I'll receive a small commission. This helps support the channel and allows us to continue to make videos like this. Thank you for the support!