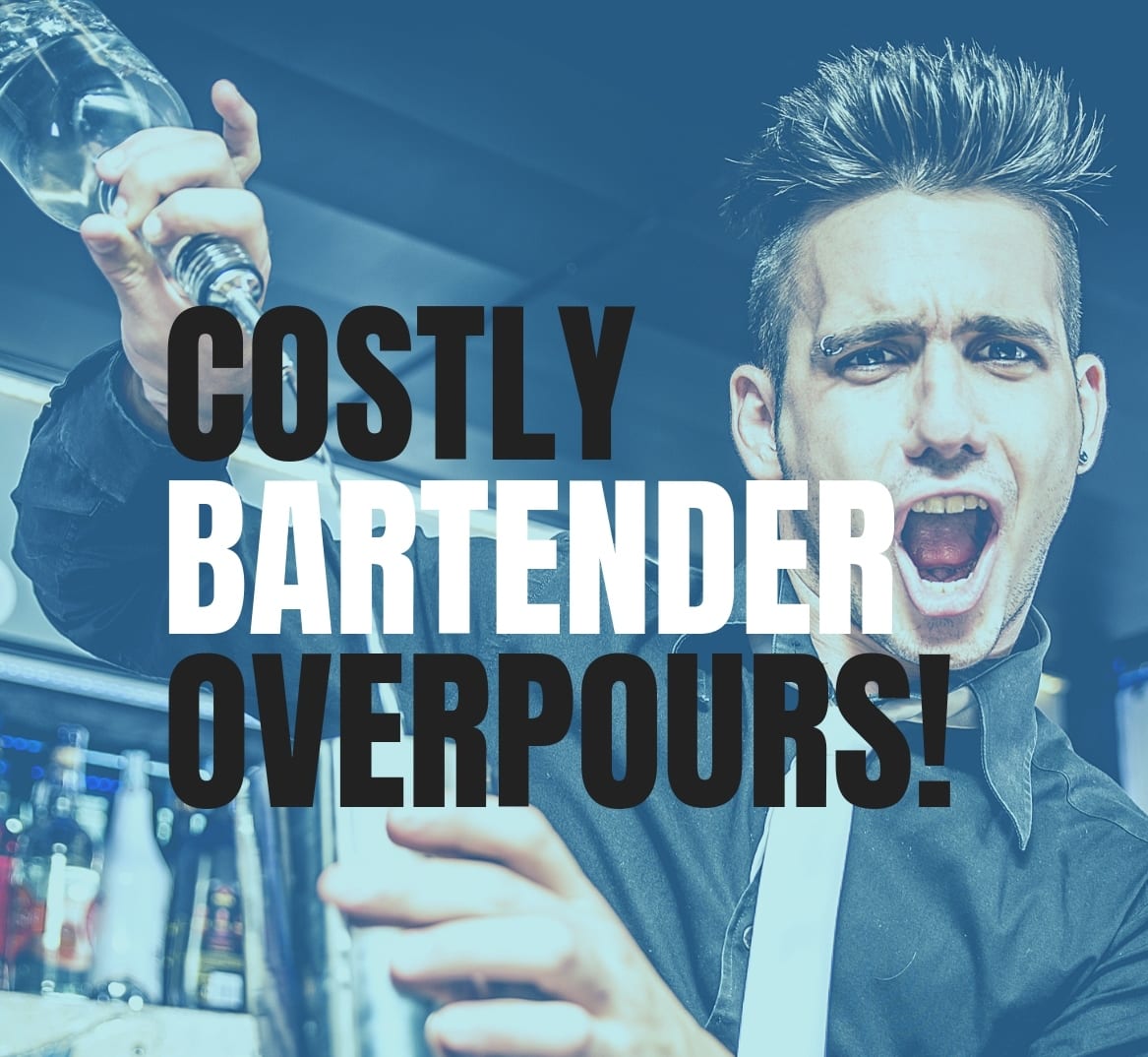 How much do careless bartenders and alcohol pouring cost?
Learn the shocking facts and how liquor inventory management and inventory service can control this bar management issue.

LIQUOR OVER-POURS – HOW MUCH DOES BARTENDER WASTE COST?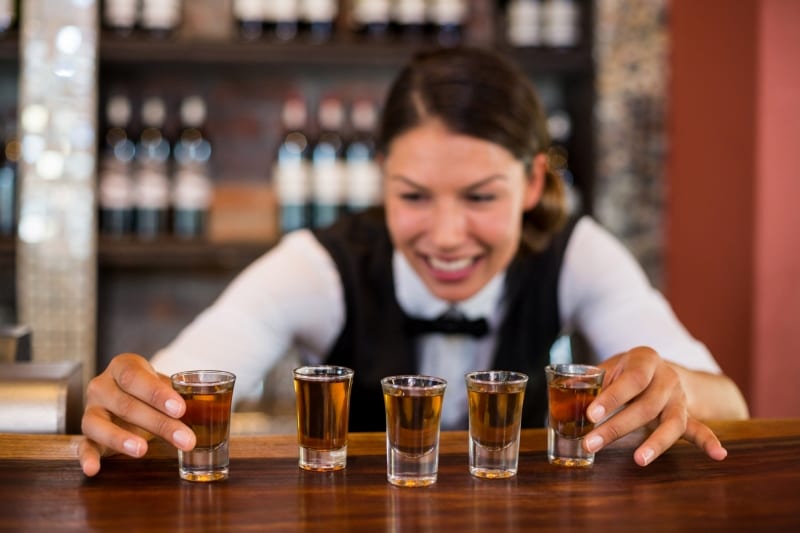 Would you believe that the bar in this photo is losing 20% of its profits? How about this bar? And this bar? As I mentioned before, bar and restaurant owners are losing 20% of their inventory, as reported by Chuck Deibel of Bevinco Bar Services, in his 2014 'Sales Tax Audit Brief' to the State of Ohio (downloadable below). The problem of shrinkage prevails in every market. No matter how attractive your bar may appear, solid bar management must be diligently administered. Shrinkage can occur in several ways. The worst part is that bar owners are totally unaware of it! Of course, theft accounts for part of this shrinkage, but over-pouring also accounts significantly. Today I want to cover over-pouring, as I don't think many people really understand its true impact to lost bar profits. Most people will recognize the above photo as that of a standard shot glass. Many may be unaware that the standard shot glass in the U.S. is commonly available in three sizes: 1 oz. 1.25 oz. and 1.50 oz. The painted line is known as the "Pour Line." Most people are unaware that filling to the bottom of the pour line is the technically correct method – not the top! More shocking is that most people don't know that the thickness of the line represents 1/8 oz of liquor. If you're averaging 27 1.25 oz. shots per bottle at an average profit of $3.50 and only pouring to the top of the line of the shot glass, you'd be losing about $12.00 profit per bottle. If you're selling 12 bottles of liquor each day and if your bar is open 310 days a year, you would be losing nearly $45,000.00 profit a year!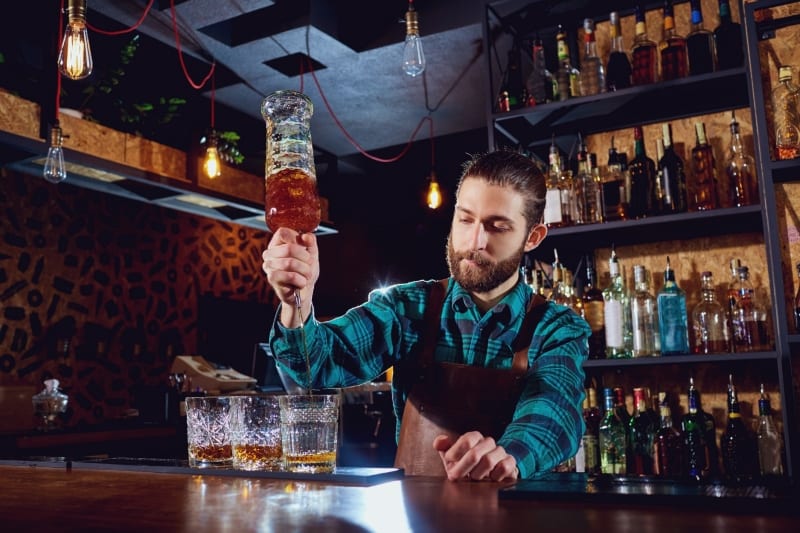 If you allow your bartenders to free-pour (ref. to the photo at right), then you're most likely overpouring by ¼ oz. or more, which means that you would be losing at least $90,000 profit a year – and this doesn't even factor for theft! See how quickly this adds-up?! By now you may be wondering how you could cut your losses. First, don't allow free-pouring. To really gain control of your bar losses – and make greater profits, bar owners need to invest in either a professional liquor inventory service, such as Sculpture Hospitality, which will reduce overall shrinkage to 2-3% across the board. You can also invest in metered pouring equipment, such as Easybar or Berg, which also includes inventory software. I covered all of these options in my blog and the posts are listed at the end of this article. Bartenders sometimes overpour so they can receive bigger tips, but this is flawed logic, as the patron will end-up drinking less and leaving earlier than planned. Most importantly, in the words of Jon Taffer of Bar Rescue fame, "Drink consistency is of the utmost importance for a successful bar." In my opinion, consistency cannot be maintained without controls. And that, my friends, is the way I see it.
Free Consultation
Contact Us Today to Schedule Your Free Consultation!
———————————————————————————————————-
RELATED POSTS:

HOW CAN BAR OWNERS BE SO UNAWARE OF LOSSES?
EASYBAR LIQUOR SYSTEMS FOR MAXIMUM BAR PROFITS
WHAT ARE THE MOST PROFITABLE DRINKS?
ERGONOMIC BAR DESIGN FOR MAXIMUM BARTENDER EFFICIENCY AND PROFITS
———————————————————————————————————-
RELATED DOWNLOADS:

State_of_Ohio_Sales_Tax_Audit_Brief.pdf
———————————————————————————————————-
Need Help Completing Your Bar Plan? https://cabaretdesigners.com/89-need-help-completing-your-bar-plan/
QUESTION — Have a question about Bar Design, Bar Equipment or Anything Else? Post in comments section of this video!
•••••••• Camera and Gear Used To Shoot This Video ••••••••
1. Canon SL2 with Kit Lens on Amazon
https://amzn.to/2TkTnt5
** Extra Canon EOS Battery
https://amzn.to/2DsppO8
2. SLIK Sprint 150 Aluminum Tripod
https://amzn.to/2PYY4Kj
3. Fovitec Studio Pro 600 LED Panel Bundle
https://amzn.to/2DJ2sXY
4. Camtasia Video Editing Software
https://amzn.to/2KaZWKr
Cabaret Design Group on Social Media:
https://twitter.com/DesignABar
https://www.instagram.com/bardesigners
https://www.pinterest.com/bardesigner
https://www.facebook.com/bardesigners
———————————————————————————————————-
DISCLAIMER: The above video and description contains affiliate links, which means that if you click on one of the product links, I'll receive a small commission. This helps support the channel and allows us to continue to make videos like this. Thank you for the support!