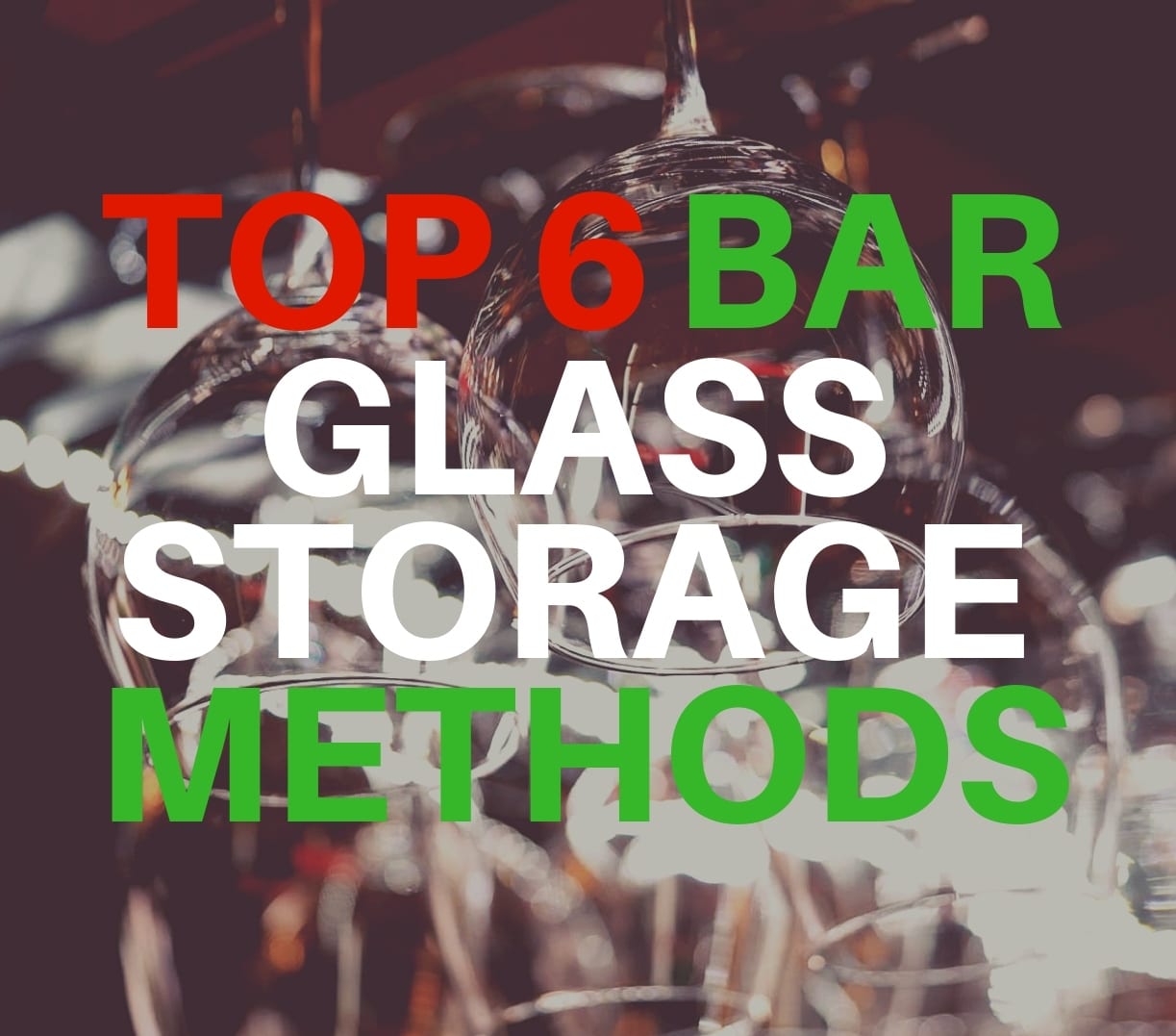 When it comes to DIY bar design, what are the best methods to store bar glassware?
Discover the top 6 bar equipment solutions for glassware storage for DIY commercial bar design.
THE TOP 6 PLACES TO STORE BAR GLASSWARE
Many will recognize the glass rack shown here – it's one of the most common methods of storing bar glassware. Do these glasses look familiar? Many bars willhave as many as 10-12 types of glasses – not counting the multitude of wine glasses. Glass storage and easy accessibility are critical to operating commercial bars. Since glass racks can't possibly accommodate all of this glassware, where are they normally stored? Here are the most typical traditional places to store bar glasses:
Drainboards – shown here, this is probably the most common method of storing bar glassware.

Corner drainboards as seen in this photo, this is exactly why corner drainboards are included in all of our bar plans.

Back Bar – shown here on the back bar top, glasses are also typically stored in glass shelving above.

The above methods do not make entire use of the cube, which is mandatory for efficient bar design. Here are my top 3 favorite ways of storing bar glasses are as follows:
Drainboard glassrack – as shown in this photo, here's the Glastender model DBGR24 drainboard glassrack, which can facilitate two full racks of 20 glasses to be stored below the drainboard; this enables bartenders to remove and store clean racks straight out of the automatic glass washer, while also storing glasses on the drainboard above – a great use of the cube. This 24" x 24" unit can be purchased at HotelRestaurantSupply.com for under US$661.00

Backbar glassrack – similar to the drainboard glassrack, a unit such as the Glastender model BGS24 can hold four full racks of glasses because it's installed along the backbar. This 24" x 24" stainless steel unit can be purchased at HotelRestaurantSupply.com for under US$818.00.

Drainboard cabinet – another spinoff of the drainboard glassrack, the unit shown here is the Glastender DBCB-12. What I especially like about this idea is its ability to maximize the most of narrow spaces. Available with- or without a door and in other widths, this 12" x 24" stainless steel unit from HotelRestaurantSupply.com can be purchased for under US$645.00.
TODAY'S TAKEAWAY:
Automatic glass washers with a low-temperature rinse are best for serving draft beer, as the glasses are ready immediately upon removal.
Free Consultation
Contact Us Today to Schedule Your Free Consultation!
———————————————————————————————————–
RELATED POSTS:

HOW DO YOU PLAN A COMMERCIAL BAR DESIGN – EQUIPMENT, LAYOUTS AND SYSTEMS?
ERGONOMIC BAR DESIGN FOR MAXIMUM BARTENDER EFFICIENCY AND PROFITS
MOST POPULAR POSTS:
WHAT ARE THE STANDARD BAR LAYOUT DIMENSIONS FOR DIY?
COMMERCIAL BAR DESIGN – A TOP 7 LIST OF BAR FINISHING IDEAS
HOW MUCH DOES IT REALLY COST TO BUILD A BAR?
HOW DO YOU DESIGN COMMERCIAL BARS FOR ADA?
———————————————————————————————————–
DOWNLOADS FOR THIS POST:
GLASTENDER_DRAINBOARD_GLASS_RACK_CUT_SHEET.pdf
GLASTENDER_BGS_BACK_BAR_GLASS_RACKS.pdf
GLASTENDER_DBCB_DRAINBOARD_CABINETS.pdf
POPULAR DOWNLOADS:
2018_UNIVERSAL_BAR_CLEARANCES_WITH_ADA.pdf
ADA GUIDE FOR SMALL BUSINESSES
BAR_AND_RESTAURANT_SEATING_GUIDELINES.pdf
———————————————————————————————————–
QUESTION — Have a question about Bar Design, Bar Equipment or Anything Else? Post in comments section of this video!

———————————————————————————————————–
•••••••• Camera and Gear Used To Shoot This Video ••••••••
1. Canon SL2 with Kit Lens on Amazon
https://amzn.to/2TkTnt5
** Extra Canon EOS Battery
https://amzn.to/2DsppO8
2. SLIK Sprint 150 Aluminum Tripod
https://amzn.to/2PYY4Kj
3. Fovitec Studio Pro 600 LED Panel Bundle
https://amzn.to/2DJ2sXY
4. Camtasia Video Editing Software
https://amzn.to/2KaZWKr
———————————————————————————————————–
Cabaret Design Group on Social Media:
https://twitter.com/DesignABar
https://www.instagram.com/bardesigners
https://www.pinterest.com/bardesigner
https://www.facebook.com/bardesigners
——————————————————————————————————————–
DISCLAIMER: The above video and description contains affiliate links, which means that if you click on one of the product links, I'll receive a small commission. This helps support the channel and allows us to continue to make videos like this. Thank you for the support!