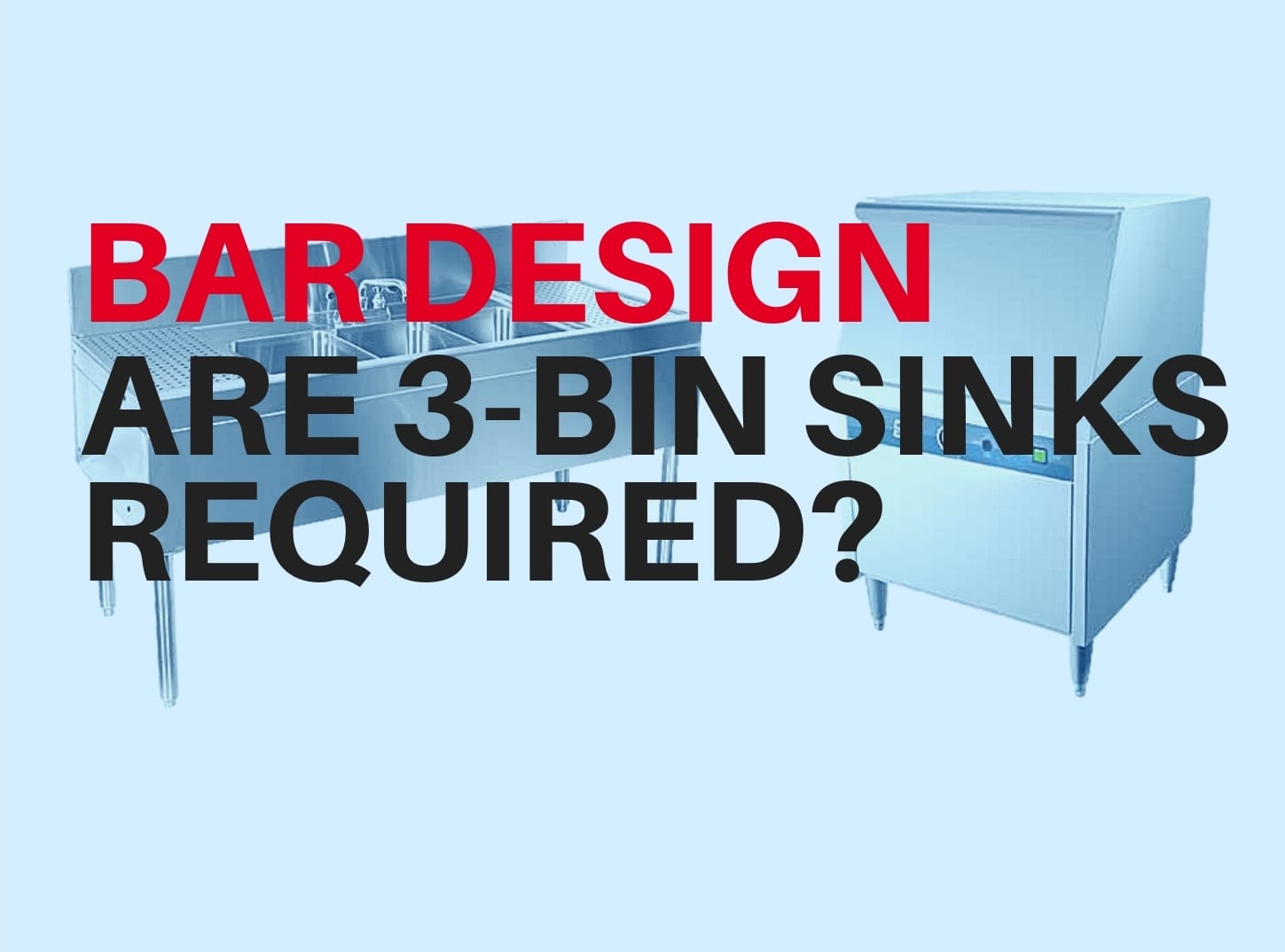 3 compartment sink vs glass washers for bar design?
Discover the bar design secret to pass a health department inspection and still use your glass washer.
3 COMPARTMENT SINK VS GLASS WASHERS FOR BAR DESIGN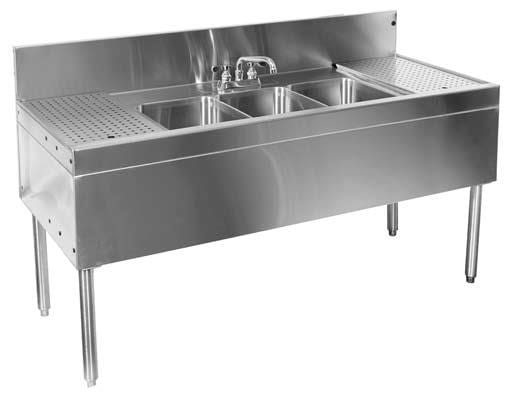 Here we are again today, solving more bar design problems. Our client just informed us that our two-station bar, which has an automatic glass washer over here, also needs a 3-bin sink, which was just determined by the local health department — which is a very archaic approach, but nonetheless, these are everyday problems. Now it's not uncommon for bar owners to want an (automatic) glass washer and it's not uncommon for health departments to come in and tell them that they must also have a 3-bin sink. Now, in many instances, the 3-bin sink becomes sort of a deal-breaker, because there's not enough space to accommodate it — but don't despair!

THE DESIGN WORKAROUND TO INCORPORATE THE 3-BIN SINK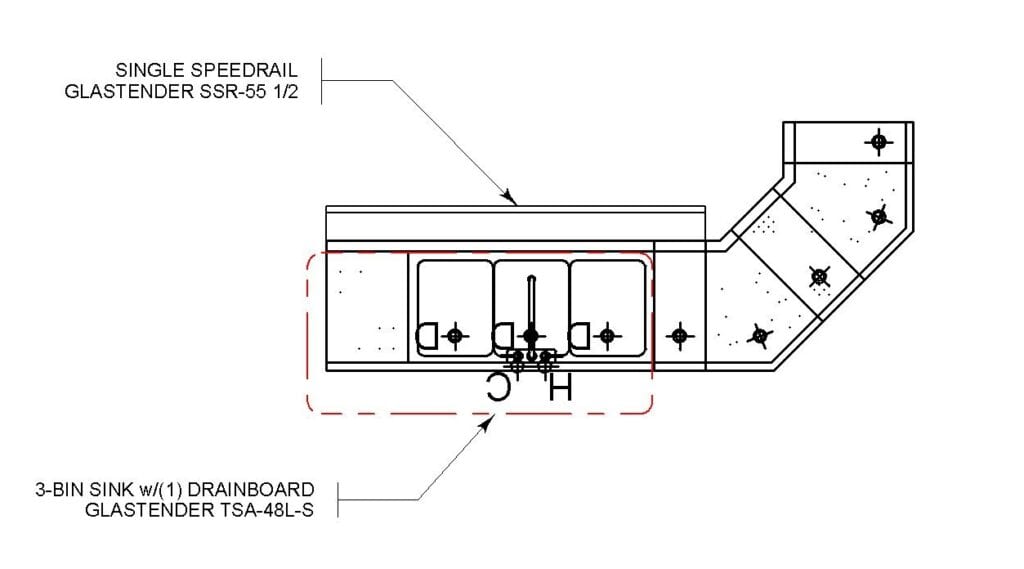 There's a simple workaround for this and it goes like this. So over here, on this bartender station, we have a tiered bottle display for underbar bottles and we also have a glass storage rack. So what we're going to do is eliminate these two items; I highlighted them and I'm going to eliminate them. Now what I'm going to do is insert a Glastender 3-bin sink with a sideboard — #TSA-48L-S — that's this item here, which is 4 foot long. We're going to insert it like this. This (dimension) goes to 0 and then we walk it right in like this, and now — AHH! the other thing we need now is we're going to go back a little further — there we are — and now we also need is an additional speedrail, which I'll get from my (CAD library) — SSR 24 another Glastender model — in fact, what we'll do is we'll do this: we'll just increase the length of this to come all the way out to the end of this drainboard over here, so that makes it — we'll make it 48″ — we're going to make it — we'll make it 55″. So getting back to the problem at-hand, we've replaced the underbar glass storage rack over here and the underbar tiered bottle display — which was over here — we've replaced it with a 3-bin sink, which is required by the health department and this has a 12″ sideboard — a "drainboard" that is. When we order this equipment from Glastender, the great thing is we can order a 36″ x 19″ drainboard cover, which they'll make specifically for this unit, and it can be covered because normally we're going to be using this (automatic) glass washer over here, and then this can all be used in a normal setting for glass storage. Additionally, part of the equipment we've lost we've replaced the tiered bottle display with a 55 1/2″ speedrail, which, in addition to this 3-footer over here, now we have over seven-and-a-half feet of bottles that are available on the speedrail, which is a perfect solution. So now we have the best of both worlds! We can now use the automatic glass washer, as intended, and for the health department purposes, we have the 3-bin sink.
Problem solved! That's it, my friends!
Free Consultation
Contact Us Today to Schedule Your Free Consultation!
———————————————————————————————————
RELATED POSTS:

HOW DO YOU DESIGN AND BUILD A BETTER BAR?

ERGONOMIC BAR DESIGN FOR MAXIMUM BARTENDER EFFICIENCY AND PROFITS

HOW MUCH DOES BAR EQUIPMENT COST?
POPULAR POSTS:
A TOP 7 LIST OF BAR FINISHING IDEAS
HOW MUCH DOES IT OST TO BUILD A BAR?
#1 SUCCESS SECRET OF MAINTAINING DRAT BEER SYSTEMS
HOW TO DESIGN A BN AWARD-WINNING BAR WITH WILSONART PRODUCTS
———————————————————————————————————-
•••••••• Camera and Gear Used To Shoot This Video ••••••••
1. Canon SL2 with Kit Lens on Amazon
https://amzn.to/2TkTnt5
** Extra Canon EOS Battery
https://amzn.to/2DsppO8
2. SLIK Sprint 150 Aluminum Tripod
https://amzn.to/2PYY4Kj
3. Fovitec Studio Pro 600 LED Panel Bundle
https://amzn.to/2DJ2sXY
4. Camtasia Video Editing Software
https://amzn.to/2KaZWKr
———————————————————————————————————-
Cabaret Design Group on Social Media:
https://twitter.com/DesignABar
https://www.instagram.com/bardesigners
https://www.pinterest.com/bardesigner
https://www.facebook.com/bardesigners
———————————————————————————————————-
DISCLAIMER: The above video and description contains affiliate links, which means that if you click on one of the product links, I'll receive a small commission. This helps support the channel and allows us to continue to make videos like this. Thank you for the support!