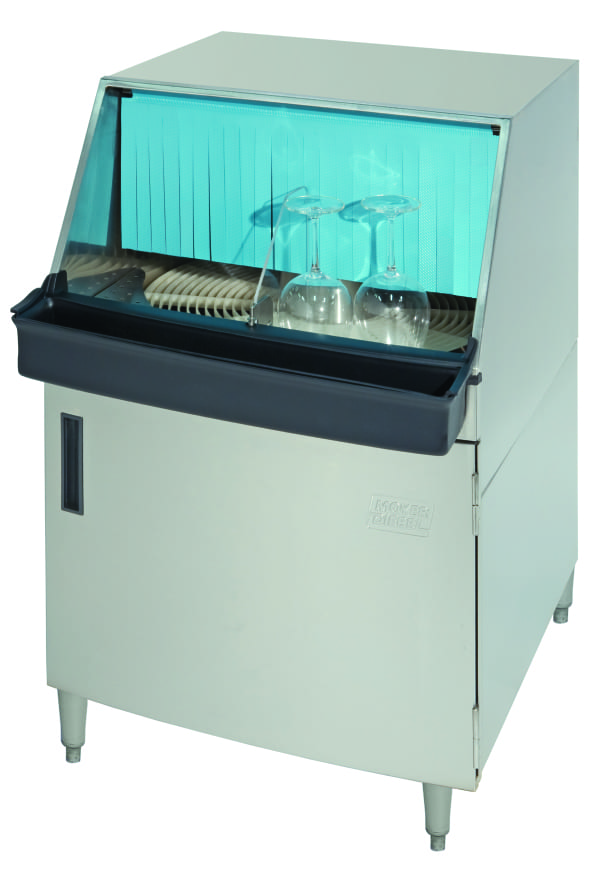 What are the best glass washers for bars? Discover the maintenance secrets to problem-free warewashers, pricing and which have the best features.
If you've owned an automatic glass washer for any length of time, you must dread opening the door at the end of the cycle: how about those FREE steam facials?! Automatic glass washers are veritable double-edged swords to high-volume bars: irrefutable benefits countered by numerous operating and maintenance problems. This article discusses automatic glass washers, how to service them and some new products that can help make your life much easier. Included in today's edition is an exclusive podcast interview with an industry veteran who specializes in glass washer sales and service.
WHAT ARE THE SECRETS OF MAINTAINING PROBLEM-FREE GLASS WASHERS?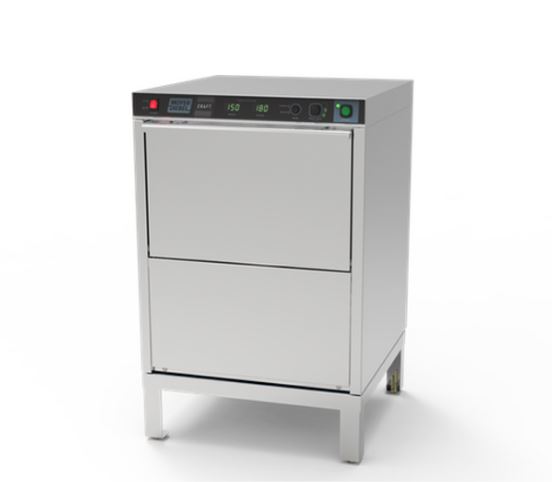 I had a great audio interview (above) with Cyndie Salas, industry veteran and owner of Dishing It Out, LLC, a Tampa-based bar and restaurant equipment company, "Appropriate cleaning, servicing and sensible operation will help keep your glass washer in service for many years, while achieving long-term value through regular maintenance."
TIPS FOR EXTENDING THE LIFE OF AN AUTOMATIC GLASS WASHER
These are Cyndie's tips for extending the life of your glass washer:
Always consult the owner's manual for the manufacturer's recommendations of operating, cleaning and servicing your glasswasher.

Give your staff full training as to how to prepare the water and use the machine.

Correct water preparation (softeners, filtration systems, etc.) is critical.

Develop a rack program, which is ideally matched to your glass sizes.

Have a local maintenance provider assist you to develop a training, operating and cleaning program for your glasswasher.

Consistent and proper water temperature is essential to the longevity of your glass washer:


The higher the temperature, the more effectively detergents work.

If the temperature in the machine is set too low, dirt cannot be removed and glassware cannot be properly disinfected.

Temperatures set too high may corrode or break glasses, while compromising lifespan and stemware décor.

As you can see, consistent and proper water temperature is critical to the longevity of the glass washer as well as the stemware. Cyndie has prepared a document which outlines maintenance services that her company normally offers to bar and restaurant owners; this can be downloaded below.

Downloadable:
Regular Glasswasher Machine Maintenance

WHICH GLASS WASHER HAS THE MOST AND BEST FEATURES?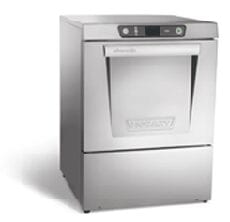 I've been a proponent of rack-style glass washers, especially the Moyer-Diebel 601HRG (featured above), but if I had to recommend the best glass washers for bars with the most and best features, depending where you live, it would be either the Premax or Advansys LXe series offered by Hobart. The German-based company now offers the first glasswasher in the world to deliver completely dry glasses! This unit is loaded with engineering features, such as:
FEATURES OF THE HOBART Premax and Advansys LXe GLASS WASHERS
Door Stop Vapostop: No More Glass Washer Facials!
Hobart's ingenious patented design channels moisture out of the wash chamber by combining dry, warm air with an innovative airflow system – and simultaneously drying the glasses.

Hobart Offers the Most Economical Glass Washers
The Premax GCP (see below) utilizes a mere 1.9L of water; the Advansys LXeR (see below) uses only .62 gallons (2.3L).

Hot & Cold Rinsing
For those who are washing dishware as well as glassware, two rinsing options enables you to select your preference on-the-fly. With hot rinsing (preferred for wine glasses), you can avoid drying glasses by hand, which is labor-intensive and increases the likelihood of breakage and injury. However, the hot rinsing feature takes an additoinal 90 seconds of processing time. The cold-rinsing option, applied after the hot rinse, provides a cool, wet glass, ready for immediate use. Cool glasses are critical for tap beer, as they reduce foam.

Glass Shining
Have you ever seen a bartender polishing glasses with a towel? This is known as "Glass Shining," and there is something to this long-held practice. New glasses have a protective coating which can be removed over time, through the normal cleaning process, which leads up to excessive buildup of coverings and deposits during usage (including minerals and food soil), which cannot be removed with a normal machine. Hobart developed a "Glass Shine" cycle which can remove this buildup automatically. The result: no more glass shining by hand.
LIMITED AVAILABILITY OF HOBART
In the European market, Hobart offers two models in the Premax series for under bar applications. The low-volume model GCP, 18"W, is rated at 768 glasses per hour. The high-volume model GP, 24"W, is rated at 2,160 glasses per hour. The brochures for both units can be downloaded here below.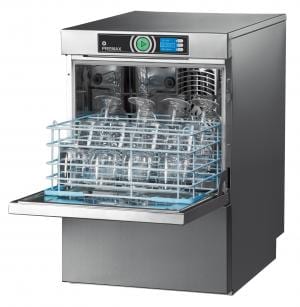 Due to building code regulations, the GP and GCP aren't available in the U.S. market. However, Hobart offers a similar series to the above, called "Advansys," with two similar models – the LXeR and the LXePR; the closer equivalent to the European models is model LXER, a 24"W unit rated at 1,080 glasses per hour. The average price for this unit is around $6,400, depending on options. U.S. customers can download this cut sheet below, as well. If you're a bar owner, it's likely that you'll want the model LXePR, as it is strictly a cold-rinsing machine, which is ideal for bars.

WHY HOBART HAS THE BEST GLASS WASHERS FOR BARS
Price-wise, Hobart is a premium line, but according to Salas, the value justifies the investment. As for serviceability, although Hobart's reputation to provide parts for models older than 10 years has occasionally been frustrating for service people, she's quick to point-out that parts are readily available and well-supported for the newer models. Salas's overall feeling about Hobart is that the quality of their glass washers has always been outstanding. Coming from a person who owns a service company, this speaks volumes.
If I were in the market for the best glass washers for bars, I would give these Hobart models serious consideration.


Downloadables:
Moyer Diebel 601HRG Cut Sheet

Brochure of Hobart PREMAX GCP Brochure

Hobart Premax GP Brochure

Cut Sheet for Hobart LXeR-LXePR Cut Sheet

Related Posts:

Easy Ice: Ice Machine Subscriptions for Bars & Nightclubs

Productive Bar Design: What Are The Most Profitable Drinks?


Call Us for Your Next Design Project
Our standard bar design service includes all construction plans and equipment layouts. We would be happy to assist any hotel, casino or restaurant owner who would like to incorporate time-proven design ideas into your venue. Please feel free to contact us.

Most Popular Articles
Pour My Beer: Self-Serve Beer Systems for Bars & Nightclubs
Ergonomic Bar Design For Maximum Profits
Top 3 Reasons Not to Own a Commercial Ice Machine
What Is "Pour Cost" and Why Is It So Important?
Which Liquor Inventory System is the Best: AccuBar vs BevInco
Top 5 Design Ideas about Purchasing Nightclub and Bar Furniture