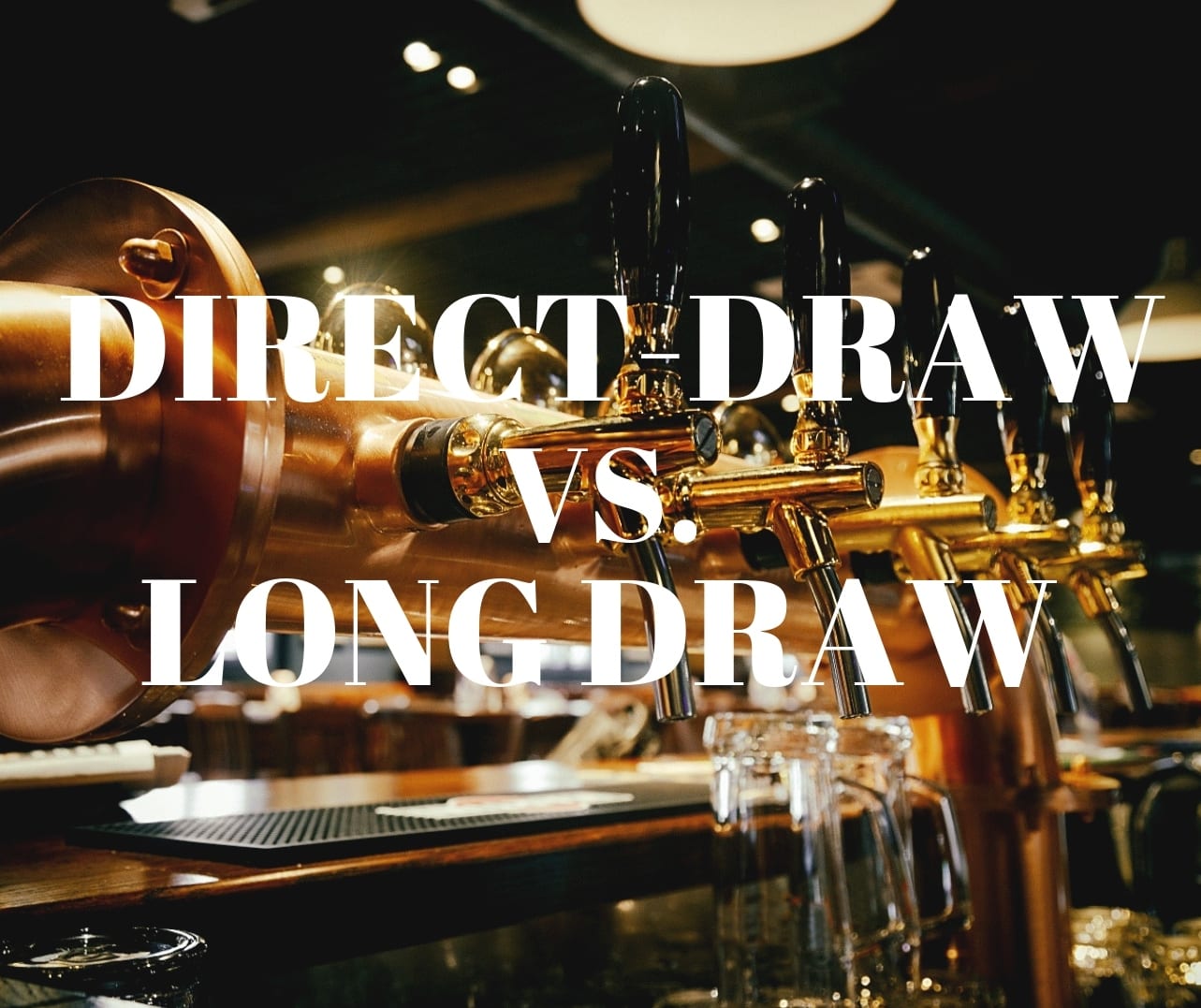 How much do direct-draw and long-draw draft beer systems cost?
Learn how the various draft systems compare – such as kegerator, beer walls, air-cooled and glycol systems.
DIRECT-DRAW VS LONG-DRAW DRAFT BEER SYSTEM COST
What I'm showing here on this bar is a single kegerator on the back bar, with two towers and three faucets. Now, kegerators are entry-level equipment, but they do serve a purpose. People who have a basic operation — the local corner neighborhood bar, what have you. This isn't bad equipment to own, because for one thing, it is a minimal cost. However, if you really look at it a little bit closer — here — this particular unit which is a Beverage Air, will run about USD $2,800. Part of the problem with this equipment is they're space hogs. These are really designed for three half-barrels and for that it eats up about five feet of back bar space, and because also, this type of cooler is generally about four inches deeper than your standard under bar back bar-type coolers, which we generally show as built-ins. So, the kegerators are a reasonable investment for someone who's looking to enter the market for selling draft beer and with the half-barrel, you can have a reasonable amount of supply on-hand without constantly changing it, that's true; however, this three-barrel system, with three faucets, runs about USD $2,800, shown here. Alternatively, you could own a Glastender four-faucet style unit for USD $3,800, so the cost per faucet is actually incrementally much lower, but again, with four faucets how much draft beer are you really intending to sell? If you are selling any amount of draft beer, most likely you're going to want to have at least six-to-eight offerings, because almost everywhere you go everybody covers the "basic three," which is Miller Lite, Bud Light and Coors, so when you take those three into consideration, if you had three more brands to offer, for instance, or let's say if you're going to own two three-faucet units, that's six faucets for USD $5,500. If you go with two of the Glastender-style units (with four faucets each) that's about USD $7,500 and that gives you eight brands — so you would have five other brands to rotate through, which isn't a bad approach. So, the direct-draw equipment has its place, but it's really not for bars that serve a great deal of alcohol and want to have shelf space for it on the back bar.
Direct-Draw Draft Beer Wall Systems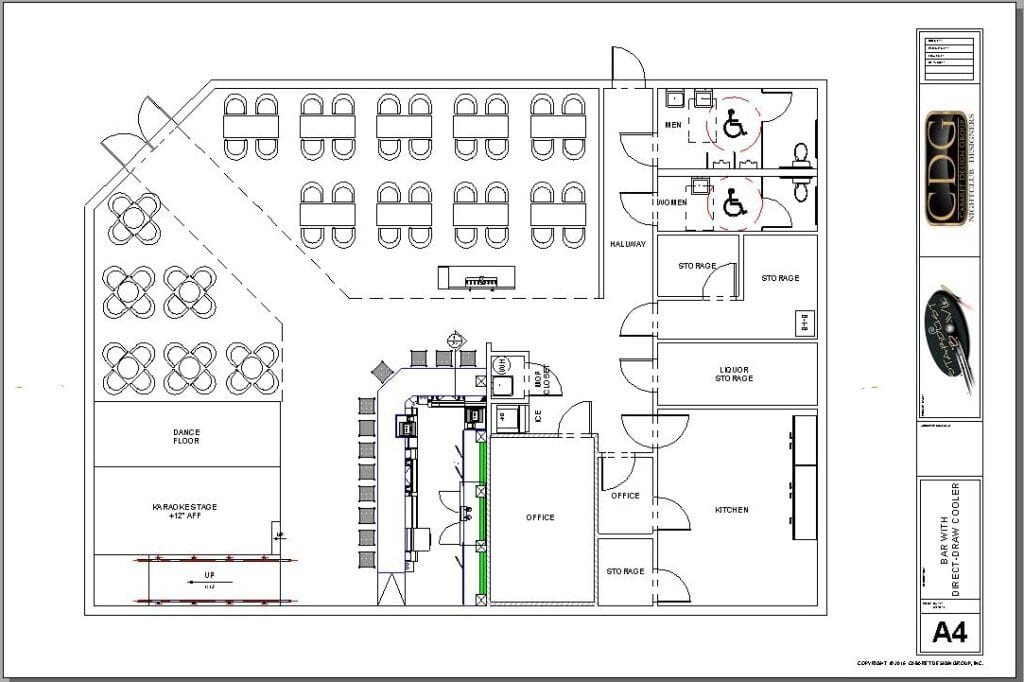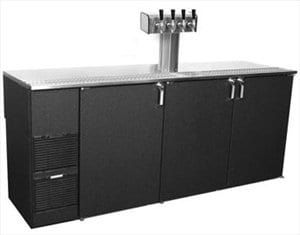 The other type of direct-draw system is the beer wall. The beer wall is a great approach if you're really wanting to serve a lot of draft beer and your profit model is really derived off of featuring many craft beers and things of that nature. It's a difficult design to incorporate into a bar where you're also selling a lot of alcohol. So, the two really are difficult to blend together under one roof, in the way I see it. If you're going to invest in a beer wall, then the way to do it is to place alcohol sales in second place and just try to hope for the best. The beer wall, as I'm showing here in this photo, is a nice approach. You can get into systems as large as 150 brands. The problem with the beer wall approach is that the back bar has to be coincident with the walk-in cooler or the system doesn't work; we cover this in a previous video. If you do have the space to put a walk-in cooler of any size behind the back bar wall, you have the makings of a potentially really cool beer wall approach. These systems are priced just under what you would invest in a glycol system, however, that also partially depends upon the amount of finish that you're going to put into the back bar wall, and so forth, so they can be pricey, but it would probably be less than USD $1,000 per faucet, so there's some economy of scale here, because of the location of your walk-in cooler, but on the other hand, the walk-in cooler must be enhanced in order to be functional for this design as well. So, it may be, in some instances, sort of a wash between this approach and a glycol system.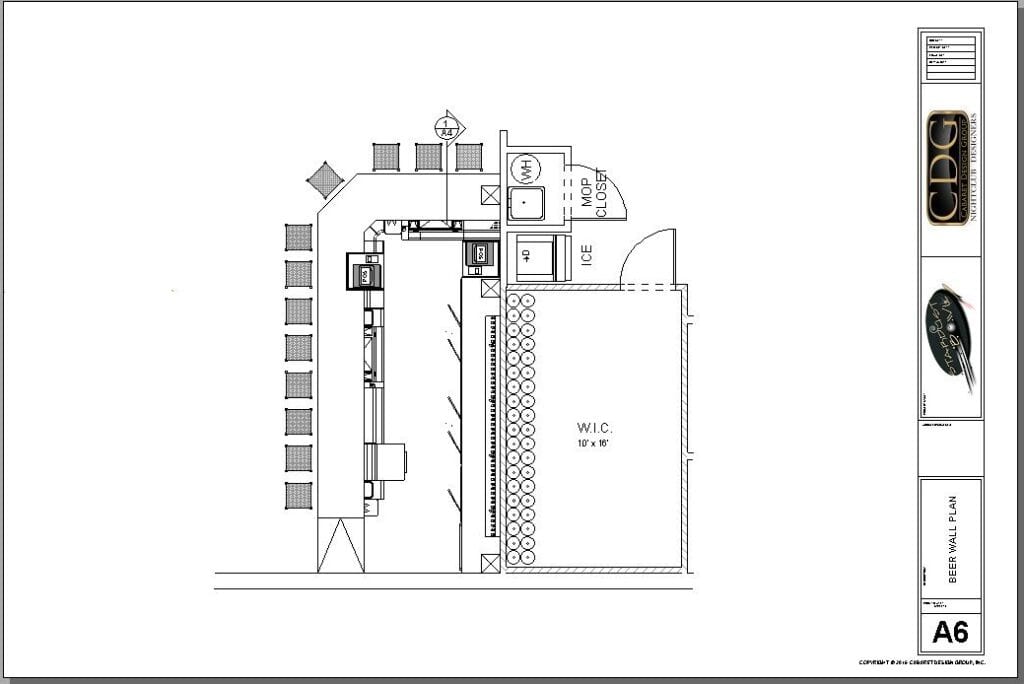 Long-Draw Air-Cooled Draft Beer Systems
Now in terms of long-draw draft beer systems, we have the air-cooled system and the glycol system. The air-cooled system is the more traditional approach. It was the type of draft beer system that we had many years ago, and in recent years, with the advent of the glycol technology, it has become less common. However, the air-cooled systems can be accommodated under certain circumstances. As I covered in a previous video, the walk-in cooler really needs to be ideally below the bar. The beer shaft which I'm showing here, in a dotted blue line, comes from the walk-in cooler, but the walk-in cooler cannot be placed particularly where I'm showing it in this example, as it's too far away for in order to maintain temperature, and that's the name of the game in draft beer — no matter what type of system. So ideally, an air-cooled system would reside in the floor below the bar and if you have the opportunity to incorporate a system like that it's do-able, very reasonable, in terms of cost, but not much control in the way of temperature – of modifying or adjusting temperature as you go. Secondly, the beer tower designs are more limited with air cooling systems because, glycol systems have become the clear favorite; but you can always tell an air-cooled tower by the dome at the top of the head as shown in this photograph. So, the system (the approach) works, but it's limited at best.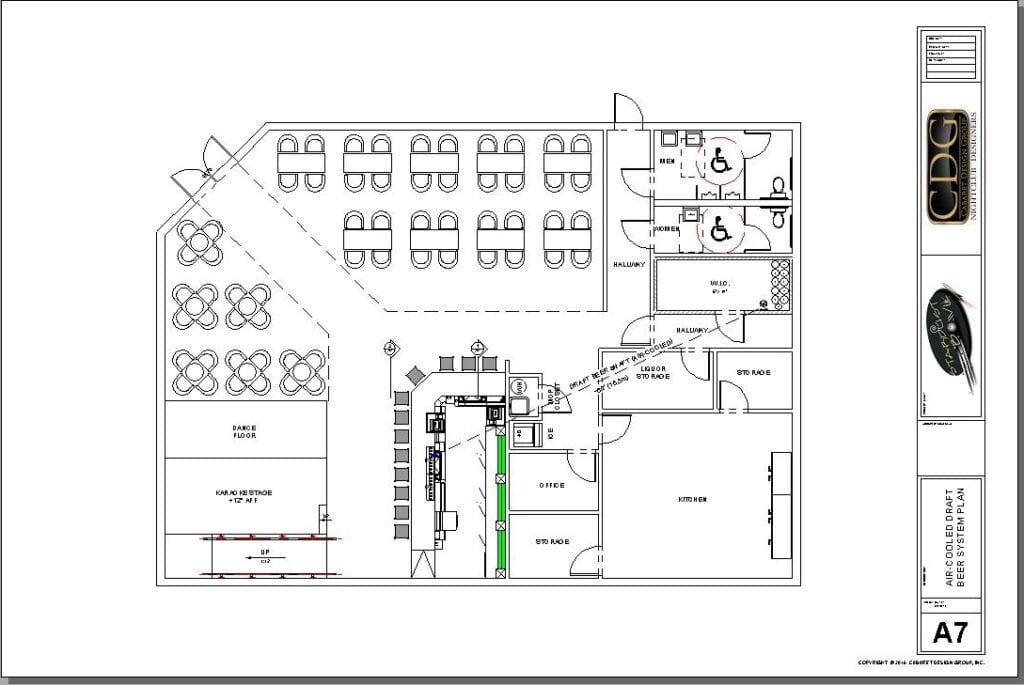 Long-Draw Draft Beer Glycol Systems
Alternatively, if we talk about the glycol system, this approach works off the principles of refrigeration, which provides the ultimate flexibility of putting a walk-in cooler practically anywhere you want. It can also service multiple beer towers and/or multiple bars simultaneously from a single power pack, up to 750 feet. Now, of course, some of these design constraints have limitations based on the size of the trunk line. For the glycol system I'm showing in red, but as you increase the number of products that you're installing in the trunk line, if you have 20 or 24 beer products that you're pushing through, to say two or three locations, it entails a little bit more engineering. However, it's all achievable to support price. The glycol system offers a tremendous amount of beer tower designs, as I'm showing here. The products are virtually limitless, in terms of design, and any place you go nowadays and you're seeing these very cool designs of the beer towers like I'm showing here, these are glycol systems. The advantage of the glycol system is that with the temperature control of the power pack controlling the quality of the beer, it's just as if you are taking the barrel of beer and placing it right alongside the faucet where you're pouring — it's just about that good. So, in terms of flexibility and features, the glycol system is really number one overall my book. The cost for such a system will run you somewhere in the category of about USD $1,000 per product line (installed) so a 16-faucet system — 16 brands — will run you somewhere between USD $16,000 – $20,000, installed, and that would be for standard beer tower designs — not for customs. So, in terms of the overall ranking of these systems, I would rank the glycol draft beer system number one. Number two would be the direct-draw beer wall. Number three would be the direct-draw coolers, and lastly, would be the air-cooled long-draw system.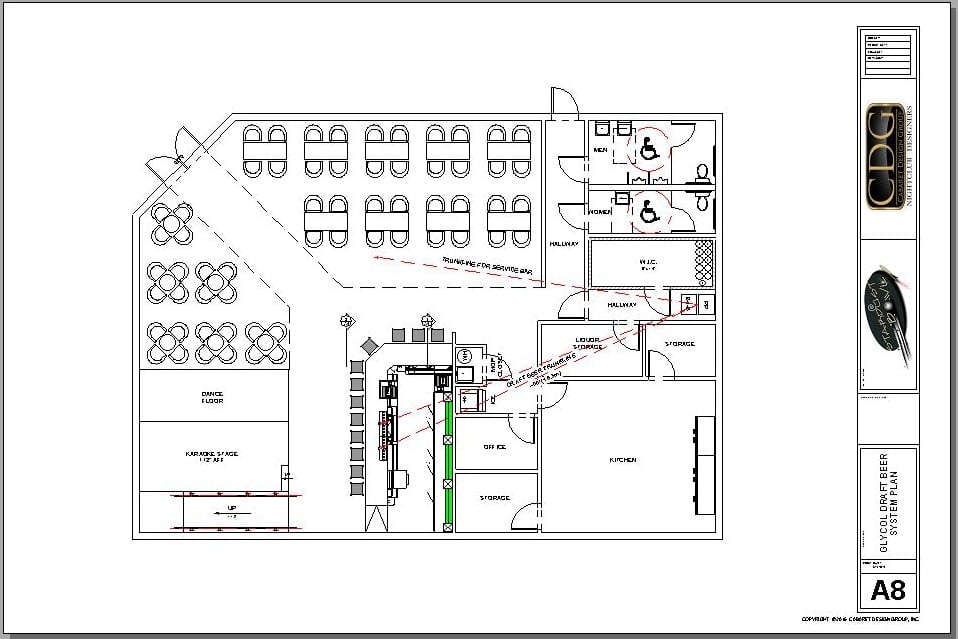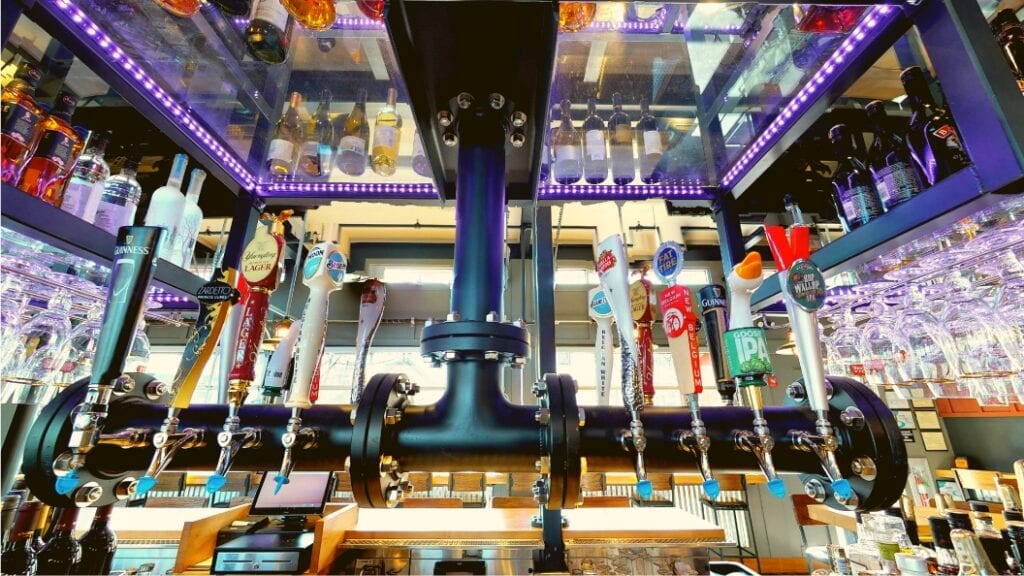 That's it, from top-to-bottom, and that's the way I see it.
Free Consultation
Contact Us Today to Schedule Your Free Consultation!
———————————————————————————————————
POPULAR POSTS:
HOW MUCH IS MY BAR DESIGN REALLY GOING TO COST?
WHAT DOES IT COST TO BUILD A COMMERCIAL BAR?
DESIGNING AN AWARD-WINNING BAR WITH WILSONART PRODUCTS
GLYCOL COOLED vs KEGERATORS – WHICH DRAFT BEER SYSTEM TO BUY?
BEST VALUE LIGHTING PRODUCTS FOR BAR DESIGN
COMMERCIAL BAR DESIGN – A TOP 7 LIST OF BAR FINISHING IDEAS
BAR DESIGN IDEAS – HOW TO DESIGN & BUILD A BETTER DIY BAR
———————————————————————————————————
Need help completing your bar plan? Contact Us Today!
QUESTION — Have a question about Bar Design, Bar Equipment or Anything Else? Post in comments section of this video!
———————————————————————————————————
•••••••• Camera and Gear Used To Shoot This Video ••••••••
1. Canon SL2 with Kit Lens on Amazon
https://amzn.to/2TkTnt5
** Extra Canon EOS Battery
https://amzn.to/2DsppO8
2. SLIK Sprint 150 Aluminum Tripod
https://amzn.to/2PYY4Kj
3. Fovitec Studio Pro 600 LED Panel Bundle
https://amzn.to/2DJ2sXY
4. Camtasia Video Editing Software
https://amzn.to/2KaZWKr
——————————————————————————————————–
Cabaret Design Group on Social Media:
https://twitter.com/DesignABar
https://www.instagram.com/bardesigners
https://www.pinterest.com/bardesigner
https://www.facebook.com/bardesigners
——————————————————————————————————–
DISCLAIMER: This video and description contains affiliate links, which means that if you click on one of the product links, I'll receive a small commission. This helps support the channel and allows us to continue to make videos like this. Thank you for the support!