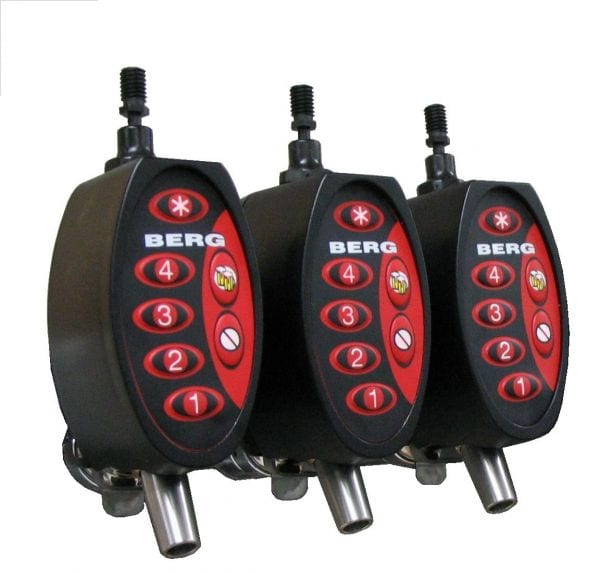 WHY DRAFT BEER NEEDS INVENTORY CONTROL
Which draft beer inventory control system is the best? Today we'll compare the features of the EasyBar, Berg and BevCheck draft beer inventory systems.
You're considering implementing a draft beer inventory control system, but you're torn over which offers the best return. After all, they all boast of returning more money to the bottom line. And let's face it, there's no consistency to the manner in which your bartenders pour. You know there must be a way to better manage your draft beer program.
BAR OWNERS ARE UNAWARE OF THEIR LOSSES
As I mentioned in a recent post, CPA Chuck Deibel revealed that 85% of bar owners are losing 20% of their draft beer, verified by the results he's seen in over 20 years, with over 1,000 bars and over 5,000 audits of his own. There are several companies who provide a very useful products and services that help them maximize their tap beer profits. This group includes Easybar, BevInco and Berg. I think these three companies provide a good cross section of today's technology.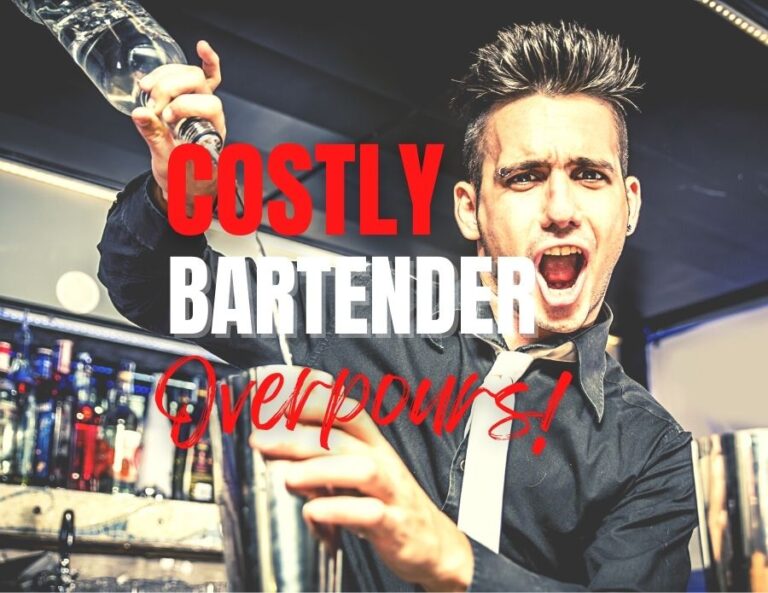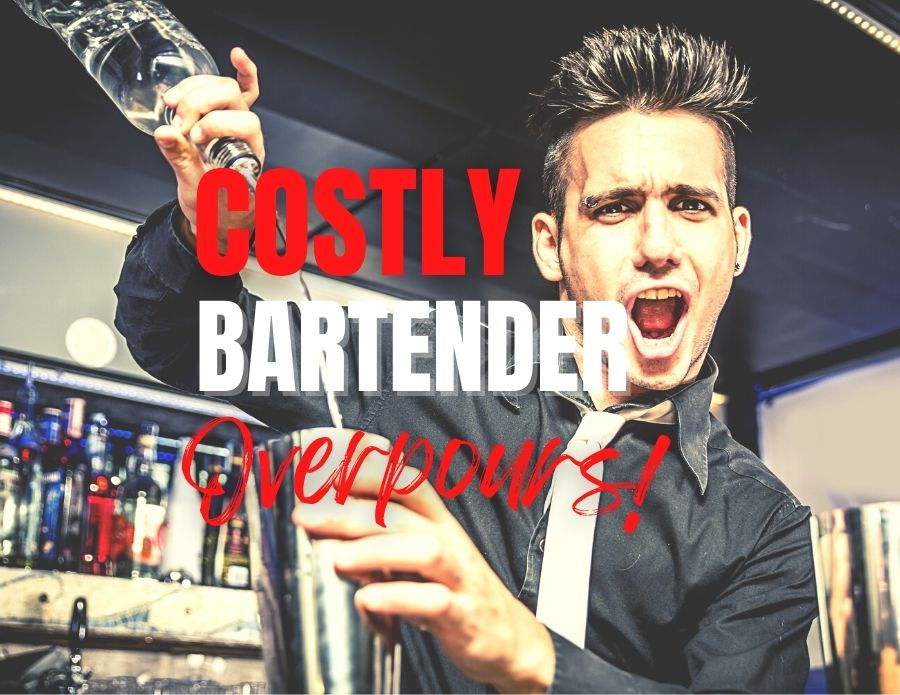 EASYDRAFT DRAFT BEER METERING SYSTEM
Not to anyone's surprise, Easybar has an entry in this product category, called the "Easydraft Draft Beer Metering System." To me, Easybar is the industry leader in liquor control systems. What I found surprising is the simplicity of Easydraft (download). Easydraft is a dispensing system which delivers any of three preset amounts, i.e., 12 oz., 16 oz., 22 oz. If foaming occurs (due to temperature, pressure, etc.), the bartender tops-off the pour and the sale will be recorded as the next higher amount.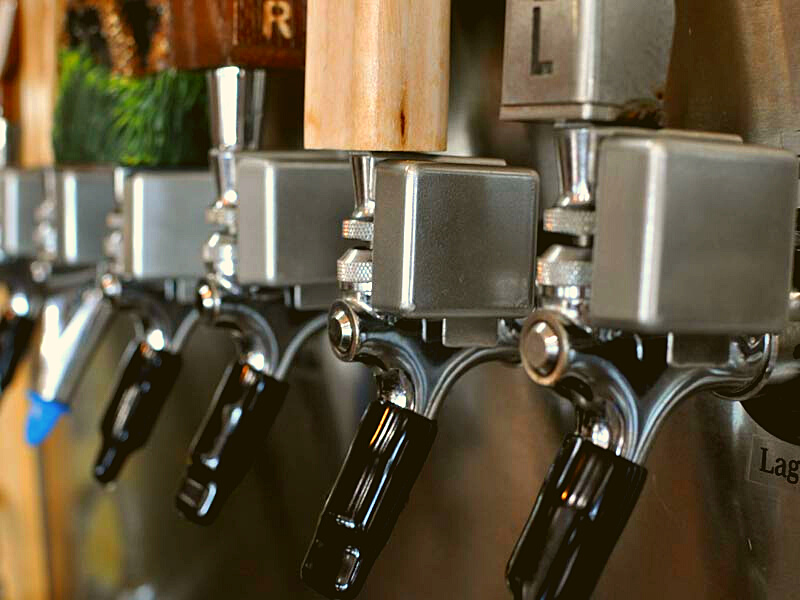 The Easydraft Metering hardware is installed between the faucet tap and tap handle. While the installation is simple, so is its removal. If your bartenders wanted to drink "after hours," all they have to do is remove the flow meter. Because each tap has its own meter, multiple drinks can be poured simultaneously. Pouring activity is tied to the POS system and each pour is counted and dispensing information is available through Easybar software.
The Easydraft Metering System provides a valuable service, at an average retail price of $4,500 – $6,500 for a 10-tap system (software included). Because this is a dispensing system (due to its presets), it is ideally suited for higher volume operations.
A long-time participant in the liquor control sector, Berg launched a beer control system in 2005 known as "TAP2." It is important to note that TAP2 also dispenses wine and batch cocktails, such as margaritas. Installed as an integrated faucet metering device, The TAP2 (shown in the photo below) marries its 7-button flow meter with a Perlick stainless steel, clean-in-place faucet, long-regarded among the industry's finest. The TAP2's keypad is designed to simplify the pouring process to precisely pour any of four sized glasses and then top-off, if needed.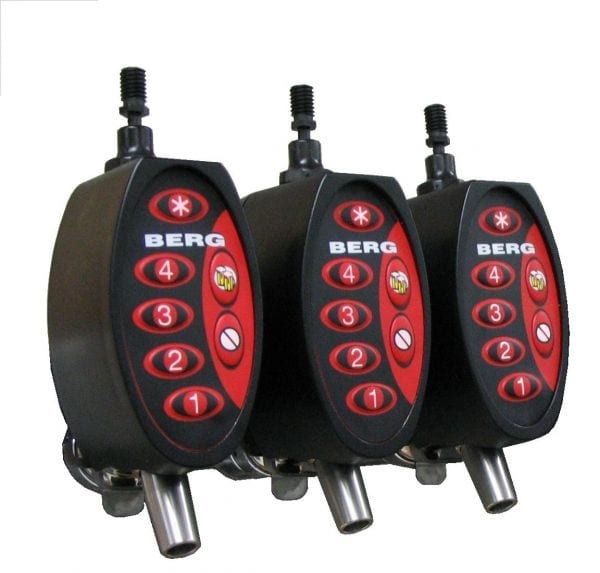 HOW THE BERG TAP2 BEER CONTROL SYSTEM WORKS
With respect to beer portion control, TAP2 has an inherent engineering deficiency. Berg accepts that, due to variations in pressure, temperature, gas, etc., not every beer (with preset pouring) can be automatically dispensed with every pour. Given this premise, Berg includes a "Add-a-Head" button that can dispense an additional two ounces, if necessary. Berg's approach is that if the above problem persists, TAP2 needs to compensate. The TAP2 advantage is pouring efficiency, as it enables the bartender to fill multiple glasses simultaneously.
TAP2 records every ounce poured to the Berg "Infinity" software. The "Add-a-Head" feature limits the bartender to a single top-off per pour. With "Infinity", bar owners receive pour cost and a host of other management reports. However, this information is not in real-time. An average 10-faucet TAP2 system costs between $9,000 – $11,000. The Infinity software carries a $300 annual charge. While the TAP2 is a more significant investment than the Easyflow system, it has more valued features. A system overview of the Berg TAP2 system can be downloaded here.
BEVCHEK BEER INVENTORY SYSTEM
Inventory service giant, BevInco, offers a different approach, known as BevCheck. Unlike Easyflow and TAP2, BevChek provides flow meter controls that are installed at the keg. The advantage is accuracy. Because the controls are at the back-end, each beer is manually drawn. This approach requires more bartender training. Obviously, the patrons aren't aware of the hardware. BevChek delivers full accountability through BevInco's signature software. The bar owner tracks the amount of beer dispensed for every beer poured.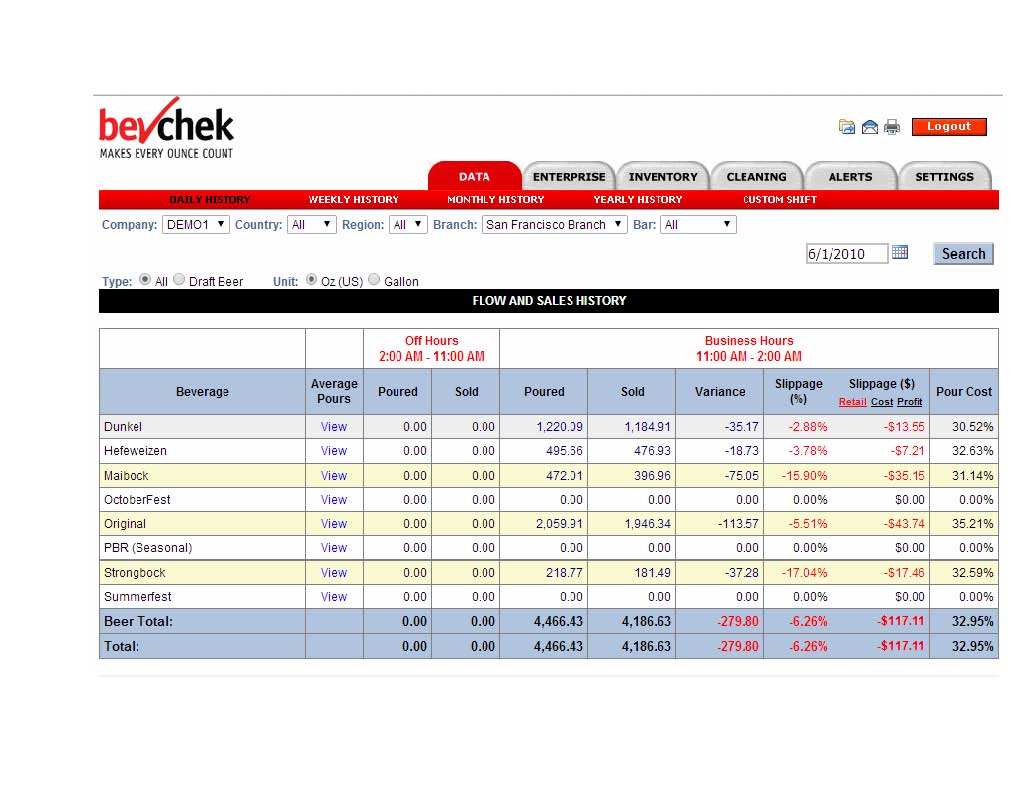 HOW THE BEVCHEK DRAFT BEER PORTION CONTROL SYSTEM WORKS
BevChek offers many features not available by Easyflow or TAP2, such as:
All data is sent – real time – to BevChek servers.
BevChek provides each bar owner with their own exclusive online account on BevChek's website, which can be accessed using any web-enabled device!
The BevChek flow meters measure the volume poured of every drink.
System reports total ounces used and sold for each brand.
Keg inventory is monitored.
The temperature of the walk-in cooler is monitored.
Samples of BevChek system reports can be downloaded below. 
BEVCHEK FEATURES AND BENEFITS
BevChek enables users to monitor each bartender's performance. Because the BevChek system is monitored in real time, users also know if beer is being poured (unauthorized) after hours! Users not only have accurate inventory and cost information, but now a means of knowing just where all their beer is going.
There is a one-time setup fee of $1,000 and $100 per tap (up to 70 taps). For instance, a 10-tap system retails at $2,000. After the initial installation, there is an ongoing monthly charge of $175, which provides the support described above.


Downloadable:
The three products featured here all provide a valuable service. I consider all as a solid investment by companies with outstanding reputations. The Easyflow and TAP2 systems offer the greatest speed. With its higher initial investment, TAP2 is more easily justified for high-volume operations. I think the majority of owners of small-to-medium size bars and restaurants would be less receptive to the TAP2's price tag. However, with its speed and batching capabilities, I think TAP2 is the frontrunner in the hotel industry. Easyflow has a significant presence in the gaming industry, but it's inability to dispense batches makes them less appealing than TAP2.
WHAT IS THE BEST DRAFT BEER INVENTORY CONTROL SYSTEM?
With its low upfront cost and abundant features, BevChek should own the small-to-medium bar and restaurant sector.
BevChek is currently the only beer inventory system with full time, real-time reporting and accounting.
Compared to TAP2, one could own BevChek for 34 months for the same overall investment.
I think TAP2 will eventually offer real-time reporting, but probably at the same price point, as this benefit is too valuable to discount.

No matter which system, I think a beer inventory control system is the only way an owner can hope to maximize draft beer profits.