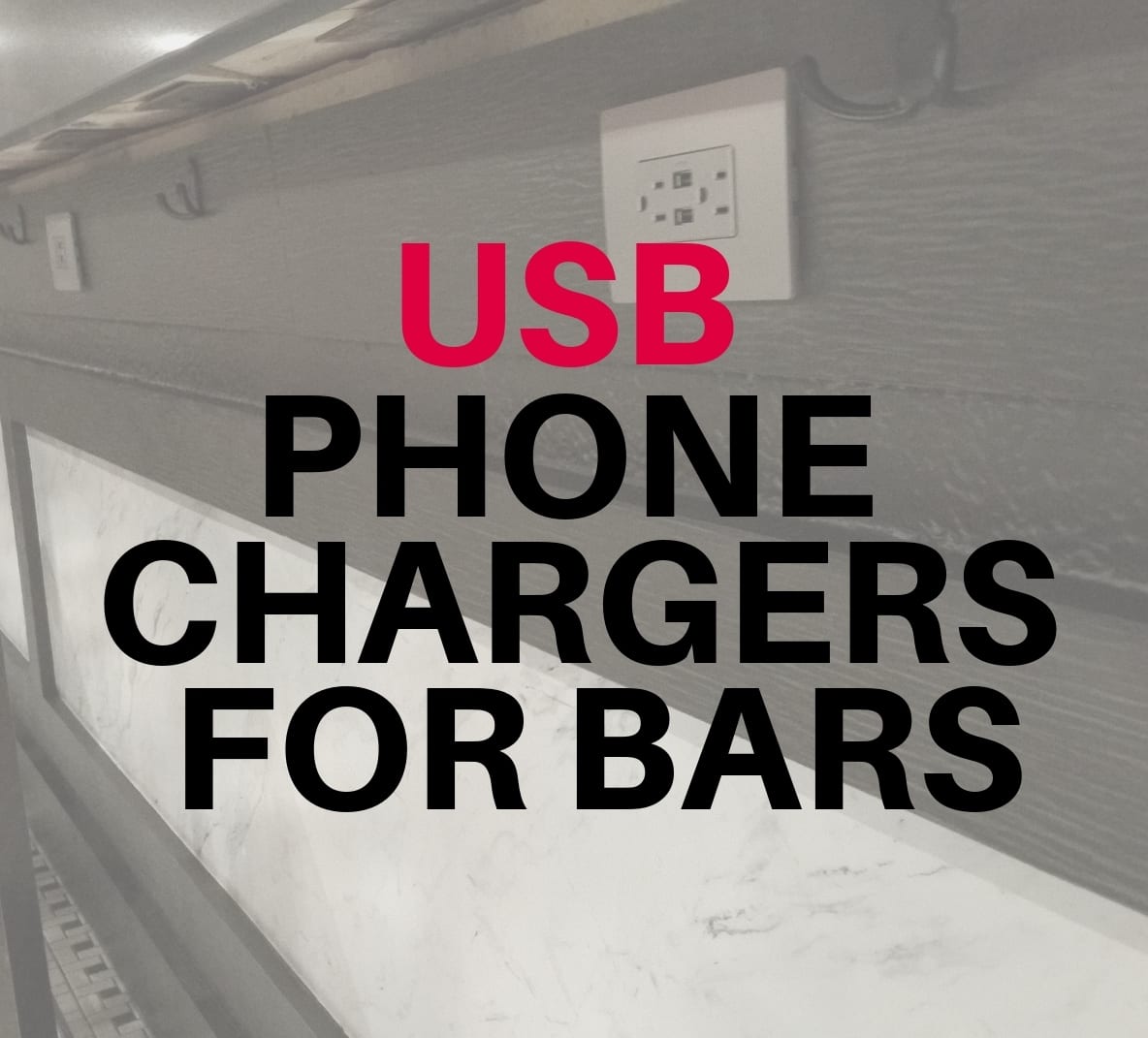 How difficult is it to install USB phone chargers for bars?
Discover how easily you can install USB chargers and how they will help you build customer trust and keep patrons in your bar and hotel longer.
HOW TO DESIGN AND BUILD USB PHONE CHARGERS FOR BARS
Discover why USB receptacles build customer trust and keep patrons in your bar, hotel and restaurant longer.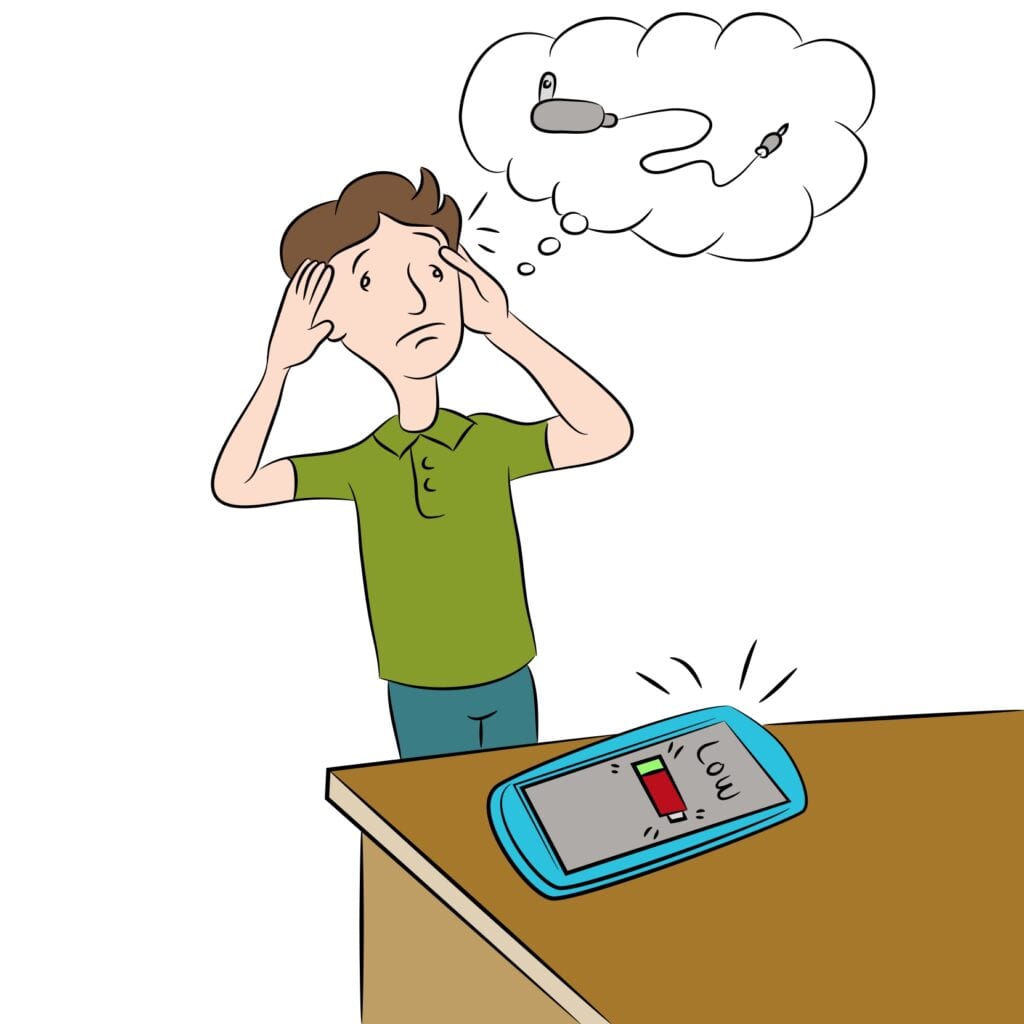 For those of us on-the-go, our cell phones and tablets are in constant need of recharging. Even worse, we often don't have all the clumsy charging attachments. If you're a bar owner and looking for a way to keep your patrons in your establishment longer, the USB receptacle could be just what you need. With all new commercial bars we're designing, we include USB receptacles in every plan. How are electrical receptacles installed on bars, you ask. As seen in this section view, we typically like the receptacles installed in a horizontal fashion, centered 38" above the floor. This makes them easy for patrons to see and access, as shown in this photo. We typically specify the outlets to be a maximum of 48" on-center along the perimeter of the bar. If you're going to retrofit an existing bar, the simplest approach may be to surface-mount the outlets a 1" x 6" wood molding, similar to the one used in this example. From a previous video, you may remember that for our new bar designs have a designated ADA section. We normally specify that an outlet be installed within 6" of either end, as seen here. This makes it easy for the disabled patron to locate and plug-in, since the hardware is well within the maximum height allowance of 54" and reach allowance of 48".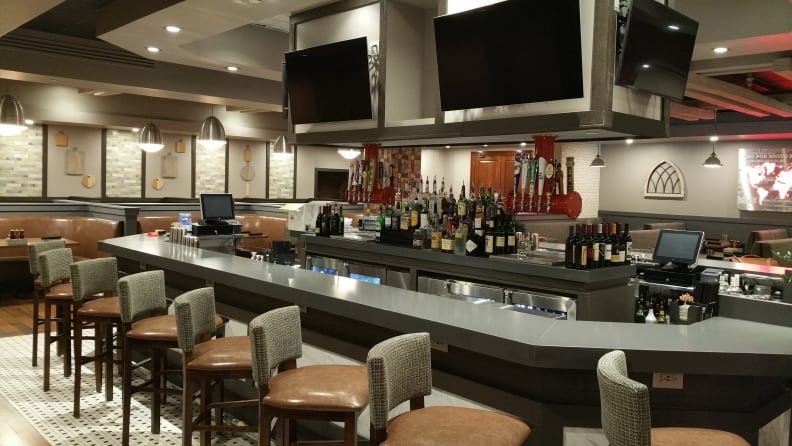 Bear in mind, what I'm talking about isn't simply a standard duplex receptacle, rather, it's a commercial specification grade duplex outlet with dual 3.1 amp USB charging ports, capable of servicing most compatible electronic devices that charge via a 5V adapter. We typically specify the Eaton TR7755, as shown here and available for download below. This hardware also features an automatic grounding system, thereby eliminating the need for a bonding jumper. The Eaton TR7755 replaces the standard duplex outlet and is available in nine standard finishes. An average bar should cost less than $1,000 to retrofit.
So, if you're looking for a creative diy idea to building brand loyalty with your patrons, installing USB receptacles on the face of your bar will help you gain popularity points while also encouraging them to drink and eat longer while their phones are charging.
Free Consultation
Contact Us Today to Schedule Your Free Consultation!
———————————————————————————————————–
RELATED POSTS:

HOW DO YOU DESIGN COMMERCIAL BARS FOR ADA COMPLIANCE?
DRIVE-BY ADA LAWSUITS AGAINST NIGHTCLUBS AND BARS
MOST POPULAR POSTS:

HOW TO DESIGN AN AWARD-WINNING BAR WITH WILSONART PRODUCTS

ERGONOMIC BAR DESIGN FOR MAXIMUM BARTENDER EFFICIENCY AND PROFITS
COMMERCIAL BAR DESIGN – A TOP 7 LIST OF BAR FINISHING IDEAS
HOW MUCH DOES IT REALLY COST TO BUILD A BAR?
HOW DO YOU DESIGN COMMERCIAL BARS FOR ADA COMPLIANCE?
———————————————————————————————————–
DOWNLOADS FOR THIS POST:
EATON_USB-Multi-family-Brochure.pdf
POPULAR DOWNLOADS:

2018_UNIVERSAL_BAR_CLEARANCES_WITH_ADA.pdf
BAR_AND_RESTAURANT_SEATING_GUIDELINES.pdf
———————————————————————————————————–
Need Help Completing Your Bar Plan? https://cabaretdesigners.com/media-press/89-need-help-completing-your-bar-plan
QUESTION — Have a question about Bar Design, Bar Equipment or Anything Else? Post in comments section of this video!

•••••••• Camera and Gear Used To Shoot This Video ••••••••
1. Canon SL2 with Kit Lens on Amazon
https://amzn.to/2TkTnt5
** Extra Canon EOS Battery
https://amzn.to/2DsppO8
2. SLIK Sprint 150 Aluminum Tripod
https://amzn.to/2PYY4Kj
3. Fovitec Studio Pro 600 LED Panel Bundle
https://amzn.to/2DJ2sXY
4. Camtasia Video Editing Software
https://amzn.to/2KaZWKr
Cabaret Design Group on Social Media:
https://twitter.com/DesignABar
https://www.instagram.com/bardesigners
https://www.pinterest.com/bardesigner
https://www.facebook.com/bardesigners
——————————————————————————————————————–
DISCLAIMER: The above video and description contains affiliate links, which means that if you click on one of the product links, I'll receive a small commission. This helps support the channel and allows us to continue to make videos like this. Thank you for the support!