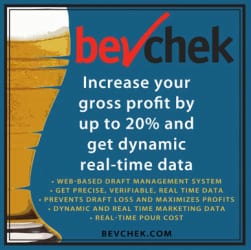 What is the BevChek beer inventory control system? Today we'll discuss why bar owners need draft beer inventory control and how BevChek improves bar profits.
Do you ever lie in bed wondering about the profitability of your bar's tap beer? You know at an average cost of $85 – $105 per keg for domestic beer, you should be making money hand-over-fist. You're up on the industry news and know what others are boasting, but why does it seem you're never among that group? Don't fret. This edition of the Design Buzz Productive Bar Design series discusses how BevChek helps bar owners pour draft beer profits in their pockets instead of their drains.
WHY DOES TAP BEER NEED TIGHT INVENTORY CONTROL?
According to a recent audit of 326 bars, 87.5% were found to exceed the state allowance for shrinkage*. If you think this has no potential consequence to you, think again. What this could ultimately mean is you can be billed for thousands of dollars for sales tax, penalties and interest in an audit by your state liquor commission for product that was not actually sold. The same report revealed that these bars are losing 15-25% of their draft beer. Although these results are only for one state, the author verified that these are consistent with the results he's seen over 20 years with over 1,000 bars and 5,000 audits / inventories of his own! To combat this problem, bar owners need to use effective inventory control, and this begins with effective methods.
Here's what you really need to know: on average, 50% of draft beer loss is at the retail value. This means owners are missing BIG bottom-line dollars without proper sales management. You see, it's not just inventory management, but also sales management! This is what my good friend Chuck Diebel, CPA, refers to as "The entire process."

HOW IS TAP BEER INVENTORIED?
As I described in the previous edition of Design Buzz (reference below), there are basically two different types of inventory methods for bar owners to estimate their tap beer inventory; only one – weighing – the service performed exclusively by BevInco dealers, is scientific in its approach. To me, BevInco provides the only reliable approach to inventory management. Recently, however, BevInco took it a step further, with the introduction of BevChek.
BEVCHEK: SCIENTIFIC INVENTORY IN REAL TIME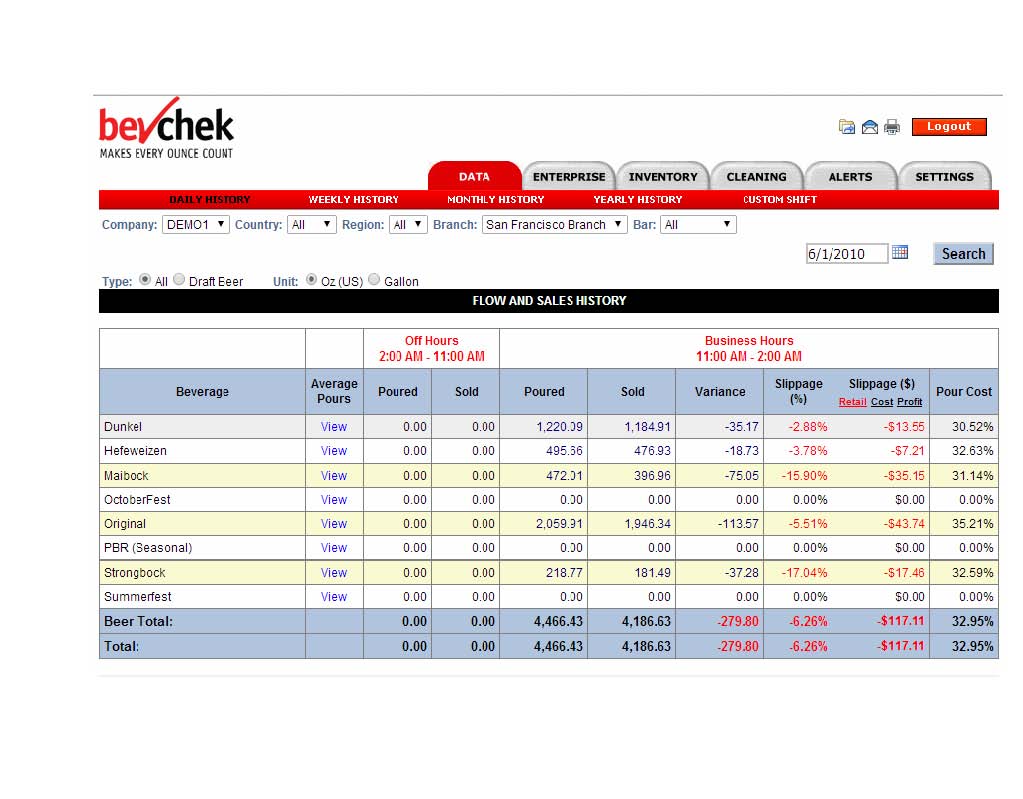 BevChek is a flow meter system which monitors the flow of tap beer product through each faucet (tap). The virtually-invisible hardware, installed at each tap, captures real-time pours through BevChek's proprietary technology. Designed specifically for the hospitality industry, BevChek provides owners with product sales information – by brand – from their POS terminals, such as:
Track product sales, inventory usage and variance, in real time.
Reports enable BevChek users to view usage and variance in both ounces and pour sizes.
Reports also express losses in terms of dollars at cost and dollars at retail value.
Monitors "After Hours" pours.
Customizable alerts can be sent via email or mobile phones if any reported pours exceed the normal threshold.
HOW DOES THE BEVCHEK BEER INVENTORY SYSTEM WORK?

The BevChek flow meters measure the volume poured of every drink and then communicates this information to the BevChek software.
The POS interface enables beverage sales data to be available at all on-premise POS terminals.
All data is sent – real time – to BevChek servers.
BevChek provides each bar owner with their own exclusive online account on BevChek's website.
Using any web-enabled device, bar owners can login to their exclusive BevChek account to view the resulting management reports.
Through a series of graphing tools and other screens, bar owners can check their real-time sales data and keg inventory. You can see some compelling examples of the various screens BevChek clients enjoy by downloading them below.

BevChek enables you to view the pour of each draft beer drawn, so you can isolate each bartender's performance. Because the BevChek system is monitored in real time, you will also know if beer is being poured – unauthorized – after hours! Not only do you have accurate inventory and cost information, but now a means of knowing just where all your beer is going.

Downloadables:
BevChek Sample Screenshot
BevChek DashBoard Sample Screenshot


How Much Does BevChek Service Cost?

Typically, BevInco dealers will provide a draft beer audit free-of-charge. No equipment needs to be purchased and there is no obligation for the free audit. If you decide to commit to the BevChek program, there is a one-time charge of $1,000 and $100 per tap (up to 70 taps). For example, if you have 20 taps, you will be billed a one-time charge of $3,000. After the initial installation, there is an ongoing charge of a mere $175 per month, which provides you with all of the support I listed above. If you consume 10 or more kegs per month, the BevChek is absolutely the finest service a bar owner could have.
HOW DOES BEER TEMPERATURE AFFECT BAR PROFITABILITY?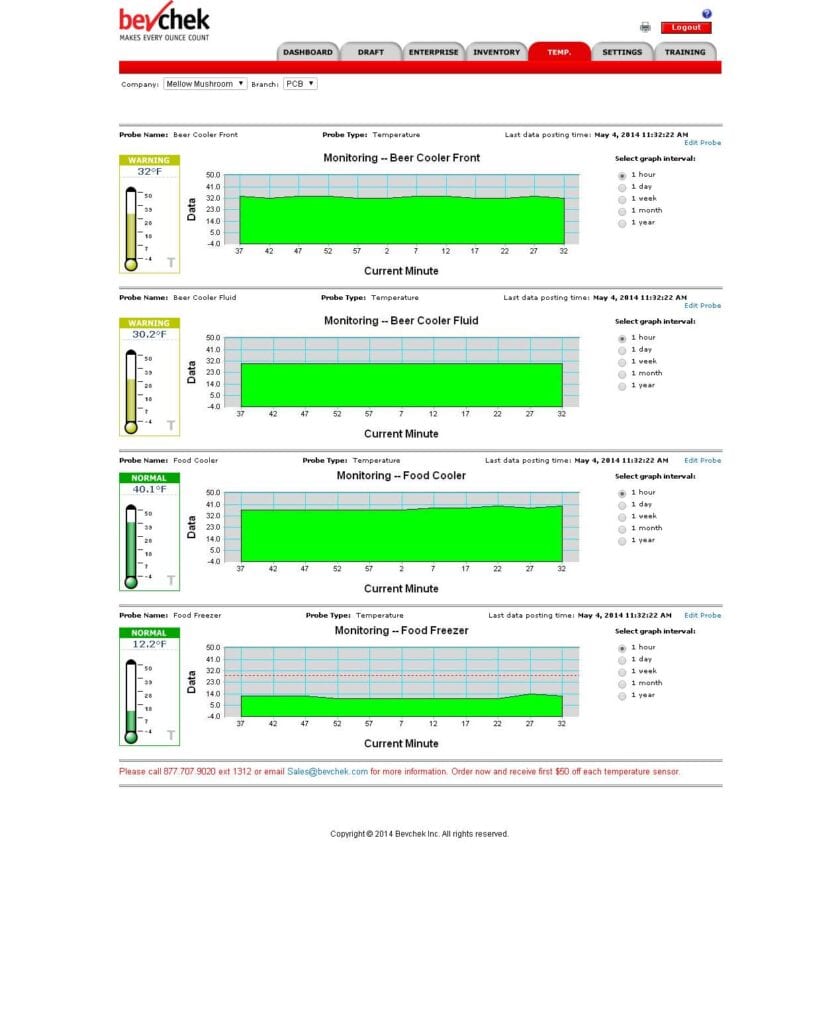 Optimizing tap beer profits hinges not only on your inventory method, but also about the temperature at which you are serving your beer. The ideal temperature for serving beer is between 32°-38°F (0°-3°C). When the temperature rises above 38°F, the CO2 goes from a gas to a liquid, which causes excessive foam. In fact, if you are serving your beer above 38°F, your beer profits start going down the drain. The GREAT news about BevChek is that it monitors the temperature of your kegs, as shown in the attached screenshot (at right), which you can download below. This is done in real time as well, friends!
The point I'm driving at is this: you must be serving beer at the tap between 32°-38°F, if you have any hope of maximizing the profitability of your tap beer program. This is accomplished by effective management of your walk-in cooler (WIC). One way to control the temperature of your WIC is to have a separate WIC for your draft beer and another for food. The idea, of course, is to reduce the number of times you open and close the door of your WIC; having separate WIC's for beer and food makes a great deal of sense, and we normally recommend this to our clients. Another way to guarantee this temperature range is to employ a glycol beer system, such as those sold by Chill-Rite 32, which you can learn more about by reading the blog post below.

Optimize your draft beer inventory to its fullest potential with BevChek and sleep peacefully at night knowing you are truly maximizing your draft beer profits!
Downloadable:
BevChek Monitoring Temperature Sample Screenshot

Related Posts:

Chill-Rite 32 Beer Systems: Ice Cold Beer for Nightclubs & Bars
Which Liquor Inventory System is the Best: AccuBar vs BevInco
How To Set Your Bar Staff-Up For Success


We Work International Customers
If your bar or nightclub application is outside the U.S., we'd be delighted to work with you! We're familiar with the metric system and can furnish you with the appropriate plans and specifications for construction. With our web-conferencing and Basecamp 24 x 7 project management system, we're fully capable of servicing your needs. Please click here to learn more about our methods.

Call Us for Your Next Design Project
Our standard bar design service includes all construction plans and equipment layouts. We would be happy to assist any gentlemen's club, night club, or bar owner who would like to incorporate time-proven design ideas into your venue. Please feel free to contact us.

Most Popular Articles
Pour My Beer: Self-Serve Beer Systems for Bars & Nightclubs
Ergonomic Bar Design For Maximum Profits
What Is "Pour Cost" and Why Is It So Important?
Top 5 Design Ideas about Purchasing Nightclub and Bar Furniture
Top 5 Design Tips and Advice for Bar and Nightclub Owners

---
* A 2014 state of Ohio sales tax audit brief by Chuck Deibel, CPA, which can be dlownloaded here State of Ohio Sales Tax Audit Brief.pdf