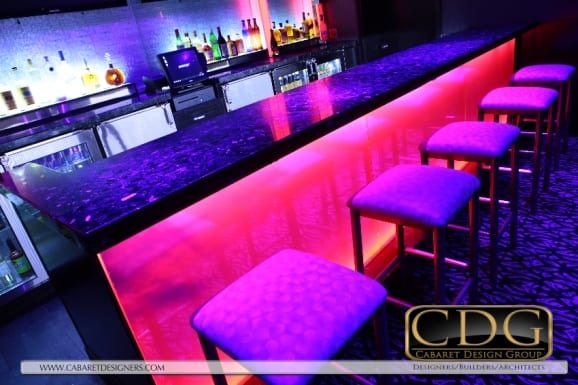 How do you design a bar for a small room? In this article we'll discuss the design tips and the minimum equipment for building a bar for a small room.

Do you have a small room for which you want to implement a bar? Where does one begin to understand the working space requirements and the type of bar equipment for a space-challenged condition? Bars can be designed for nearly any size room as long as you follow the design criteria and equipment in this article.
WHAT ARE THE SPACE REQUIREMENTS FOR A SMALL BAR?
Designing bars and nightclubs every day, the one thing I learned is that the old adage still applies: "Where there's a will there's a way." In other words, no space is too small. This isn't to say that we cast all sensibility to the wind, because nobody wants to drink in a closet and no bartender wants to work in one; there are limitations to everything. When talking about small bars, what I'm really addressing is how to design a bar for a small room. In a recent Design Buzz post (which you can read below), I talked about the emerging popularity of boutique nightclubs – a club within a club. This has a great deal of appeal to any nightclub where you want an exclusive space for high rollers. This is especially a great income stream for gentlemens clubs. A room such as this can be anywhere from 300 – 1,000 sq.ft. (28 – 93 m2). Here are the two most critical space requirements for a small bar:
For high-volume bars, the aisle in which the bartender works needs to be 36" (914mm). This provides enough room for a bar back.

The distance from the bar edge (where patrons rest their elbows) to the line of permanent obstructions (behind the patron) needs to be at least 48" (1,219mm).

The bartender space is of the utmost importance; reducing it might negatively impact productivity. From a practical perspective, a nightclub owner might want to forge ahead and squeeze the bartender's aisle. I'm totally against it for high-volume bars, but for limited-use rooms you can use the following design criteria:
For low-volume bars the bartender aisle needs to be 30" (762mm). This does not support a bar back.

For limited-use bars, i.e., part-time use for groups of less than 25, the bartender aisle can be as small as 24"(610mm), but this is only practical where the length of the bar is less than 10' (3m).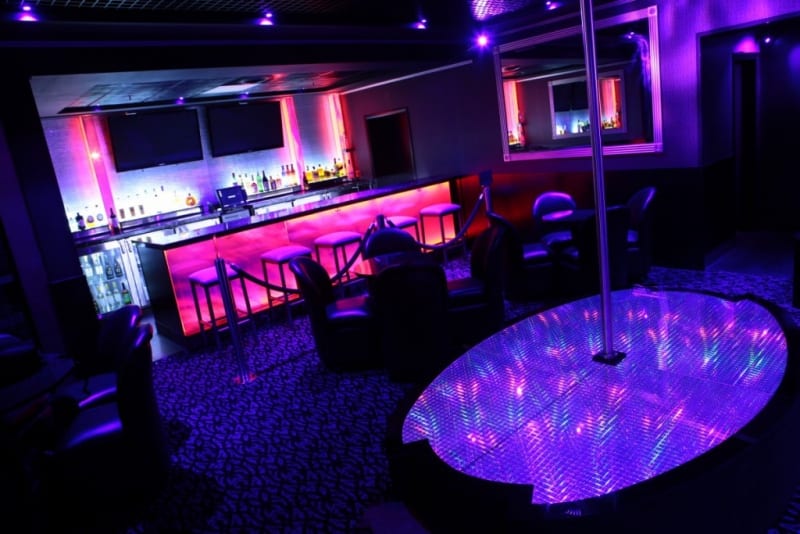 If you are implementing a bar into a narrow room, the first concession can be made to the backbar. Instead of using a beer cooler with visual display, such as the Glastender backbar cooler (shown in the photo at right), simply use an underbar slide-top beer cooler. The backbar should be dedicated to bottle display and cabinetry, and for this I recommend a 12" deep cabinet with a countertop set at bar top height, which is 42 – 44". In short, bars designed for narrow rooms, should have all bar equipment set under the bar. Here's an example of the equipment you should have, along with downloadable specification sheets:

· Drainboard 24" x 19" (longer units are available)
Speedrail 24" (longer units are available)
· Ice bin with cold plate, 24" x 19" (longer units are available)
· Drainboard blender station, 12" x 24"
· POS station, 18" x 24" or 24" x 24" (see discussion below)
· Hand sink w/paper towel dispenser, 12" x 24" (for download see dump sink above)
· Slide-top beer cooler, 48" x 24" (longer units are available)

WHERE IS THE BEST LOCATION FOR A POS STATION IN A BAR DESIGN?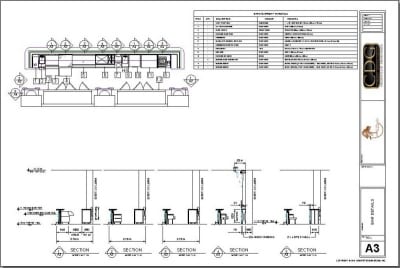 Some bar owners like to place the POS station (terminal, cash drawer, credit card machine, etc.) on the backbar, but for a small bar, there is virtually no space available on the back bar for a POS station. After all, if the bar in question is L-shaped and seats five or six patrons, you won't want it on the bar top, either. So what do you do? To properly accommodate your POS station, I recommend that you have a custom cabinet designed (either 18" x 24" or 24" x 24") for your bar and align it with the underbar equipment. Strangely, commercial stainless steel POS cabinets are set too low and are a strain on the bartender's back.
A custom POS cabinet should be designed with high sides which protrude above the bar top. This will serve to keep liquid from spilling over the edge of the opening. Implementing a custom POS cabinet will require that the bar top be cut to accommodate the POS, but honestly, this is the best design anyone could have for their bar. I'm a firm believer that the bartender should be facing the customer when operating the POS, as having it along the backbar only impedes productivity.

HOW DO YOU IMPLEMENT SODA LINES TO A REMOTE BAR?
This actually isn't a big problem. Soda lines are routinely run hundreds of feet in casino bars. You have to have soda lines brought to your ice bin cold plate so you have mixers for your drinks. Typically, your local syrup and CO2 vendor can be very helpful in accommodating your request. Your current bag-in-the-box location can often be setup to simultaneously service a remote bar. The good news is that your syrup vendor will often provide this service – and sometimes even the soda gun – free-of-charge!


Related Posts:

Bar Equipment Prices and How Much It Really Costs to Build a Bar

Top 3 Bar Design Ideas for Maximum Profits
We Work International Customers
If your bar or nightclub application is outside the U.S., we'd be delighted to work with you! We're familiar with the metric system and can furnish you with the appropriate plans and specifications for construction. With our web-conferencing and Basecamp 24 x 7 project management system, we're fully capable of servicing your needs. Please click here to learn more about our methods.

Call Us for Your Next Design Project
Our standard bar design service includes all construction plans and equipment layouts. We would be happy to assist any gentlemen's club, night club, or bar owner who would like to incorporate time-proven design ideas into your venue. Please feel free to contact us.

Most Popular Articles
Pour My Beer: Self-Serve Beer Systems for Bars & Nightclubs
Ergonomic Bar Design For Maximum Profits
Top 3 Reasons Not to Own a Commercial Ice Machine
What Is "Pour Cost" and Why Is It So Important?
Which Liquor Inventory System is the Best: AccuBar vs BevInco
Top 5 Design Ideas about Purchasing Nightclub and Bar Furniture