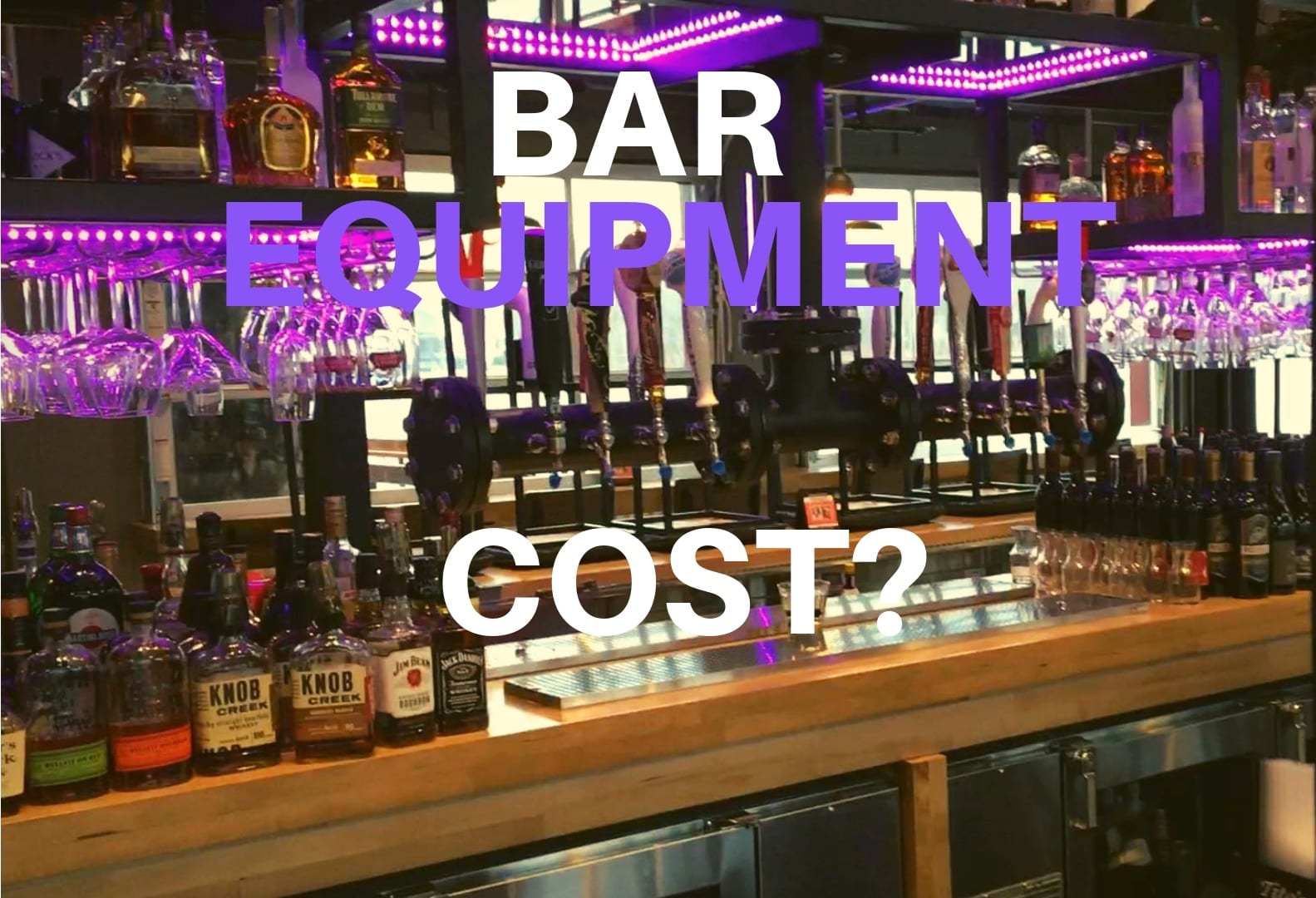 How much does bar equipment cost to build a bar?
Discover the equipment needed to build a bar and the cost of equipment for a typical bar cocktail station.
HOW MUCH DOES BAR EQUIPMENT COST TO BUILD A BAR?
The world of bar equipment can be overwhelming to the average person. If you've ever looked behind a bar and studied the equipment (I do this all the time!), you'll notice that the possible configurations seem nearly limitless. People have many reasons for the equipment they select for their bars, and some of these reasons don't make much sense — which leads to bartender inefficiency and lost profits. Ergonomics is the core of our bar equipment design process (reference below).
Related Blog Posts: 
Ergonomic Bar Design for Maximum Bartender Efficiency and Profits
PRICE LIST OF THE COMMONLY SPECIFIED EQUPMENT IN BAR DESIGN
For the sake of this discussion, I want to address the most common equipment used in commercial bar design, which is as follows and shown in the accompanying pictures (refer to the video above):
Dump sinks, used for discarding residue from used drink glasses, as shown in Figure 1 (below).
Hand sinks, used for hand-washing, refer to Figure 2 (below).
3-bin sinks, most typically used for washing bar glassware, as seen in Figure 3 (below).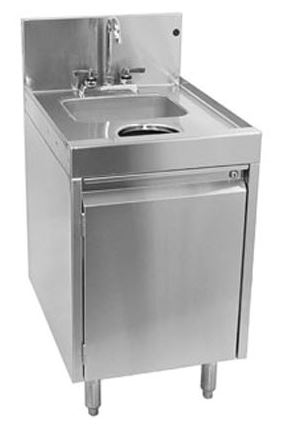 Glass washers, used in lieu of 3-bin sinks (see Figure 4, below).
Drainboards, which are used as a staging area for freshly-washed glassware (as shown in Figure 5).
Soda gun holder, used for catching soda gun drippage (shown in Figure 6).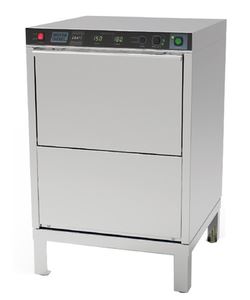 Ice bins, which hold ice and normally include a cold plate for accommodating multiple soda lines for cold drink preparation, shown in Figure 7 with a single speed rail.
Liquor displays, which are stainless steel racks used to hold the fastest-moving liquor, as seen in Figure 8.
Blender stations, where frozen drinks are blended, as shown in Figure 9.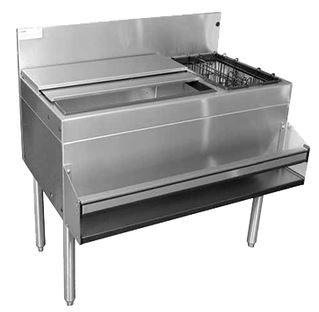 POS (point-of-sale) podiums, shown in Figure 10, are custom-designed for maximum bartender efficiency.
Drink rails, for preparing drinks, as shown in Figure 11.
Back bar coolers, used for storing beer and wine, as shown in Figure 12.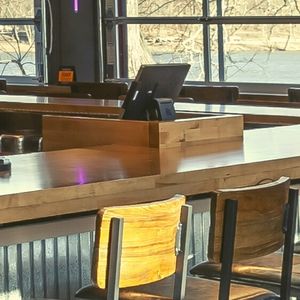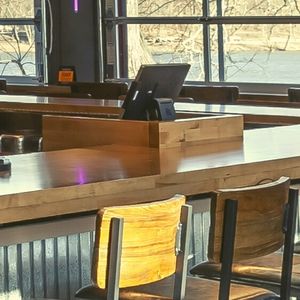 Slide-top coolers, which can be placed under the bar or back bar, as seen in Figure 13.
Waste receptacles, seen in Figure 14.
Ice machines, typically stored back-of-the-house, as shown in Figure 15.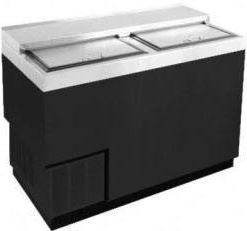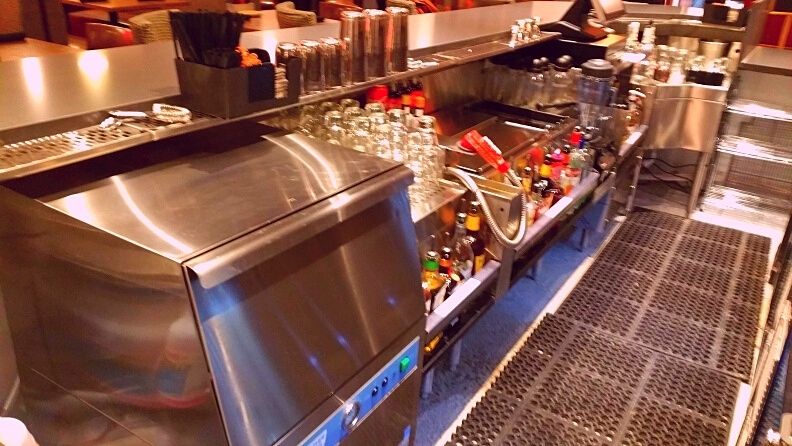 WHAT HEALTH DEPARTMENTS SAY ABOUT 3 COMPARTMENT SINKS
Very few bar owners prefer a multi-compartment sink to wash glassware. Health departments require a 3-compartment sink or automatic glass washer. A minimum of one dump sink and one hand sink are required by local health codes.
THE REAL FACTS ABOUT GLASS WASHING
Here's what you really need to know:
The 4-compartment sink is actually a dump sink and a 3-compartment sink housed in a single unit.
If other dish washing facilities exist on-premise (commercial kitchens), most U.S. health departments will accept an automatic glass washer in lieu of a 3-compartment sink.
There is an effective "work-around" for using a glass washer (and maintaining compliance).
Given the above, have your local health department review your bar plans before you order equipment.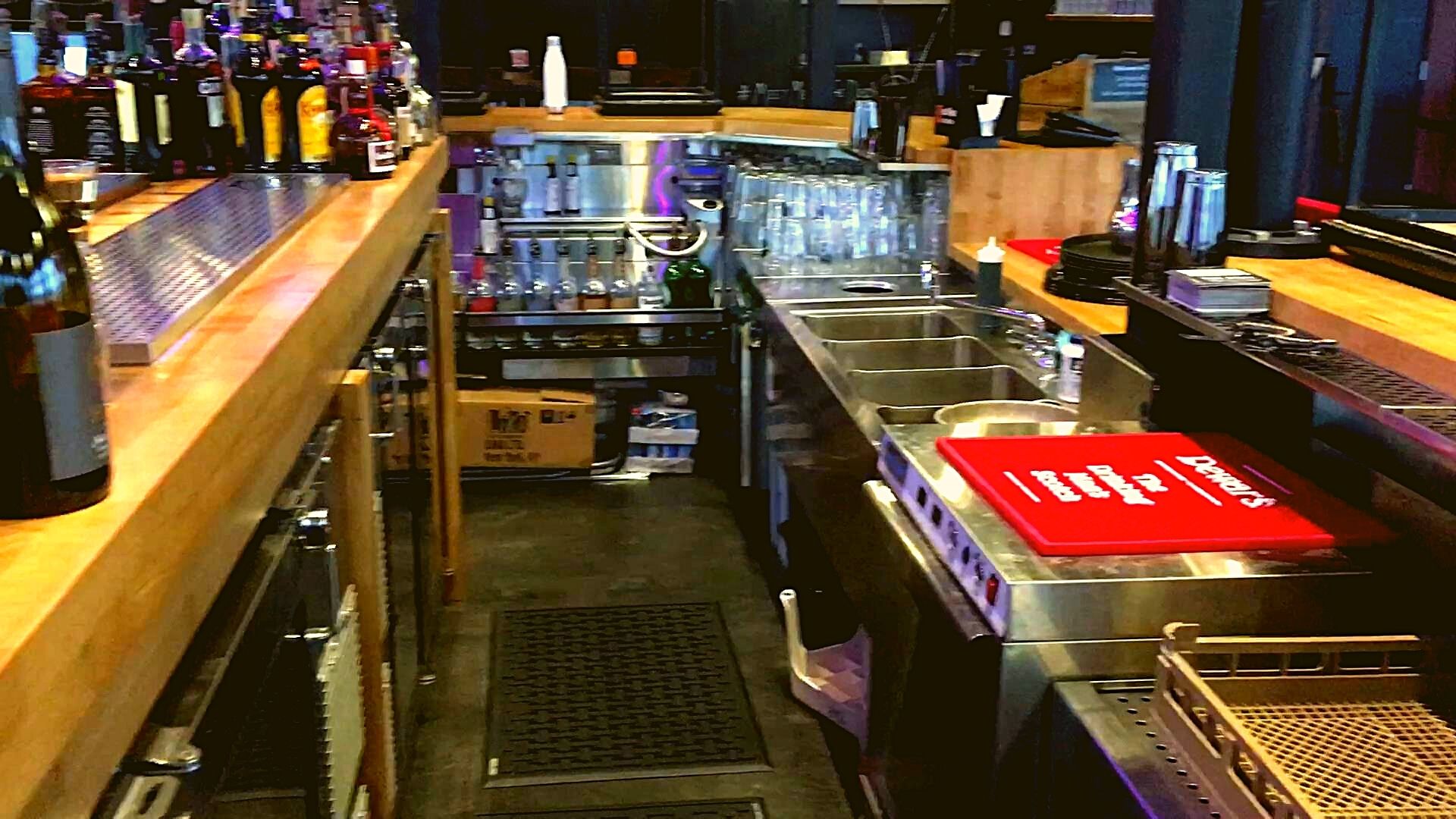 HOW MUCH DOES BAR EQUIPMENT COST?
Depending on sizes, features and make, there can be a great disparity in bar equipment pricing. The big names in stainless bar equipment are Glastender, Perlick, Krowne Metal and True Mfg. For underbar and backbar equipment, I am most familiar with Glastender pricing, as it's the brand I like best. These are the current average retail prices for the most commonly specified equipment in commercial bar design:
ITEMIZED BAR EQUIPMENT PRICING
| | | |
| --- | --- | --- |
| Item | Description | Price Ea. |
| 1. | 12" x 24" dump sink, Glastender SWB-12 | $900 |
| 2. | 12" x 24" hand sink, Glastender HSB-12 |   900 |
| 3. | 3-bin sink, 60" x 24" w/2 drainboards, Glastender TSB-60-S | 1,825 |
| 4. | Glass washer (automatic), rack type, Moyer Diebel 601HRG | 7,800 |
| 5. | Drainboard glassrack, 24" x 24", Glastender DBGR-24 | 1,000 |
| 6. | Soda gun holder, Glastender SHA-4 | 345 |
| 7. | Ice bin combo cocktail station w/10-circuit cold plate, 36" x 19", Glastender CBA-36R-CP10 | 2,715 |
| 8. | Speed rail (single), 40", Glastender SSR-40 | 140 |
| 9. | Liquor steps, Glastender LDA-24-S | 940 |
| 10. | Drainboard blender station, 12" x 24", Glastender DBSA-12 (blender not included) | 860 |
| 11. | POS station, 24" x 24" x 36" custom-built, laminate (see photo above) | 1,000 |
| 12. | Back bar cooler, 60" x 24", stainless w/glass doors (shown above), Glastender C1FB60 | 4,880 |
| 13. | Slide-top cooler, 48" x 24", black clad, stainless interior, Glastender ST48-B | 2,180 |
| 14. | Waste receptacle, 11" x 20" x 30", Rubbermaid "Slim Jim" S-9971 | 30 |
| 15. | Ice machine (cuber), 500# capacity, Hoshizaki IM-500SAB | 4,220 |
| 16. | Ice machine ice bin, Hoshizaki IM-700SF (added to the above) | 1,400 |
| 17. | Drop-in drain, Glastender DI-DP 18X24 (inserted into the bar top) | 340 |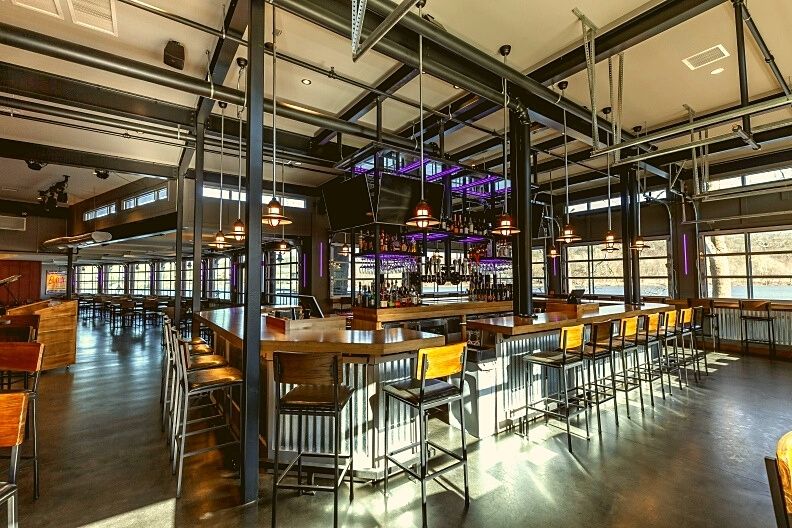 BUDGET PRICING FOR A SINGLE BARTENDER STATION
To put all this into perspective, in late 2021, the average cost for underbar stainless steel equipment is about $900 per linear foot. You'll have to add for the glass washer, back bar coolers and ice machine. The cost of a 25′ 2-station bar with stainless steel drink rail, one glass washer and one ice machine is about $47,000. Nowadays I budget $2,000 per linear foot for bar equipment. Draft beer systems is a subject unto itself which requires much discussion and many decisions. I cover draft beer systems in a separate blog post, listed below. The above price list can be downloaded below.
My favorite glass froster: https://amzn.to/2Uuotjk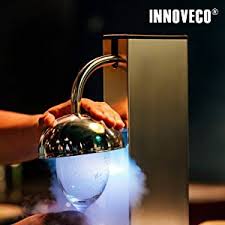 Downloadable:
ITEMIZED BAR EQUIPMENT PRICE LIST FOR 2022
Free Consultation
Contact Us Today to Schedule Your Free Consultation!

THE WORST THING THAT CAN HURT YOUR BAR BUSINESS: FAILURE TO COMPLY WITH ADA REQUIREMENTS
The Americans with Disabilities Act of 1990 ('ADA'), has found its way into bar design. Bars are now required to accommodate a space 36" in length for one patron to sit at every bar. Here are some effective methods to design a bar for ADA compliance. The frightening thing going on recently are what is known as "Drive-By ADA Lawsuits," where bar owners everywhere are mercilessly thrown under the bus, irrespective of "Grandfather" status! I've written about ADA drive-by lawsuits here. This is a must-read! 
MOST POPULAR ARTICLES:
HOW MUCH DO DRAFT BEER SYSTEMS COST?
WHAT DOES IT COST TO BUILD A COMMERCIAL BAR?
BAR DESIGN IDEAS – HOW TO DESIGN COMMERCIAL BARS FOR ADA