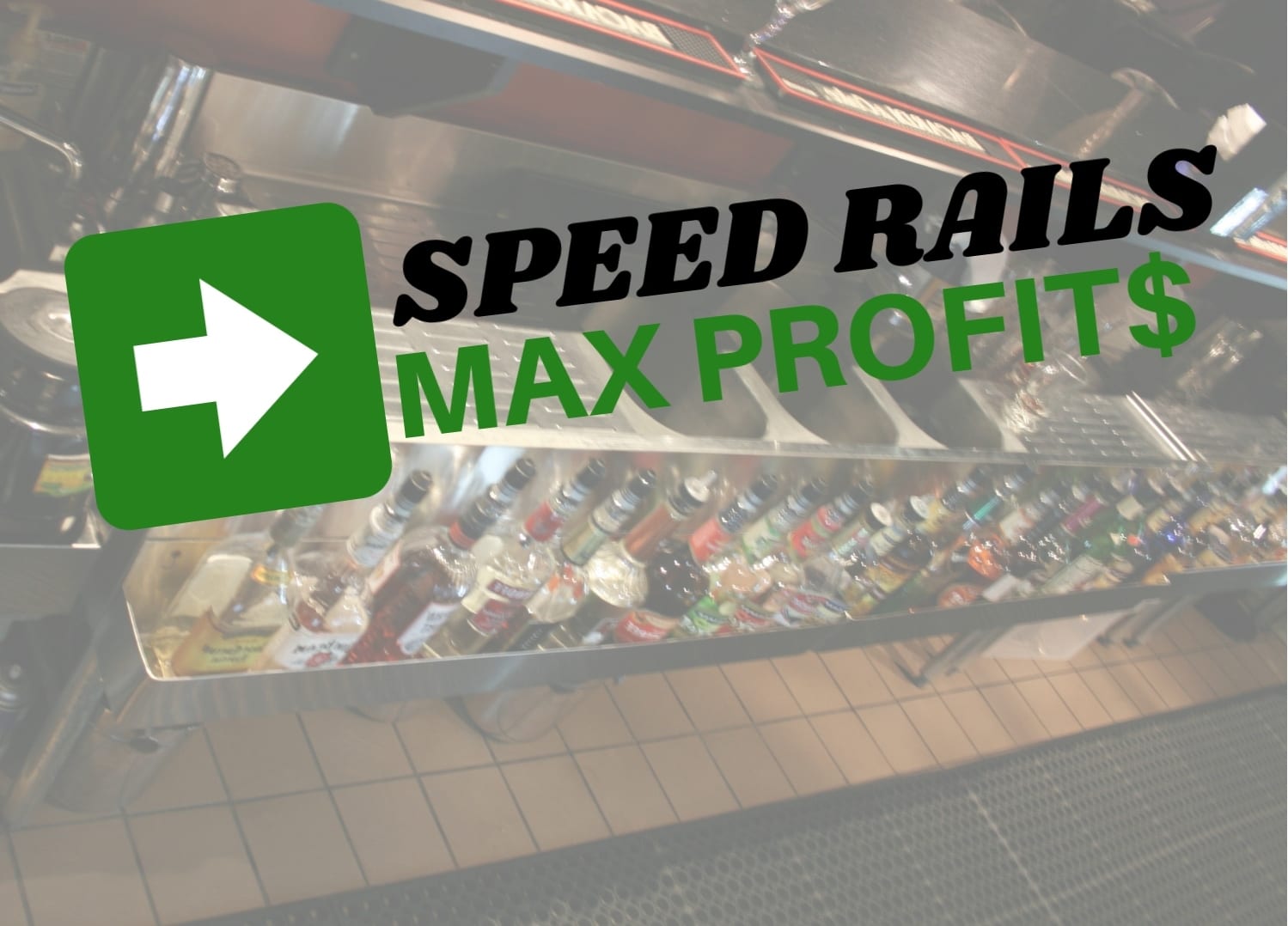 How is it why speed rails can be so critical to bar profits? Today I'll demonstrate how the two are intertwined and the critical nature of proper installation.
Proper speed rack size, location and operation can maximize bartender ergonomic efficiency and profits for bars.
WHY SPEED RAILS CAN IMPACT BAR PROFITS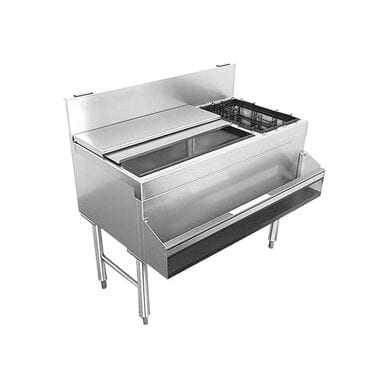 Most bars that serve alcohol and have underbar equipment will generally have speed rails. While many bar owners are familiar with the speed rail, many don't understand why speed rails can be so critical to bar profits. For those unaware, a speed rail is a bar equipment accessory that attaches to the side of underbar stainless equipment and is used to store a combination of inexpensive, "well" liquor, the best-selling non-"well" liquor and spirits and mixers. Speed rails are generally fabricated from stainless steel, as shown in this photo. They are often purchased as an accessory when ordering items such as ice bins, as shown here. The speed rail derives its name from the fast-moving liquor it generally stores and the ability of the bartender to quickly access it. The term "well" is a connotation synonymous to "bottom-of-the-barrel," but don't be misled: not all liquor in speed rails should be well liquor. The speed rails in a well-engineered bar equipment plan will have a strategic product lineup that would contain a combination of lower price point vodka, rum, gin, tequila, etc., as well as Jack Daniels, Jim Beam, Jose Cuervo, Dewars, Black Label, Grey Goose, Tito and mixers such as triple sec, dry vermouth, sweet vermouth, Rose's Lime Juice, schnapps, etc. However, the optimal product mixture will vary according to demographic favorites.
HOW TO IMPLEMENT SPEED RAILS IN ERGONOMIC BAR DESIGN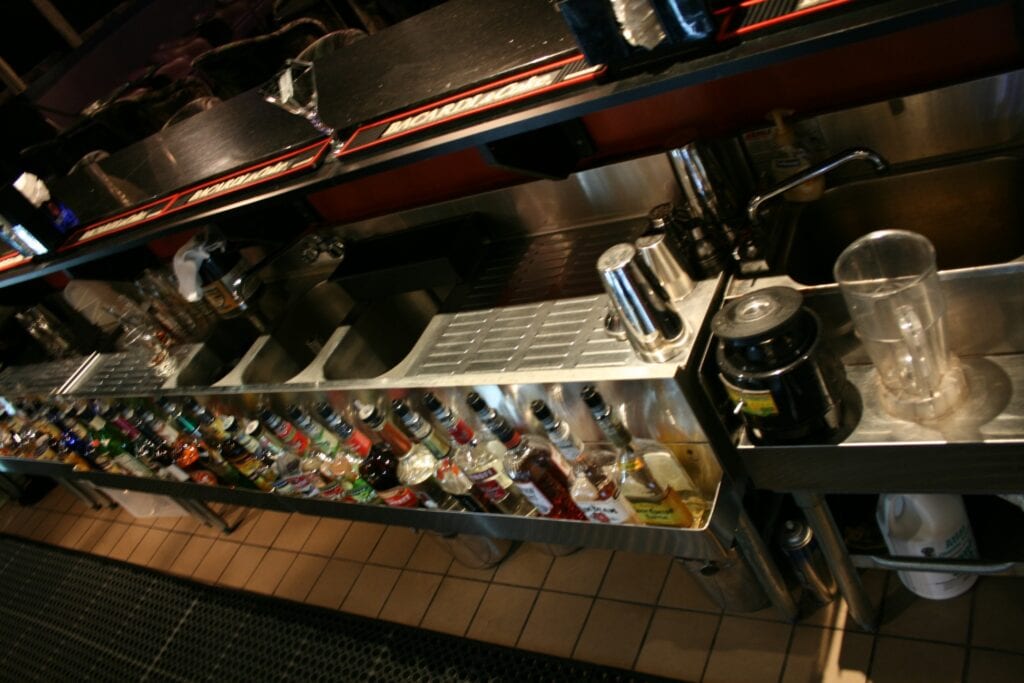 Each bar station should have its own speed rail. As shown in this plan, speed rails are attached to the side of drainboards, ice bins and 3-bin sinks. Speed rails should be set so their bottoms are about 12" – 14" above the floor, so the tops of the bottles within them are at 30" above the floor – which is level to the working surface of the underbar stainless, as shown in this photo. A well-planned speed rail will contain as many as 20 carefully selected products. With the average bottle being 4" in dia., this equates to over 80" of necessary speed rail for the typical bar station. Optimal bar design should have 70 – 80% of bartenders movements to be in front and side-to-side.
AVOID THE USE OF DOUBLE SPEED RAILS!
Although they're commercially available, by all means, avoid using double speed rails! This layout depicts the harmful effects of double speed rails. As shown here, the double speed rail causes a 6' tall bartender to stand 5" further back and lean forward an extra 10 degrees. Double speed rails do nothing but contribute to bartender back strain and compromised efficiency, which is why improper application of speed rails and bar profits can be so critical. Keep your underbar equipment within the 24" lateral envelope as I depict in the downloadable sketch (below). Remember that maximum bar profits are the end-result of maximum bartender efficiency, which requires bar design rooted in ergonomics.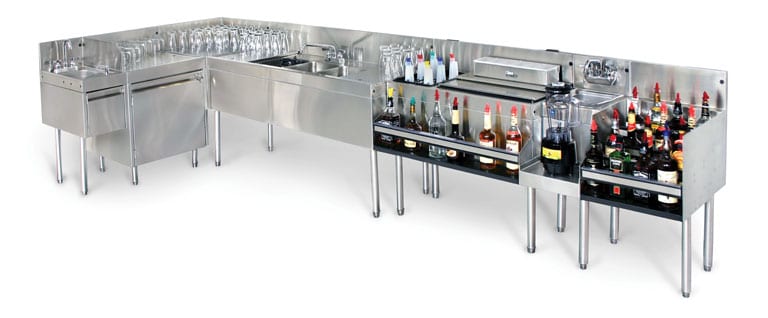 If you don't have the available space to incorporate an adequate speed rail, then include combine your speed rail with a tiered underbar bottle display, such as the Glastender model #LDA-24, shown in this photo. Stick with these design principles and you'll enjoy maximum bar profits.

Free Consultation
Contact Us Today to Schedule Your Free Consultation!
———————————————————————————————————
RELATED POSTS:
WHERE SHOULD BAR OWNERS LOCATE THEIR POS TERMINALS?
ERGONOMIC BAR DESIGN FOR MAXIMUM BARTENDER EFFICIENCY AND PROFITS
WHAT DOES BAR EQUIPMENT COST TO BUILD A BAR?

POPULAR POSTS:
HOW MUCH IS MY BAR DESIGN REALLY GOING TO COST?
DESIGNING AN AWARD-WINNING BAR WITH WILSONART PRODUCTS
GLYCOL COOLED vs KEGERATORS – WHICH DRAFT BEER SYSTEM TO BUY?
BEST VALUE LIGHTING PRODUCTS FOR BAR DESIGN
COMMERCIAL BAR DESIGN – A TOP 7 LIST OF BAR FINISHING IDEAS
———————————————————————————————————
QUESTION — Have a question about Bar Design, Bar Equipment or Anything Else? Post in comments section of this video!
———————————————————————————————————
•••••••• Camera and Gear Used To Shoot This Video ••••••••
1. Canon SL2 with Kit Lens on Amazon
https://amzn.to/2TkTnt5
** Extra Canon EOS Battery
https://amzn.to/2DsppO8
2. SLIK Sprint 150 Aluminum Tripod
https://amzn.to/2PYY4Kj
3. Fovitec Studio Pro 600 LED Panel Bundle
https://amzn.to/2DJ2sXY
4. Camtasia Video Editing Software
https://amzn.to/2KaZWKr
———————————————————————————————————
Cabaret Design Group on Social Media:
https://twitter.com/DesignABar
https://www.instagram.com/bardesigners
https://www.pinterest.com/bardesigner
https://www.facebook.com/bardesigners
———————————————————————————————————
DISCLAIMER: The above video and description contains affiliate links, which means that if you click on one of the product links, I'll receive a small commission. This helps support the channel and allows us to continue to make videos like this. Thank you for the support!