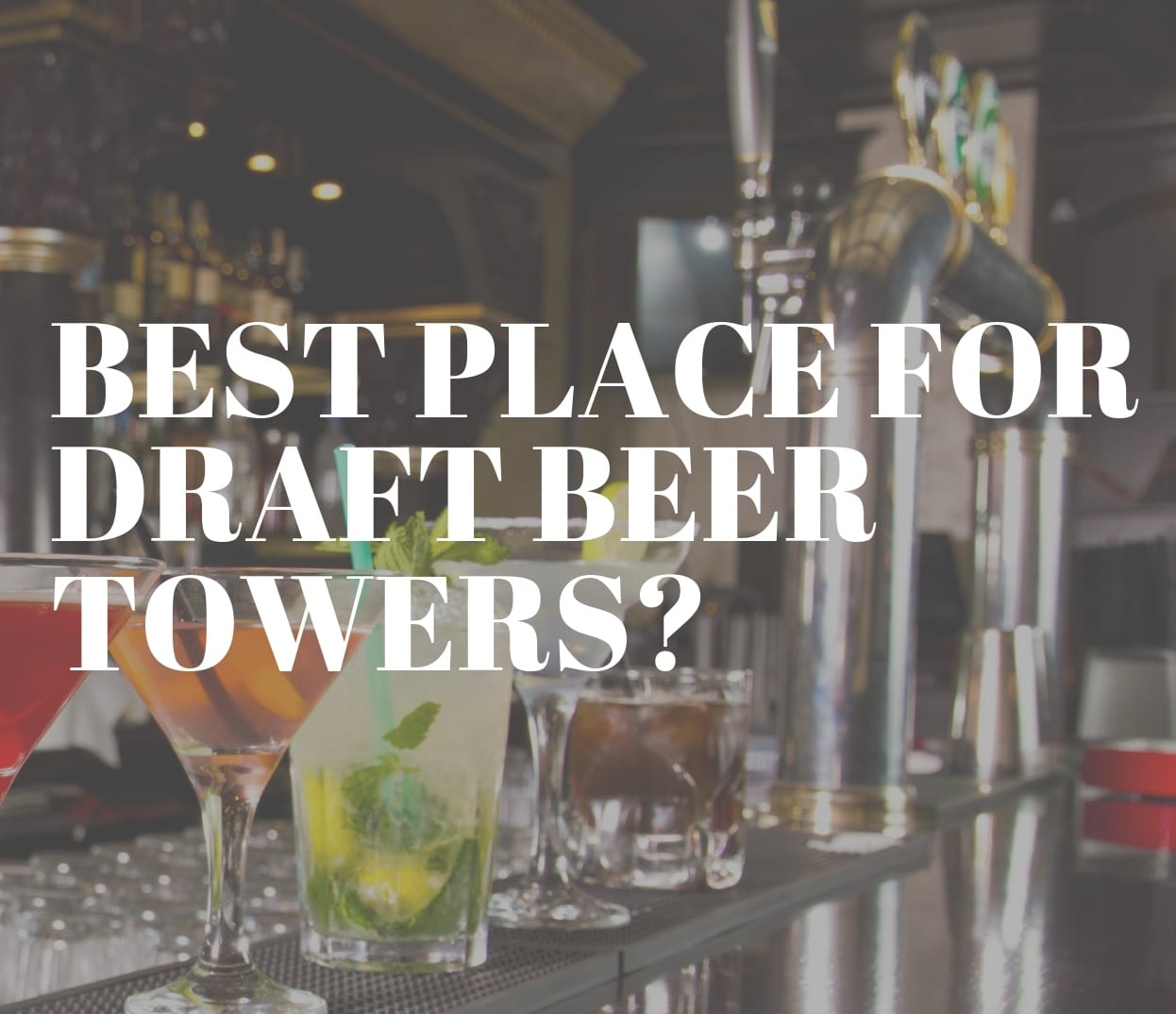 What is the best location for draft beer towers – the front bar or back bar?
Learn how ergonomics plays into bartender efficiency and maximum bar profits.
BEST DRAFT BEER TOWER LOCATION – FRONT BAR OR BACK BAR?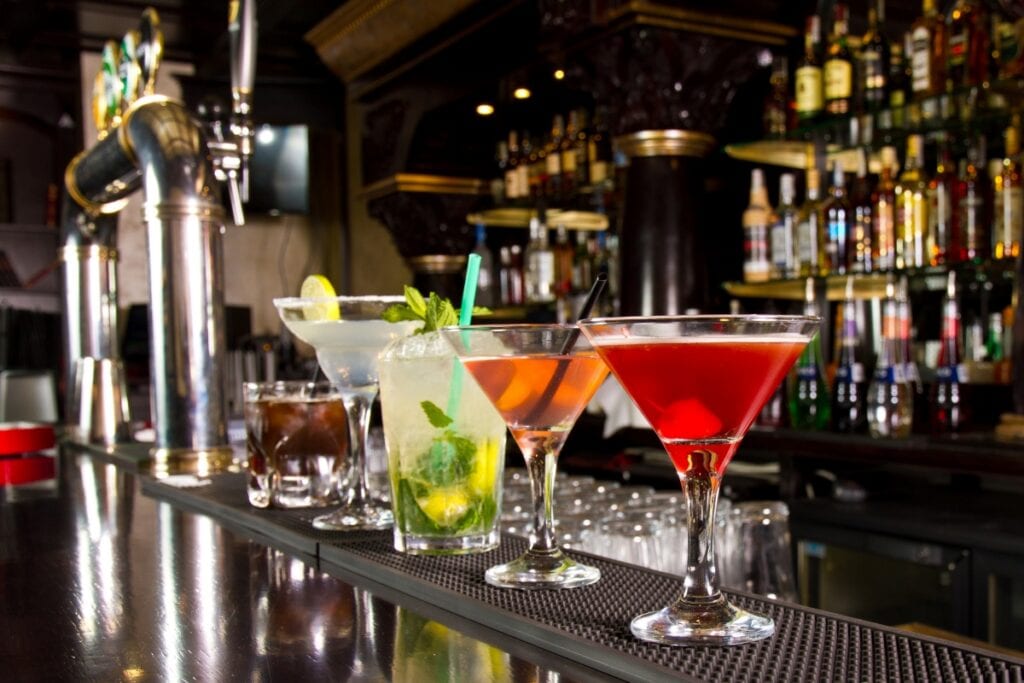 Just as with the POS terminal, draft beer should be set-up along the front bar. In addition to the inherent efficiency of this
approach, setting draft beer along the front bar frees-up greater liquor display and access, as seen in this photo. It's amazing how many people don't understand the value of this concept. Folks, draft beer towers along the front bar is a very common practice. Here's some helpful insight:
DRAFT BEER TOWERS ON THE FRONT BAR: THE OPTIMAL LOCATION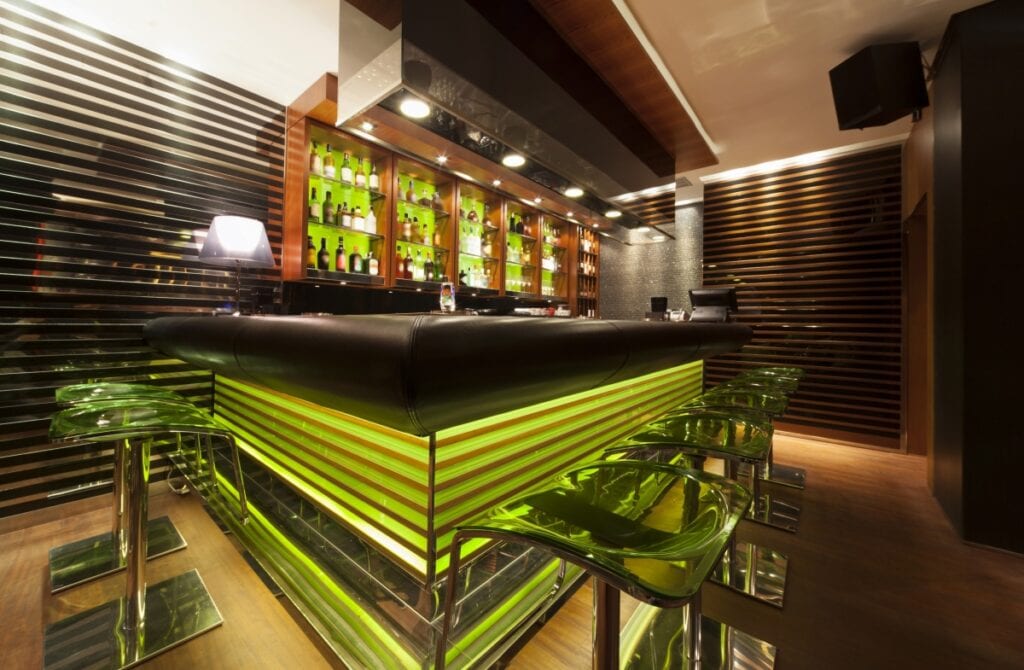 Beer towers on the front bar are easy to accommodate, as they only require minor modifications to the bar top. The only thing you need to concern yourself with is having a drainboard below the tower. However, if you don't already own a long-draw draft beer system, there are costs and considerations which go significantly beyond the tower itself and this is discussed in one of our videos (refer below).

Beer towers located on the back bar is the least-practical approach of all. Consider the example shown here. As you can see, this back bar has 2-tiered liquor displays and shelving above, in each of three locations. Placing a single draft beer tower on the back bar virtually impales the bartender's ability to access about 25% of the premium liquor in this example! Back bars are intended to display your most expensive liquor, so you can maximize liquor sales; they're part of the bar owner's in-house marketing program. Placing draft beer towers along the back bar creates two problems: it blocks the bartender's ability to reach lower-level premium liquor and diminishes the effectiveness of the liquor display. Let's remember that mixed drinks generate up to twice the profit of draft beer, according to my good friend and industry expert, Chuck Deibel, from his column "Last Call" in the Ohio Beverage Monthly, as written in my blog post "What Are The Most Profitable Drinks?"
Placing draft beer towers on the front bar enables the bartender to maximize his/her efficiency by working from side-to-side. The idea that draft beer towers aren't practical along the front bar is just a myth – it's done everywhere and for very good reason! For you neat-freaks out there, an alternate location for beer towers on the front bar is to mount them directly to the drainboard below, as shown in this photos. This method will keep the bar top unobstructed.
Free Consultation
Contact Us Today to Schedule Your Free Consultation!
———————————————————————————————————
RELATED POSTS:
WHERE SHOULD BAR OWNERS LOCATE THEIR POS TERMINALS?
ERGONOMIC BAR DESIGN FOR MAXIMUM BARTENDER EFFICIENCY AND PROFITS
POPULAR POSTS:
HOW MUCH DOES IT COST TO BUILD A COMMERCIAL BAR?
HOW TO DESIGN AN AWARD-WINNING BAR WITH WILSONART PRODUCTS
GLYCOL COOLED vs KEGERATORS – WHICH DRAFT BEER SYSTEM TO BUY?
BEST VALUE LIGHTING PRODUCTS FOR BAR DESIGN
COMMERCIAL BAR DESIGN – A TOP 7 LIST OF BAR FINISHING IDEAS
——————————————————————————————————–
QUESTION — Have a question about Bar Design, Bar Equipment or Anything Else? Post in comments section of this video!
——————————————————————————————————–
•••••••• Camera and Gear Used To Shoot This Video ••••••••
1. Canon SL2 with Kit Lens on Amazon
https://amzn.to/2TkTnt5
** Extra Canon EOS Battery
https://amzn.to/2DsppO8
2. SLIK Sprint 150 Aluminum Tripod
https://amzn.to/2PYY4Kj
3. Fovitec Studio Pro 600 LED Panel Bundle
https://amzn.to/2DJ2sXY
4. Camtasia Video Editing Software
https://amzn.to/2KaZWKr
——————————————————————————————————–
Cabaret Design Group on Social Media:
https://twitter.com/DesignABar
https://www.instagram.com/bardesigners
https://www.pinterest.com/bardesigner
https://www.facebook.com/bardesigners
——————————————————————————————————–
DISCLAIMER: The above video and description contains affiliate links, which means that if you click on one of the product links, I'll receive a small commission. This helps support the channel and allows us to continue to make videos like this. Thank you for the support!