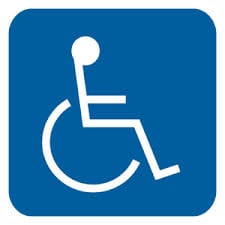 How can you protect your bar or nightclub from an ADA drive-by lawsuit? Here are the the top claims of ADA complaints and some tips and advice to keep you safe.
In Part 1 of this story, we learned that nightclub and bar owners aren't only the daily victims of frivolous lawsuits, they now have "drive-by" ADA lawsuits to worry about. We also now have 'frequent filers' – people with disabilities who are encouraged to file literally hundreds of lawsuits (each) against anyone and everyone who is in their targeted path. The plaintiffs are sometimes recruited by unscrupulous lawyers who provide the targeted paths. The drive-by plaintiffs aren't patrons of the establishments; they are merely sent there with the express purpose of discovering an ADA violation and filing a lawsuit. Sound ominous? You bet! If you don't want to fall prey to yet another lawsuit, continue reading. 
WHAT CAN NIGHTCLUB AND BAR OWNERS DO TO PROTECT THEMSELVES AGAINST DRIVE-BY ADA LAWSUITS?
According to attorney Margaret Paget, of Boston law firm Sherin and Lodgen, in the September 2012 edition of "The Griffin Report," (which you can download below):
Make parking lots and paths of travel accessible – these claims top the list of ADA complaints
Ensure the parking area has a sufficient number of properly designated handicapped parking spots, including van-accessible spots.
Ensure that handicapped parking spots are marked with adequate signage.
Ensure that there are accessible routes of travel from the parking area to the facility.
Provide accessible public restrooms
Like parking, publicly available restrooms are frequently the subject of ADA complaints.
It is better to have one fully-accessible bathroom than multiple bathrooms that are only partially accessible.
Keep records
If you are sued, having complete and thorough records will help in defending against the claims.
Keep detailed records of any repairs, alterations or renovations performed at the property.
For projects involving the removal of barriers to comply with the ADA, maintain records, including receipts and all related documentation.
Keep records of any visitor complaints pertaining to accessibility."
I've always been in favor of the grandfathering concept, but that seems to have hit the skids. I can understand the need for businesses to ultimately be compliant with ADA standards. I think drive-by ADA lawsuits are ludicrous and unfair and should be outlawed; nobody should profit unfairly due to noncompliance. My position is that all business owners should be given fair notice and a fair period to make the changes necessary for compliancy.
WHAT NIGHTCLUB OWNERS NEED TO KNOW ABOUT THE BUILDING CODE
Most importantly, consult a local architect because he/she understands all the requirements of ADA compliancy and local building codes. This is critical, because the ADA updated its standards for accessible design in 2010. Always remember that national codes are considered to be the minimum acceptable standard; and that a local municipality has within their sovereign rights to require a higher standard — and sometimes do. A local design professional will be able to guide you properly so you will also meet all necessary state and local codes. This will add the layer of insurance you will need to help protect you against any claims.


My Recommendations:
If I owned a nightclub or bar, these are the thing I would do, and in the following order —
I would immediately focus my attention to the parking lot. Many of the drive-by plaintiffs have never set foot inside the respective place of business named in the lawsuit. This is why parking lot claims are at the top of the ADA complaint list.
Secondly, I would also seriously look at providing a ramp inside your club, if you have multiple levels. Speaking of ADA-compliant ramps and handrailings, a company that does a very good job of manufacturing them is Thompson Manufacturing in Tarrant, AL.
Upgrade the restrooms.
Please take this as a serious recommendation. Being on the receiving end of an ADA lawsuit, especially of the drive-by variety, is not a pleasant thought, especially when you also have to pay the plaintiff's legal fees – who could be expressly sent to your establishment because they know they can extort money from you.
Downloadable:
Griffin Report: How To Avoid Drive-By ADA Lawsuits

Related Posts:

Drive-By ADA Lawsuits Against Bar & Nightclub Owners, Part 1
How To Set Your Bar Staff-Up For Success
Productive Bar Design: State Audit Peace of Mind With BevInco


We Work International Customers
If your bar or nightclub application is outside the U.S., we'd be delighted to work with you! We're familiar with the metric system and can furnish you with the appropriate plans and specifications for construction. With our web-conferencing and Basecamp 24 x 7 project management system, we're fully capable of servicing your needs. Please click here to learn more about our methods.

Call Us For Your Next Design Project
Our standard bar design service includes all construction plans and equipment layouts. We would be happy to assist any gentlemen's club, night club, or bar owner who would like to incorporate time-proven design ideas into your venue. Please feel free to contact us.

Most Popular Articles
Pour My Beer: Self-Serve Beer Systems for Bars & Nightclubs
Bar Equipment Prices: How Much It Really Costs To Build a Bar
Stripclub Acquisitions: Existing Construction vs Ground-Up
What Is "Pour Cost" and Why Is It So Important?
The Best Liquor Inventory Management System : AccuBar vs BevInco
Top 5 Design Ideas about Purchasing Nightclub and Bar Furniture