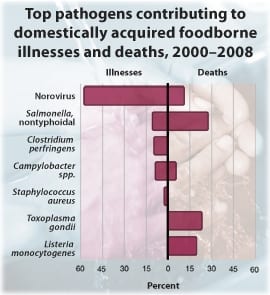 What are the facts about foodborne illness? If you serve food in your bar or nightclub you should know about food saftey and how social media can help.
Have you ever had food poisoning? If so, did you report this to your local health department and receive little or no satisfaction? Are you aware that every year 1 out of every 6 people have experienced food poisoning in the U.S.? This edition of Design Buzz discusses the subject of food safety and how a new business is ready to help enforce your healthy eating through social media.
THE FACTS ABOUT FOODBORNE ILLNESS IN THE RESTAURANT INDUSTRY
The Centers for Disease Control and Prevention (CDC) estimates annually that 1 in 6 Americans (about 48 million people) get sick, 128,000 are hospitalized and 3,000 die of foodborne diseases*. The CDC report "2011 Estimates of Foodbourne Illness in the United States," which can be downloaded below, is very informative – especially if you have a masters degree in microbiology! But let's face it folks, who understands the difference between salmonella and listeria? While the majority of this report is beyond the comprehension of most, the portion that caught my eye is the last paragraph, titled "What can consumers do to protect themselves from foodborne illness?" Of the five precautions the CDC lists that Americans should practice to protect themselves, the last, "Report," is the most interesting: call your local health department. Have you ever had any success calling your local health department? You might be shocked at the following:

In the September 1, 2013 edition of the Chicago Tribune, a story titled "City Falls Far Short Inspecting Restaurants," which can be downloaded below, the city is so under-staffed that it isn't even inspecting restaurants once yearly. The federal Food and Drug Administration recommends a minimum of one inspection every six months. Sluggers, a popular Wrigleyville sports bar, had not been inspected in two years, at the time of this story!

In a published report on May 23, 2014 on Slashdot.org, which can be downloaded below, "In 2012, New York City's Department of Health and Mental Hygiene (DOHMH) found that residents weren't turning to the city's free 311 service to make such complaints, but rather they were reporting their experiences in Yelp reviews." After a nine-month long collaborative study between the New York City DOHMH, Yelp and Columbia University, in which it was discovered that 97% of actionable complaints had not been reported to the city, the study concluded that the "social media sphere" would provide the public with more options to report complaints about restaurants in the identification and possible closure to foodborne illnesses.

According to the story from the Chicago Tribune, staffing is the heart of the problem. In a city with a population of over 2.5 million and over 12,000 retail food establishments, there were only 38 full-time inspectors at the time the story was reported. The likely culprit in both cities is probably their budgets. And it doesn't end there, as nearly every city in the U.S. seems to be in the same boat. So what's the answer?

Downloadables:
2011 Estimates of Foodbourne Illness in the United States
City Falls Far Short Inspecting Restaurants
Story published on Slashdot May 23, 2014

HOW SOCIAL MEDIA CAN IMPROVE OUR FOOD SAFETY AND HEALTH PROBLEMS
Of course, when we talk about retail food, we're not just referring to restaurants. Also included in this group are bars, sports bars and nightclubs – any establishment that serves food. From the NYC study we see how the first resource people are utilizing is Yelp, but Yelp isn't a place where anyone goes for action – it's used in the same way as Facebook. This dilemma hasn't gone unnoticed, as one man has seen the solution for this growing problem. Ron Van Der Molen of Chicago recognized the opportunity to use social media as an actionable resource for addressing the issue of clean food. You can listen to my exclusive interview with Ron here:
FOOD SAFETY ENFORCED THROUGH CLEANDROP MOBILE AND SOCIAL MEDIA
Ron Van Der Molen has been involved in the retail food industry for nearly 20 years, servicing the tile floors and walls in countless retail food outlets. Ron has seen many kitchens, good and bad. He's also aware of the numerous ways the health problems from the kitchen can be brought into the front of the house. According to Van Der Molen, he's known far too many owners "who have a cleaning budget of next to nothing," as he says. From his perspective, he always felt that the public assumes that retail food operators care about their safety, but he knows this is not always the case. Worse yet, the public views 4-star restaurants as safer, but he says this isn't always the case. This always sat in the back of his mind. Then, two years ago, Van Der Molen had a vision of utilizing social media as a means of bringing action to the aide of national health, so he created CleanDrop Mobile as a means of keeping food retailers on their "A-game."
CleanDrop Mobile (CleanDrop) has been strategically designed to do what no other service – not Yelp and not even Angie's List – can accomplish: field the complaints and take action! As Van Der Molen says, "It's like having 60 Minutes show-up!" Here's how CleanDrop works:

· People download the smartphone app.
· When a patron sees a dirty bathroom, infestation or any unsafe practices, he / she takes a photograph and either posts it to the app and / or notifies @CleanDropMobile on Twitter.
· If an employee is unhappy with the sanitary conditions of their working environment, he / she can become a whistle-blower and send an email via the company's website or the CleanDrop app.
· CleanDrop notifies the offender (a management person) and asks them for a resolution plan.
· The notified party has 24 hours to take action. CleanDrop can assist the notified party by suggesting approved contractors in their local area.
· The notified party has to prove to CleanDrop that the infraction has been remedied within 24 hours.
· If the infraction hasn't been satisfied within 24 hours, CleanDrop will contact the local health department and local media outlets.
· Local TV stations which have segments regarding nasty restaurants such as "Dirty Dining" and "Behind The Kitchen Door," are fair game for creating additional pressure on non-compliant owners.

To ensure that there is proper resolution, CleanDrop has a network of contacts of national and local commercial contractors, such as hood and duct cleaners and janitorial companies. CleanDrop Mobile, already operating in Chicago, Tampa and Miami, has its sights set on assisting consumers nationally. Given Ron Van Der Molen's passion and energy, this will probably happen sooner rather than later!
Related Posts:
ChargeCube: Phone-Charging Kiosks for Bars and Nightclubs
BevInco Liquor Inventory Service: How Can Bar Owners Be So Unaware of Losses?

We Work International Customers
If your bar or nightclub application is outside the U.S., we'd be delighted to work with you! We're familiar with the metric system and can furnish you with the appropriate plans and specifications for construction. With our web-conferencing and Basecamp 24 x 7 project management system, we're fully capable of servicing your needs. Please click here to learn more about our methods.

Call Us for Your Next Design Project
Our standard bar design service includes all construction plans and equipment layouts. We would be happy to assist any gentlemen's club, night club, or bar owner who would like to incorporate time-proven design ideas into your venue. Please feel free to contact us.

Most Popular Articles
Ergonomic Bar Design For Maximum Profits
Top 3 Reasons Not to Own a Commercial Ice Machine
What Is "Pour Cost" and Why Is It So Important?
Which Liquor Inventory System is the Best: AccuBar vs BevInco
Top 5 Design Ideas about Purchasing Nightclub and Bar Furniture