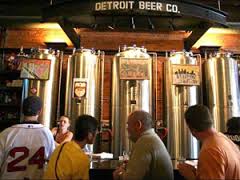 Craft beer has been around since the early 1980's. Since the mid-90's, communities around the U.S. have seen an explosion of craft beer sales.
For those who may be unaware, craft beer is defined by many simply as "high quality beer" made in small local breweries ("microbreweries") or brewpubs (taverns that make beer on-premise), primarily with names familiar only to locals. Some brands, such as Samuel Adams (@SamuelAdamsBeer) are even distributed internationally. In other words, beer is no longer just "Budweiser" and "Coors". This edition of Design Buzz discusses the rising impact craft beer is having on the traditional U.S. domestic brewers and the future of both.

In the January 13, 2013 edition of "Food and Drink," by global marketing research company Mintel, "Craft beer sales, which have doubled in the US over the past six years, are predicted to triple by 2017. "While the economic downturn has affected consumer spending across many sectors, craft and craft-style beers are defying recessionary trends with an impressive upward trajectory. Indeed, latest research by Mintel on the craft beer market in the US shows that sales of craft beer nearly doubled between 2007 and 2012 – increasing from $5.7 billion in 2007 to $12 billion in 2012. Moreover, the trend toward craft beer options is set to enjoy robust growth through 2017, with Mintel forecasting the segment to grow to $18 billion by 2017 – a result that will see the segment tripling in the decade between 2007 and 2017." Is the projected growth believable, or is the craft beer market merely a bubble waiting to burst? And just what are the factors that could contribute to either outcome?
ARE TRADITIONAL DOMESTIC BEERS ON THE DECLINE?
In a December 10, 2013 story in USA Today, and data provided by Beer Marketer's Insights, "American sales of nine major brands, including the once top-selling Budweiser, have declined by more than 25% over the past five years." According to Eric Shepard, executive editor at Beer Marketer's Insights, "Flavored and craft beers have performed extremely well in a sector that is otherwise on the downswing." "The history of beer brands in the U.S. has generally been — and there are exceptions — once they start to decline, it's very, very difficult to reverse it," said Shepard."

IS THE CRAFT BEER INDUSTRY RECESSION-PROOF?
With regard to craft beer, Jennifer Zegler, beverage analyst at Mintel, says:
"The growth rates seen by craft beer are impressive, especially during a period when domestic and imported beers have shown a flat to declining performance. Unlike its domestic and imported beer counterparts, craft beer has been able to defy overall beer market trends and continue expansion during the economic downturn and subsequent slow recovery. While the craft and craft-style beer category remains a small segment of the $78 billion US beer industry, the category has been able to stabilize the overall beer industry, which has experienced volume declines in the domestic and imported beer categories since 2008."
Mintel goes on to say, "In addition, Mintel research found that 50% of overall craft beer drinkers express interest in locally made beer, and 25% are interested in purchasing craft beer where it was brewed." This undoubtedly attributes to the success of the brewpubs that seem to be springing up everywhere.

WHO DRINKS CRAFT BEER?
According to a March 27, 2013 story in 'In The Capital':
Millennials[1] make up 32.9% of the volume of craft beer consumers, and this demographic makes up 26.1% of the total adult population
Gen X'ers[2] make up 23.9% of the volume of craft beer consumers, and this demographic makes up 18.7% of the total adult population
Boomers[3] make up 34.6% of the volume of craft beer consumers, and this demographic makes up 37.0% of the total adult population
Men compose 71.9% of the volume of craft beer consumers, and compose 48.3% of the total adult population
Women compose 28.1% of the volume of craft beer consumers, and compose 51.7% of the total adult population
Ethnically, the 'white' demographic of drinkers make up 85.6% of total craft beer consumers, and compose 68.0% of the total adult population
By the numbers according to the percentage of the population they compose in relation to the percentage of the craft beer consumer market they compose, white male Millennials and Gen X'ers tend to be the number one consumer of craft beers."

WILL CRAFT BEER CONTINUE TO GROW OR IS IT A BUBBLE ABOUT TO BURST?
According to a story in the September 21, 2013 edition of USA Today,"Currently, more than 2,500 breweries are operating in theU.S., the most since 2,011 were recorded in 1887. All but about 100 of those are craft brewers.
Does any of this sound familiar:
The guy who quit his job in the IT department preparing his company for Y2K so that he could start his own dot-com business?
The contractor who bet his savings on cheap credit and skyrocketing home prices to flip some houses for a quick profit?
The hip coffee shop that turned out to be one or a dozen too many?"
Similar to so many other "can't lose" stories we've all come to know, is craft beer merely a bubble waiting to burst? People such as Jim Koch, founder of Boston Brewing Co. (makers of Sam Adams), see a promising future in spite of the seeming endless line of players entering the craft industry. Remember that craft brewers only account for about 6% of the total beer sold in the U.S. – the balance is sold by Anheuser-Busch InBev (@AnheuserBusch) and Miller-Coors (@MillerCoors). So just where is all the growth anticipated?

BREWPUBS: THE NEW NEIGHBORHOOD BARS
Growth in the local brewpub sector seems logical, but only to a point. After all, how many brewpubs can any given community support? According to Mintel, the customer base of the typical neighborhood brewpub (as depicted in the above photo, courtesy of Detroit Beer Co.) is loyal to their brand, which is promising for those investing in these ventures. Does this spell disaster to those who enter a given market on the verge of becoming saturated? What determines a "safe" territory for prospective investors? For the brewpubs that survive newcomers to their respective neighborhoods, it appears that they have a solid future, provided that they maintain their mystique – at least for now.

MICROBREWERIES: A THREAT TO THE BIG TWO?
The Brewers Association represents the "small" American breweries, which they define as brewers who produce less than six million barrels annually. The products these players are producing must be gaining the interest to the "Big Two." In a March 22, 2013 story in Time Business,

"…as the craft beer movement gets bigger, will it come to resemble "big beer"? Already, the definition of craft beer is blurring. In 2010, the Brewers Association tweaked its definition of a craft brewery from one that produces a maximum of two million barrels annually, to one that brews no more than six million barrels per year. That change allowed the Sierra Nevadas and the Samuel Adams of the world to be able to still claim the craft beer label, probably for some time to come. Still, these aren't exactly the kind of tiny mom-and-pop companies one normally associates with the term "craft."
"What's more, the beer industry's true giants have been muddling the market further by producing "crafty" beers like Blue Moon and Shock Top. They're made by Miller-Coors and Anheuser-Busch InBev, respectively, though you'd never know it based on their craft-beer-like labels—which don't state prominently the huge corporation responsible for the brand."
"Going forward, indie brewers may struggle if they get too big and start losing their funky, artisanal appeal, or just if the giant beer corporations manage to steal their thunder by producing brews that win over drinkers with decent "crafty" taste and affordable prices."

Let's remember that craft beer is not inexpensive. The Big Two have the financial wherewithal to figure out how to grab their piece of the craft beer pie – whether by acquisition or by ingenuity. It's probably just a matter of time.
Our mission at Design Buzz isn't just about today's products for nightclub and bar owners – it's about everything that impacts their business. If you have any questions or comments, please add them below. Please feel free to suggest other topics of interest.

Related Posts:

Top 3 Bar Design Ideas for Maximum Profits

What Are The Most Profitable Drinks?

How To Set Your Bar Staff-Up For Success


We Work International Customers
If your bar or nightclub application is outside the U.S., we'd be delighted to work with you! We're familiar with the metric system and can furnish you with the appropriate plans and specifications for construction. With our web-conferencing and Basecamp 24 x 7 project management system, we're fully capable of servicing your needs. Please click here to learn more about our methods.
Call Us For Your Next Design Project
Our standard bar design service includes all construction plans and equipment layouts. We would be happy to assist any gentlemen's club, night club, or bar owner who would like to incorporate time-proven design ideas into your venue. Please feel free to contact us.

Most Popular Articles
Pour My Beer: Self-Serve Beer Systems for Bars & Nightclubs
Bar Equipment Prices: How Much It Really Costs To Build a Bar
Gentlemen's Club Acquisitions: Existing Construction vs Ground-Up
What Is "Pour Cost" and Why Is It So Important?
The Best Liquor Inventory Management System : AccuBar vs BevInco
Top 5 Design Ideas about Purchasing Nightclub and Bar Furniture
Top 5 Design Tips and Advice for Bar and Nightclub Owners

---
1. Birth years from the early 1980's to the early 2000's
2. Birth years from the early 1960's to the early 1980's
3. Born between 1946 and 1964