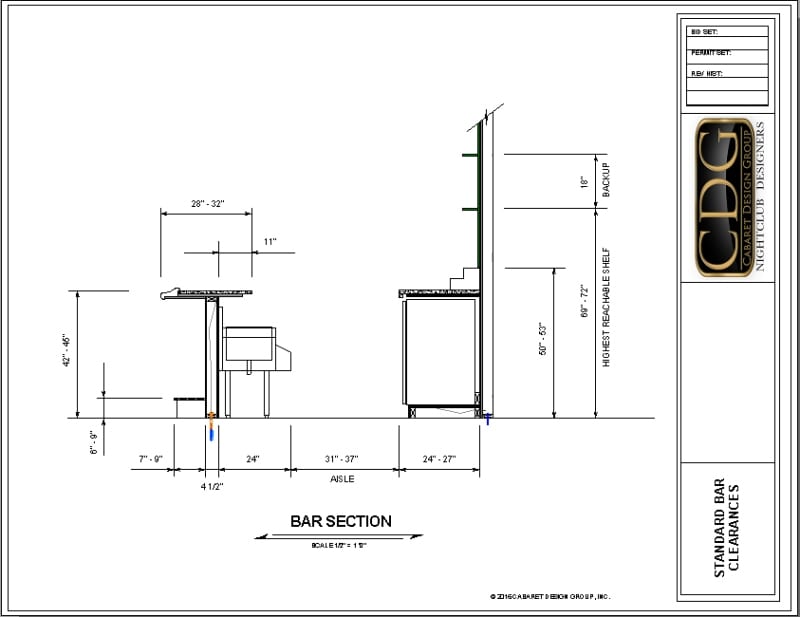 Can you pour a perfect one-ounce shot of liquor? Do you allow your bartenders to free-pour? If you aren't entirely in control of the manner in which your bar dispenses liquor, you are in deep trouble!

If you own a bar or nightclub, liquor is your largest profit center; unless you own the necessary design and controls your profits will not be maximized. In my 10 years of nightclub and bar design, I've developed an approach that will help owners realize maximum profits and would like to share my ideas.
SUCCESSFUL BARS ARE ROOTED IN DESIGN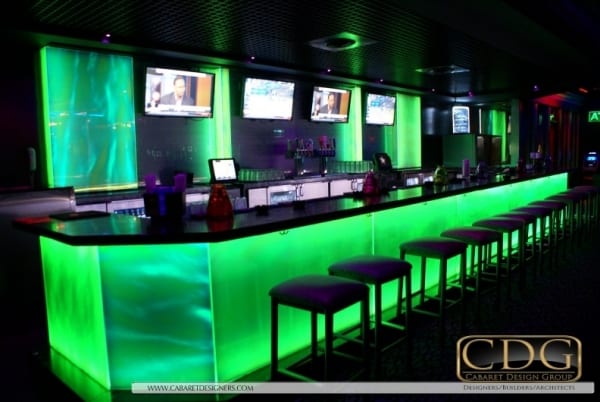 If you are attempting to maximize bar profits you have to have a good mouse trap. I say this from more multiple perspectives, but merely being "the new kid in town" will only take you so far. The first piece of the puzzle is to employ clever design – something that makes people excited and also makes them want to return, over and over. Our LED bar design, as shown in the photo at right, is extremely popular. The LED bar, our proprietary design, is fabricated from tempered laminated glass and backlit, and morphs through a nearly unlimited array of chromatic colors. When accented by our illuminated, color-changing bottle displays, you bar will scream!

The best part – the LED bar can be adapted to nearly any existing bar!
We are receiving inquiries from SouthBeach to Long Beach for this bar design.
AUTOMATED CONTROLS ARE THE KEY TO MAXIMIZE BAR PROFITS
It's one thing to get people excited to visit your nightclub or bar, but how do you ensure that you get your fair share? What about silent partners? Let me ask you two questions: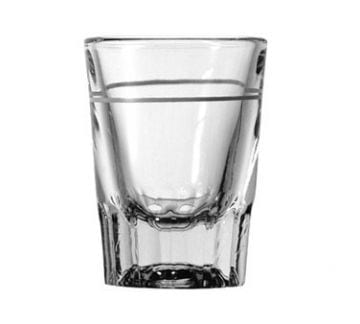 "Can you pour a perfect one-ounce shot?"

"Do you allow free-pouring at your bar?"
Now, I would like you to focus your attention to the photo at right, which depicts a typical shot glass. The familiar white line, which is called the "pour line," defines one ounce of liquor – only when poured exactly to the bottom of the line. Guess what? If you're pouring drinks all night long, how often do you pour exactly one ounce? Do you know that if you pour to the top of the line, that amount equals an additional 1/8 ounce? This may not sound like much, but if you consistently pour to the top of the line, nearly ALL of your profit disappears!! Why? If you sell 12 quarts of liquor each day and you are pouring to the top of the pour line, you are losing nearly $50,000 each year – and this assumes you are only charging $3.50 for a drink! Now imagine if you are pouring 1 ¼ ounces – or worse yet – free-pouring, just think how much you are losing! Try to free-pour a perfect one ounce shot and see how difficult this is.
Don't worry, help is just around the corner. Enter Easybar liquor control systems. Easybar (@EasyBarBeverage) is the company casinos trust for ensuring maximum bar profits. With Easybar liquor systems, liquor is consistently dispensed to within 1/32 of an ounce. Even better, the sale cannot be removed from the system because the record is immediately sent to your office computer. With Easybar, drinks are automatically – and consistently – dispensed from a gun and top-shelf liquor is seemingly free-poured and the customer has no clue it is all dispensed automatically!
At an investment of only $10,000 per station, your ROI on an Easybar system is less than six months! Easybar also has similar equipment for draft beer dispensing.
With an Easybar system, you maximize profits and eliminate silent partners and other opportunists.
CHILL-RITE 32 BEER DISPENSING SYSTEMS IN BAR DESIGN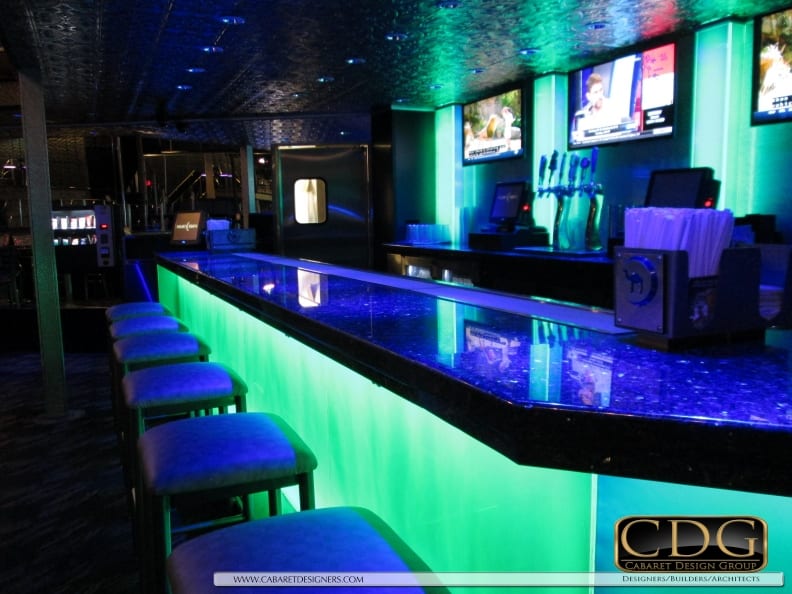 I don't think it's any secret about the profitability of draft beer. However, making money at selling draft beer can take-on new meaning when you have the right dispensing system. Enter Chill-Rite 32. With a Chill-Rite 32 beer system, your profits will be maximized because the beer is dispensed at 32°F (0°C). When beer is dispensed at this temperature, the foam is virtually eliminated. So, instead of a typical efficiency of 60% (for conventional draft beer dispensing), the efficiency goes to about 98%! With a Chill-Rite 32 system, you can deliver an unlimited volume of 32° at the faucet. And who doesn't love ice-cold beer?!

Chill-Rite 32, from Slidell, LA, is a privately-owned company that has been manufacturing beer dispensing systems since 1991. In recent years, Chill-Rite has added other back bar products, such as their ice-cold "Shock-A-Vodka" system, which dispenses liquor from -5°F – 5°F (-20°C – -15°C).

If you would like to know more about Chill-Rite 32, please contact us

Related Posts:
Top 5 Design Tips and Advice for Bar & Nightclub Owners

Easybar Liquor Systems for Maximum Bar Profits

Chill-Rite 32 Beer Systems: Ice-Cold Beer for Bars & Nightclubs
We Work International Customers
If your bar or nightclub application is outside the U.S., we'd be delighted to work with you! We're familiar with the metric system and can furnish you with the appropriate plans and specifications for construction. With our web-conferencing and Basecamp 24 x 7 project management system, we're fully capable of servicing your needs. Please click here to learn more about our methods.


Call Us For Your Next Design Project
Our standard bar design service includes all construction plans and equipment layouts. We would be happy to assist any gentlemen's club, night club, or bar owner who would like to incorporate time-proven design ideas into your venue. Please feel free to contact us.

Most Popular Articles
Pour My Beer: Self-Serve Beer Systems for Bars & Nightclubs
Ergonomic Bar Design For Maximum Profits
Stripclub Acquisitions: Existing Construction vs Ground-Up
What Is "Pour Cost" and Why Is It So Important?
The Best Liquor Inventory Management System : AccuBar vs BevInco
Top 5 Design Ideas about Purchasing Nightclub and Bar Furniture
Top 5 Design Tips and Advice for Bar and Nightclub Owners