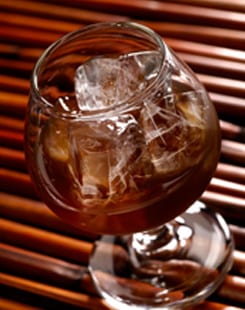 What are the best ice machines for restaurants, bars and nightclubs? Today we'll discuss why Hoshizaki ice machines are the best for making perfect drinks.

So you're the proud new owner of a 1,500 pound commercial cube ice machine and you couldn't be happier, right? Next thing you know, customers are complaining that their expensive drinks are overly-diluted. One guy in particular – a really good customer who drinks Bruichladdich like it's going out of style says his drinks taste like slushies! What the heck is going on?! You invested $5,000 – what's wrong with the equipment? In reality, the equipment may be functioning just fine. Now what? Just whose equipment did you purchase? This may sound trivial, but not all ice makers are created equal. There may be more to the equipment than meets the eye – way beyond the price tag. In this edition of Design Buzz, we are going to discuss how the type of ice maker you purchase can have a direct impact on the outcome of the drinks you pour.

FOR PERFECT DRINKS, THE ICE MAKES THE DIFFERENCE
Making the perfect drink isn't just about the booze – it's also about the ice and the dilution. In reality,hard ice makes much better tasting drinks. According to an article in the Wall Street Journal –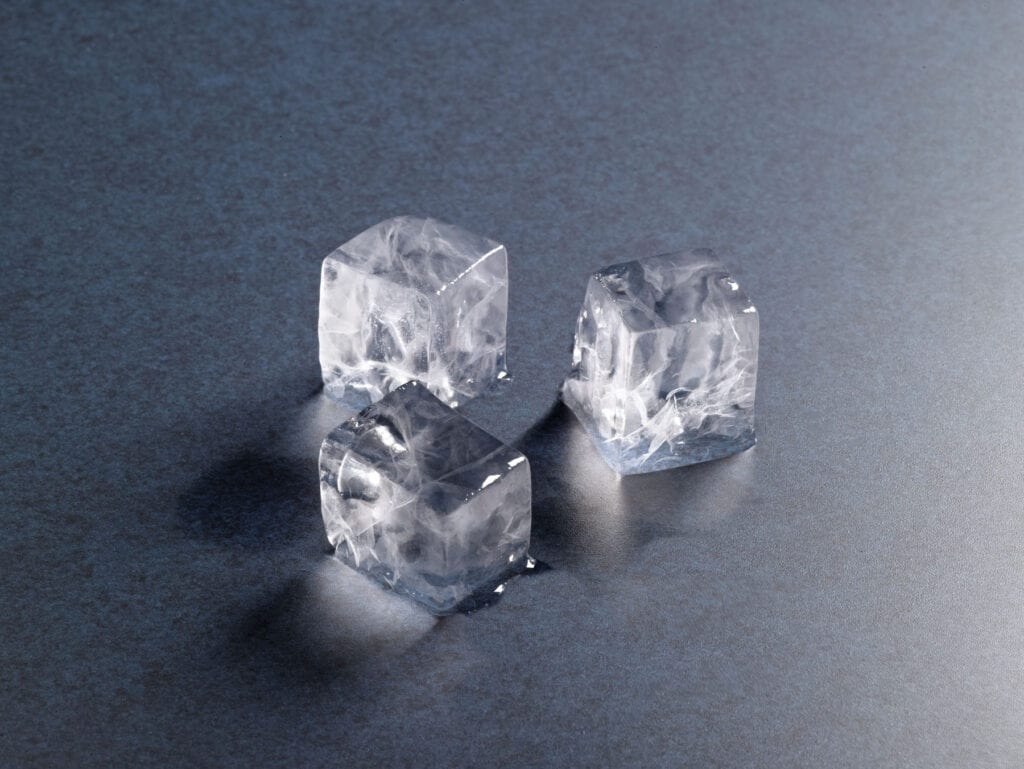 "The resurgence of classic cocktails has spawned a concurrent trend of ice appreciation. High-end cocktail bars are serving their $18 drinks with dense, extra-large cubes, hand-cut and spheres."
Some bars are even purchasing large blocks of ice and hand-carving them for added visual presentation. But in reality, it's more than just presentation. The larger chunks and chards dilute at a slower rate, thereby imparting better flavor. Although large chunks or cubes are ideal, they aren't the whole answer. If you've shopped for ice machines, you might be aware that there are machines that make various sizes and shapes of ice, including:
· Square cubes
· Crescents
· Cubelets
· Crushed
– just to name a few. The art of making the perfect drink involves matching the size of the cube to the glass without over-pouring the liquor and mix. The cube size and shape need to fit the glass or you'll have a bad presentation – and a bad-tasting drink. For instance, cubelet ice has its place, but you need to realize that cubelets will make the drink cold faster but at the expense of faster melting, and faster melting yields faster dilution. Typically, you don't use large cubes with drinks such as margaritas. As you can see, glass selection and ice shape and size deserve careful evaluation before purchasing an ice machine. In productive bar design, a bar or nightclub might have more than one type of ice machine.

Downloadable:
Wall Street Journal: "With Ice Size Matters"

Who Makes the Best Ice Machines For Restaurants, Bars and Nightclubs?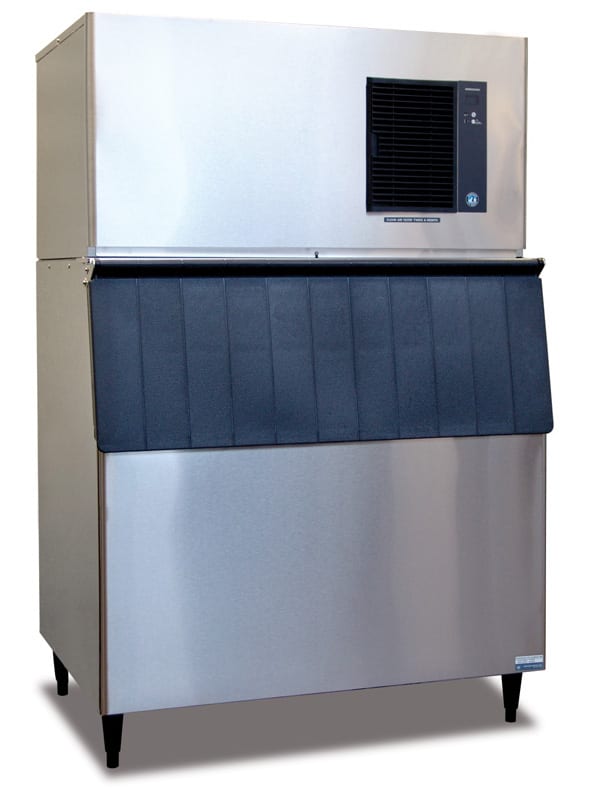 The most popular manufacturer of ice machines among experts is clearly Hoshizaki America (Hoshizaki). Their machines are a spin-off of the legendary Kold-Draft concept. Kold-Draft innovated the technology of making hard ice in 1955. Over the years Kold-Draft's marketing faltered and the patents expired. Hoshizaki then entered the market and virtually copied Kold-Draft's concept. Although Kold-Draft still exists today, Hoshizaki is virtually accepted and recommended by industry experts.

The original Kold-Draft concept, intact and used today by Hoshizaki, involves a unique approach that uses an evaporator (an upside-down ice cube tray) sandwiched between two stainless steel plates. The evaporator is refrigerated and water is pumped into each cell, from the top-down. As the water circulates and each cube begins to freeze from the top and sides, the pure water freezes first, thereby enabling the impurities to wash away, thereby producing a crystal-clear, perfect ice. Because of its patented gravity process, no filters are required, which is key. Ice machines made by all other competitors use water filters, which results in "soft" ice. In other words, while the ice produced by the competitors' machines goes into defrost at a premature temperature, the ice produced by the Hoshizaki machine goes into defrost at -4°F (-20°C)!

Hoshizaki makes a machine for the various ice sizes and shapes mentioned above. For instance, if you want flaked ice (which won't produce "slushies"), the Hoshizaki model F-500BAF will produce 500 pounds of quality, hard flaked ice. If you only had one machine to choose, the hands-down favorite is the model IM-500SAA; this 500 pound-capacity machine produces perfect 1 ¼" (32mm) square cubes. This machine has an average retail price of $3,600, about 30% higher than an equivalent Manitowac machine. However, don't be misled! Not only will the Hoshizaki IM produce superior-tasting drinks, you won't use nearly as much ice! In fact, during a recent conversation with Tom Zaun of Easybar Central, when an application calls for a 1,500 pound capacity machine, he will normally specify two Hoshizaki IM-500 machines!


In conclusion, your ice needs will be best-served if Hoshizaki equipment is specified in your bar and nightclub design. You will have superior-tasting drinks and your water bill will be reduced.

Downloadables:
Related Posts:

Easy Ice: Ice Machine Subscriptions for Bars & Nightclubs
What Are The Most Profitable Drinks?

How To Set Your Bar Staff-Up For Success
We Work International Customers
If your bar or nightclub application is outside the U.S., we'd be delighted to work with you! We're familiar with the metric system and can furnish you with the appropriate plans and specifications for construction. With our web-conferencing and Basecamp 24 x 7 project management system, we're fully capable of servicing your needs. Please click here to learn more about our methods.


Call Us For Your Next Design Project
Our standard bar design service includes all construction plans and equipment layouts. We would be happy to assist any gentlemen's club, night club, or bar owner who would like to incorporate time-proven design ideas into your venue. Please feel free to contact us.


Most Popular Articles
Pour My Beer: Self-Serve Beer Systems for Bars & Nightclubs
Ergonomic Bar Design For Maximum Profits
Stripclub Acquisitions: Existing Construction vs Ground-Up
What Is "Pour Cost" and Why Is It So Important?
The Best Liquor Inventory Management System : AccuBar vs BevInco
Top 5 Design Ideas about Purchasing Nightclub and Bar Furniture