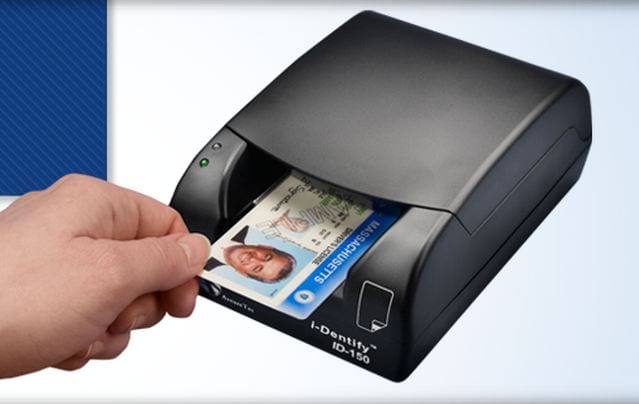 oday we live in a world where technology grows exponentially. Hardly a day passes where we don't shake our heads in astonishment. However, with progress comes opportunity – often times of the nefarious sort.
The banking system and our identities are constantly under siege. We recently learned about the NSA's interest in our internet activity. Now we have cities conducting scanning programs at local bars. And let's not forget about random roadside checks by local police. All this for the sake of security? At what point are our rights being compromised? Our mission at Design Buzz isn't just about today's products for nightclub and bar owners – it's about everything that impacts their business. Today we're going to discuss the use of I.D. Scanners in nightclubs and bars and the potential fallout to owners and patrons.
WHY I.D. SCANNERS ARE A NIGHTCLUB OWNER'S BEST FRIEND
Standalone I.D. scanners began to surface in bars and nightclubs since the year 2000. Nearly every nightclub and bar owner I know uses I.D. scanners and the reason is simple: they can filter-out underage patrons and thereby protect their valuable liquor licenses. Some states require I.D. scanning by bar owners. Customers are routinely scanned upon entering a bar or nightclub. The scanner merely validates the information of a patron's I.D. and determines whether the person is of legal drinking age. Some of today's scanners even photograph the customer and the I.D. and enter the information of an on-premise database. Some clubs (especially those with multiple locations) can go a step further by creating a 'blacklist' of known troublemakers. According to a published story in the August 24, 2011 edition of USA Today (refer below), some systems enable multiple bars in a given geographic area to alert each other about known troublemakers. Most of the clubs I've interviewed dump the information periodically; some states have laws that prohibit establishments from using the data for marketing purposes. Overall, I.D. scanning seems to be a fairly routine, innocuous process. But what if the information is used for other purposes, without an individual's knowledge? Enter the city of Appleton, Wisconsin.
Downloadable:
In light of the recent scandal concerning the NSA's secret program that collects data on millions of Americans' phone calls and subsequent additional reports by The Washington Post of secret surveillance that followed on nearly a daily basis, many Americans may start to feel a sense that our sovereign rights are slipping away, If this resonates with you, you might want to reconsider visiting the nightclubs and bars in the city of Appleton, Wisconsin. For those unfamiliar with Appleton, it is a city of 73,000, located 30 miles southwest of Green Bay. In a published report in the May 31, 2013 edition of the GreenBayPressGazette.com (refer below), the Appleton police department has launched a program using cutting-edge scanning technology to keep convicted criminals out of some of the cities' bars. While authorities feel the program is making the community safer, some feel that it is an invasion of privacy.

"The technology doesn't give any particular thought to privacy concerns since everybody who enters gets scanned," said Chris Ahmuty, executive director of the American Civil Liberties Union of Wisconsin. "It could be a hardened felon on parole, an attorney from a law firm on College Avenue or a 21-year-old Lawrence (University) student. There's no distinguishing between who gets targeted, and that's a problem."
But wait…the part of the story you may not realize is that the scanners are owned by the police department, who have access to all the captured data – not just the identities of the bad guys. According to Appleton police officer Adam Nagel, "all other personal data is kept securely in police custody…we're not being 'Big Brother' with this system." The story further states, "Critics say the scanners also allow business owners and police to snoop on the bar-hopping tendencies of thousands of law-abiding residents, and walk a fine line along the Fourth Amendment regulations against unlawful search."

Appleton police insist that, although the program originated as a way to check fake I.D.'s, they also saw the potential for what else they could do with it, giving way to probation and warrant opportunities.

Is our freedom being compromised as the result of our inability to cope with our rapidly-changing world? Is the framework of our constituion unable to adapt or are we merely falling prey to the greed of an opportunistic government? Is the police-sponsored surveillance program in Appleton program a preview of what we will all be seeing one day soon? According to the story, "Police agencies from Milwaukee to Wausau are interested in following Appleton's lead." Ironically, sobriety checkpoints are unlawful in the state of Wisconsin. Perhaps this is because beer is sold at every gas station along the state's highways and the tax revenues are simply too much for the state to overlook.

In Part 2 of this story, we'll look at how scanning technology is being used by the top names in the hospitality industry.

Downloadable:
Story From the Green Bay Gazette: 'Has Big Brother Arrived?'

Related Posts:
ChargeCube: Phone-Charging Kiosks for Bars and Nightclubs
What Are The Most Profitable Drinks?
Top 5 Lighting Ideas & Tips for Nightclub & Bar Design

We Work International Customers
If your bar or nightclub application is outside the U.S., we'd be delighted to work with you! We're familiar with the metric system and can furnish you with the appropriate plans and specifications for construction. With our web-conferencing and Basecamp 24 x 7 project management system, we're fully capable of servicing your needs. Please click here to learn more about our methods.

Call Us For Your Next Design Project
Our standard bar design service includes all construction plans and equipment layouts. We would be happy to assist any stripclub, night club, or bar owner who would like to incorporate time-proven design ideas into your venue. Please feel free to contact us.

Most Popular Articles
Pour My Beer: Self-Serve Beer Systems for Bars & Nightclubs
Bar Equipment Prices: How Much It Really Costs To Build a Bar
Stripclub Acquisitions: Existing Construction vs Ground-Up
What Is "Pour Cost" and Why Is It So Important?
The Best Liquor Inventory Management System : AccuBar vs BevInco
Top 5 Design Ideas about Purchasing Nightclub and Bar Furniture