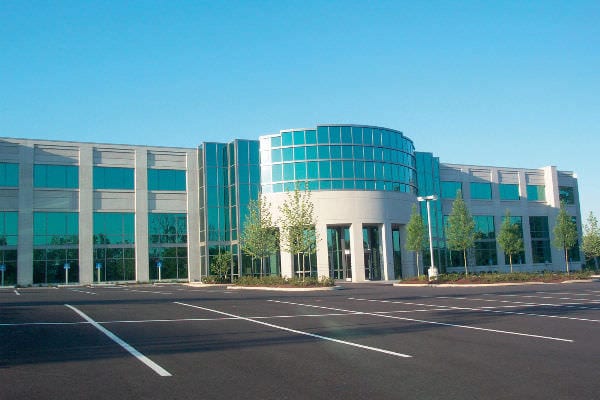 Architectural glass is one of my favorite finishes in nightclub and bar design. I covered many of the common applications of tempered laminated glass in an earlier post (refer below).
The glass I'll be covering in this post is the tinted, reflective variety, produced by  PPG Industries (@PPGIndustries), as commonly seen as curtain walls of commercial buildings, such as that shown in the above photo. Imagine how this type of glass looks inside a nightclub. 
ARCHITECTURAL GLASS IN NIGHTCLUB AND BAR DESIGN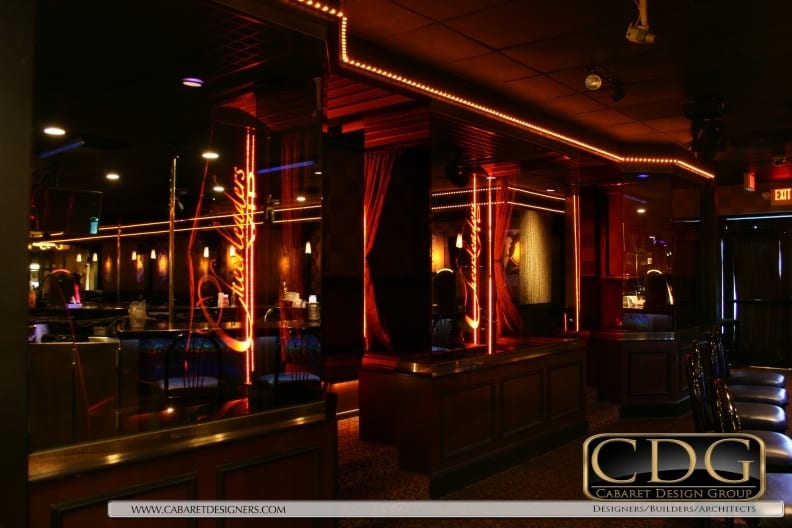 Few products say "exclusivity" quite the way as tinted, reflective architectural glass. To me, the highly-reflective nature of this glass, along with its sleek, clean lines, is what makes it so desirable. With proper lighting (which I'll explain later in this article), it screams "sit over here!" I've used this product in numerous applications over the years and it's always great fun to see the look on an owner's face after it has been installed. Whether the installation is large or small, the end result is always impactful.
HOW TO USE PPG SOLARCOOL TINTED GLASS FOR VIP ROOM DESIGN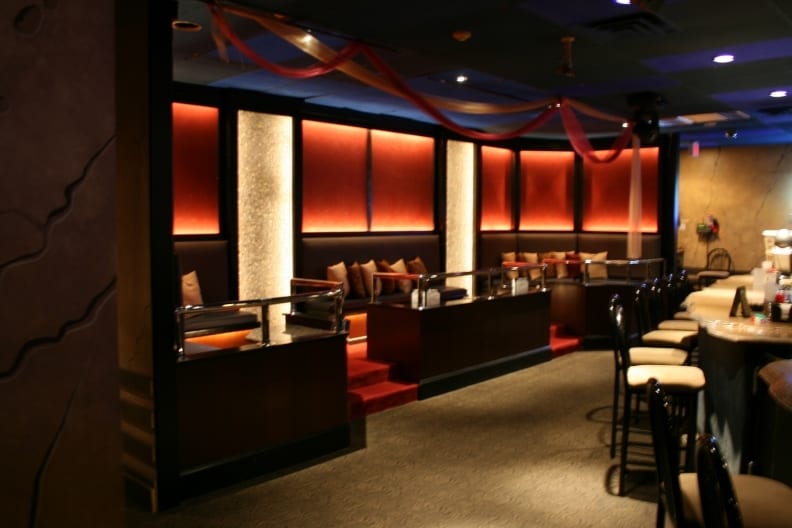 If you're looking for a design solution to maximize the efficiency of the VIP Room in your strip club or nightclub, consider PPG's Solarcool® tinted glass. Consider the case of the VIP Room at Cheerleaders Gentlemen's Club in Philadelphia. Owner John Meehan was frustrated with the income stream of his then-current VIP design, shown in the adjacent photo. Having worked with other club owners with PPG's Solarcool tinted glass, this was the perfect application. The end result, shown in the above photo, was just what I took to get people interested in utilizing the area to its potential. The reason the Solarcool™ tinted glass works so well is because it is virtually one-way glass. Its tinted, mirrored finish is especially effective at helping nightclub owners sell the VIP space by the "sales pressure" of making people curious to know what's going on on the other side!
PPG SOLARCOOL TINTED GLASS FOR FRAMELESS NIGHTCLUB ENTRY DOORS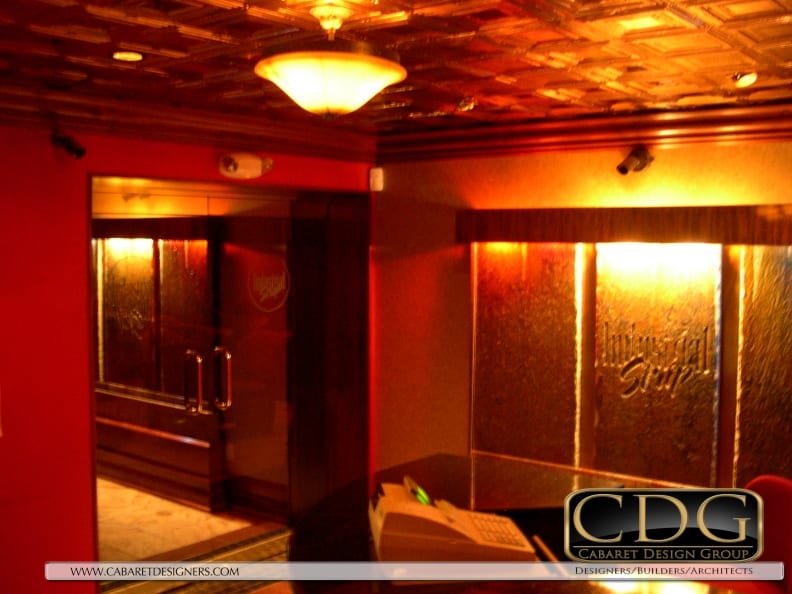 Frameless entry doors are the ultimate statement of class in nightclub design. These are particularly effective if combined with Solarcool glass in other areas of the club. Since frameless doors provide no opportunity for weather sealing, they are normally used as interior doors, most often from the lobby to the club, as shown in the attached photo (which features PPG's Solarcool Bronze). In terms of hardware, I normally specify 18" back-to-back pull handles; locks, if desired, can be applied in the bottom rail.

EFFECTIVE LIGHTING SELECTION IS THE SECRET SAUCE
Because the Solarcool glass, with its mirror coating, is essentially one-way glass, you need to understand that this will only be true if the lighting is greater on the exterior surface. You will obviously need some form of lighting on the interior side of the glass, but if the interior lighting is stronger than that on the exterior side, the mirrored "one-way" effect will be lost. Therefore, this is what I normally recommend for VIP Rooms:
Install lighting below table height on the interior side of the glass.
Install higher-intensity lighting, such as LED spots and eyeballs, on the exterior side of the glass. This lighting should be directed similar as wall-washers (refer to the lighting shown in the above photo of the finished VIP Room).

Design and Installation Tips

Solarcool® glass is relatively simple to install, especially if you follow these tips. From my experience, here are a few considerations you may find helpful:
Budget pricing for this product is $75 per square foot, installed.
For nightclub (commercial) applications, all glass applications should be designed in accordance with the local building department.
All vertical edges should be polished.
All glass-to-glass and glass-to-wall conditions should be caulked with silicone.
My favorite colors are Solarcool Bronze and Solarcool Azura.
Frameless entry doors – be sure that the floor is level; this is the foremost important thing to consider. If your concrete floor isn't level, use a high-quality, latex self-leveling product, such as those made by Mapei. Mapei's "Mapecem® Quickpatch" product will finish from a feather edge to a depth of 3" (76mm). Mapei's products are normally only distributed through commercial carpet supply outlets, i.e., not through big-box stores.
For curtain walls – my recommendation is to use the Taper-LOC® Dry Glazed System by CR Laurence Co. (@CRLaurence). This method utilizes a 2" x 1 ¾" (50mm x 44mm) top rail and 2" x 4" (50mm x 100mm) bottom rail, and is an extremely simple and cost-effective system.
For glass railings – my recommendation is to use the CR Laurence post barrier system. This system, with a top and bottom rail system similar to the above, provides a very effective method of securely attaching the posts to concrete.

Downloadable:
CR Laurence Post Barrier Systems Brochure

Related Posts:
Nightclub Design With Durable Materials: Architectural Glass
ShimmerScreen Beaded Chain Curtains for Nightclub & Bar Design
Top 5 Wall Covering Ideas and Tips for Nightclub & Bar Design
We Work International Customers
If your bar or nightclub application is outside the U.S., we'd be delighted to work with you! We're familiar with the metric system and can furnish you with the appropriate plans and specifications for construction. With our web-conferencing and Basecamp 24 x 7 project management system, we're fully capable of servicing your needs. Please click here to learn more about our methods.

Call Us For Your Next Design Project
Our standard bar design service includes all construction plans and equipment layouts. We would be happy to assist any gentlemen's club, night club, or bar owner who would like to incorporate time-proven design ideas into your venue. Please feel free to contact us.

Most Popular Articles
Pour My Beer: Self-Serve Beer Systems for Bars & Nightclubs
Ergonomic Bar Design For Maximum Profits
What Is "Pour Cost" and Why Is It So Important?
The Best Liquor Inventory Management System: AccuBar vs BevInco
Top 5 Design Ideas about Purchasing Nightclub and Bar Furniture