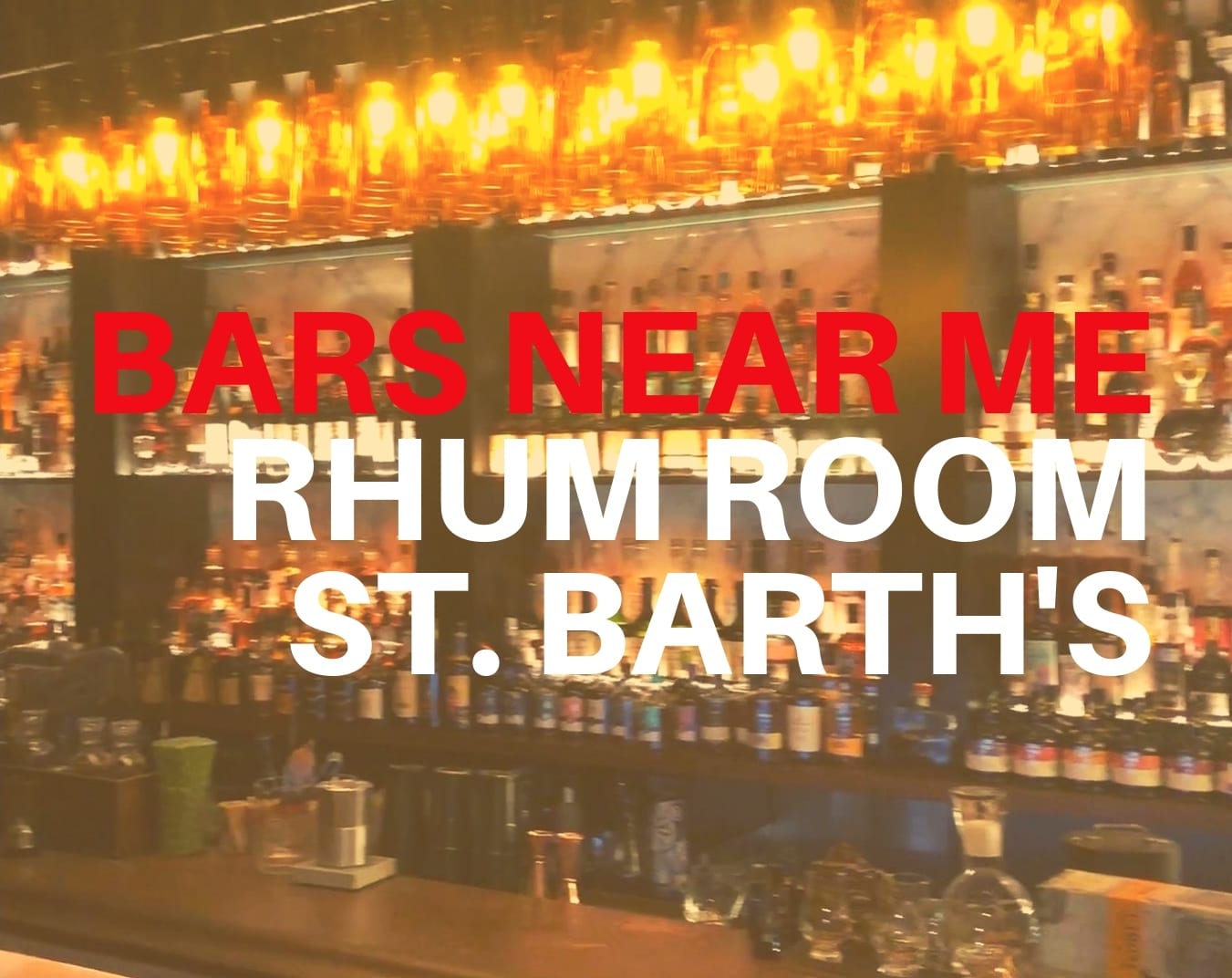 Looking for a most unique bar to visit? Why you should consider the Rhum Room at 25 Quarter in St. Barth's.
If you're ever in St. Barthelemy and looking for a most unique bar to visit, then you should consider the Rhum Room at 25 Quarter in Gustavia. The Rhum Room is among the best rum bars in the World.
POPULAR BARS – RHUM ROOM, ST. BARTHELEMY
You walk through a kitchen and then a small hallway to access one of the greatest collections of rum in the World. If you're a rum-lover and looking for a unique bar experience in the French Caribbean, then check-out the RHUM ROOM at the world-famous 25 Quarter. 25 Quarter, located at 25 Rue du General De Gaulle in Gustavia. 25 Quarter is an eclectic, very popular destination in St. Bart's. In late 2017, proprietaire Christopher Davis unveiled his new distinctive bar, called Rhum Room. According to Alexander Britell of Caribbean Journal, "the Rhum Room in St. Barth is the greatest rum bar in the Caribbean….and with more than 600 bottles of rum, considering the quality and rarity of everything here – perhaps the greatest selection of any bar in the World". I designed this bar in 2017 as the brainchild of global rum expert – owner Christopher Davis. Unmarked from the street, it was Davis's idea that the Rhum Room to be a speakeasy. According to Britell, "there is nothing here without quality,' with more than 300 rhums Agricoles – a total that is the largest of any bar in the hemisphere. While Britell mentions that "while ultra-rare expressions don't come cheap – the vast majority of the rums here are priced to taste….Davis wants you to try and explore, not to be scared off." We designed the bar with a rolling ladder, which makes the Rhum Room "a kind of library of rum."
TODAY'S TAKEAWAY:
If you're looking to implement a rolling library ladder for your bar, consider the ladders by Custom Service Hardware.
Free Consultation
Contact Us Today to Schedule Your Free Consultation!
———————————————————————————————————–
RELATED POSTS:

HOW DO YOU PLAN A COMMERCIAL BAR DESIGN – EQUIPMENT, LAYOUTS AND SYSTEMS?
ERGONOMIC BAR DESIGN FOR MAXIMUM BARTENDER EFFICIENCY AND PROFITS
MOST POPULAR POSTS:

WHAT ARE THE STANDARD BAR LAYOUT DIMENSIONS FOR DIY?
COMMERCIAL BAR DESIGN – A TOP 7 LIST OF BAR FINISHING IDEAS
HOW MUCH DOES IT REALLY COST TO BUILD A BAR?
HOW DO YOU DESIGN A ROLLING LIBRARY LADDER FOR A COMMERCIAL BAR?
———————————————————————————————————–
DOWNLOADS FOR THIS POST:
MTS MODEL 810 BARREL CHAIR:
https://www.dropbox.com/s/m2l55u89t1oy8be/MTS%20MODEL%20810%20BARREL%20CHAIR.pdf?dl=0
CSH ROLLING LIBRARY LADDERS:
https://www.dropbox.com/s/1zdhkr7egzgtnfx/2016-CSH-Std-Ladder-Inst.pdf?dl=0
PLANK BARN DOORS BY REAL SLIDING HARDWARE:
https://www.dropbox.com/s/a541kyb0zfmno8b/BDK-tearsheet-clear-web.pdf?dl=0
LUMI-GRAF LUMI-ONYX TRANSLUCENT PANELS:
https://www.dropbox.com/s/oufks4wz02zmegz/LUMIGRAF%20%C2%BB%20Lumi-Onyx%20Panels.pdf?dl=0

POPULAR DOWNLOADS:
ADA GUIDE FOR SMALL BUSINESSES
BAR AND RESTAURANT SEATING GUIDELINES
———————————————————————————————————–
QUESTION — Have a question about Bar Design, Bar Equipment or Anything Else? Post in comments section of this video!
Cabaret Design Group on Social Media:
https://twitter.com/DesignABar
https://www.instagram.com/bardesigners
https://www.pinterest.com/bardesigner
https://www.facebook.com/bardesigners
———————————————————————————————————————
DISCLAIMER: The above video and description contains affiliate links, which means that if you click on one of the product links, I'll receive a small commission. This helps support the channel and allows us to continue to make videos like this. Thank you for the support!