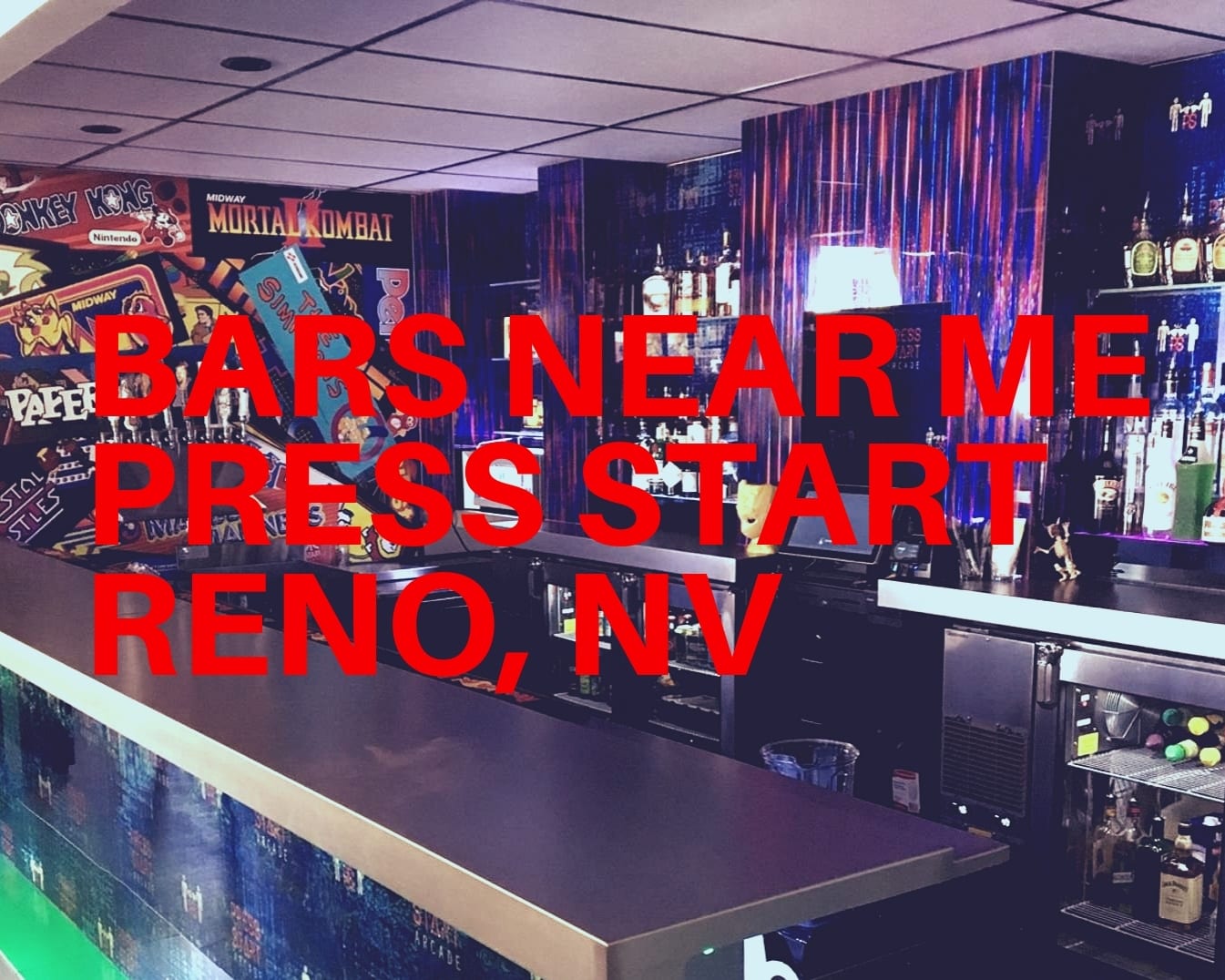 Are you in Reno NV, enjoy arcade bars and looking for great "bars near me"?
BARS NEAR ME – PRESS START ARCADE BAR RENO NV
If you're looking for a unique bar experience in Reno NV, then check-out the arcade bar called "Press Start" – which is quickly becoming one of Reno's most popular bars! Located in Reno's Midtown area, Press Start features the largest collection of lost favorite arcade games and pinball. The concept of "barcades" – an acronym for adult arcade bars – featuring alcohol, American craft beer and music, is quickly becoming very popular in many U.S. markets since 2004.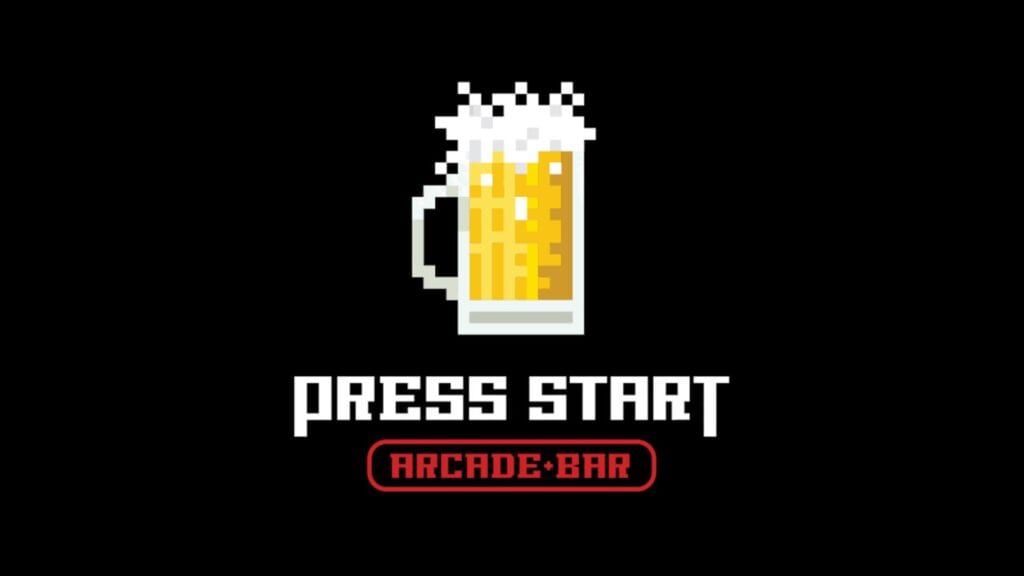 We designed this bar in 2017 and what I particularly enjoyed about this project was the high level of branding. The owners had the great vision of understanding the importance of professional marketing and hired a leading marketing firm in Reno. This not only made our job easier, but more importantly, it gave the bar what I call a "corporate" feel, more atypical of places such as Buffalo Wild Wings. Not surprisingly, the branded message continues at Press Start, which is carried-out through the bar's events, as shown here.
Press Start has major "WOW-factor" that could be appropriately described as "animated", throughout the facility. We selected an acrylic-based, laminated material called "Markolon" as the veneer for the bar front and back bar. These panels were fabricated by Montreal-based Lumigraf, at a cost of about $27 per square foot, plus freight. Due to limited space, the bar equipment utilized a side-by-side approach for the two bartender stations, as shown here. The back bar coolers, with stainless-and-glass doors by Glastender, are effective displays for showing patrons the featured products.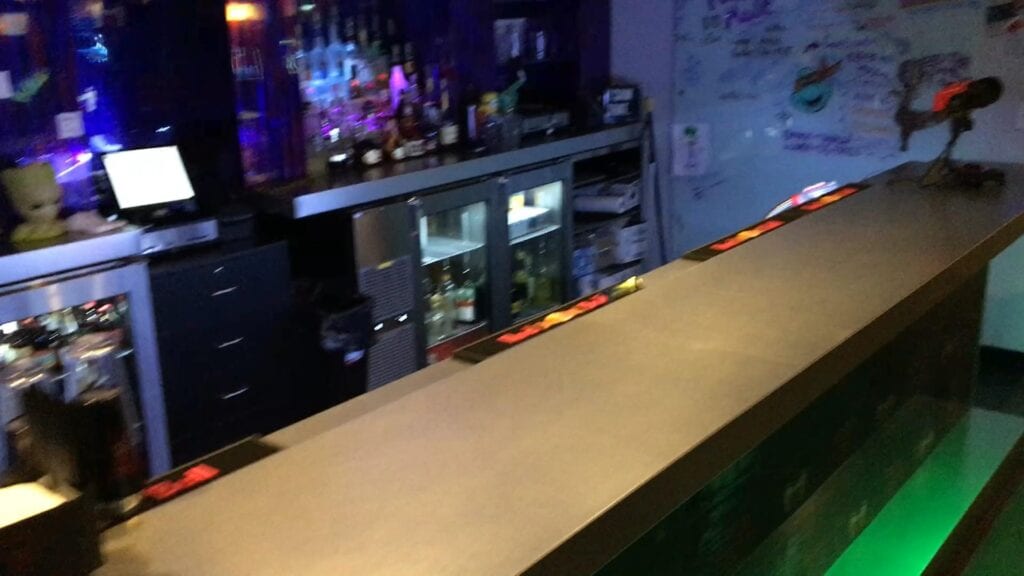 The bar top and solid bar foot rail, shown here with welded 2 ½" dropped edges, were fabricated from 16 ga. textured stainless steel, by Rigidized Metals in Buffalo, NY, at a cost of about $80 per square foot, plus freight. The branding also carries through to the restrooms, where we see this hand-painted mural; this could also be accomplished via digital lamination.
Press Start is located at 1413 Virginia Street in Reno's Midtown section and features a full-alcohol bar and craft beer on tap.

TODAY'S TAKEAWAY:
Professional branding, achieved through the use of professional marketing firms can be critical to the success of nearly every bar.
———————————————————————————————————-
Free Consultation
Contact Us Today to Schedule Your Free Consultation!
———————————————————————————————————–
RELATED POSTS:
HOW DO YOU DESIGN AN ARCADE BAR?
WHAT IS THE BEST BAR FOOT RAIL?
———————————————————————————————————————
MOST POPULAR POSTS:
ERGONOMIC BAR DESIGN FOR MAXIMUM BARTENDER EFFICIENCY AND PROFITS
WHAT ARE THE STANDARD BAR LAYOUT DIMENSIONS FOR DIY?
COMMERCIAL BAR DESIGN – A TOP 7 LIST OF BAR FINISHING IDEAS
HOW MUCH DOES IT REALLY COST TO BUILD A BAR?
HOW DO YOU DESIGN COMMERCIAL BARS FOR ADA?
———————————————————————————————————–
DOWNLOADS FOR THIS POST:
Glastender_Backbar_Coolers_Cut_Sheet.pdf
MTS_900_Series_Bar_Stools_Cut_Sheet.pdf
LUMI-GRAF LUMI-ONYX TRANSLUCENT PANELS
———————————————————————————————————————
POPULAR DOWNLOADS:
2018_UNIVERSAL_BAR_CLEARANCES_WITH_ADA.pdf
ADA GUIDE FOR SMALL BUSINESSES
BAR_AND_RESTAURANT_SEATING_GUIDELINES.pdf
———————————————————————————————————————
Need Help Completing Your Bar Plan? https://cabaretdesigners.com/media-press/89-need-help-completing-your-bar-plan
QUESTION — Have a question about Bar Design, Bar Equipment or Anything Else? Post in comments section of this video!
———————————————————————————————————–
Cabaret Design Group on Social Media:
https://twitter.com/DesignABar
https://www.instagram.com/bardesigners
https://www.pinterest.com/bardesigner
https://www.facebook.com/bardesigners
——————————————————————————————————————-
DISCLAIMER: The above video and description contains affiliate links, which means that if you click on one of the product links, I'll receive a small commission. This helps support the channel and allows us to continue to make videos like this. Thank you for the support!