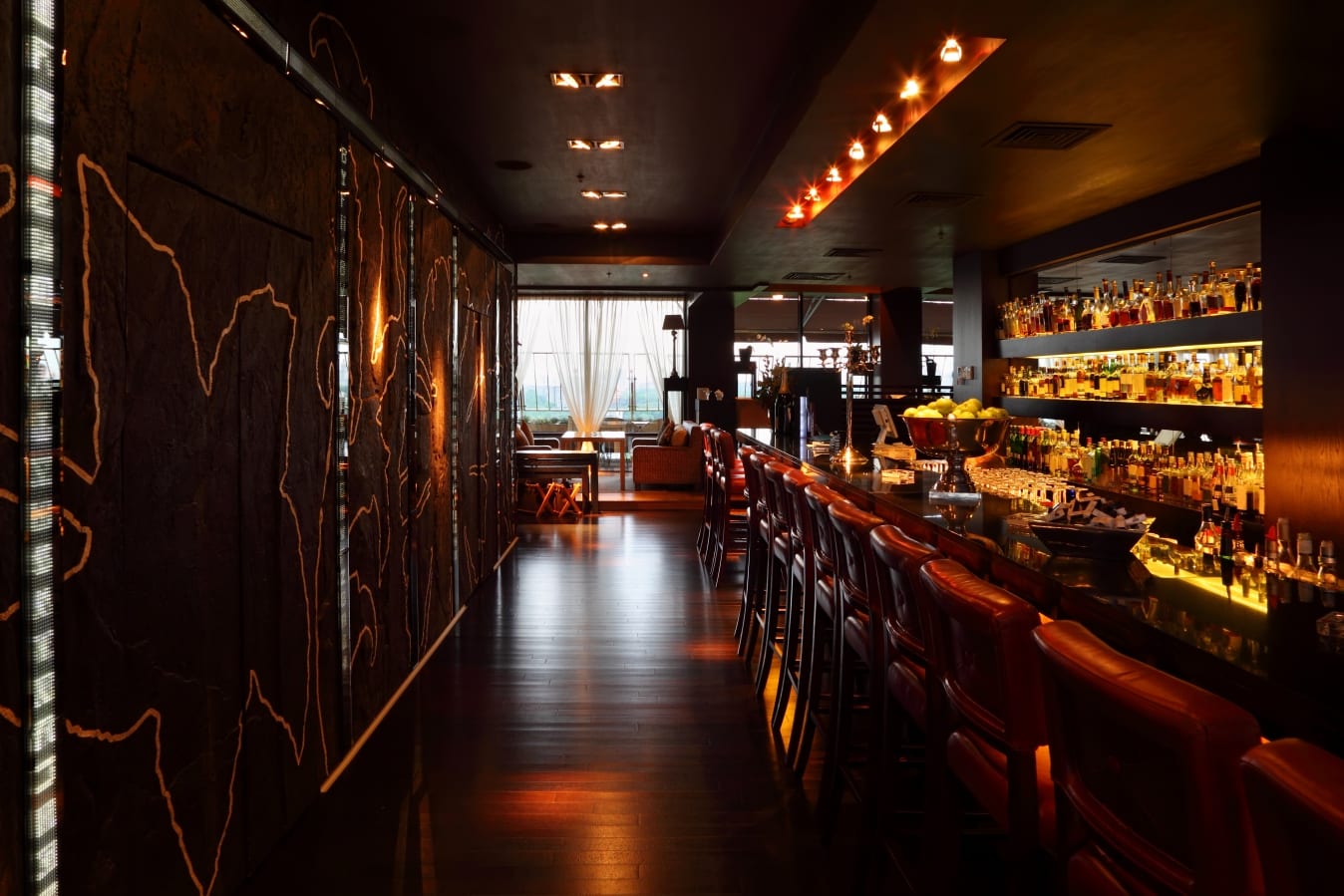 What are the most popular bar remodeling projects? Today we'll discuss the latest ideas for bar projects, including LED lighitng, bar finishes and bar tops.
Are you considering giving your bar a facelift? What types of options are available for bar remodeling projects and whom do you call for advice? If you're looking for ideas to remodel you bar, you've come to the right place! The good news is you don't need to spend the king's ransom to give your bar a facelift. There are numerous ways to change your bar's appearance, and within a budget. Here are the 'Top 5 bar remodeling projects we discuss every day.
IS CLADDING A COST-EFFECTIVE IDEA FOR BAR REMODELING?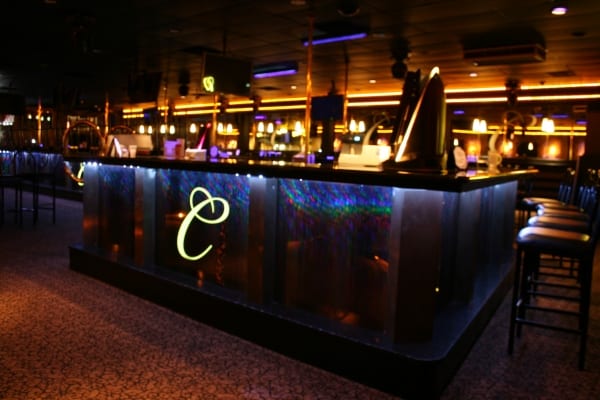 Adding a new surface covering to your existing bar is the simplest and least-expensive approach to giving your bar a new appearance. Known as barcladding, this concept can be implemented in one day. One popular system I've used very successfully is the one sold by Holo-Walls (holowalls.com), which uses various holographic films that are laminated to a durable 1/8" (3 mm) acrylic-type substrate. The holographic films Holo-Walls offers, especially those with the white background, are particularly effective when used in conjunction with under-bar LED lighting. To implement such as system, just follow these steps:
Measure the overall length of each side of your bar. To ensure accuracy, measure the length just under the bar top and then again just above the footrest (for bars with solid footrests), or along the floor (for bars with foot railings).

If your bar has a solid footrest, measure the overall height of the bar face, from the top of the footrest to the bottom side of the bar top. Take the overall dimension and subtract ¼" (6 mm). You should measure at each end and the middle of each side.

Prepare a sketch of each side and submit it to your fabricator.

When you receive your new clad panels, simply attach them to your existing bar facing with double-faced tape (my preferred method) or small mechanical fasteners.
Related Posts:
Holo-Walls: Unique Products for Nightclubs and Bars
LED LIGHTING IS VERY POPULAR AND ECONOMICAL BAR REMODELING IDEA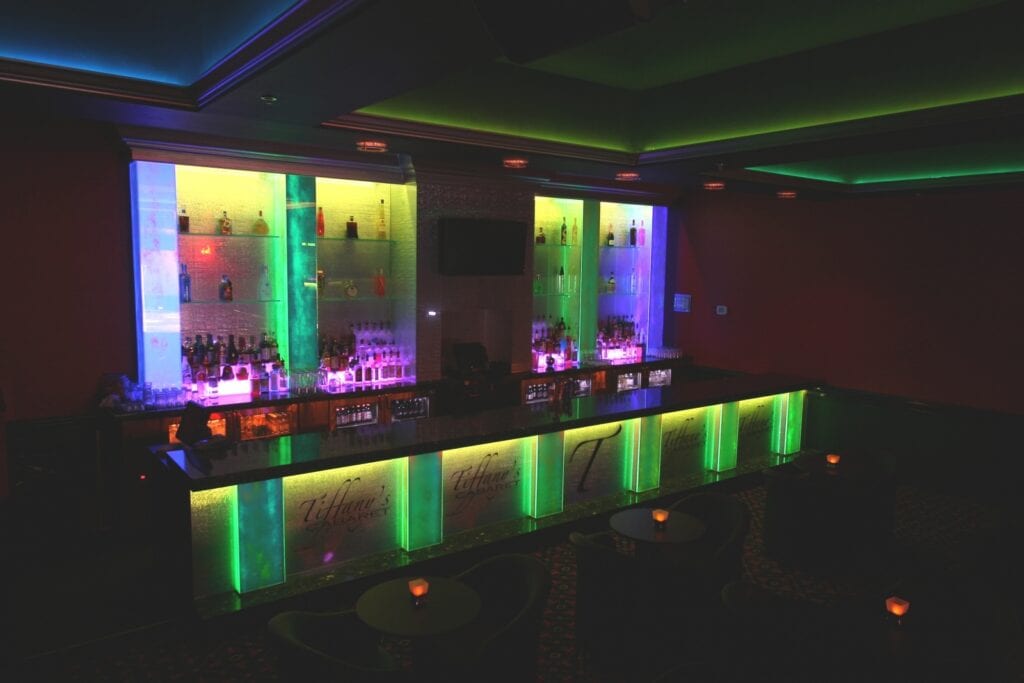 LED lighting is so popular today that you're likely to find it in most bars and nightclubs. My favorite type is RGB LED, which, when used with proper controls, can provide a virtually infinite array of colors. If you install LED lighting under your bar top, you'll be able to enjoy great benefits – especially if you use it in conjunction with a Holo-Walls bar-cladding system, described above. There's actually a lot to know when working with LED lighting, so before you and here are a few tips for implementing such as system:
There are five basic styles; the type I normally use is called "5050".

It's sold as "waterproof" and "non-waterproof"; you want the latter.

It's sold in density patterns of 30 lights/meter (~3') and 60. lights/meter; I always specify 30 lights/meter for under-bar lighting.

It's sold in rolls and can be field-cut, but only at designated "cut-marks," which is every 3 lights in the 30 lights/meter rolls.

LED lighting is connected through power supplies, and in order to maximize the efficiency of the power supply, no single run should be longer than 16' (~5 M), so you'll want to wire your lighting in parallel.

At this point, it's probably apparent that there is a quite a lot to know about LED lighting. Unless you're a professional there's a good chance you'll be spending your money twice! Involving your electrician early in the process is recommended, because the average lay person can neither comprehend nor master all the tricks of an efficient LED lighting installation on the first attempt. If you want to cut to the chase and talk with an expert who will sell you LED lighting at a fair price, you'll want to call my good friend Steve Obsharsky at Photronics (904-751-2055).
LED Bar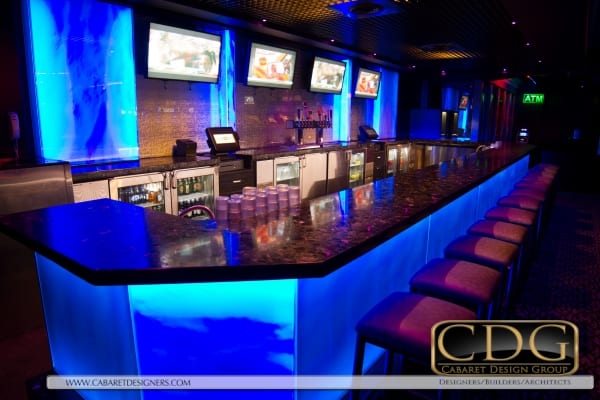 As shown in the photo at top, LED Bar is a backlit curtain wall of architectural glass, which provides an endless array of chromatic changing colors that shift randomly across its face. LED Bar can be added to virtually every bar. Prices start at $440 per linear foot. We also offer an alternate version which is fabricated from acrylic, and although it doesn't possess the dazzle of its glass counterpart, at $225 per linear foot, it's a practical and cost-effective alternative.

Countertop Replacement: Liquid Acrylic Bar Tops With Graphics!

There are a number of alternatives for countertops, including laminates, granite, marble, quartz and Corian. Of these, granite is my favorite. I love natural stone and the randomness that it delivers – each piece is different. Laminate is the only value solution for owners on a budget, as everything else is north of $75 per square foot.
A new product we are now offering is a liquid acrylic bar top that features the graphics such as your logo and any other artwork. Priced as an intermediate solution with high value, this is a new spin on an old concept, except this is done in a shop, under controlled conditions.
Related Posts:
Top 5 Design Ideas About Purchasing Countertops for Nightclubs and Bars
Hunter Douglas Architectural Ceiling Products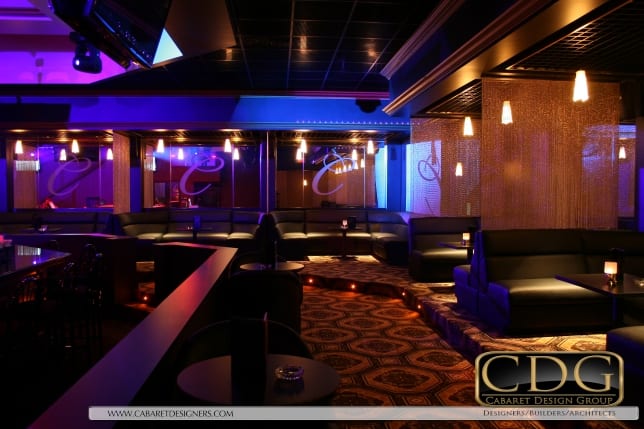 Also featured in the photo at top is the open-cell ceiling by Hunter Douglas Contract, a division of industry giant Hunter Douglas. At about $25 per square foot, the open-cell ceiling provides another quick way to revamp the look of your bar at a reasonable price. One of the most appealing aspects of this product is its ability to deliver a high-quality, seamless appearance. Utilizing a system of main runners, cross-tees and wire ties, the open-cell system installs just like a standard acoustic tile system. The open-cell system can be customized with various trims and installation styles. The "floating" system, shown in the photo above, right, also features gold-painted trim.

Related Posts:

Hunter Douglas Open Cell Ceilings for Nightclubs and Bars
ShimmerScreen Chain Curtains for Bar & Nightclub Design

We Work International Customers
If your bar or nightclub application is outside the U.S., we'd be delighted to work with you! We're familiar with the metric system and can furnish you with the appropriate plans and specifications for construction. With our web-conferencing and Basecamp 24 x 7 project management system, we're fully capable of servicing your needs. Please click here to learn more about our methods.

Call Us for Your Next Design Project

Our standard bar design service includes all construction plans and equipment layouts. We would be happy to assist any gentlemen's club, night club, or bar owner who would like to incorporate time-proven design ideas into your venue. Please feel free to contact us.


Most Popular Articles
Ergonomic Bar Design For Maximum Profits
Top 3 Reasons Not to Own a Commercial Ice Machine
What Is "Pour Cost" and Why Is It So Important?
Which Liquor Inventory System is the Best: AccuBar vs BevInco
Top 5 Design Ideas about Purchasing Nightclub and Bar Furniture