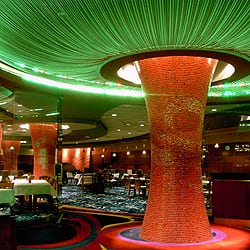 One of the most enchanting architectural design products I've used in nightclubs and bars is thebeaded chain curtain. For those unaware, the beaded chain curtain is kind of a spin-off of the plastic beaded curtains of the late '70's.
Today's product is similar, but much more refined. Today we have metallic beads strung together by fine metallic wire and the design applications for these chain curtains in nightclubs and bars are limitless. 
WHY SHIMMERSCREEN'S CHAIN CURTAIN IS A GREAT CHOICE FOR NIGHTCLUB DESIGN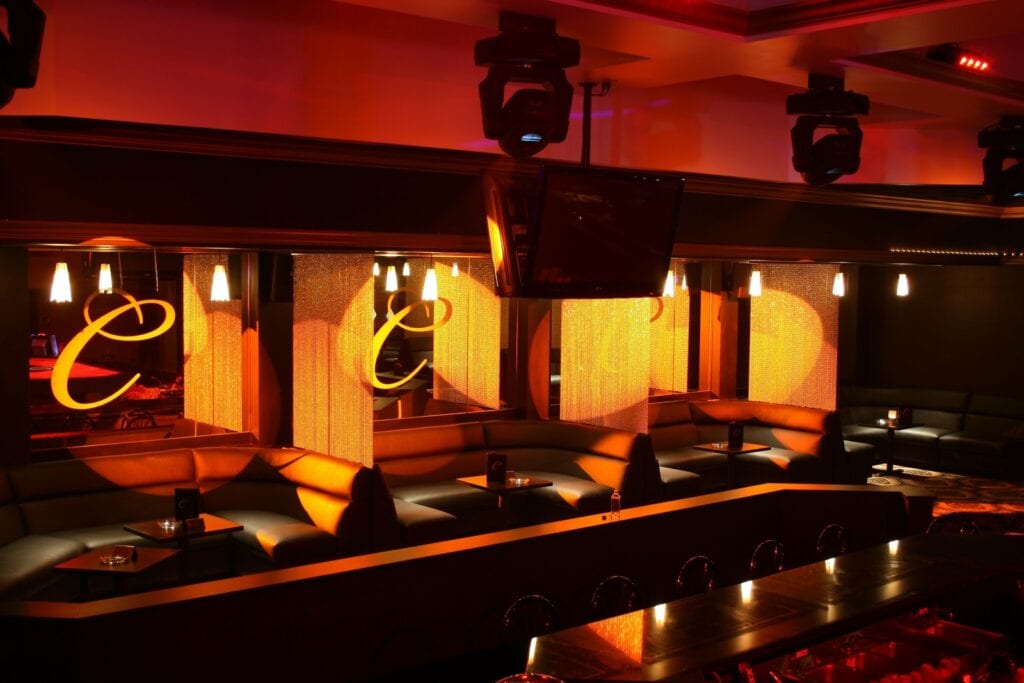 BCM Architectural of Mount Vernon, New York manufactures ShimmerScreen, an architectural design products for window treatments, wall treatments, space dividers, architectural accents, lighting fixtures, stage backdrops, exhibition displays, and more. I've been working with this product for nearly nine years and I have to say that every single client has been thrilled with it. For the money* no product will deliver greater "WOW-factor" to any nightclub than ShimmerScreen! Why do I like it so well? You really have to see it to appreciate it, but I'll tell you this much: the photos of the ShimmerScreen product shown here (such as the above photo, compliments of JCJ Architecture and ShimmerScreen) are true to form – it's simply like no other product I've seen. These beaded chain curtains are dynamic in context: the inherent novel visual effects interact with light and create a sense of texture, while defining and dividing space without barriers or obstructions. ShimmerScreen can be used to create and highlight unique shapes and contours.
ShimmerScreen is popular with design professionals across many venues, including restaurants, nightclubs, casinos, etc. Notable businesses, such as Ann Taylor, Hugo Boss, the Borgata, the Copacabana and the W Hotel feature these products. According to BCM's website, "ShimmerScreen has also been featured on Extreme Makeover Home Editionand TLC's While You Were Out as a product that interior designers utilize when they want to add a stunning visual element to their designs."

HOW TO DESIGN AND INSTALL SHIMMERSCREEN CHAIN CURTAINS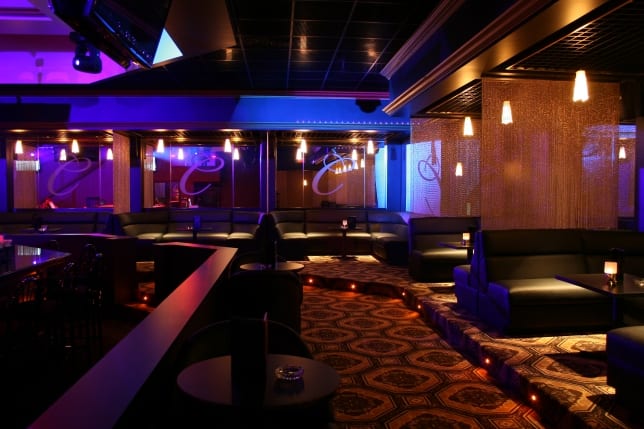 How and where you choose to use the ShimmerScreen track system depends on the application. The product can be ordered in either 50% or 100% density patterns and in single- or double-rows:
Typical Applications:
Room dividers
Modern curtains
Space partitions
Room separators, partitions and area separators
Wall coverings
Chain curtains (as shown in the above photo)
Window treatments
Architectural elements
Design Tips:
Faceted metallic beads are my favorite, as they reflect the greatest amount of light, especially with movable luminaries, as used in nightclub design.
If you are designing for a smoky atmosphere the darker finishes are recommended as they will provide the best aesthetic performance (shiny metallic finishes do not hold-up well to smoke).
For all privacy applications the 100% density is recommended.
In a door opening – I use 100% density for all doorways.
As a movable doorway – I've used this option, which operates similar to a trolley system; in fact, I've designed a radius operable, bi-parting doorway with ShimmerScreen beaded chain curtains.
As a curtain – again, I prefer a full density pattern, but this is more a matter of personal preference.
As a free-flowing hanging design element – when featuring the product in this manner I would normally specify a 50% density; this would be the best application for the double-row pattern.
For complex patterns simply submit a CAD file to BCM when you request your quote.
BCM offers several mounting tracks; I prefer the ST-2 and ST-3 tracks for all applications, except wall coverings, which requires the WT-1 track; for curved tracks, the only tracks you can use are ST-2 and ST-3.
Many sizes and shapes are shipped within 2 weeks after receipt of payment.
Installation Tips:
Beaded chain curtains are extremely heavy, weighing 1-4 pounds per square foot, and therefore require solid wood backing, which is obviously not an issue when using in doorways.
Individual strands are simply installed from either end of the track; when used in a doorway, you will need to cut the track slightly less than the width of the doorway, to accommodate the size of the bead.
After completing the installation of the last strand, simply caulk the opening (from the end of the track to the jamb.
Most importantly, check your floor for level (if measured for full-height openings) – nearly every commercial floor I've ever seen is out-of-level; ShimmerScreen is cut to a plus tolerance (due to the pitch variations of the beads) and not all strands will not be even across the bottom.
As with all products, there is a bit to know, but ShimmerScreen is a phenomenal product, especially if the installation is executed in a professional manner.

Related Posts:

Top 5 Lighting Ideas & Tips for Nightclub & Bar Design
Top 5 Design Ideas for Soffits In Nightclubs & Bars
Top 5 Wallpaper Picks & Tips for Nightclub & Bar Design
We Work International Customers
If your bar or nightclub application is outside the U.S., we'd be delighted to work with you! We're familiar with the metric system and can furnish you with the appropriate plans and specifications for construction. With our web-conferencing and Basecamp 24 x 7 project management system, we're fully capable of servicing your needs. Please click here to learn more about our methods.


Call Us For Your Next Design Project
Our standard bar design service includes all construction plans and equipment layouts. We would be happy to assist any gentlemen's club, night club, or bar owner who would like to incorporate time-proven design ideas into your venue. Please feel free to contact us.

Most Popular Articles
Pour My Beer: Self-Serve Beer Systems for Bars & Nightclubs
Bar Equipment Prices: How Much It Really Costs To Build a Bar
Stripclub Acquisitions: Existing Construction vs Ground-Up
What Is "Pour Cost" and Why Is It So Important?
The Best Liquor Inventory Management System : AccuBar vs BevInco
Top 5 Design Ideas about Purchasing Nightclub and Bar Furniture
Top 5 Design Tips and Advice for Bar and Nightclub Owners
---
* About $28 per square foot for 100% density.