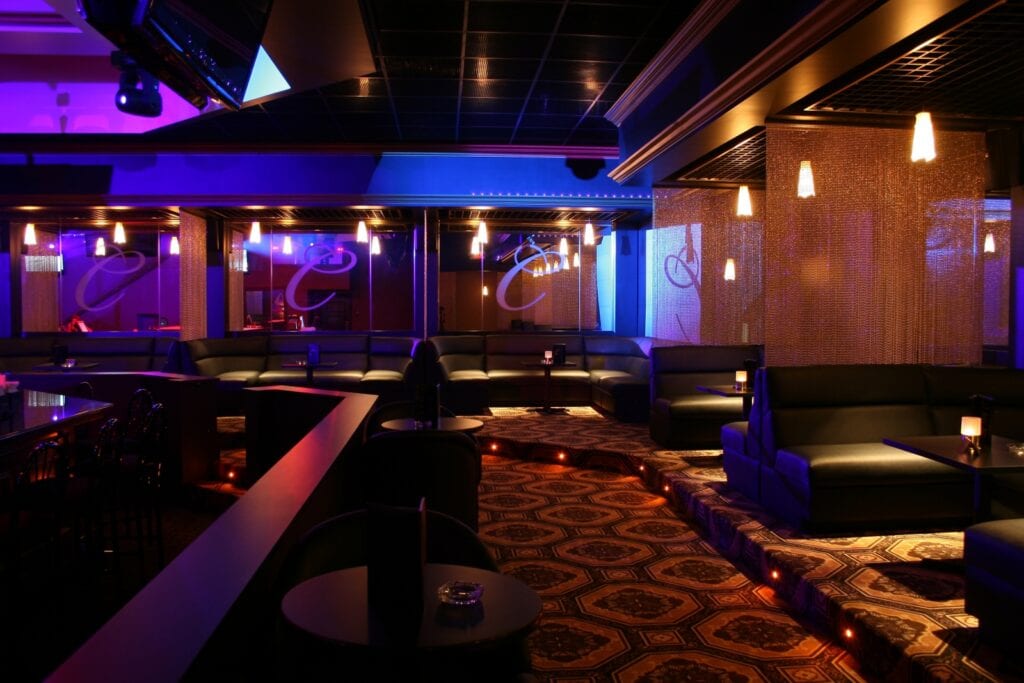 Included in my list of favorite architectural design products is the open cell ceiling, manufactured by Hunter Douglas Contract, a division of Hunter Douglas. Since first introduced to the open cell product over 12 years ago, I fell in love with its beauty and simplicity and have designed it into many nightclubs and bars and in many contexts.
The Hunter Douglas open cell ceiling has been designed into many venues around the world, from the NationalCenter for Aviation Training in Wichita, KS Shanghai South Railway Station in ShanghaiChina. Although these installations are vast (in terms of scope), they are hardly noticed by most who frequent them. I will tell you this: if you implement this system into your nightclub or bar design, people will take notice. With pricing starting at about $15 per square foot* (USD$160 per square meter), the open cell system is an excellent value.
THE BENEFITS OF USING THE HUNTER DOUGLAS OPEN CELL CEILING
The primary feature of the open cell system is its sheer beauty – it has an intriguing masculine appearance. I enjoy using products in nightclub and bar design that aren't seen frequently in daily living, and the Hunter Douglas open cell ceiling meets that criteria. Aside from its aesthetic appeal, the open cell system provides you with the following benefits: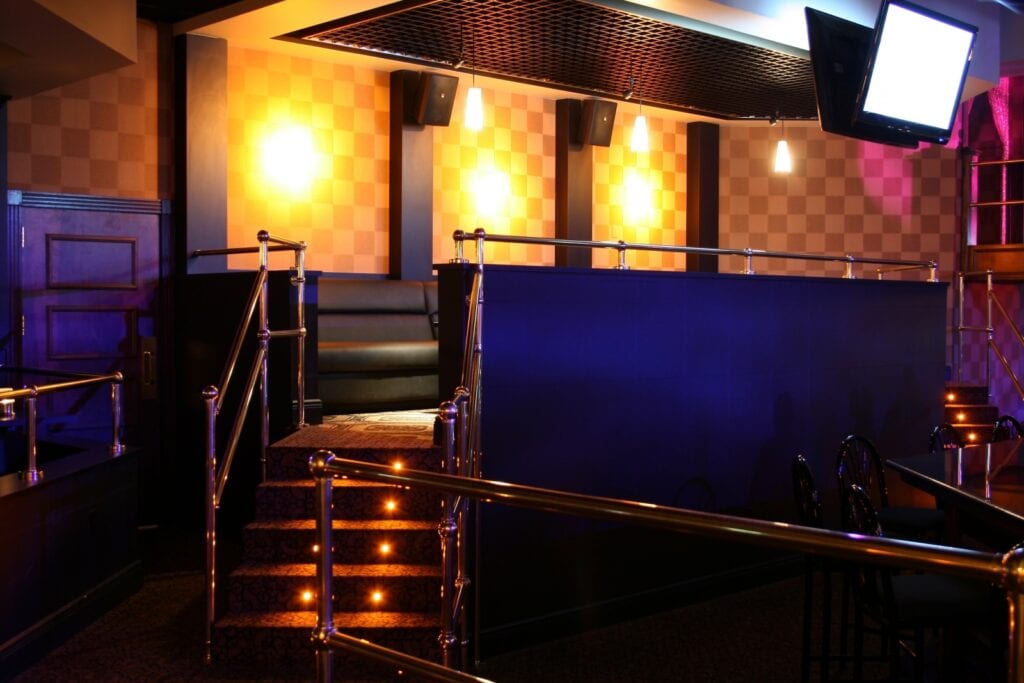 Lightweight aluminum design.
Its deep, monolithic appearance provides the illusion of seamless metallic framework.
Simplicity of design – the open cell system installs exactly the same as a traditional acoustic ceiling; see the attached HunterDouglas-Open-Cell-Brochure (refer below).
Provides unrestricted access to lighting, ventilation and sprinklers.

HUNTER DOUGLAS OPEN CELL CEILINGS OFFER FLEXIBLE DESIGN
In a previous post I discussed one of the reasons I'm so fond of nightclub design is because of the scale – the room sizes and ceiling heights are usually much greater than that of everyday living, and all this provides the backdrop for memorable design. The Hunter Douglas Open Cell ceiling system provides scalability for sizable areas while maintaining the mystique of its design. I've used it as a specialty ceiling in a relatively small space, such as the area directly above sofa seating in a VIP area (as shown in the above photo), as well as covering the larger ceilings typical in nightclub showrooms. The other feature about the open cell design that I really enjoy is its ability to blend with other architectural styling. Specifically, I feel entirely comfortable using the open cell ceiling in a room with heavy architectural wood moldings. In this type of setting, I would incorporate an edge treatment with a brass painted finish to add a little refinement.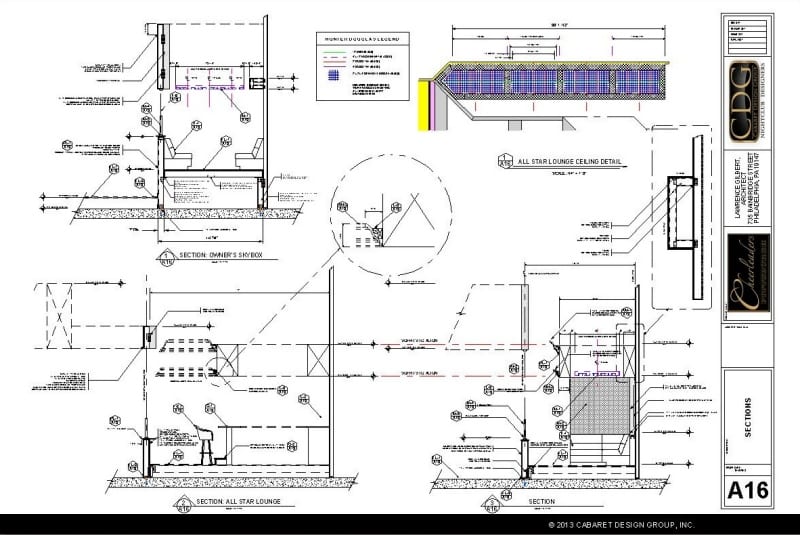 DESIGN AND INSTALLATION TIPS FOR HUNTER DOUGLAS OPEN CELL CEILINGS

Here are a number of tips to simplify your installation:
The open cell system utilizes support hardware (runners, cross tees and wire ties) in the same manner as a traditional acoustic system.
Open cell panels ("cells") are used in lieu of acoustic tiles, but the layout method is the same for both.
Begin your planning in the traditional manner by locating and installing the hardware about the center of the respective room or space.
As I mentioned earlier, the system has a monolithic appearance (the runners and cross tees have the same section properties, i.e., width, depth and color, of the cells), and when the cells (which resemble hashtags) are dropped into the openings you can no longer discern them.
The cells are either 2' x 2' x 2" (610mm x 610mm x 50mm) or 2' x 4' x 2" (610mm x 1220mm x 50mm), and are available in a variety of configurations beginning at 2" x 2" (50mm x 50mm).**
You can design the system to span the entire space (from wall-to-wall) or you can opt for a "floating" design (as in the above photo). For the former, you finish with the familiar wall angles; for the latter, you specify a deep trim, available in numerous finishes.
Track and pendant lighting can be installed directly through any opening.
Recessed lighting can be easily accommodated by cutting a cell (using tin snips) and implementing an optional Hunter Douglas infill panel.
My personal favorite is the floating design. Whatever your design preference, the final key in preparing a successful open cell installation is to spray two coats of flat black enamel to the existing ceiling, mechanical and electrical ductwork / conduit.

Downloadable:
Hunter Douglas Open Cell Ceiling Brochure

Related Posts:

Top 5 Design Ideas for Laminate Surfaces in Nightclub & Bar Design
Top 5 Wall Covering Ideas and Tips for Nightclub & Bar Design
Top 5 LED Lighting Ideas for Nightclub & Bar Design


We Work International Customers
If your bar or nightclub application is outside the U.S., we'd be delighted to work with you! We're familiar with the metric system and can furnish you with the appropriate plans and specifications for construction. With our web-conferencing and Basecamp 24 x 7 project management system, we're fully capable of servicing your needs. Please click here to learn more about our methods.

Call Us For Your Next Design Project
Our standard bar design service includes all construction plans and equipment layouts. We would be happy to assist any gentlemen's club, night club, or bar owner who would like to incorporate time-proven design ideas into your venue. Please feel free to contact us.

Most Popular Articles
Pour My Beer: Self-Serve Beer Systems for Bars & Nightclubs
Bar Equipment Prices: How Much It Really Costs To Build a Bar
Stripclub Acquisitions: Existing Construction vs Ground-Up
What Is "Pour Cost" and Why Is It So Important?
The Best Liquor Inventory Management System : AccuBar vs BevInco
Top 5 Design Ideas about Purchasing Nightclub and Bar Furniture