How do you design an island back bar for draft beer and bar glassware?
Here's some bar design ideas to designing back bars like a pro!
BACK BAR ISLAND DESIGN FOR DRAFT BEER AND GLASSWARE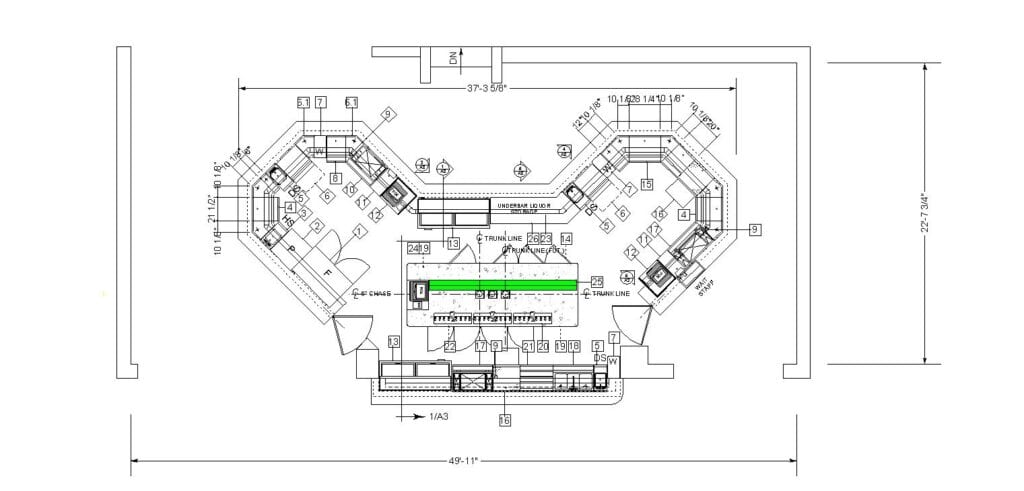 Moving on to the final phase of the bar design, I've completed our final bar equipment plan and instead of showing you all the steps along the way, just know that this is very time-consuming, includes many iterations and would be pointless to take you through every one of them. The underbar equipment plan shown here gives us our best, most efficient layout (ref. to the photo at right). We have a 3-station bar: the walk-up bar and a bartender station at each end; also note the wait staff pickup station at the right-end. Each bartender has a POS station built into the bar and the walk-up bar has a POS station built into the island back bar, which was the only area available. Please refer to my earlier VLOG post that discusses how built-in POS stations in the bar front are essential to ergonomic bar design.

The new bar design has a total of two rack-style glass washers — one at the left-end of the bar and the other at the right-end. These are Moyer-Diebel MD240LT units, which are great for a high-production bar (see the downloadable cut sheet). Any bar desiring a high-level of productivity would certainly love this equipment. The new bar also features an abundance of underbar glass storage — some in the backbar island and at the bartender stations at each end. Folks, I can hardly begin to emphasize the need for plentiful glass storage.
HOW TO DESIGN DRAFT BEER TOWERS IN AN ISLAND BACKBAR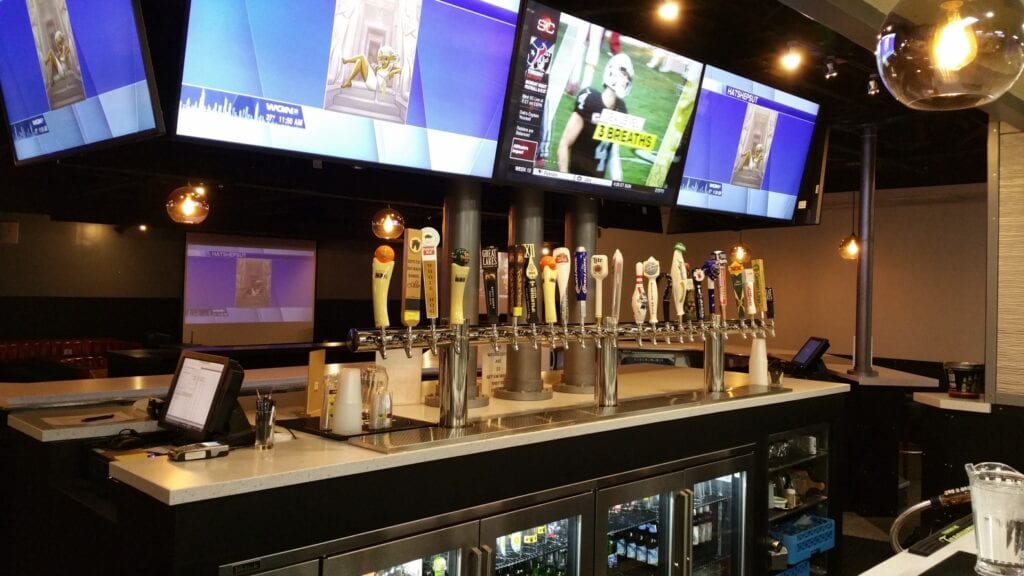 Besides the overall physical layout of the bar design, the focus of this project was to feature draft beer "front-and-center." As I mentioned in Pt. 1 of this series, the Owner has an existing (Micromatic) glycol draft beer system. The power pack has two pumps, and was initially designed for future growth. Each pump has the capacity to serve one trunkline — each with eight products. Our goal was to add two additional draft beer towers, but at the surface this would appear to leave us needing one additional trunkline. So how can this be accomplished without this additional trunkline? This certainly adds a bit to the mystery. This is where the value of a really good installer surfaces. At this point we need to discuss another piece of equipment that was instrumental in the success of the draft beer installation. In the island backbar we have a self-contained backbar cooler — a Perlick model DDS84 (ref the photo at right). Although this isn't connected to the glycol system, it becomes the missing cog in the system. In some earlier VLOGS, I discussed long-draw and direct-draw draft beer systems. The Perlick beer cooler becomes an air-cooled, long-draw draft beer system — sort of! Through some mechanical engineering manipulation, we were able to make the third draft beer tower operate as part of the Micromatic glycol system. How this was exactly accomplished will be covered as the subject of another VLOG. Incidentally, if you haven't yet noticed, the draft beer towers were installed on only one side of the island backbar, which was done at the request of the Owner. The backbar is capable of accommodating a duplicate set of towers on the opposite side, should the need arise.

Also included as part of this bar design project are the following:
A bar equipment schedule
Numerous details, including section views and elevations
Island backbar cabinet plan
A bar framing plan
A bartop plan
In other words, we've provided all of the construction documents required to carry-out the construction of the bar, including all related equipment.

We accomplished all of our objectives, which includes a new user-friendly multi-sided bar designed to accommodate individuals and groups of all sizes, and a "front-and-center" 24-faucet glycol draft beer system. A special thanks to Stuever & Sons — the Micromatic installer. They are real pros and a pleasure to work with!
Free Consultation
Contact Us Today to Schedule Your Free Consultation!
———————————————————————————————————-
RELATED POSTS:
#1 SUCCESS SECRET OF MAINTAINING DRAFT BEER SYSTEMS

GLYCOL COOLED vs KEGERATORS – WHICH DRAFT BEER SYSTEM TO BUY?
ERGONOMIC BAR DESIGN FOR MAXIMUM BARTENDER EFFICIENCY AND PROFITS

HOW TO IMPLEMENT SPEED RAILS IN ERGONOMIC BAR DESIGN

WHAT'S THE BEST LOCATION FOR POS TERMINALS IN BAR DESIGN?
RELATED DOWNLOADS:
Moyer-Diebel-240-LT-Spec-Sheet.pdf
PERLICK_DDS_Series_Self-Contained_Direct_Draw_Coolers.pdf
MICRO-MATIC_1209_METRO-T-8PSSKR-4.pdf
———————————————————————————————————-
•••••••• Camera and Gear Used To Shoot This Video ••••••••
1. Canon SL2 with Kit Lens on Amazon
https://amzn.to/2TkTnt5
** Extra Canon EOS Battery
https://amzn.to/2DsppO8
2. SLIK Sprint 150 Aluminum Tripod
https://amzn.to/2PYY4Kj
3. Fovitec Studio Pro 600 LED Panel Bundle
https://amzn.to/2DJ2sXY
4. Camtasia Video Editing Software
https://amzn.to/2KaZWKr
———————————————————————————————————-

Cabaret Design Group on Social Media:
https://twitter.com/DesignABar
https://www.instagram.com/bardesigners
https://www.pinterest.com/bardesigner
https://www.facebook.com/bardesigners
———————————————————————————————————-
DISCLAIMER: The above video and description contains affiliate links, which means that if you click on one of the product links, I'll receive a small commission. This helps support the channel and allows us to continue to make videos like this. Thank you for the support!