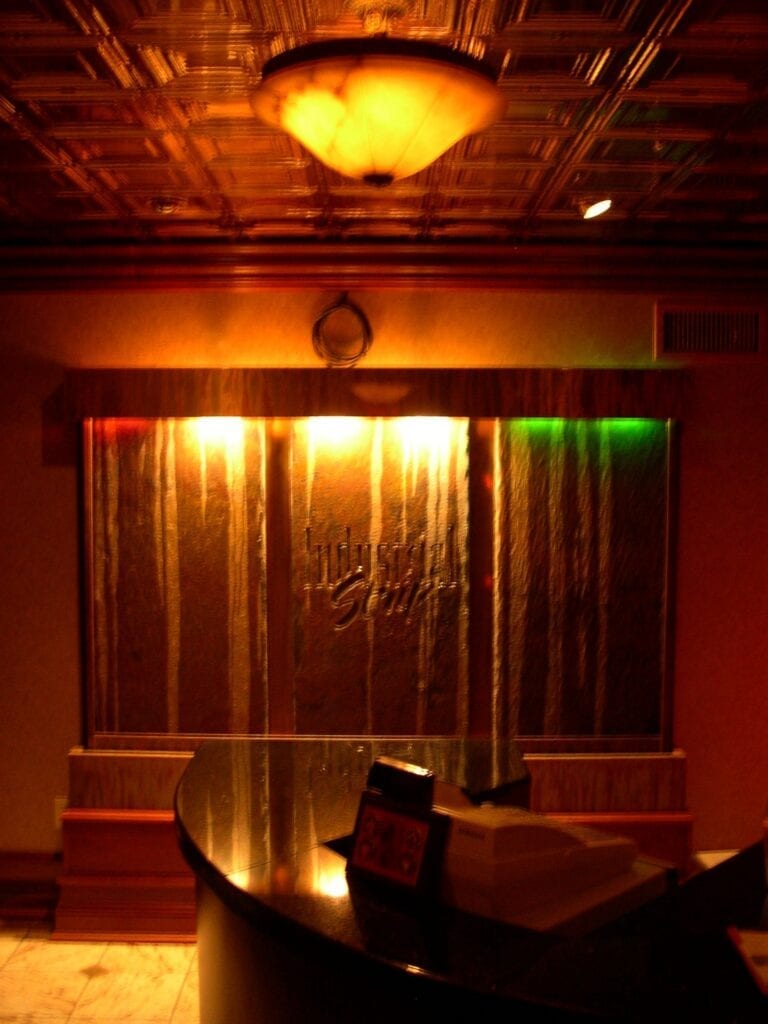 I admit it, I'm a sucker for writing about my favorite products. And for good reason. Nightclub and bar owners need to know about all the great stuff that's out there.
I want them to understand value – not only in terms of price but also from the eyes of one who researches and specifies many products, but also from the perspective of my clients' who own these products. Among my list of favorite architectural products is the "Traditions™" stamped metal ceiling, manufactured by Chicago Metallic Corporation. Just so you understand, Chicago Metallic (CM) is a huge company that manufactures many ceiling products. CM's acoustic ceiling products are nearly synonymous with the application – they simply dominate the acoustic ceiling industry. This story isn't about the CM acoustic ceiling, but rather about their Traditions™ stamped metal ceiling; you know – the old fashion copper ceiling. With pricing starting at about $7 per square foot* ($75 USD per square meter), the stamped metal ceiling is an extraordinary value.
THE BENEFITS OF THE CHICAGO METALLIC TRADITIONS STAMPED CEILING
The Traditions™ stamped metal ceiling by Chicago Metallic is another one of those products that you may see more often than you realize. You may visit a building that has an incredibly restored metal ceiling that may be nothing more than a knock-off. After all, restoration can be prohibitively expensive. What you may actually be looking at is a modern-day replication. In either case, chances are you've told someone else about that ceiling. Like crown moldings, people think of metal ceilings as "untouchable," (beyond their budget) – but this couldn't be further from the truth. This isn't 1930, folks. What CM has done is put a new spin on a classic idea. Today's stamped metal ceilings have the following features:
Cost effective.
Lightweight aluminum design.
Ease of installation.
Many traditional patterns.
WHAT ARE SOME TYPICAL DESIGN FEATURES OF STAMPED METAL CEILINGS?
While the Traditions™stamped metal ceilings are visually stunning and offer a terrific value-added solution to nearly any design, you need to bear your application in mind: from an acoustic perspective, they are reflective in nature and therefore may not be a good fit for every setting. In other words, sound is not absorbed by metal – it is reflected. Because of their nature to reflect sound, in nightclub and bar design, stamped metal ceilings should be limited to areas such as lobbies and hallways. If you prefer to use this product in large open areas, such as dining rooms, you may need to consider augmenting your design with acoustic baffles in order to maintain a sense of intimacy. The Traditions™metal ceilings are available in a number of finishes, but all of them are painted, even the copper metallic option. If your choice is for a metallic finish, the specific color you select may interact (reflect) negatively with your lighting plan if you don't plan in advance, so be aware that your choice of lighting may need to take this into consideration. Be sure to order exercise the basics of "Design 101": ORDER SAMPLES. This will alleviate headaches as you move ahead. Samples are particularly beneficial with this product, at least for one additional very valuable reason: patterns such as '0,' '26,' and '36,' although magnificent, are very deep and will be inappropriate in small rooms or rooms with ceilings less than 10' (3m). If your room falls into either (or both) of these categories, you'll be better off with one of the other (flatter) patterns.
DESIGN AND INSTALLATION TIPS FOR CHICAGO METALLIC TRADITIONS CEILINGS
The Traditions™panels can be installed as lay-in panels (typical of standard acoustic ceilings) or as a classic nail-up installation. The following tips are for a nail-up installation:
As with all finished ceiling planning, locate the center of the room and develop your plan accordingly.
Plan to use the decorative panels for the field and the filler panels (which are 2' x 4') around the perimeter of your room; the filler panels have a nice textured finish and are a great complement to the primary decorative panels.
CM offers the Traditions™ panels unfinished, if you prefer to paint them yourself.
If you are attempting to emulate an historic restoration, the unfinished panels with one coat of clear (applied in the field), as shown in the above photo, will provide incredible results!
The copper metallic finish (shown in the top photo) is very impressive.
I do not recommend using the decorative coves or other trim offered by CM; because these moldings have no cross-sectional depth (like their wood counterparts), it is nearly impossible to make an effective mitred corner; instead, use wood or urethane moldings (see the above photo); a combination such as this can be extremely appealing.
Factor about 7% waste when calculating the quantity you'll need.
If your plan calls for ceiling lighting or sprinklers, be sure to have your rough-ins (including whips, if necessary) installed prior to proceeding.
From 'Building 101': order your rough inspections prior to proceeding Lol!
Install a continuous layer of ½" fire-treated CDX plywood underlayment, glued and screwed. This will provide you the greatest flexibility for installing the metal panels.
The Traditions™ panels are available in 2' x 2' or 2' x 4′: some patterns are only available in one or the other.
The panels cut easily with tin snips, but wear gloves because ALL metal panels, whether cut or factory edge.
The metal ceiling can be installed with staples, brad nails, or my favorite – the matching decorative nails you can purchase from Chicago Metallic.
Downloadable:

Chicago Metallic Traditions Product Guide


Related Posts:
Hunter Douglas Open-Cell Ceilings in Nightclub & Bar Design
Top 5 Design Ideas for Soffits In Nightclubs & Bars
Top 5 Lighting Ideas & Tips for Nightclub & Bar Design


We Work International Customers
If your bar or nightclub application is outside the U.S., we'd be delighted to work with you! We're familiar with the metric system and can furnish you with the appropriate plans and specifications for construction. With our web-conferencing and Basecamp 24 x 7 project management system, we're fully capable of servicing your needs. Please click here to learn more about our methods.

Call Us For Your Next Design Project
Our standard bar design service includes all construction plans and equipment layouts. We would be happy to assist any gentlemen's club, night club, or bar owner who would like to incorporate time-proven design ideas into your venue. Please feel free to contact us.

Most Popular Articles
Pour My Beer: Self-Serve Beer Systems for Bars & Nightclubs
Ergonomic Bar Design For Maximum Profits
Stripclub Acquisitions: Existing Construction vs Ground-Up
What Is "Pour Cost" and Why Is It So Important?
The Best Liquor Inventory Management System : AccuBar vs BevInco
Top 5 Design Ideas about Purchasing Nightclub and Bar Furniture