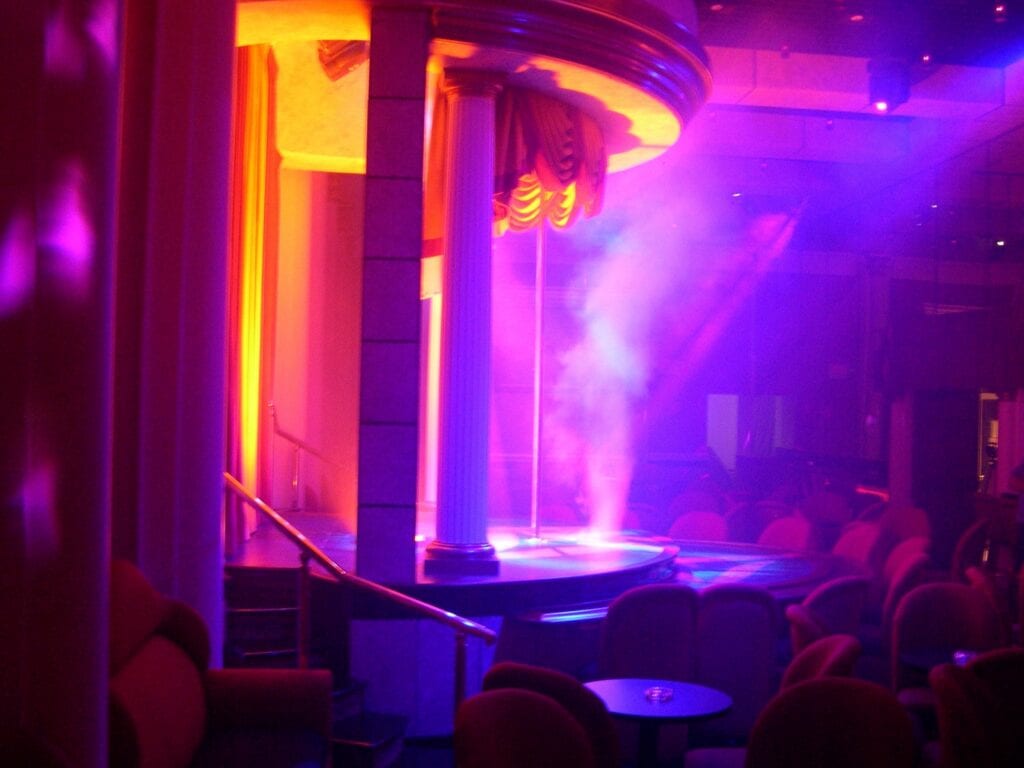 Design professionals are always looking for a new product or finish to add to their bag of tricks, and I'm certainly no exception. In our quest for being cutting-edge, however, it's comforting to also rely on the tried and proven.
Sometimes the real design "win-win" is when we can adapt the new to the tried and proven. This is what I so enjoy about architectural moldings, which have added a new twist or two. Nowadays we have new production methods, cutting methods, finishing processes and even new materials. It can be intimidating, at times, to take a step outside one's comfort zone, but the results can be pretty rewarding. I've been able to successfully introduce much of the above to nightclub and bar clients when designing and I have to say that everyone has been pretty satisfied.
HOW ARCHITECTURAL CROWN MOLDINGS PROTECT YOUR INVESTMENT
Using architectural crown moldings guarantee that your investment is safe. Sound like a bold statement? Why do I say this? People enjoy things that possess timeless quality and this is especially true with architectural crown moldings. How often do you hear your friends make favorable comments when they see crown moldings at another's home? I've been in many of those homes and after seeing the very moldings, I think to myself, 'Man, you haven't been around!' This does, however, speak volumes about what people enjoy, and I do respect that. Most people don't have crown moldings in their own homes, which is exactly why I address this issue: everybody likes crown moldings. Crown moldings* ('crowns') are especially popular because they are a constant reminder of Roman architecture and I hardly know anyone who doesn't appreciate that. People love and respect timeless quality, and the night club or bar owner who implements crown moldings into a design is setting himself or herself up for long-term success. Contrarily, if the overall design is too contemporary, people will not embrace it for long; even a small dose of architectural moldings (especially crowns) is like having an annuity.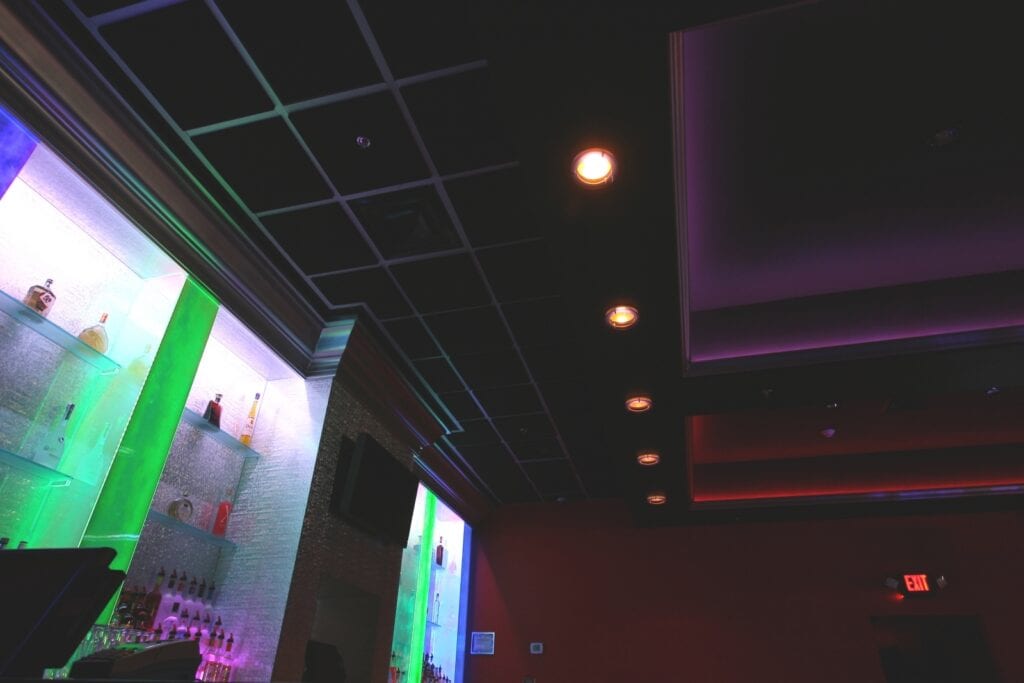 HOW TO DESIGN CROWN MOLDINGS FOR LARGE SPACES
One of the reasons I've always enjoyed nightclub design is because of the scale – the room sizes and ceiling heights are usually much greater than that of everyday living, and all this provides the backdrop for memorable design. Why is that, you ask? Simple. Large spaces present the opportunity for exaggerating an idea and a really well displayed idea on a large scale leaves a lasting impression. The only problem with this is that standard sized crowns don't work well. To me, the largest standard wood crown (or cove), which is about 7.75" (~200mm), has a vertical projection of about 5.50" (140mm). This may sound large but will appear dwarfed in a large commercial space. So, how do we get around this, you ask? Simple: use a built-up molding. Built-up moldings are a series of moldings that are configured to create a larger – and more imaginative – appearance. For instance, you can combine two crowns to achieve the look of a single massive crown. You can also configure a series of crowns, coves and flat moldings, to achieve something more imaginative, such as the 10" (255mm) high eyebrow, as depicted in the above photo.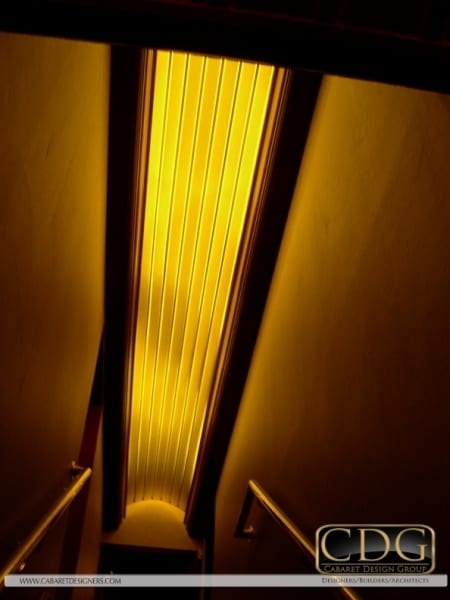 WHERE ARE THE PROCEDURES FOR INSTALLING CROWN MOLDINGS?
To me, there isn't a design element that makes a greater impact on the overall design of any nightclub or bar than the architectural crown molding. In my opinion, dollar-for-dollar, crown moldings leave a greater lasting impression on customers more than any other form of décor, and probably represent the greatest opportunity a nightclub or bar owner has to positively impact their customers. Because crown moldings have a way of adding an impactful statement to any space, there is really no limit as to where they should or shouldn't be installed. The reality of where you choose to apply crown moldings is more a matter of budget. Crowns are a nice touch in lobbies, especially for making a great first impression. The greatest impact for installing crowns is in your largest space, especially if it is large. Crown moldings in large spaces serve to delineate long or tall walls. In ancient Greece, crown moldings were used to visually divide large rooms into smaller spaces, especially when used in conjunction with arches and columns. Bars present a great platform for the application of crown moldings. I know of a local tavern that was opened several years ago, which featured a really nice wood bar and backbar; the backbar features oversized wood crown moldings. The crowns extend around the perimeter of the bar and cover all exposed walls. The subject tavern is a throwback to the old-fashion Chicago speakeasy, and even though the decorating budget for the balance of the tavern was obviously limited to me, the locals have raved about the place since it opened over six years ago! I feel that the underlying reason why this bar is so nicely finished is because the owner made a wise decision to hire a design professional who directed the owner's budget in a most effective manner.

Related Posts:
Pacific Columns Architectural Millwork for Nightclub Design
Top 5 Lighting Ideas & Tips for Nightclub & Bar Design

We Work International Customers
If your bar or nightclub application is outside the U.S., we'd be delighted to work with you! We're familiar with the metric system and can furnish you with the appropriate plans and specifications for construction. With our web-conferencing and Basecamp 24 x 7 project management system, we're fully capable of servicing your needs. Please click here to learn more about our methods.

Call Us For Your Next Design Project
Our standard bar design service includes all construction plans and equipment layouts. We would be happy to assist any gentlemen's club, night club, or bar owner who would like to incorporate time-proven design ideas into your venue. Please feel free to contact us.

Most Popular Articles
Pour My Beer: Self-Serve Beer Systems for Bars & Nightclubs
Ergonomic Bar Design For Maximum Profits
Stripclub Acquisitions: Existing Construction vs Ground-Up
What Is "Pour Cost" and Why Is It So Important?
The Best Liquor Inventory Management System : AccuBar vs BevInco
Top 5 Design Ideas about Purchasing Nightclub and Bar Furniture